I love finding things to makeover and this ho-hum tray at the thrift store caught my eye one day.  At about $5, it was an easy target for a makeover.  And stripes, I love them!  So, I decided to take this tray and stripe it in black and white, one of my fave combinations.  Black and white is so classic and elegant and you can put it most anywhere.
Here's that plain ole' wooden tray that I found at the thrift store.  You can find these anywhere for just a few bucks.  It's wood, but sort of rough looking.  I started by spraying it with a couple of coats of my fave off-white spray paint, Rustoleum Heirloom White.  It's a great Satin finish off-white spray paint.
Once it was good and dry, I taped it off with FrogTape®, spacing it as evenly as I could.  Math is not my strong suit, but I made the stripes fairly even for a uniform look.  Then, I just took a small flat craft brush and used satin wall paint in black mixed with the Webster's chalk paint powder to make sure it would stick to the spray paint.  I think it will be fine since this tray probably will be used more decoratively than actual use.
I painted it with 2 coats of black paint and then pulled off the FrogTape® immediately while it was still wet.  It was crisp for the most part, but I did go back with a cotton swab and touch up any black or white specks that needed retouching.  With FrogTape®, it really works great for crisp lines, but sometimes on surfaces that are a little rough or uneven, there is a bit of bleed, as was the case with this rough finish tray.  But, that's OK, it doesn't have to be perfect.
I added a pretty vinyl word in the middle, using my Silhouette machine to cut it out.  If you don't have a machine to do this, you could always just buy a stencil of letters and use that too.
I chose HOME in gold to go on my tray.  It says all I want it to say.  Home is everything!
After the paint touchups, I took it back outside and sprayed it all down with a Gloss Valspar clear sealer.  This should help keep it from chipping along the way.
Then, inside I went to the foyer where it looks right at home on my foyer table.  I love the black and white accent with my damask lamp shade that I did years ago and my zebra black and white runner.
Along with some fresh potted red tulips, this is a welcoming spring accent for my foyer. I'm ready for spring, aren't you?!
I tucked the potted tulips in an urn I've had for ages, added some green reindeer moss and it's ready to go.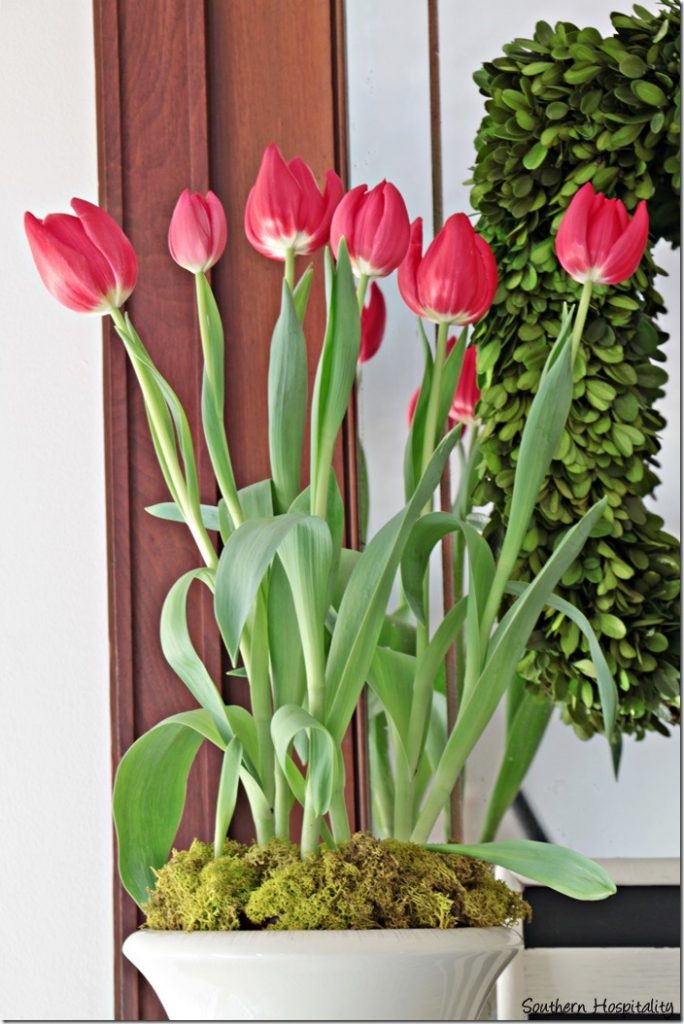 There's nothing better than red tulips for spring.  So pretty and fresh!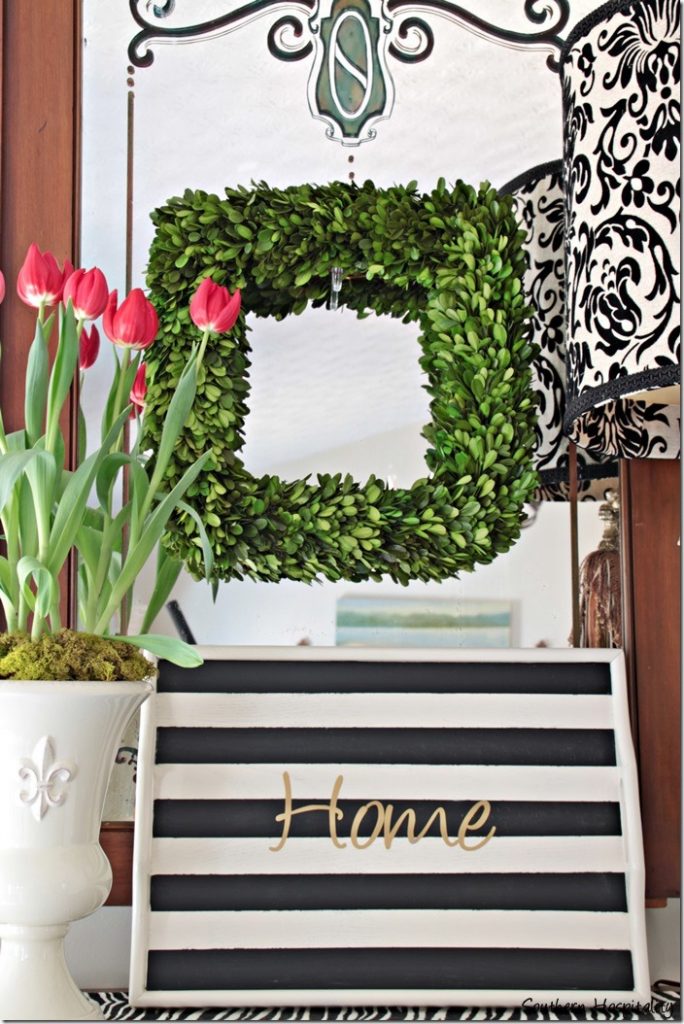 And that's my Spring welcome to my home this year.  I love this tray and can't wait to use it in other areas too.  It will be fun to play with and use as an accessory around the house.  Black and white is so crisp and classic.
So, that's my Frogtape® project this month, hope this got you inspired once again with the POWER of paint and how you can virtually change anything with paint. My fave home improvement weapon, paint does wonders for everything.

Disclosure: I am a Brand Ambassador for FrogTape® and receive compensation for completing projects for Frogtape®. All opinions, projects, and ideas are based on my own experience.
Don't Miss a Post, join my list!