We're back from one of the best beach vacations I've ever had. With the disappointment of last year's hurricane that blew through the Gulf coast while we were on St. George Island, this year was completely opposite and perfect in every way. I hear we timed it just right as another hurricane is heading back to the Gulf early this week. I'm so glad the timing was good this year as you never know when you pick a date and book a beach house just what the weather is going to be. It could not have been better this year!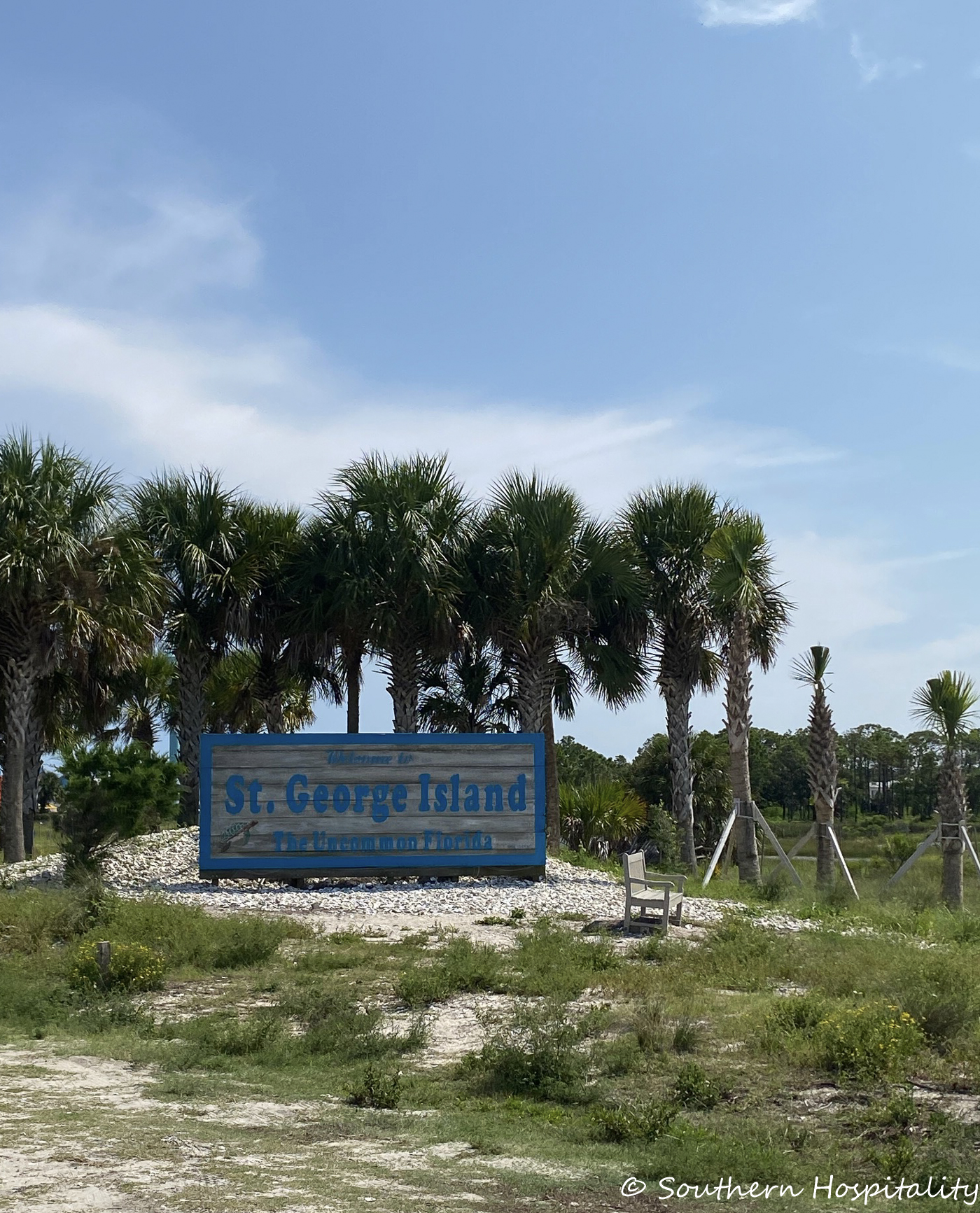 We booked a beach house from Saturday to Saturday and I'll share those details if you're interested. Mark and his family have been going to St. George Island for about 25 years, but as the family has grown, it's harder and harder to get everyone together, so the big family vacation (with about 25 to 30 people) disbanded after 2017, our last year with a big group. I'm so glad I got to experience 2 years of his family vacationing on St. George. Last year Mark's dad got sick and passed away in September not too long after we got back from our bust of a beach trip and so there is a bit of sadness attached to this island as things are changing and Mark's parents won't be going anymore.
After we got down to the beach on Saturday, we found out Mark's mom fell and broke her hip on Sunday. She went to the hospital with Mark's sister, Linda, and since no one could be with her except for one person, we all stayed at the beach. Mark checked on her several times to see how things were going and she had her surgery Tuesday and will be going to a rehab this week. So more changes in store, as we wait to see how she does after this setback. She was living alone, but that is likely to change now. We both have elderly parents to look after and things are getting harder now.
Another crazy family event happened in my family as well, as Parker broke her elbow early in the week (fell off a horse, she has been having horseback riding lessons for months) and had to have surgery and a cast. So that was a lot to take in!
Back to the beach trip, it was such a wonderful week, so we are grateful for one last beach trip to St. George. We have decided we will probably go to another beach next time just to start some new memories. There are plenty of beaches to choose on the Gulf!
St. George Island is across a long bridge out from Apalachicola, FL another cute beach town. There are shops and restaurants there and more shopping than on St. George.
Here's the house we stayed in for the week, Coastal Exchange. It's pet friendly and perfect for taking Daisy. There were 3 bedrooms, 2 baths and you can check it out on that link. Most of the houses are built up on stilts for flooding and it's great to have a place to park out of the sun.
I'll just walk us through our week, from one perfect beach day to the next. When we got down there on Saturday we had to walk over and put our toes in the sand with Daisy in tow. I didn't let her down to run on the beach since that sand would have gotten so into her fur and I didn't want a sandy dog.
This boardwalk was just across the street from the beach house we stayed in so we were in a perfect spot to get our things to the beach.
Daisy taking in the beach for the first time. She had a ball at the beach especially after we had company come in on Wednesday evening.
St. George Island really does allow you to get away from it all. It's a small island with a few restaurants, a couple of grocery stores and a lot of beach houses. If you want relaxation, St. George is the place to go. There's not a lot to do, but gazing at the sunrises and sunsets is a sport all its own on the island.
The sand here is not quite as white or the water quite as turquoise as Destin and 30A, but it's a nice beach all the same.
You won't find high rises on St. George, only a few condos, one lone old motel and lots of beach houses to rent. As the beaches on the Gulf have gotten more popular, the rates have risen here too. You have to rent by the week in most of these houses during summer months, so it pays to shop around. We stay on the west end of the beach, but the east end is fine too, with the lighthouse being the midpoint marker.
The beach wasn't very crowded at all as many schools have started in August and we figured it wouldn't be bad. Not nearly as crowded as the Destin beaches are.
Our first night we always go to the Blue Parrot for dinner and we got a table down on the beachside patio with a nice breeze to watch the sunset. It was wonderful!
I got grilled shrimp, cheese grits and a salad and enjoyed every bite of it.
A quick shot as the sun was going down. I love to document our trips with lots of pictures and Mark indulges me even though he hates getting his picture taken. He does like to look back at them though!
I stopped and took pics of the lighthouse as the sun was going down and it's a pretty scene.
It's the first thing you see when you drive on the island, with a boardwalk and park surrounding it.
The sun actually sets on the bay side of the island and it makes for a gorgeous sky at night. The whole island is surrounded by pink sky at sunset.
You can really see the stars at night too and we sat out on our deck at night and star gazed a few times.
Early morning sunrise. The cloud formations on St. George are always so pretty and fascinating to watch. They look like cotton candy!
The sky changes colors constantly with sunrise and sunset. This was a beautiful morning shaping up. That house to the right of the boardwalk is called Beach Buzz if you're interested. To find houses on St. George just do a search for St. George rentals and about 3 rental agencies will come up. I had to find one that was dog friendly for Daisy so had less of a choice but we really enjoyed our house, it was 3 bedrooms with 2 baths. Nothing fancy but plenty comfortable for a week at the beach. Having the boardwalk right across the street was nice too.
Back to Beach Buzz, it has 6 bedrooms and a pool. Just for fun, I looked up the rental and it rents from $5500 in the lowest season to $15K in summer high season. But I guess if you had several families that could split the bill it might not be too bad. There was a big group in there while we were there and they looked like they were having fun, with lots of kids running around.
Clouds
Mark bought this new beach cabana for us to take to the beach and it was perfect. I'll link it here for you if you are interested, off Amazon. It was so perfect for 2 people and the arms stake down with stakes as well as you fill the pockets with sand to hold them down too. It's goes up just like a regular beach umbrella that pops into the stake that screws in the ground, then you secure the 4 pockets. It comes with that moveable panel that can be moved all around the 4 sides depending on where the sun is coming in. Perfect! Takes about 10 minutes to set up and 10 minutes to take down. And it stores in a nice case with a handle.
Here's the cabana and it comes in lots of patterns (affiliate links used). I love this seashell one too:
Ours is Sailors Stripes below:
The weather was picture perfect with breezes every day and temps in the mid-80's. I took a book to read and did a lot of napping on the beach too. Completely relaxing!
With these views!
This sunset was exceptionally pretty!
I captured as many sunsets as I could and we had pretty ones every night.
The sky was tinged with peach and coral and was such a perfect way to end the day.
Good night St. George! This is one laid back island.
View from our balcony.
Another day on the beach in our cute cabana.
Those clouds are something!  Looks like our cabana is on fire.
Can't get tired of this view!
There's Beach Buzz from the beach side.
One night we drove into Apalachicola and got grouper sandwiches at the Apalachicola Grill right on Main Street. It was delicious!
Colorful beach cottages on St. George.
Speaking of Daisy, she had a grand time. The house has all tile so it was perfect for dogs.
It also has this big deck across the front with Adirondack chairs, perfect for early morning coffee, sunset viewing, and late night star gazing. Daisy had a ball out there, she could see everyone going by and there were no steps for her to escape so I could leave her out there to play for awhile before it got too  hot.
Another perfect beach day walking in the sand.
One night, we drove over to Panama City (where my dad grew up) and had dinner with a dear college friend of mine, Cheryl and her husband, Steve. It was so nice to catch up with them.
Mark and I have both been going to Captain Anderson's for years and at least 2 of my dad's sisters worked here as waitresses back in the 60's and 70's. It's still a great place to eat seafood!
We took a pic at sunset after having a delicious dinner and catching up with these dear friends. So glad we got to see them!
Another beach day in paradise. The days just meld together when you're at the beach. It's all about sitting on the beach, eating seafood, relaxing and watching the sun go down. Doesn't get much better than that!
We ended up going to one of our favorite restaurants, The Owl Cafe in Apalachicola for dinner twice. One time with just the two of us and then when Mark's sister, Kim and her husband, David got there, they wanted to go too.
We have never had a bad meal at The Owl, so good and perfectly prepared seafood.
The first night we went, I had swordfish special and it was lip smacking good.
Mark got a snapper special and loved it as well. It's a crowd favorite and we went back the next night with Kim and David for another delicious meal.
We finished dinner in plenty of time to get back to the beach for sunset.
Mark's daughter, Traci and her family (Tony and Rose) came in on Wednesday evening as well as Kim and David and they stayed with us 3 nights which was so fun. It was great to have a house full for a few nights. Rose had a ball at the beach.
Another pretty sunset!
Traci, Tony and Rose, such a cute family.
Paradise sunsets
And sunrises, each day started like this. We only had one storm come through with rain late one afternoon.
Friday was our last beach and and it could not have been better! Rose enjoyed her days on the beach a lot.
I finally got to wear this cute suit from Venus that I got last year.
Traci and Rose spent a lot of time in the water playing.
Rose loves the beach.
We had to leave the beach early only one day because of storm clouds blowing through, but we had been out there for several hours before the weather changed.
Mark and Rose putting together a puzzle.
Dinner at the Owl Cafe for the second time. My hair started straight the first of the week and quickly went curly with the weather. I took my curly hair products this time.
And the last night sunset on the beach was just gorgeous! We went back to the Owl for dinner on Thursday night with Kim and David and then out to the beach for sunset.
We have such good memories of St. George Island.
We took Daisy with us for sunset. She stayed back in the house while we were on the beach, it was way too hot for her to be out there and I didn't want her to be miserable.
She's a photogenic little dog.
Rose is such a cutie too!
They had lots of fun on the beach together.
Those clouds get me!
Our last day on the beach was a beautiful one on Friday. It was picture perfect with a steady breeze blowing to keep us cool.
Kim set up a timer on her phone to get this shot. Mark set up his big tent and our cabana for plenty of shade.
Left to right: David, me, Mark, Kim, Traci, Tony and Rose
Cute Rose found a sand dollar she was showing us.
Our last dinner out was the Blue Parrot again, it's a fave with all of us and they have a great outdoor patio by the beach. We had a delicous dinner, the perfect ending to our time at the beach.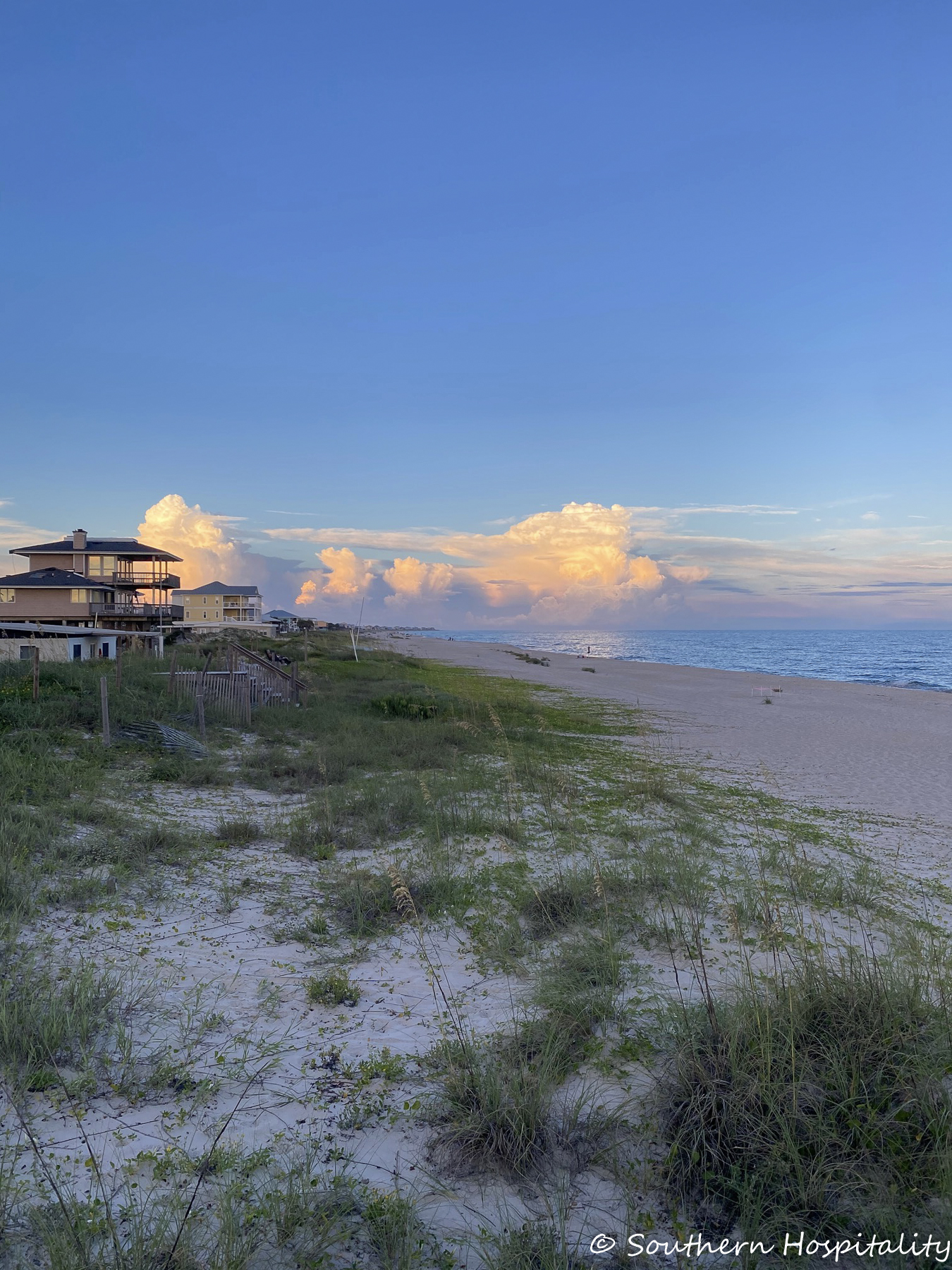 And back to our house for one more sunset on the beach.
I took so many pics so hope you enjoy.
Isn't that gorgeous?
Goodbye St. George for now!
Mark and me on the beach, what fun we had!
That sky is stunning!
The sunsets are some of the prettiest I've ever seen and I'm so glad we had such a great week at the beach. This one will go in our memory banks forever!
Thanks for coming along with us. We are back home, getting unpacked and back to normal. With both our parents with ailments, we will be busy with them too in the coming days, but I'm so glad we got to get away for a week and relax. It truly was such a relaxing week at the beach and we got our fill of seafood for awhile!
Don't Miss a Post, join my list!