Another project is crossed off the list just in time for Winter and I got the new stairs stained in the last couple of weeks. I worked on it a section at a time and it went pretty fast, using a roller and brush.  I had to get the ladder out to get to the bottom of the high part of the stairs, but luckily I was able to reach it on our 8′ ladder.
Here's a look at the stairs again, right after we had them installed.  It was SO good to get this project completed before summer was here, because let me tell you Miss Holly sure enjoyed these new stairs more than anyone else.  She loves coming upstairs and sitting on the deck.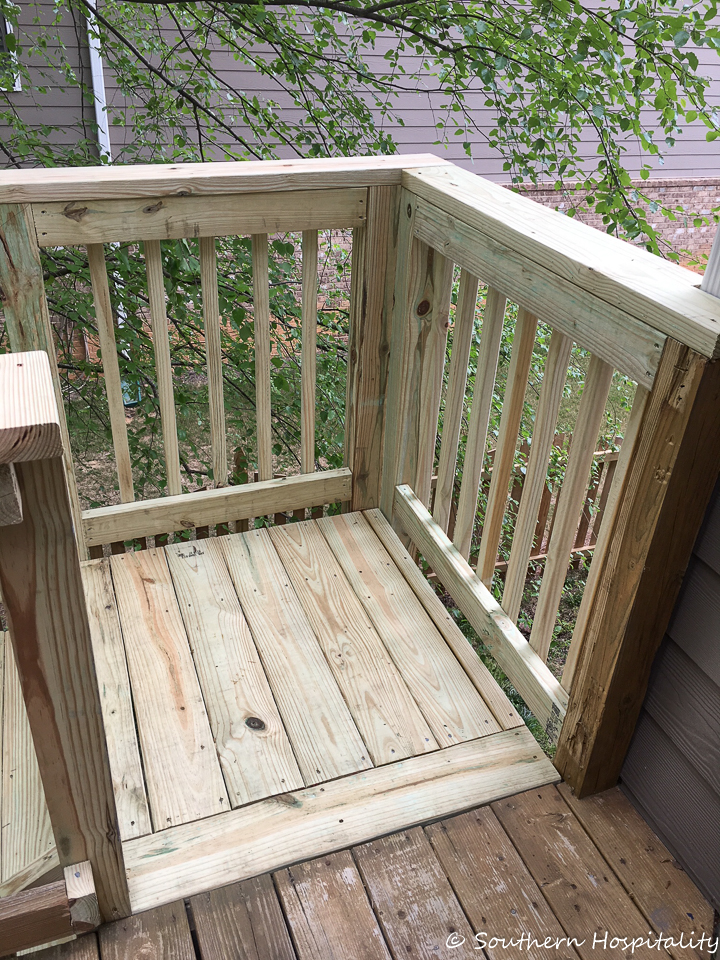 This was before the deck was stained or anything was done, so we've come a long ways back here.
Having access to the backyard from the deck was crucial and I don't regret this project being top priority this year at all.
With these huge posts in place, those stairs are definitely secure.
Staining them sure made a difference visually too from the street.  This is what shows over our backyard fence.  We plan on adding some sort of covering here on the end of the posts, just this end and not the sides, that shows from the street, Then we can store a few things under there if needed and it really won't show much at all.  Eventually that concrete area under the deck will be screened in and there will be a wall of screening there on the left side. But adding slats or something decorative here on the end will make a difference visually on the stairs too and dress them up even more, while hiding the underside of the stairs.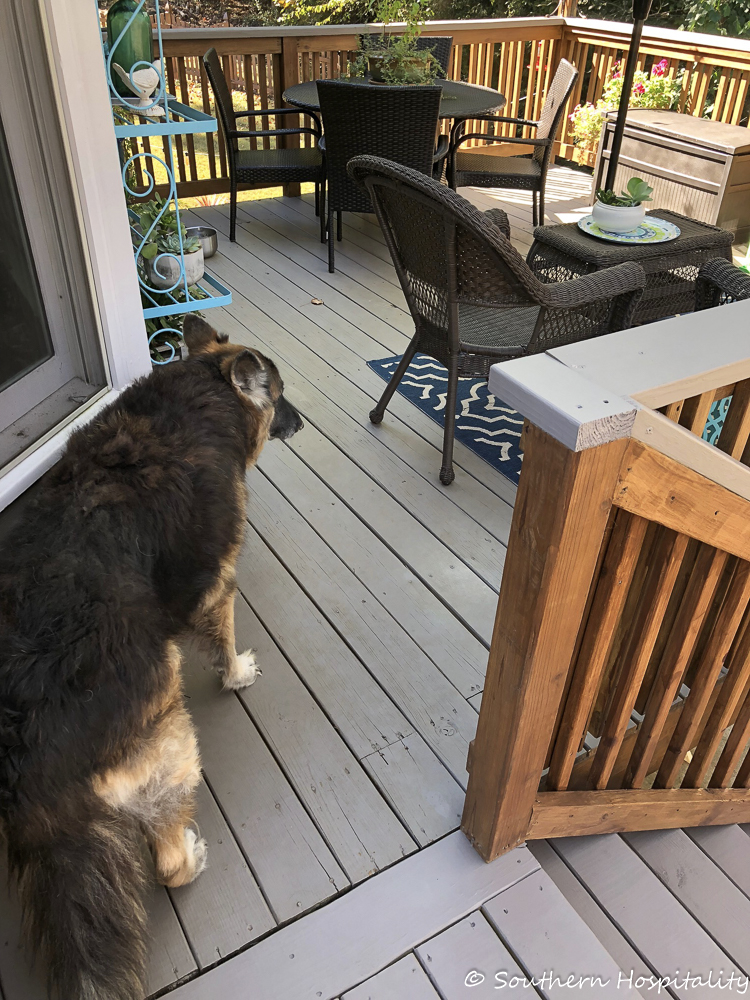 So here's a look at the finished stairs.  I used the same floor color that we used on the deck, Behr's Solid Stain and Seal in Boot Hill Gray. It's a nice taupe gray shade and we love the mix with the Chocolate Semi-Transparent that went on the deck posts and spindles. The deck floor already needs a refresher coat with some wear and tear over the summer, but I'll wait until spring to do another coat on it. A good mopping will be needed and then I'll freshen it up with one more coat of stain.
Right now, I'm happy to get this done before the cold of Winter sets in and the stairs look so nice and clean and finished now.  I did one coat of the Chocolate stain on the rails and two coats on the stairs.  It all blends in together, the deck, stairs and fence, which creates a pretty look in the backyard.  We've got lots of plans for this backyard and want to add pavers, mulch and more plants at the bottom of the stairs back towards the patio space.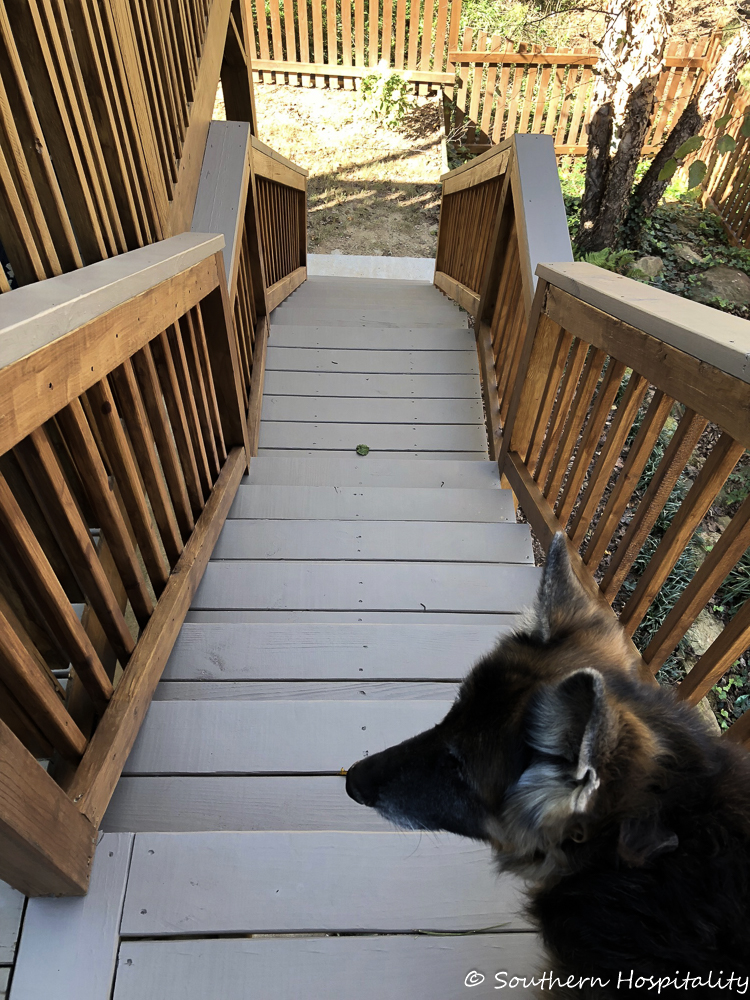 Backyards take time, don't they?  We have been here over a year now and are already enjoying our backyard so much. We're going to take our time and get things finished as we can, but the next thing I'm going to take on is to pressure wash and clean the patio space below and get it ready for a stain treatment this spring.  I may not get any of this done until after the first of the year now, since the Holidays are fast approaching and we have 2 trips coming up.
For now we are happy with the progress! And Holly is too!  Ignore my paint rag at the bottom of the steps. Real life here!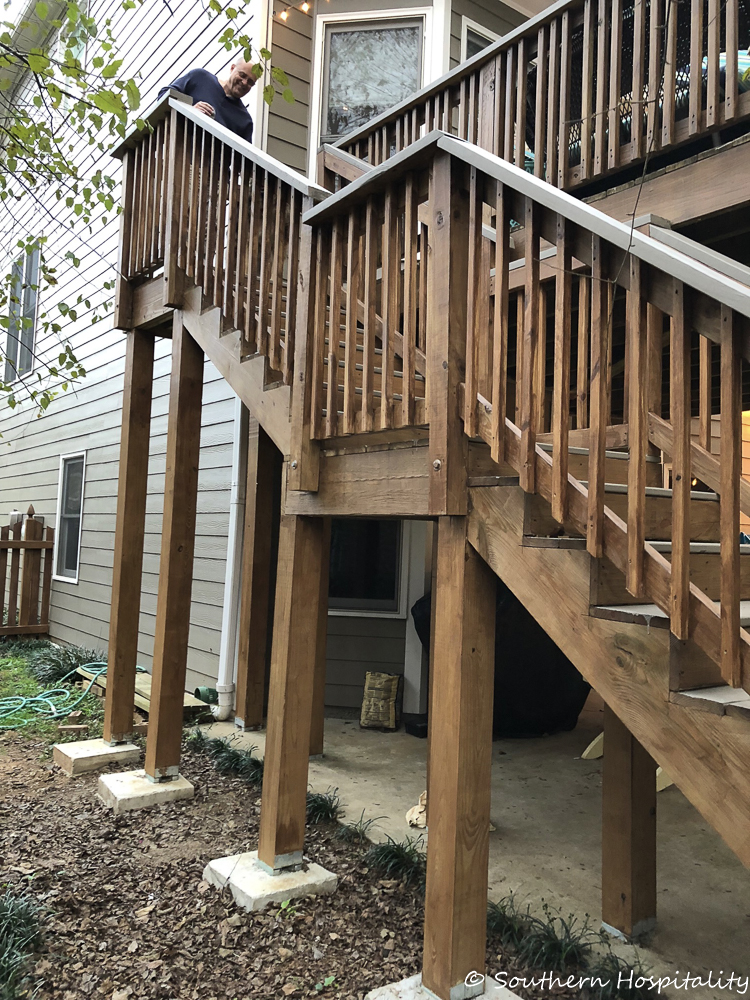 We'll get all this cleaned up and landscaped eventually and making a screened porch under here will be so nice.  We plan on adding an under deck system in spring to get it ready for screening next year.  The underdeck system will drain any water that comes down from the deck to the backyard.
The ceilings under there are nice and high so will create a very nice room under there and we will make it so nice and cozy.  Can't wait for that to happen next year!  One project at a time, that's how it happens.  We will add a fan and cozy furnishings as well.  We'll see how it all unfolds, but that's the plan for now.
We knew we liked this back yard when we were looking at the house, but have really come to love it. Having the forest right behind us is a huge perk, we have so much shade and a nice backdrop to enjoy and it's the perfect size back yard for us. We plan to make the most of it!
I've never been so happy to have stairs and have them stained before. Nice to check this one off the list too!
Don't Miss a Post, join my list!