Hey there friends! ! Hope y'all are having a good week.
We are getting busy around here with a new project that I wanted to share with you all today, since I share so much of what we do around the house with you all too.  As you know if you've been reading, we had a new fence installed last year and so it was left to sit all winter curing so that we could stain it come Spring.  It's cedar and pressure treated wood is supposed to sit for awhile before it's stained so that the stain will take better.  It's definitely time now to get the fence stained, plus the existing deck needs a big sprucing up with old stain that has seen better days.  We are about to tackle both.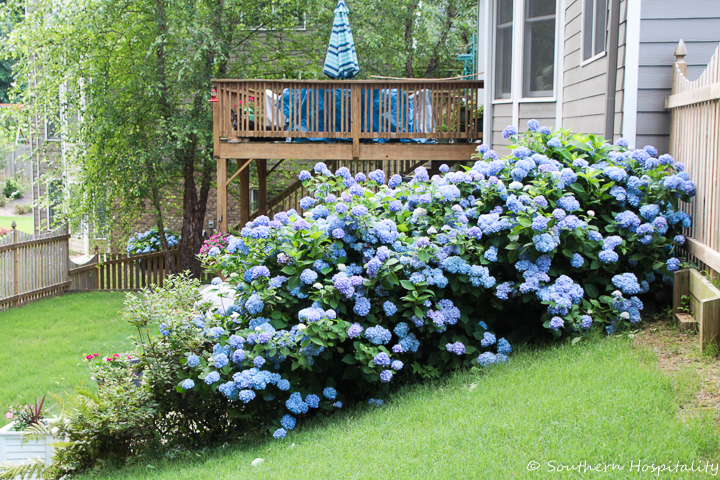 The deck has seen better days too and probably hasn't been stained since the house was built 13 years ago.  It is definitely time to do it again, so that's on the list too.  Since I have so many brands I'm exposed to and have a chance to work with, I reached out to a couple of faves that I wanted to work with and they are going to sponsor this project.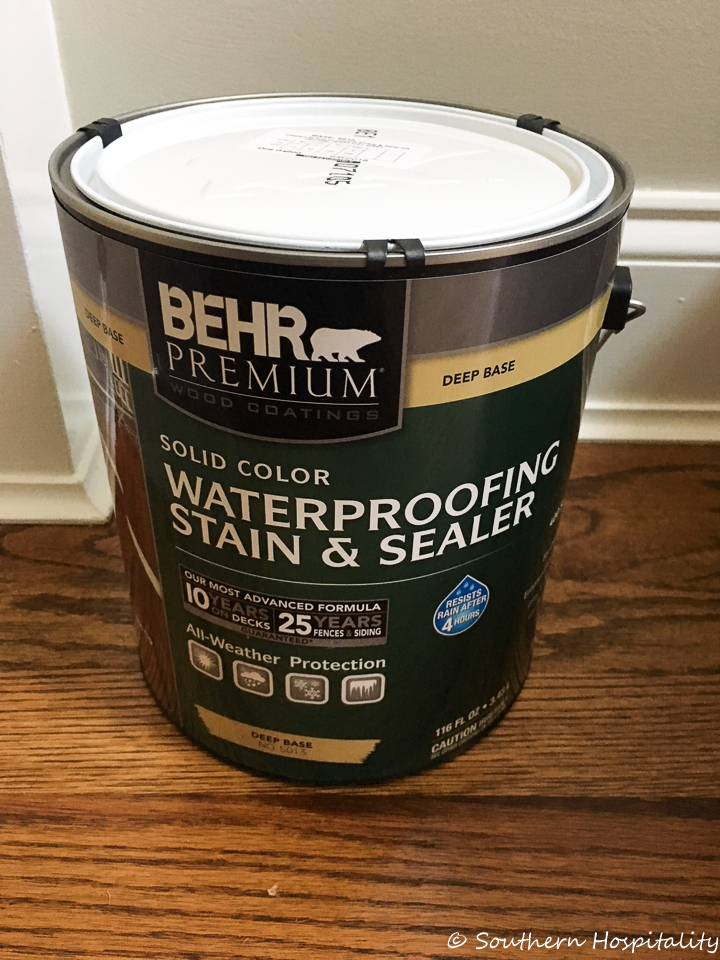 Behr is providing the stain for our fence and deck.  Mark and I got their brochures and looked them over, getting a few samples of stain for both.  It's really hard choosing a stain color, but we narrowed it down and I think we will be happy with our choices.  We chose the color Chocolate for the fence in a Semi-transparent stain and seal.  You can see the color choices here, it really is hard to pick one!  But I can say we are happy with the color since we've already started.  Mark really wanted a little lighter color, but the color is very rich and looks so good with the woods in the back.
The deck floor and top boards are going to be stained in a solid Behr stain called Boot Hill Gray, it's sort of a taupey gray shade which should blend with the house well. We're going with a solid on the deck floor and the railing boards and I'm planning to stain the spindles in the chocolate color like the fence. Hoping it all turns out like we envision!  It's sort of nerve wracking trying to picture everything when you're working with stain and paint.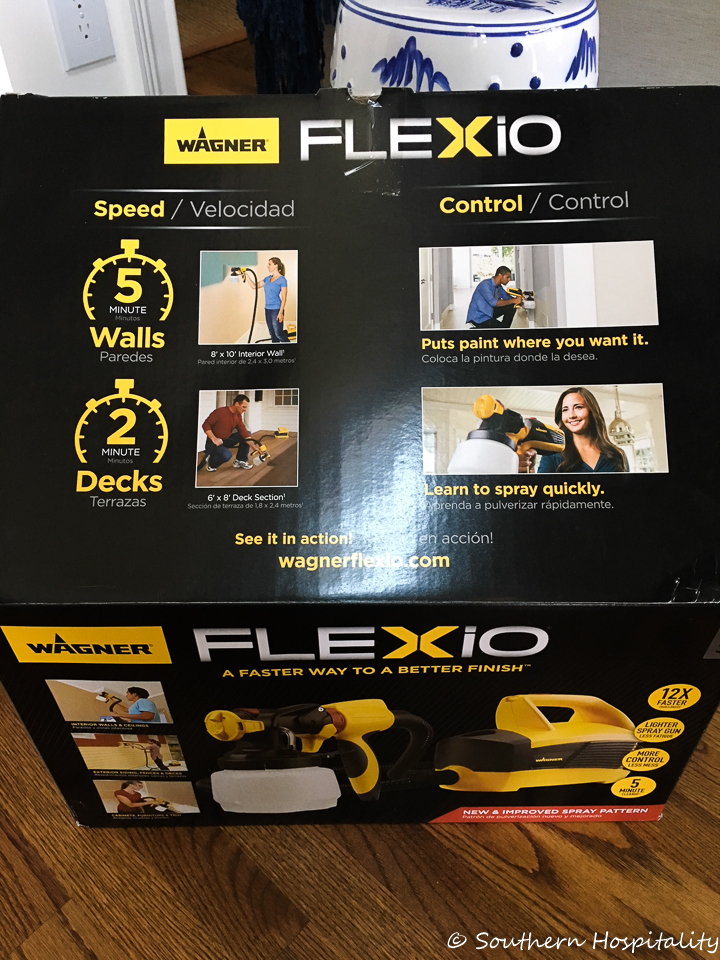 And we will be using this Flexio paint sprayer 4000 by Wagner to help that fence project go smoother and faster.  We've already started, but haven't used the paint sprayer yet, since we've only worked in less than 2 hours increments late afternoon in the shade.  When we have a whole Saturday to work on this, Mark is going to use the sprayer to stain the entire back part of the fence. Can't wait to see that, it's going to really speed along this project for us!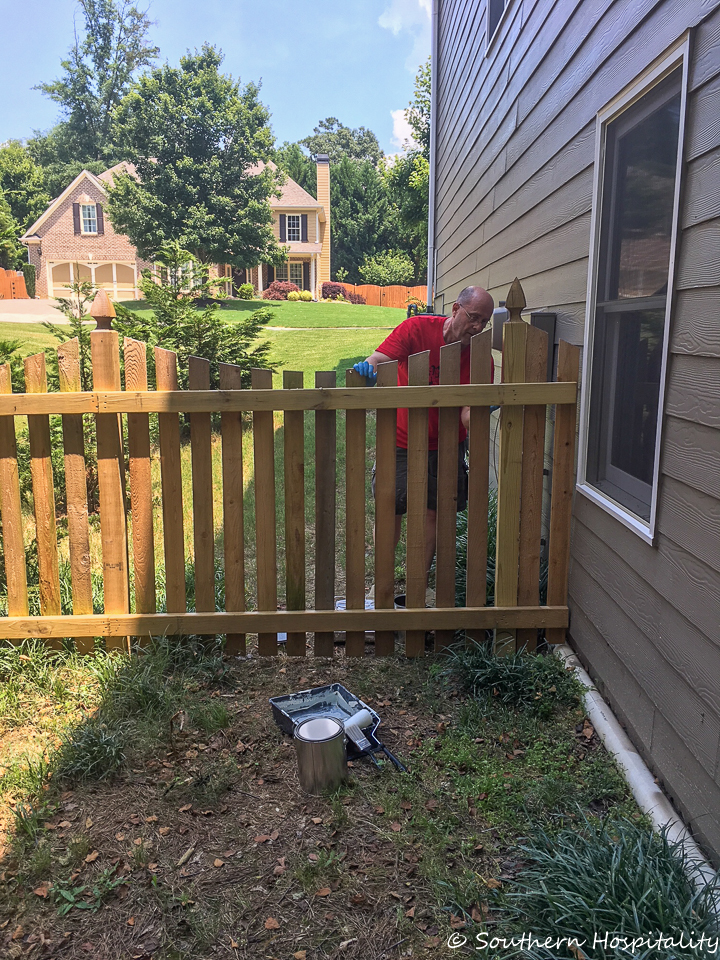 We are definitely working in the shade because it's already so hot that there's no doing this in full sun.  We started with this section on the back of the house by the new stairs and got two sections done.  He was on the outside and I was on the inside, so it's nice to work together on this and get it done.  Mark was happy I was willing to help on this and having both work together really will speed it along.  It's not hard, we just used brushes and a 4″ thick nap roller to roll and brush it on.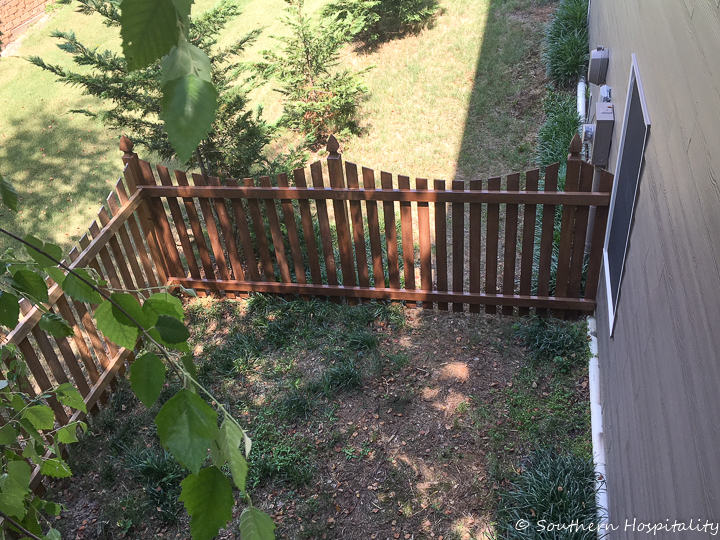 Here's how it's looking so far!  We are very pleased with the color and the wood grain still shows through.
A view from the deck, you can see we did 2 sections up on the hill to the left.  We worked on another section later taking us further along.
Again. can't wait to get several hours so we can get that sprayer out and move much faster! Mark will spray and I'll go behind him to catch any drips that might occur.  I've used one of Wagner's sprayers when I went to the Home Depot event and it was very easy to use.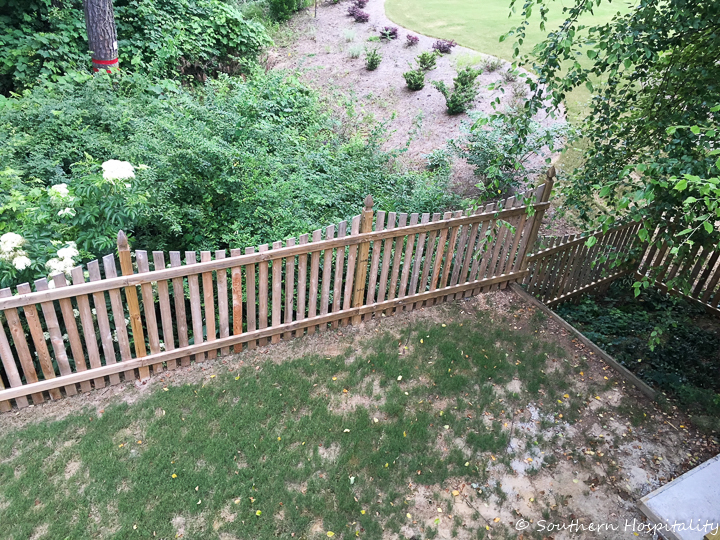 We've got a lot of fence to cover, but we will get it done!  It may take us awhile, but we are very lucky that the backyard has so much shade, so we can work back here and not bake to death.  Working in 1 to 1 1/2 hour increments is the easiest way for us to work so that's the start and we'll continue on until it's done!  I'm going to be working on the deck floor and spindles during the day while Mark is working so hope to get that done before too long.  We're also getting rain showers here and there, so have to work around that too and make sure it's dried out before I stain.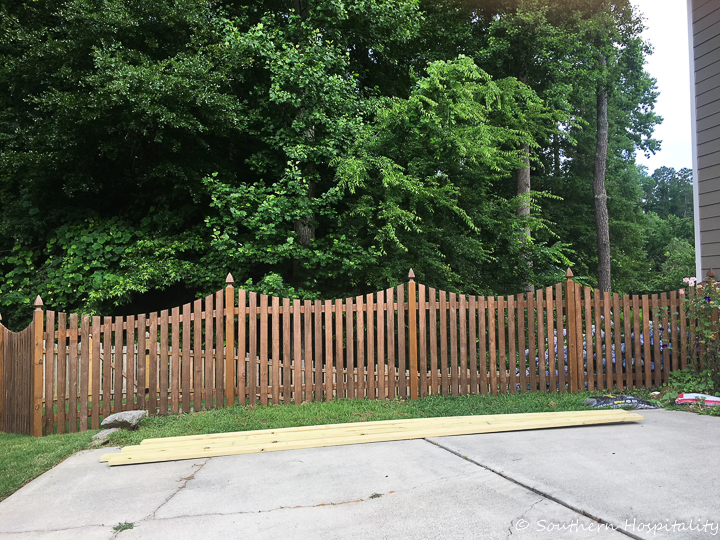 We got this section finished and just turned the corner, so that's the latest project we're working on around here!  That lumber laying there is to replace some rotten and warped pieces on the deck, so Mark will get that done soon too.  We want to get this done in the month of June, so we can enjoy spending time outdoors without working so hard in the heat.  Then, I'll get back inside and continue working on the master bedroom and sitting room. Lots more to do there too!
Thanks as always for following along on our adventures!  Of course, I'll show you the finished projects when it's all done.
This post is sponsored by Behr and Wagner. I'll be showing you more as we move along with this project! 
SaveSave
Don't Miss a Post, join my list!