Are you as ready for Spring as I am??  Yes, bring it on!
It's been such an exciting couple of years for me, buying my house almost 2 years ago now.  How time flies! Can you believe it was April 2012 when I closed on my house and renovations began?
I can hardly believe that either, but at the time it seemed like 6 months of renovation would never end and now I've lived in my house for a year and 1/2.  Now that the inside is mostly finished, it's time to move outside and the last year has brought me in contact with some great folks to help me along the way with the exterior of my house.
Starting a Landscape Plan
Meeting Carmen, with Southern Living Plant Collection has been such a huge blessing to me. She is such a sweetheart and has been to my house several times, getting ideas together for my front yard and how we are going to landscape that yard of grass and 2 pretty trees that I have now.  I  know she has some super ideas and I can't wait to see them implemented around here.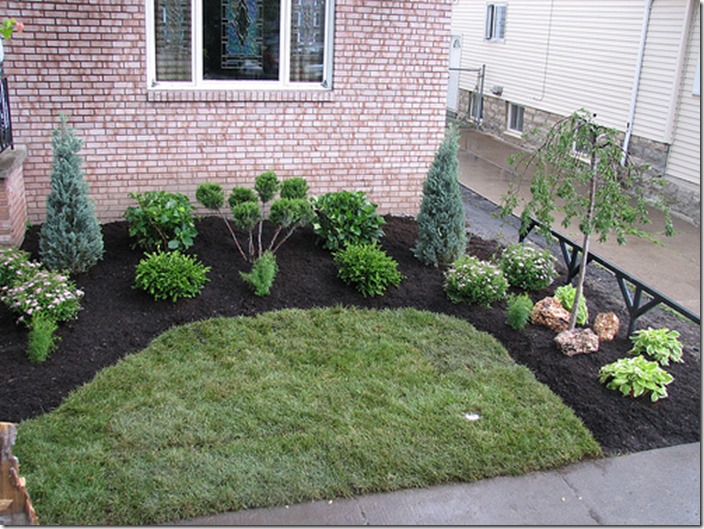 (via omgsoma.com)
I found some great inspiration pics online that really gave me hope that my front yard will some day turn into something of beauty like this curved bed above. I love the dark mulch they used in this bed, that's definitely my style too.  Adding plants against the foundation of a house just brings it all alive, doesn't it?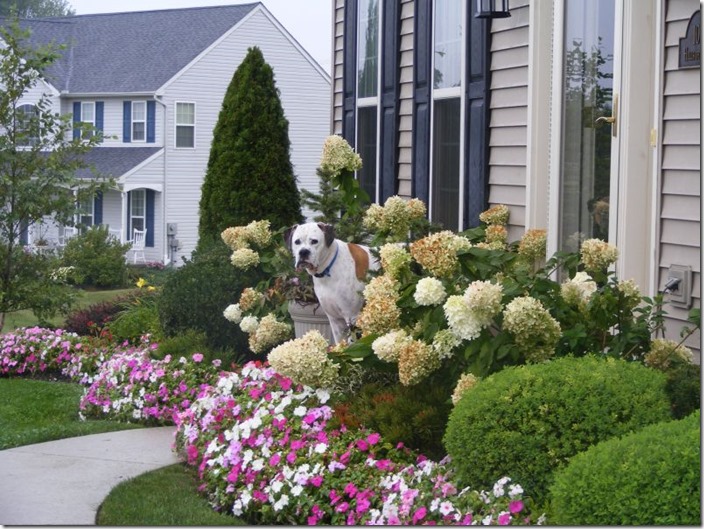 (via omgsoma.com)
And this pic!  OH, I love this. The dog, the hydrangeas, and the impatiens just call to me.  What a welcoming front door.  Color in plants wakes up a front entry like nothing else.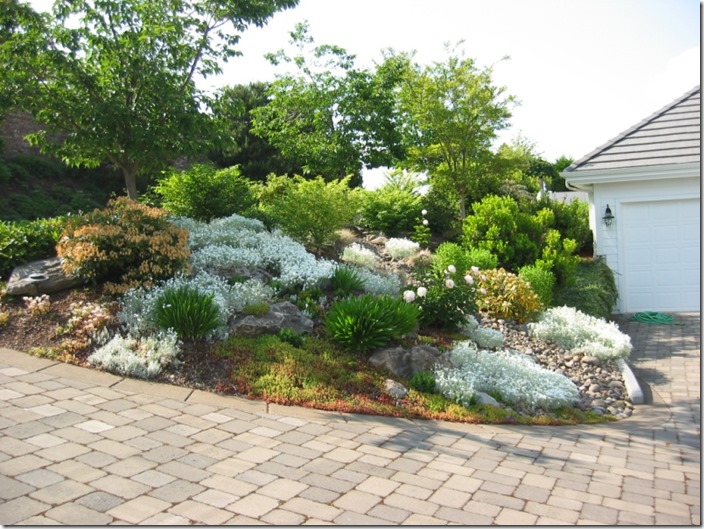 (via gardenplansandlayouts)
Even hard to work with areas can be changed with the right types of plants and ground cover.  I so look forward to my spaces coming alive like this.
Some of the plants that are great for the South are these beauties.  Hydrangeas are some of my favorite plants. Dear Delores hydrangea is pictured above.   There is nothing more beautiful to me than a flowering hydrangea and I plan to have many of them in my landscape plan.
I'm so happy also to be a new contributor to the Southern Living Plant Collection website and will be sharing over there about once a quarter.  The blog world has opened up so many new doors for me and this is yet another one to be so thankful for.  I'm so excited to get the expertise from the folks at Southern Living Plants for my own yard, how great is that?  There is not another group that I would rather have working on my  yard than this one and working with Carmen will be such a joy.  Southern Living magazine is an icon for me and to work along side their plant collection division is just a dream come true for me.
I'm sharing a post over at the Southern Living Plant Collection, all about starting my landscape plan and how I want to see it evolve, so I hope you'll click over and check it out this month.  I will be keeping you posted every step of the way as my yard transforms into one that I will be so proud of and Southern Living plants are going to play a big role in that transformation.
Can't wait to share more as we move along this spring!
Don't Miss a Post, join my list!