Hi, girls (and guys, if you happen to be reading)!
Take note of this one, this recipe will knock your socks off and make everyone think you slaved in the kitchen for hours coming up with this gourmet sorbet that is so tasty and delish!
My friend, Tammy, invited me over for dinner one night and served this for dessert and I was blown away by how delicious it was and how easy too.  I asked her to do a tutorial for me and show us all how it's done.  Tammy got this recipe from Cooking Light.
Basic Sugar syrup (recipe below)
Chopped strawberries
Lemon juice
Add lemon juice to sugar syrup.
Add all to pan and start simmering.  There is honey in this recipe too.
Add white wine.
Add strawberries.
Simmer
Simmer to boil.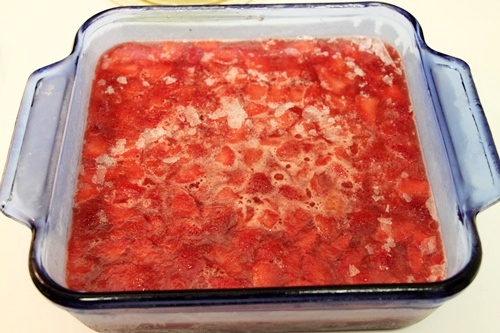 Freeze in container 8 hrs.
Cut into chunks.
Add to food processor.
Process til smooth.
Creamy and delish.
You can freeze and keep for a few days.
But, I'll warn you, there probably won't be any left.
Oh my gosh, is this stuff fantastic!
Strawberry-Wine Sorbet
4 cups coarsely chopped strawberries
1 cup dry white wine
3/4 cup Basic Sugar Syrup (recipe below)
1/2 cup honey
1/4 cup lemon juice
Combine all ingredients in a large saucepan, bring to a boil.  Reduce heat and simmer, uncovered, 4 minutes.  Remove from heat and let cool.
Pour cooled mixture into an 8-inch square baking dish, cover and freeze for at least 8 hours or until firm.
Remove mixture from freezer; break into chunks.  Position knife blade in food processor bowl; add frozen chunks, and process until smooth.  Serve immediately, or spoon mixture into a container; cover and freeze for up to 1 month.  Yield:  5 cups (serving size 1/2 cup).
Basic Sugar Syrup
4 1/2 cups sugar
4 cups water
Combine sugar and water in a  large saucepan, and stir well.  Bring sugar mixture to a boil, and cook 1 minute or until the sugar dissolves, stirring constantly.  Yield: 6 cups.
Let me know if you try it!  I can't imagine anyone not loving this one.
Don't Miss a Post, join my list!