Today I have a special fashion post for you, since I had to get this one out there as soon as possible.  I love the smell of leather and I love cowboy boots, so when I got an email asking me to join Tony Lama boots in a style challenge, how could I refuse that opportunity? They would send me the boots of my choice (from a list they had offered) and ship them out to me to style 2 ways.  I am styling them with a casual outfit and one for a night out.
So, here's my take on cowboy boots and Tony Lama boots specifically.  I am already a Tony Lama cowboy boot fan and treated myself to a pair about 4 years ago and have really enjoyed them. Mine are the shorter boots, so I chose a taller pair this time, in 15″ height and it will be fun to add another pair of cowboy boots to my wardrobe.  There's actually going to be a contest on this boots challenge, so I'm going to be asking you to vote if you don't mind!  It's all for fun and I really don't care if I win or not, but why not try?!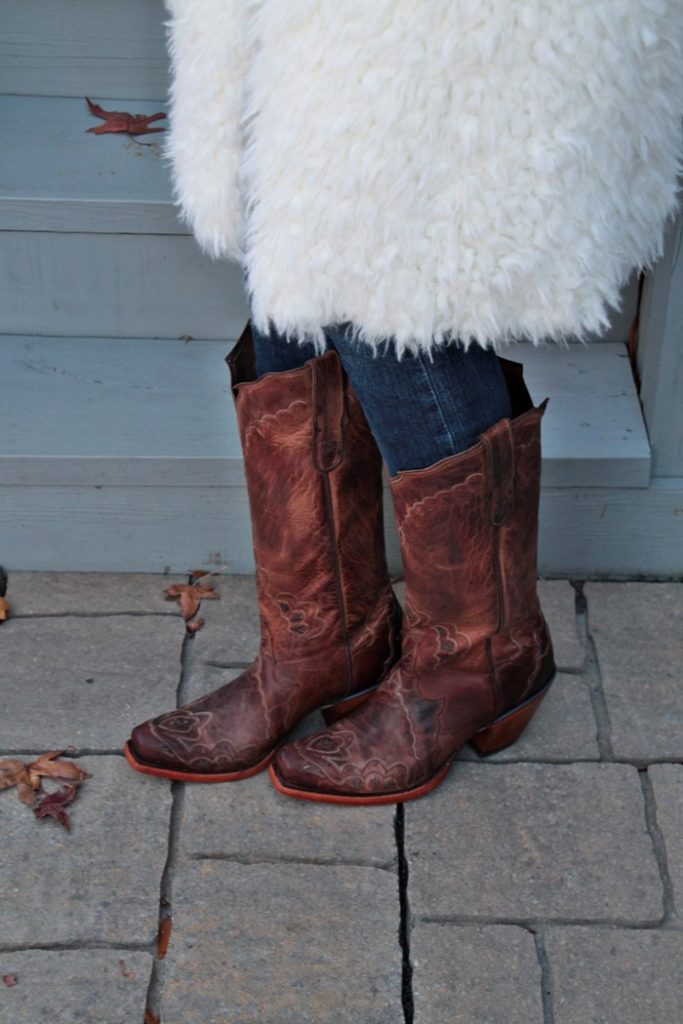 I chose the Tan Saigets Worn Goat boots and they are a rich burnished leather.  When I opened the box, that leather aroma was wonderful.  I have no idea if this means they are made from goat leather, but they are Made in the USA, which I do love.
For my casual outfit, I imagined I was going skiing in Colorado and this is what I might wear out there to hang out in the ski lodge.  I can just see my faux fur vest and jeans fitting right in with a ski resort.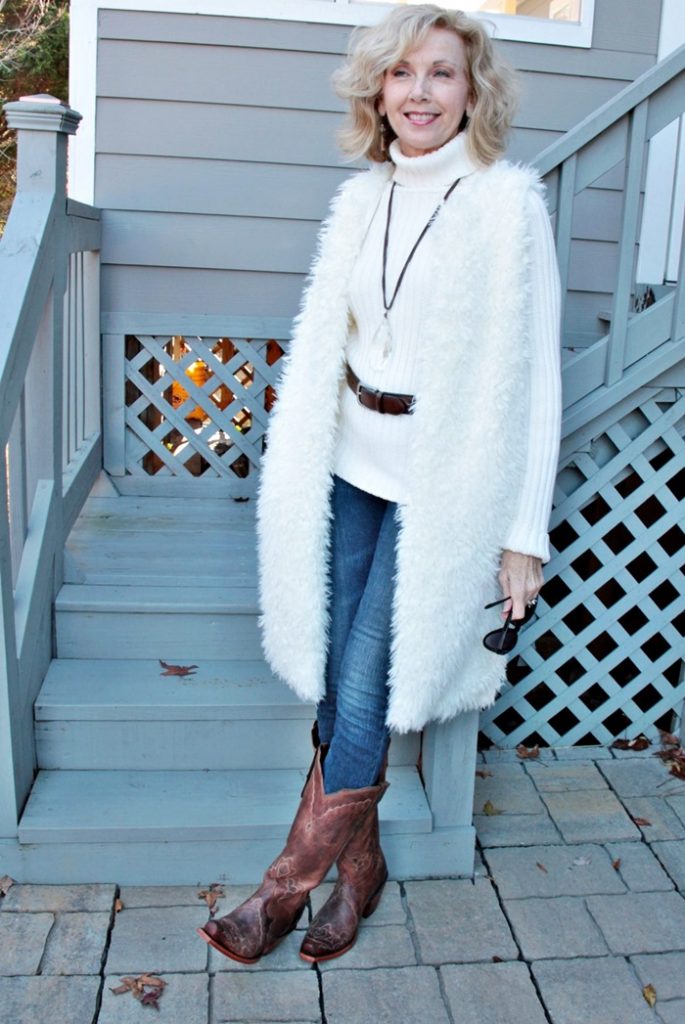 I got this long faux fur vest last year, so I can't link to it.  Skinny jeans are Silver Suki jeggings that my sis bought me a couple years ago.  They are perfect with cowboy boots.
Similar Silver Suki jeggings (affiliate link) and here (affiliate link)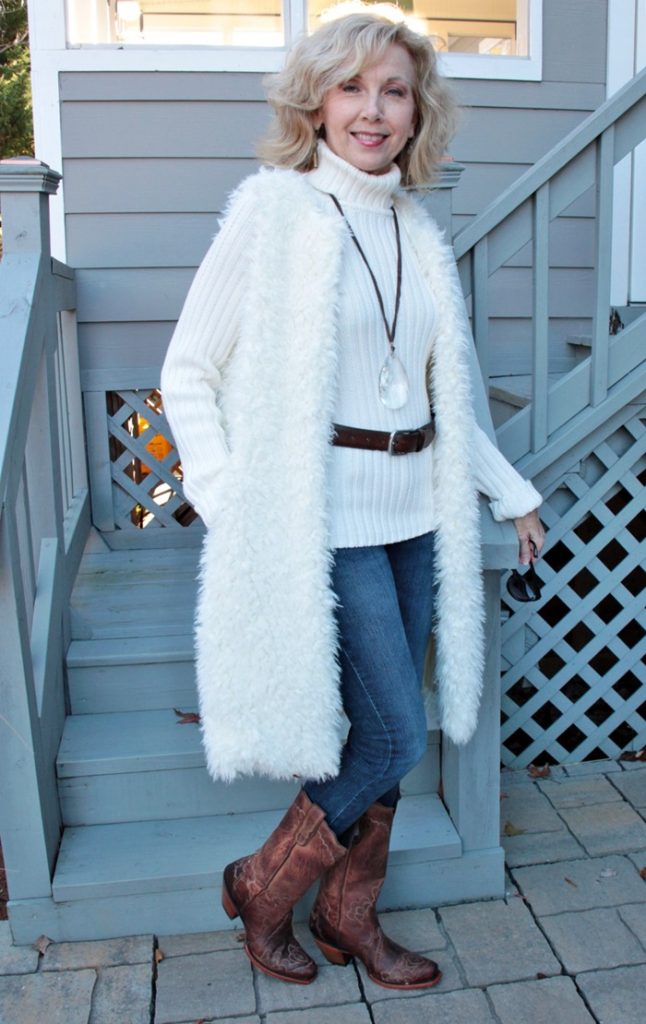 Cowboy boots add some sass to your wardrobe and I love mine.  Yes, they are Western in flair, but can also be sophisticated too. I usually wear an 8 1/2 in shoes, but in both my boots, I got an 8 and they are plenty roomy.  What I've found out with leather cowboy boots is the more you wear them, the more comfortable and broken in they get.  I will be able to wear these with thick socks for maximum comfort.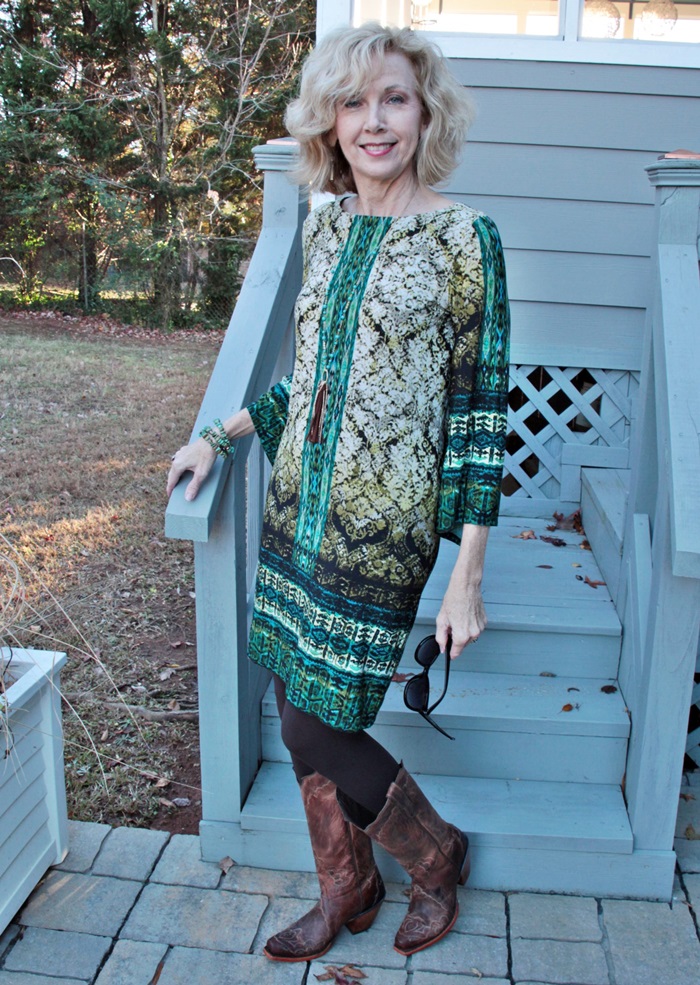 For my night out outfit, I chose a dress I've had from Ross, with pretty Fall colors, worn with brown leggings and these boots.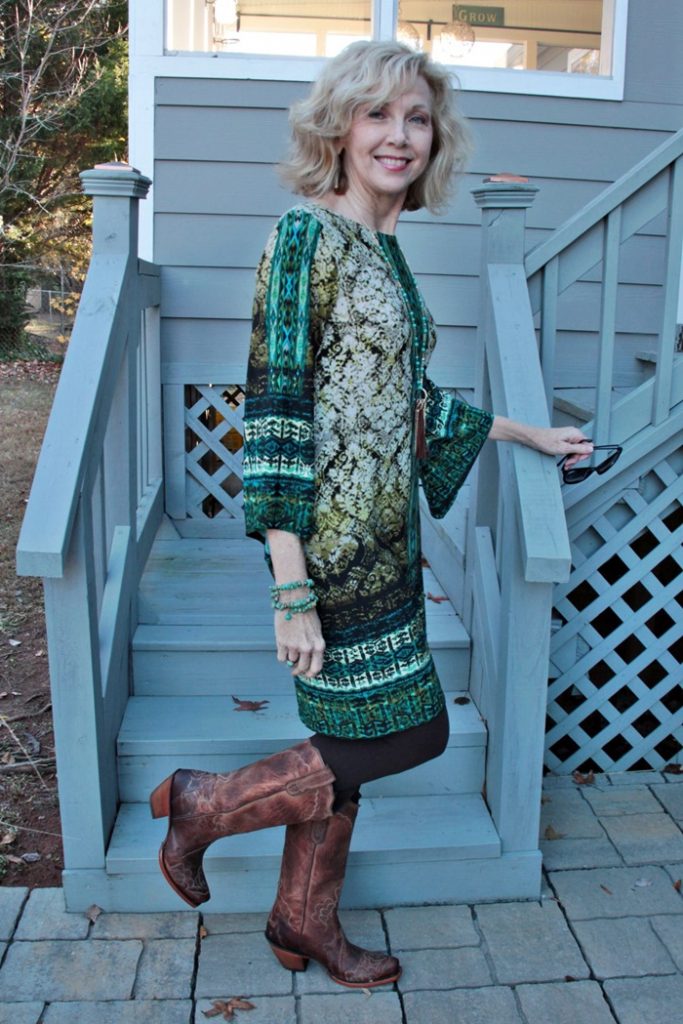 I think they mix well with this Boho style fabric and adding some jewelry makes it ready for a night on the town.
I layered it with my vintage houndstooth coat and I think it's a very cute outfit for going out.
So, are you a cowboy boot fan or not?  I think they are really fun and I've totally enjoyed my cowboy boots. The leather just gets better with age and they make me feel sassy and youngish!
Thanks to Tony Lama boots for providing my new boots! 
Don't Miss a Post, join my list!