What does summer mean to you?
For me, it means being outside a lot (in spite of the heat), beautiful summer flowers, going to the beach, cooking on the grill, eating watermelon and ice cream, and enjoying time by the pool with family and friends.  Summer is all of those things and is one of my favorite times of the year.  I do have to admit that the heat really gets me now, but there's nothing like summertime in the South!
Today, I'm joining  11 other fabulous bloggers this week and sharing what summer means to me at home.   This is the last day and it wraps up a fun few days, so I hope you'll go back and read all the other posts, all about celebrating summer at home.
For many years, summer for my family has meant spending a few days at my parents house in the mountains.  This is one of their favorite spots to be and they've had this house for at least 30 years.  They still spend a lot of time at this NC house even now.  You can imagine the family memories that this house holds for all of us.  I know the day is coming when my parents will sell the house and that will be a sad day.  My dad plants a big garden up here and has spent the last 30 years harvesting his garden here in NC  (2 hours north of their house in GA).
This house is filled with fond memories for all of us, but I know things will change eventually.  My dad is already talking about giving it up, because at their age it's just getting too hard to take care of two homes and we girls can't take care of it either.
Summer in the mountains means walking down the bridge over the trickling stream in the front yard.  My niece, Lauren, played in this stream growing up, so I know she has fond memories.
Watching the tomatoes turn a vivid red, ready to be picked.

Summer means that first red, ripe, juicy tomato that we can't wait to slice and eat.  The first tomato sandwich of the year is always a highlight for Southerners!
Mom's canned tomatoes are always part of summer too.  The crop is bountiful and plentiful and when it all comes in at one time, it's time to can.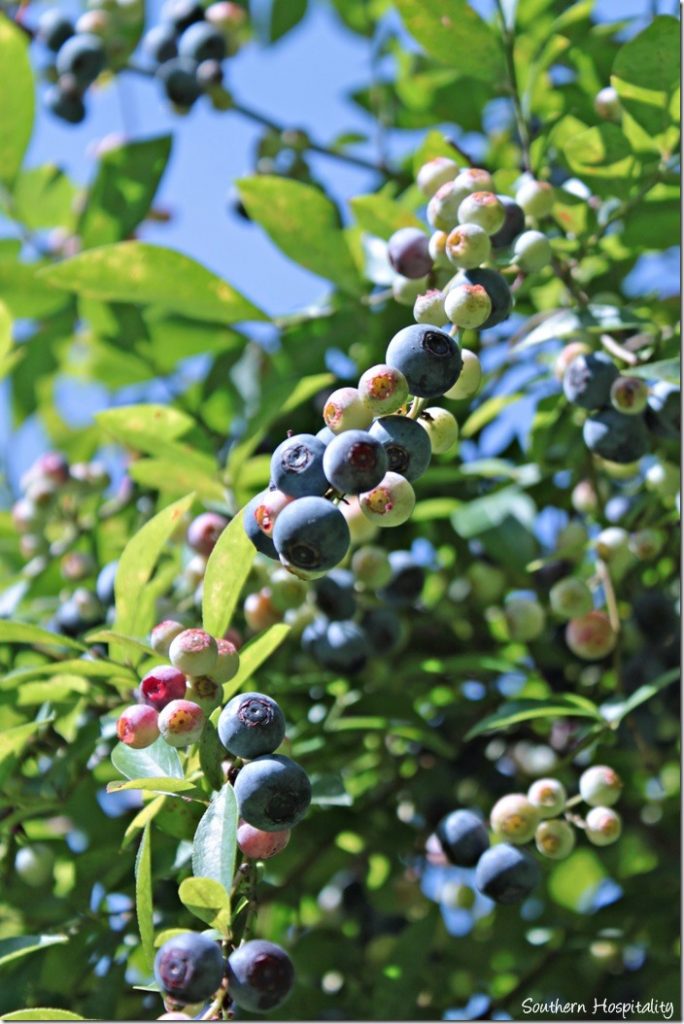 Blueberry bushes are planted in the mountains too and are big mature trees now, laden with beautiful fruit.  We all pick and eat and that's a summer ritual for us.
Mom makes blueberry pies and it's always a happy occasion.
Dad loves his garden and shucking corn is a part of the summer season too.  It's a big deal when the corn comes in!
We can't wait to sink our teeth into that sweet juicy corn on the cob.  So delicious and nothing like fresh from the garden.
Our plates are laden with bounty from the garden and we are thankful once again for summer and the beautiful produce this time of year brings to the table.  Mom cooks it all up just right, Southern style.  And we eat and enjoy it all once again.  I hate to think that these will just be memories some day, but that day is approaching fast.   Things change and this will be yet another change coming before too many more years.
I'm so thankful for the memories spent in this house over the years, filled with many relatives and friends.  We have spent hours on that porch, watching the hummingbirds and eating so much we could pop.
Summer is a special time and we have treasured it over the years.
Making homemade ice cream and sitting outside to eat it.
All of this and more, that's what summer is to me!
What does summer mean to you?  Leave me a comment and chime in, I'd love to hear!
Here is our line up, so be sure and check them all out!
Wednesday,  June 18th
Thursday,  June 19th
Friday,  June 20th
Saturday,  June 21st
Don't Miss a Post, join my list!