It's been a couple of months since I did a family update, so I thought I'd share a summer edition and let you know how mom and dad are doing. The last I shared was about mom falling in early June and breaking her shoulder, so I'll give you a good update on that as well.
It's been a good summer for us so far. Getting the pool finished was the highest and best accomplishment we've done this summer and it's nice to have that behind us. As far as family goes, we've had 2 family gatherings with Mark's girls and their kids and the pool has gotten broken in nicely.
Rose is 4 now and she comes over every Monday to stay with us (Pop and Rho Rho), so we enjoy having her those days. Of course, she's loving the pool too. She will be getting a new baby sister in November and we are excited about that. Two more babies are on the way too, another girl and a boy, both due November and December. It's going to be a busy December with all the babies coming. I'm so glad I get to experience being a grandmother with Mark.
Here's a recent pic of my great nieces, Iris, Alexandra, and Parker (left to right). They are 8, 6 and almost 2. Time sure flies and they are growing up so fast. That Alex with her blonde hair and brown eyes, looks different from her sisters, but they sure are all so cute.
When I spent a week in June with my sister and BIL, we went out on the boat and had a great time. I can't wait for more boating down there. They have skis and a big raft for tubing behind the boat and I know a lot of fun will be had on that lake. Renee and Bruce are moving into their new house this weekend. I'm so excited for them and can't wait to go back and take pics of the finished house. I'll have to figure out a time to get back down there for that. I know it's going to be so pretty with all their furniture moved in. They will still have plenty of projects to complete, but at least they will be in.
Now, on to my parents and an update on them.
Mom and dad continue to be settled into the assisted living and memory care and doing well. Dad has fully adjusted and talks often about how great it is to be in such a nice place at their older age and how well they are taken care of. He has nothing but good things to say now that they've been there 10 months. It's hard to believe now that he was so angry about us moving them back then, but we are glad that only lasted a few weeks and he began to settle in pretty fast after that.
Now all I hear is rave reviews about living there. I've captured some of his words on video along the way, so it's nice to hear him being so happy and content with where they live. He rarely talks about his car and truck, but he did ask me about them this past week. He said, I had a car and truck, what happened to those. I said I'm handling them and taking care of them for you. He said, you have them? OK good, well just enjoy them. I'll never tell him they were sold and he seems to be forgetting about most of it. He hasn't mentioned the house in months and we are glad those memories are fading away. He lives in the moment and is a happy and contented guy. Just don't get in the way of his meals! When he comes over to visit mom, many times before lunch, he will be looking at the clock to make sure he gets back to his side in time for lunch. He lives for those 3 meals and that is fine with us. We're glad that food is such a motivator for him. Whatever makes him happy!
They do occasionally take the memory care people out for a special outing and they let me know that they were going to the Varsity one day for lunch, so Mark and I met them there and sat with dad as we ate that good Varsity food. I made dad pose with a hat on.
One of mom's old friends that they met in the NC mountains sent this pic recently of mom and dad back in fall 2017 when they were going to church up there. Don't they look good? This was after dad fell and had C-Diff back then and he was in the hospital and rehab for about 6 weeks total. The last 5 years have definitely taken a toll and they are showing their age more than ever now, but they are both still doing remarkably well for 94 and 95.
After mom broke her shoulder, it really changed her day to day living. She is paying for the extra care service for an extra fee per month for 2 months while she's been recuperating. They gave her a button to hang around her neck so that she could call whenever she needed someone. Unfortunately, that extra service didn't seem to be worth it, since there were issues with people coming on time and getting her the help she needed on a daily basis. We went around and around on all of this with the managers, but it didn't get a whole lot better in 2 months. I know that most senior care facilities seem to be having staffing issues and Dogwood has been no exception. There are new faces all the time and some of the old ones that mom really liked have left. So turnover is a problem I'm sure and while things haven't been perfect, it's still satisfactory for them and we know that issues happen everywhere, so they are staying here for the long term.
She sleeps in the recliner at night because it was hard to get into her bed and she was propped up on her right side so that her arm could stay in the sling. After 6 weeks in the sling, we went back to the orthopedic surgery office and they took the sling off and said she was ready for physical therapy.
They sent someone in twice a week or so for physical therapy and then added in occupational therapy as well, which helps her with dressing and doing for herself again. That's been most helpful and mom has faithfully been doing her exercises. Thankfully, she is so much better after 2 months and is able to get mostly back to where she was before all this happened pretty quickly.
Dad turned 95 on July 14th and I gave him a snazzy new blue shirt. It looks so good on him!
That day, Mark and I brought Chick-Fila for lunch and we all sat on the upstairs covered porch for lunch. We had chicken strips, fries and peach milkshakes and daddy was so appreciative and happy. He loved his milkshake! Anything sweet perks him up and luckily his sweet tooth gets plenty fed where they are. With mom's shoulder broken, she wasn't going over there everyday to get him like she used to, but the staff would bring dad over regularly to visit with her. And when I was there, I'd go get him so that he could still see her regularly. He was very concerned about her broken shoulder and asked her all the time how she was feeling and how it was doing.
Luckily, her broken shoulder didn't cause her a lot of pain after the first few days and and didn't require heavy pain meds.
During this time, my family also chipped in and we got her a lift chair this one from Amazon (affiliate link). She's been very happy with it and learned how to work the controls pretty fast. It has massage and heat also, so I think it will be helpful for her as she ages even more. The lift function is pretty neat as it helps them stand easier. Mark helped me get it all set up for her and she's liking it.
A recent pic with dad.
Lauren was home a couple weeks ago for a baby shower (she still has lots of friends here) and was in town for 2 nights and stayed with me. Mom enjoyed having her around and they got some quality time in.
Another recent pic of dad in his new shirt. I think he likes it, he's been wearing it a lot.
After mom got her sling off, she started doing exercises every day and showed us how she could move her shoulder. Those exercises are really paying off and she's doing so good. We are so proud of her for her determination to get better. She doesn't like asking for help and really wants to be independent on things, so getting back to her daily functioning was her primary concern. She's now able to dress herself again and get in the shower and bathe herself. She wore house dresses those two months, but now is back in her regular clothes which makes her feel so much better. She's able to use her left hand again for getting dressed and that is so good.
I was so happy to walk in this week and see her looking like this, all dressed in her new clothes. Just 3 days before she fell in June, she had asked me to take her shopping so we went to Belk and JC Penney and she found a lot of new tops to mix in with her pants she already has. She wanted to find some shirt jackets that she could wear simple T's with and have something on her arms and we found a lot of things at those 2 stores. These shirt jackets are perfect for her.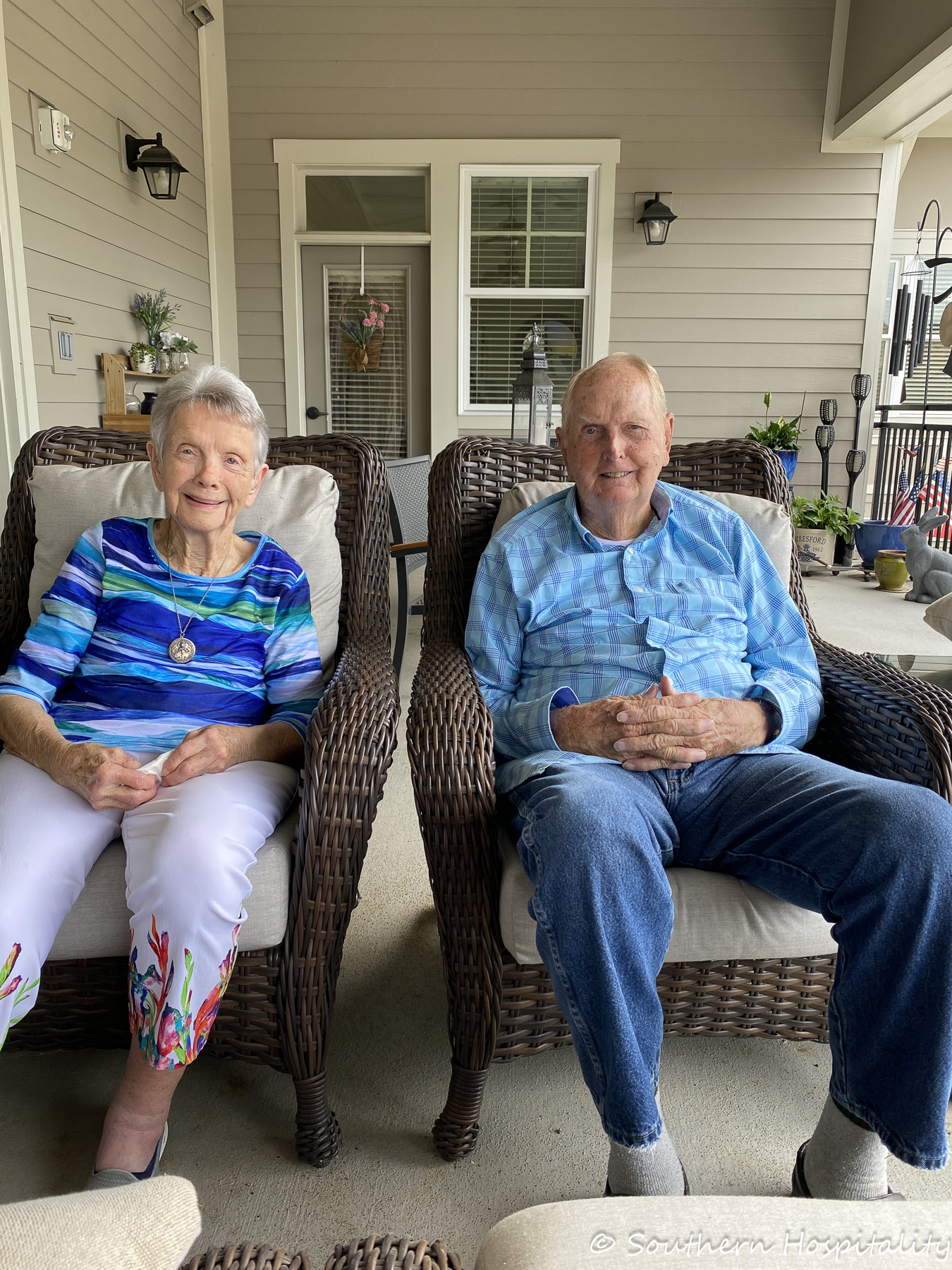 Yesterday I took home grown tomatoes over to them for lunch and we all had tomato sandwiches. I knew they would enjoy them too.
Mark and I have been on the hunt for some little man growing tomatoes in his yard and selling them from the house and we found one. Someone tipped me off to a guy growing tomatoes on Bells Ferry Rd. just north of Sixes Road intersection. Sure enough, we drove up there and he had a big sign in the yard, Home Grown Tomatoes with an honor system and a box to put the money in. I should have taken a pic, but I was so excited I forgot. He had a little stand set up and there were 3 baskets of tomatoes left at $5 each, so we bought them all. His sign said it was the last tomatoes of the season, so we were lucky to find them. They were SO delicious and I came right home and had a tomato sandwich. They look just like my daddy's garden tomatoes.
I took tomatoes, bread, mayo, salt and pepper with me and we had a feast! Mom and dad were so happy to get a tomato sandwich and I was happy to share with them. After all the tomatoes my dad has grown over the years, it was a fitting summer lunch for us to enjoy together.
So that's the update on my family and especially my parents. Thank you so much for your care and concern for them. They are doing as well as they possible can at this point in life and it's good to have them 5 minutes from my home, knowing that they are getting 3 meals a day and good care. It sure makes me happy and takes a huge burden off me, Renee, and Lauren to know that they are doing well. We don't have any idea how long we have with them, but we will enjoy every day we do.
Don't Miss a Post, join my list!