Summer home tour featuring fresh hydrangeas, coastal accents, and lots of fresh decorating ideas. Welcome to the summer 2022 home tour, hosted by my friend, Marty with A Stroll Thru Life. She puts these tours together every season and it's a great way to see a lot of talented bloggers all in one spot. Summer is such a fun and busy time of year and I hope you all are ready for it. It goes by fast sometimes and we happen to be putting in a pool right now, so that can't get finished fast enough for us. We hope to be in it in another month.
Don't miss all 30 home tours at the bottom of the page. They will be going on all week, so hope you'll check back when they all go live each day. You'll enjoy them all! If you're stopping by from Doreen at Hymns and Verses, welcome to you. I know you enjoyed Doreen's cozy summer home.
Mark and I have been in our house 5 years this summer. It sure has flown by fast. We've done so many projects in our house too in those years and adding a pool is definitely the biggest and most exciting thing we've done. We really enjoy our small neighborhood and the proximity to downtown Acworth, the small town we live in. It's been the best place for us and we couldn't be happier.
I added a welcome summer wreath to the front door.
I bought this a couple years ago and all I did was add a black and white ribbon. I love lemons for summer and yellow is such a happy color.
Our smallish living room really doesn't change much during the year. I do change out what's on the coffee table for the seasons, but that's about it. I don't even change my pillows like a lot of gals do.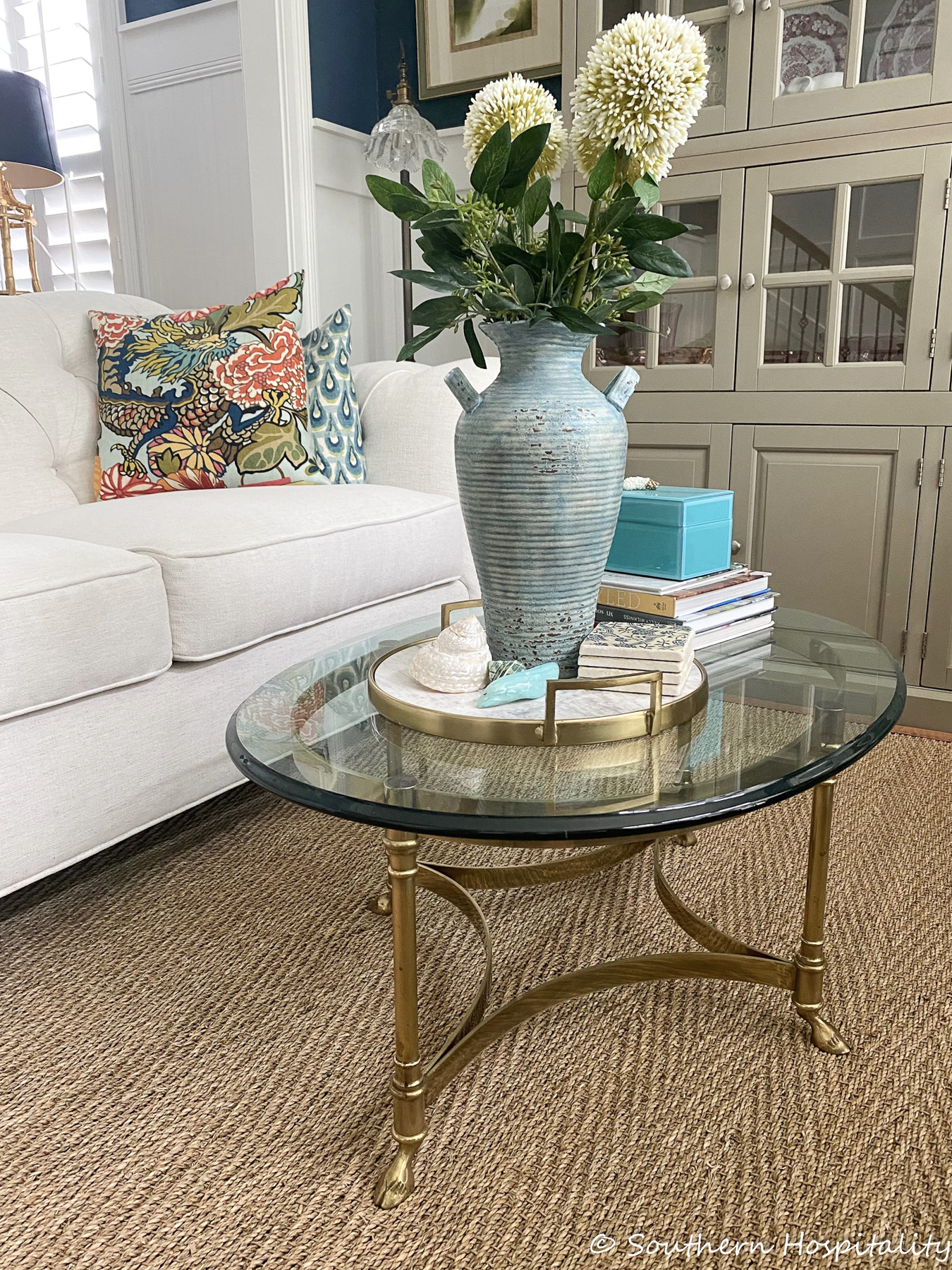 I enjoy color and my colorful pillows are a fun accent all year long (except at Christmas I will add some pillows).
The greenery in here is faux and I do like a good faux. I found those tall alliums at Target a couple years ago, but they are no longer available.
I still like my living room so haven't changed it much since I arranged it like this.
It's a cozy space right off the foyer. Mark added that box molding wall over a year ago and we sure love it.
My thrifted art pieces found a home on this wall and I haven't changed it either.
Our foyer is straight ahead as you walk in the door and I enjoy changing this table out for the seasons.
I collect those green glass bottles and they come in handy for summer when my hydrangeas are in bloom. I'm so glad I have a big hydrangea hedge in the backyard and I can cut plenty of blooms in June.
They look gorgeous in these green glass bottles, don't they? When these die, I'll find some faux things to put in there, but I sure love them while they last. This year, I got creative and perched my starfish on top of the molding creating a coastal feel.
Love those hydrangeas!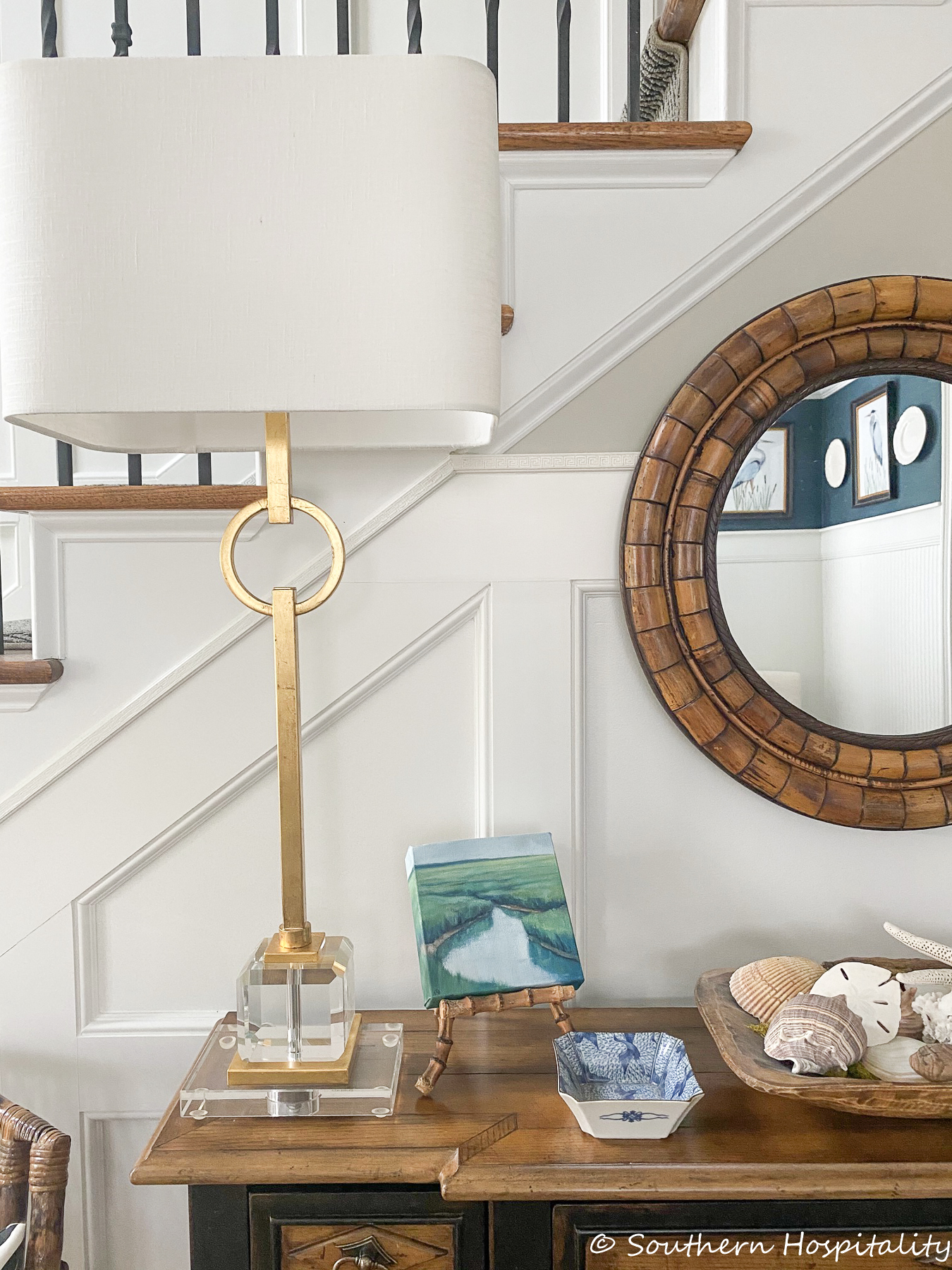 On the opposite side, I have a pretty vintage bamboo easel that I like to display small paintings. This one is an original from Etsy. The blue and white bowl is thrifted.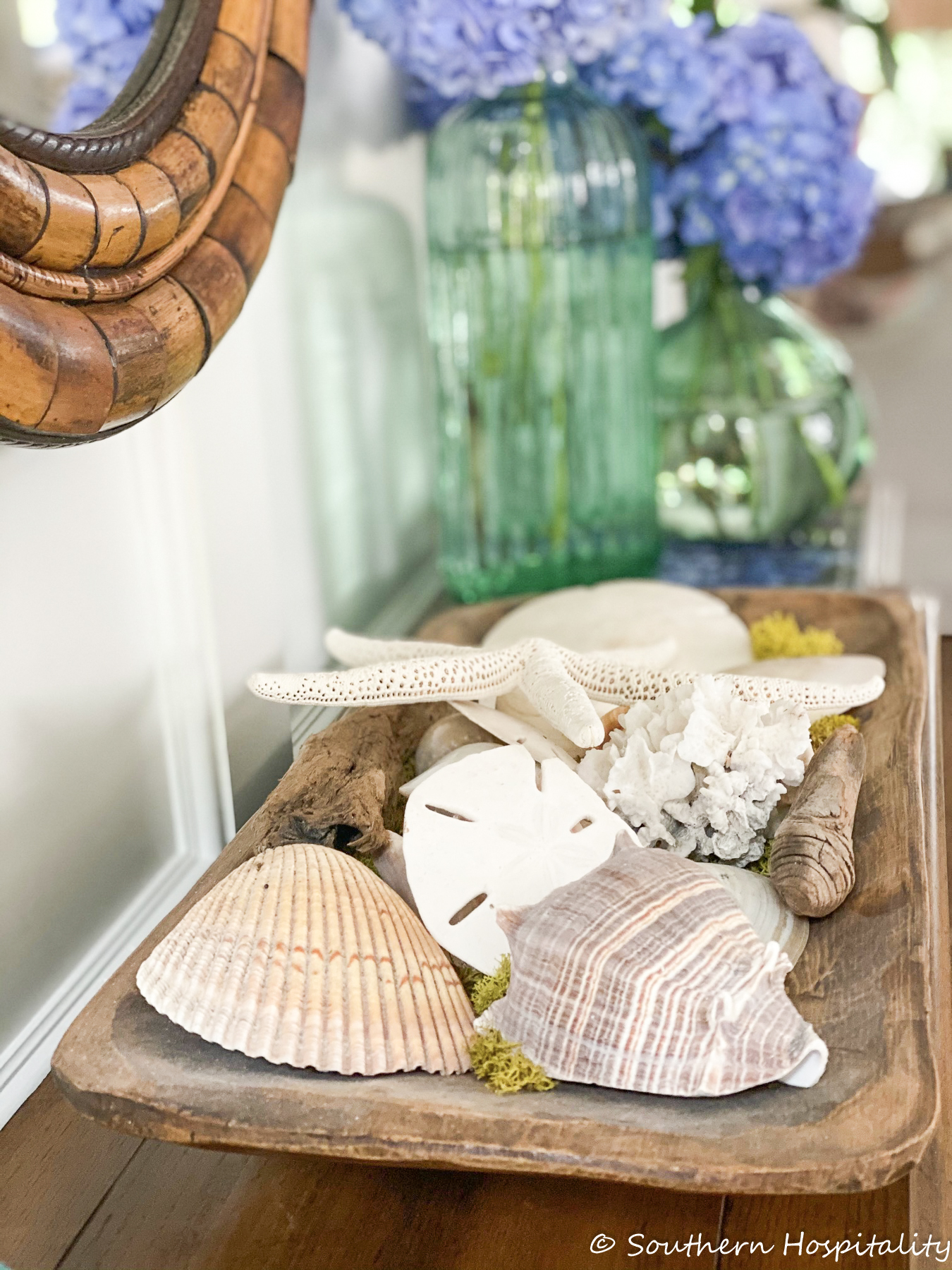 I have plenty of seashells from collecting them over the years and they make a perfect statement in my wood dough bowl.
I love to see them all piled in this bowl.
Next, the dining room gets a change for the seasons with more hydrangeas. I love to take advantage of this time of year.
This view is so pretty to me and even though we don't use our dining room every day, I sure like to look at it and pass through it often to the kitchen.
I change out my tablescape with the seasons too and summer is light and airy.
Another big glass bottle holds more hydrangeas.
As you can see, I love blue and white too and my dining room is devoted to lots of blue and white.
It's fun to change out my table with the seasons.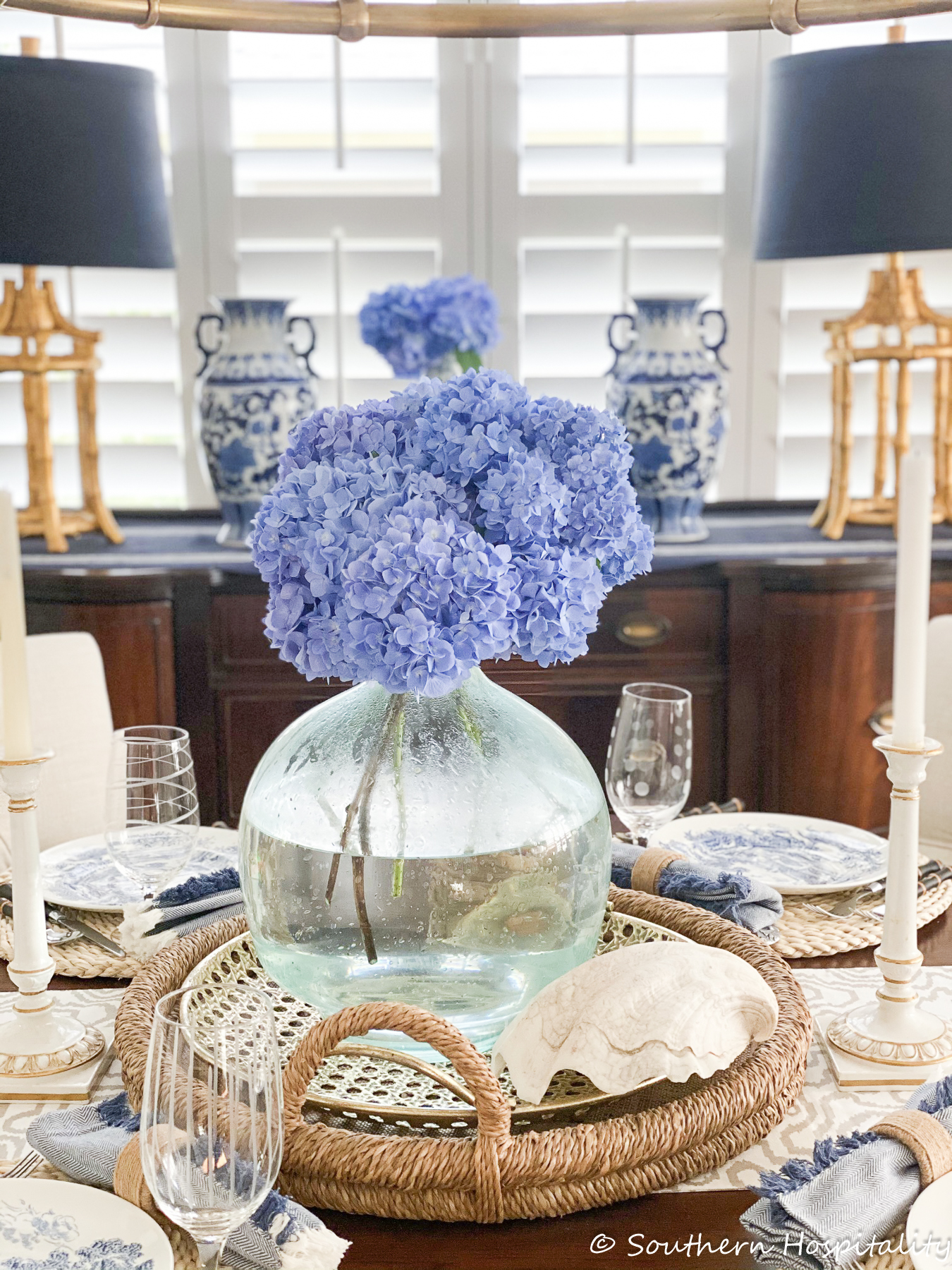 And blue hydrangeas are the perfect accent in here with my blue and white dishes.
These blue and white plates came from an antique store.
View to the foyer table.
This little rattan bar cart has been a fun accessory in the dining room too and I change it out with the seasons.
I just added things I already had to it for a summer vibe.
I shared these summer vibes last week and thought they were perfect for this post too. See if something inspires you on here, some of these things I own and some are very similar to what I have in my home. I love blues and greens! Those 4 heron prints are in my dining room. You can find all the links below (affiliate links):

This large vintage pickle jar I picked up hold some faux ferns and that iron birdbath that I found years ago holds more seashells.
I sure hope you enjoyed this summer tour, it was so nice to get hydrangeas just in time to cut for it. Makes life easy for me, just plop hydrangeas in pretty containers and call it done! Don't miss Chalking Up Success next on the tour. I know you'll be inspired by all these tours! Enjoy!
Monday – June 6th Lineup
A Stroll Thru Life – Our Southern Home – Grace In My Space
Hymns & Verses – Southern Hospitality – Chalking Up Success
Tuesday – June 7th Lineup
Calypso in the Country – StoneGable – 11 Magnolia Lane
White Arrows Home – RemodelaCasa – Pink Peppermint Design
Wednesday – June 8th Lineup
Designing Vibes – Cuckoo4Design – Whispering Pines Homestead
Decor to Adore – Thrifty and Chic – Clean and Scentsible
Thursday – June 9th Lineup
CitrineLiving – Southern Home and Hospitality – Worthing Court
The Stonybrook House – Southern State of Mind – This is our Bliss
Friday – June 10th Lineup
Follow The Yellow Brick Home – Country Road 407 – Quarters One
Shiplap and Shells – Simply2Moms – Pasha Is Home
Don't Miss a Post, join my list!