Greetings, my friends!  I hope y'all had a good weekend. We enjoyed a beautiful week last week devoid of rain and it was a very nice time being outside and not drowning.  Of course, this means, the outside plants have to be watered again, so I've got to get back into that mode again. Sometimes I forget how much water plants need in containers.  We've also started a new summer project, staining the deck and the new fence, so that's going to take awhile.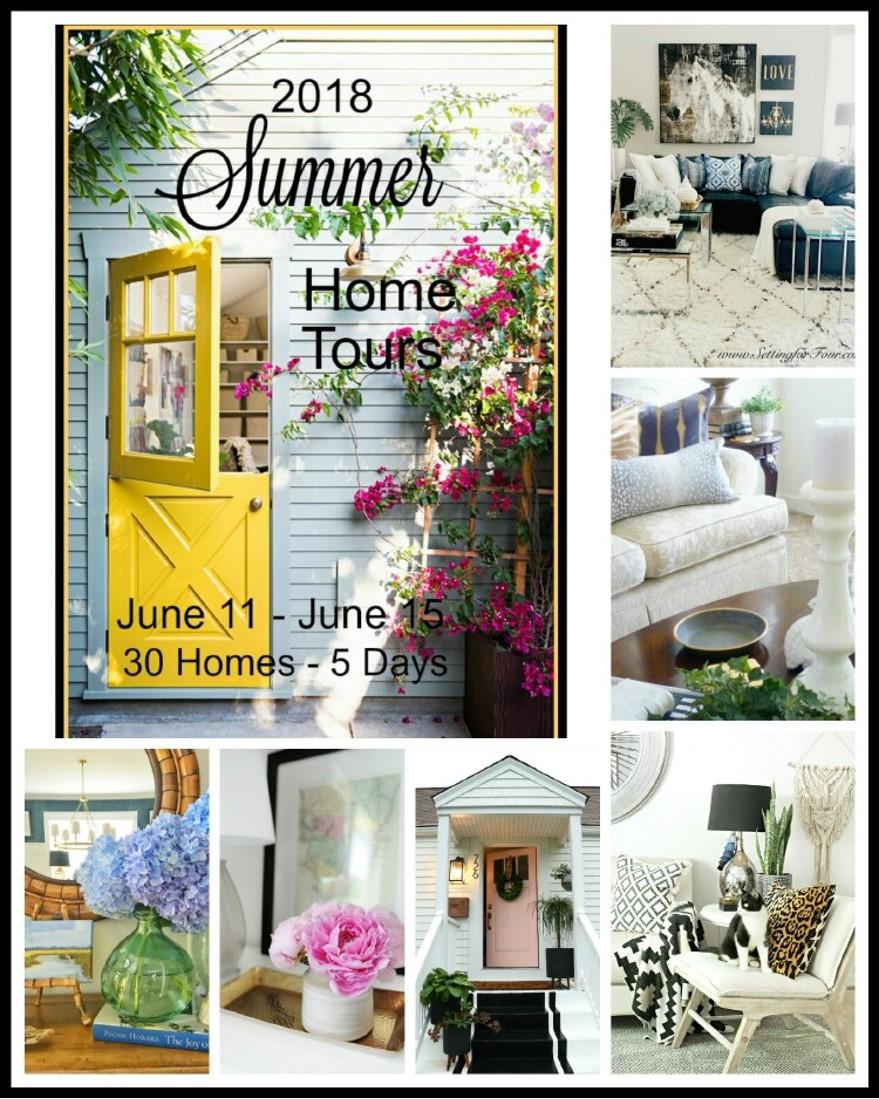 Today I want to take you on a fun tour of part of our home in a Summer Home tour with 30 other bloggers and hosted by the sweetheart, Marty of A Stroll Thru Life. Welcome if you're new, I hope you enjoy this touch of summer for our first summer in the new house.
If you're coming by from talented Julia at Cuckoo for Design, welcome!
Summer Home Tour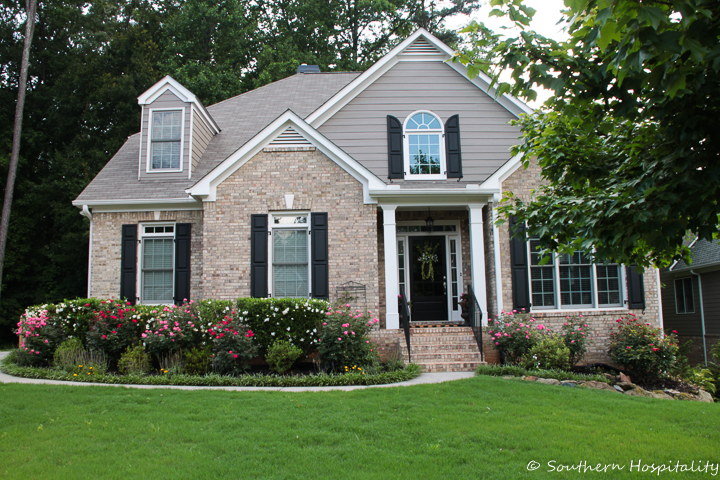 It's been fun to get settled into our new place and really make it our own.  We are loving our new home and it definitely feels like home now, even though we haven't been here a year yet!  We've done so many projects already since we moved in last year and getting the house painted was a big one we had done before we moved in.
Since then, it's been one project after another and we aren't finished yet, we still have lots of ideas swirling in our heads.
I have a big summer basket on the front door to welcome in our guests and green and white feels so summery to me.
Inside the front door is our small living room, filled with personality and color.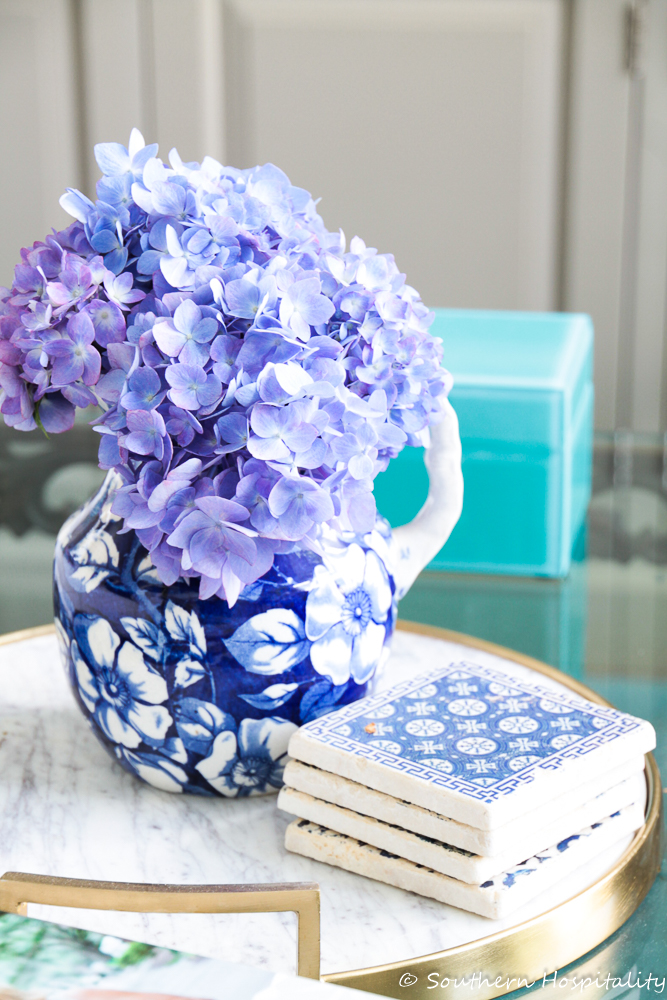 I don't typically do a lot of summer decorating and changing things out. Just not something I do a lot of, but since we have some gorgeous blooming hydrangeas in our backyard, that makes it easy for me to cut fresh flowers and bring them inside to enjoy.  So, that's really all I've done to make our home feel summertime fresh!
Beautiful blue hydrangeas in a vintage blue and white pitcher makes everything special.
Our little living room isn't big, but we sure do like it and it was a perfect spot to hang my vintage art.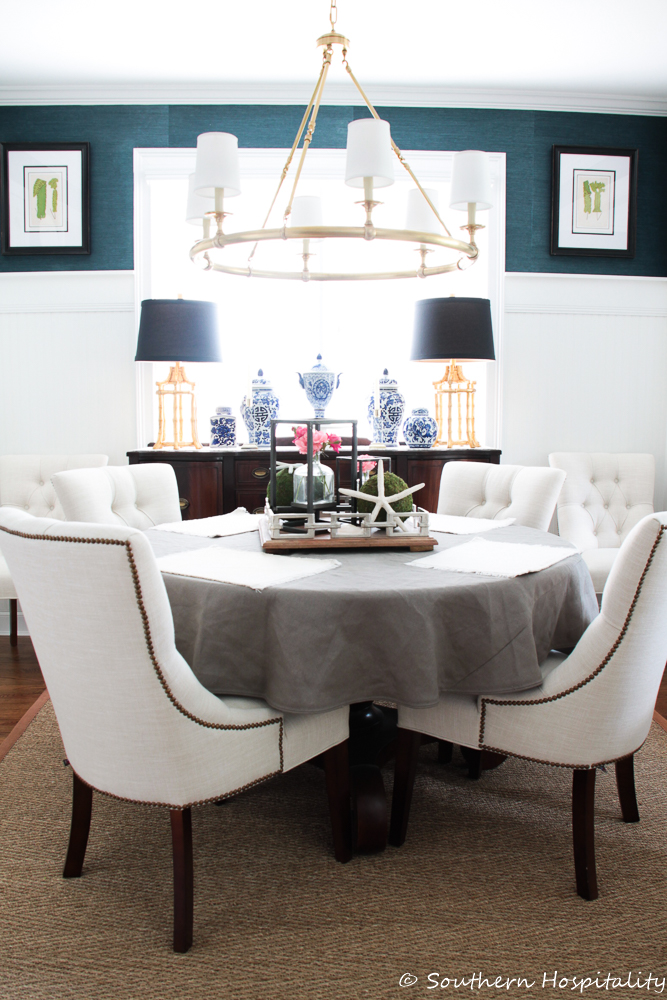 Next is our dining room with that luscious blue grasscloth wallpaper.
Dining room to living room view. Sorry, I didn't set the table for you this time!
In the center is a tray from Homegoods and those black iron vase holders are from Magnolia Home in Waco.
We've got knockout roses growing, so I clipped some of those to bring inside too.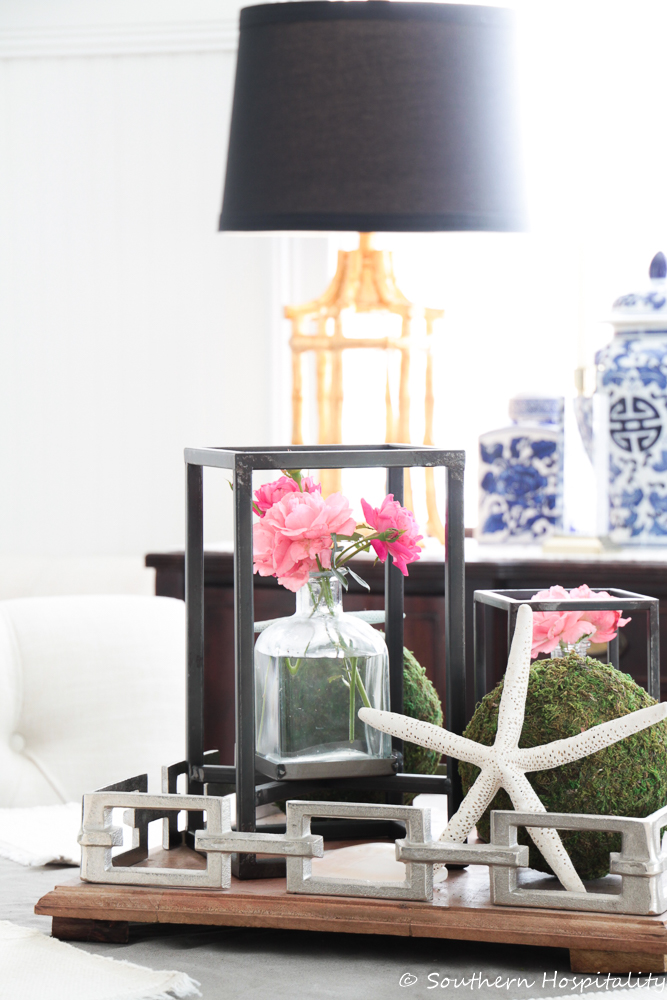 Pink and blue are a great mix.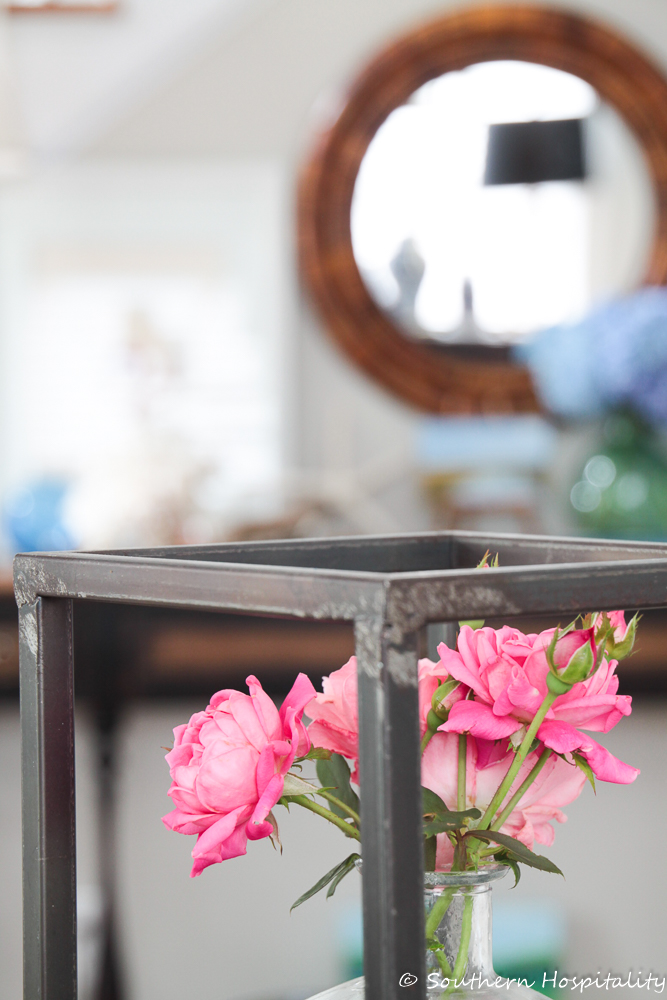 So nice to have fresh flowers outdoors this time of year.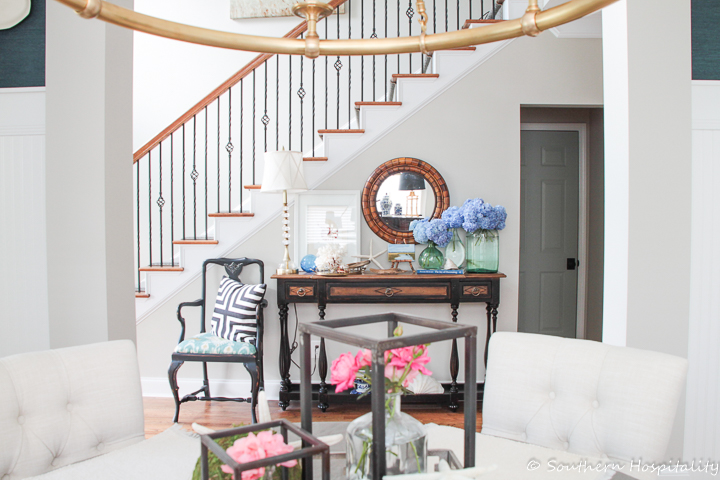 Dining room to the foyer table.  I love that little spot and have fun changing it out with the seasons. It will probably stay this way for the rest of summer, but the hydrangea blooms will of course not make it that long.
I gathered some pretty summery things that are in my stash, like the shell print, seashells, and those blue/green glass bottles that I've collected, making for a pleasing arrangement.
I love seashells and coral for summer mood, just plopped in my brass tray. I found this coral piece at a yardsale years ago.  I still love my thrifted things!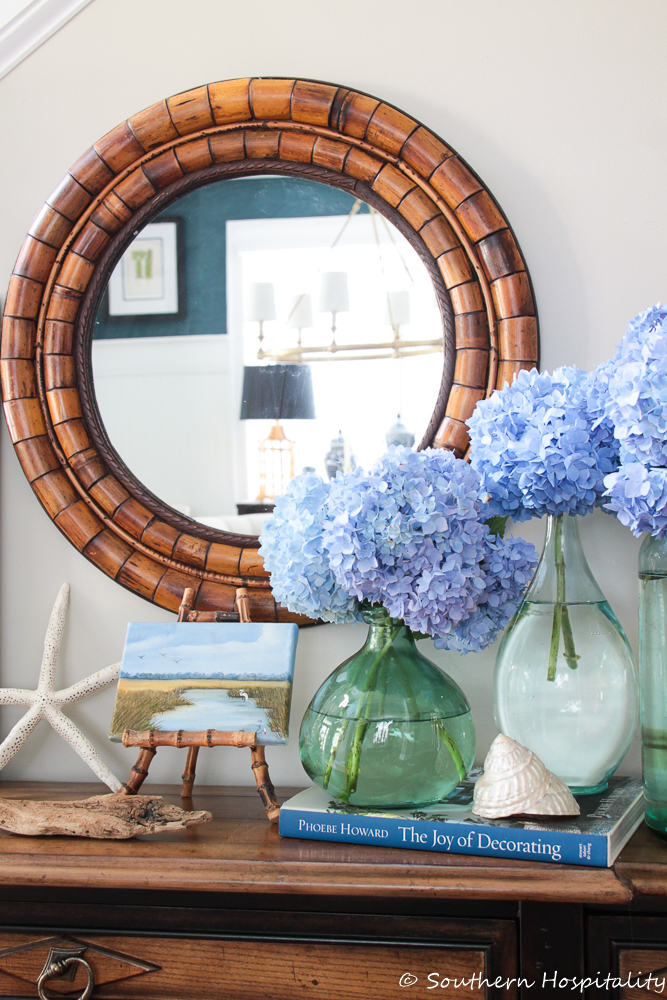 That gorgeous bamboo mirror was a thrifted find too and I had it shipped home from FL.  The bamboo easel has been with me for many years, yep another yardsale find.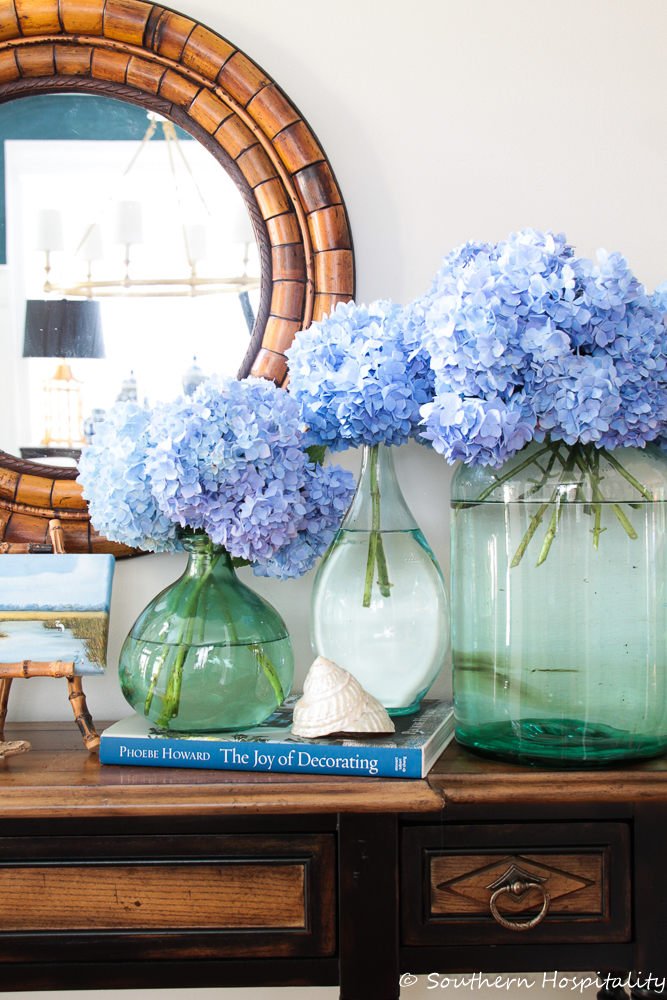 I've been collecting these aqua bottles for a few years now and love them all grouped together.  That big one on the right is an old pickle jar.  The newest one in my collection is the one on the left, recycled glass from Spain via Homegoods.  Other glass pieces I've found at yardsales along the way.
I've also picked up driftwood along the way and have some neat pieces of it to use during Summer.  That little painting is a pretty one, painted by artist Peggy Buchan from St. Simons Island, GA.
I've so enjoyed having this pretty Hooker table (affiliate link) to display things on in the foyer.  It's my space to be creative!
Those green bottles get me everytime, just love the way they look for Summer decorating.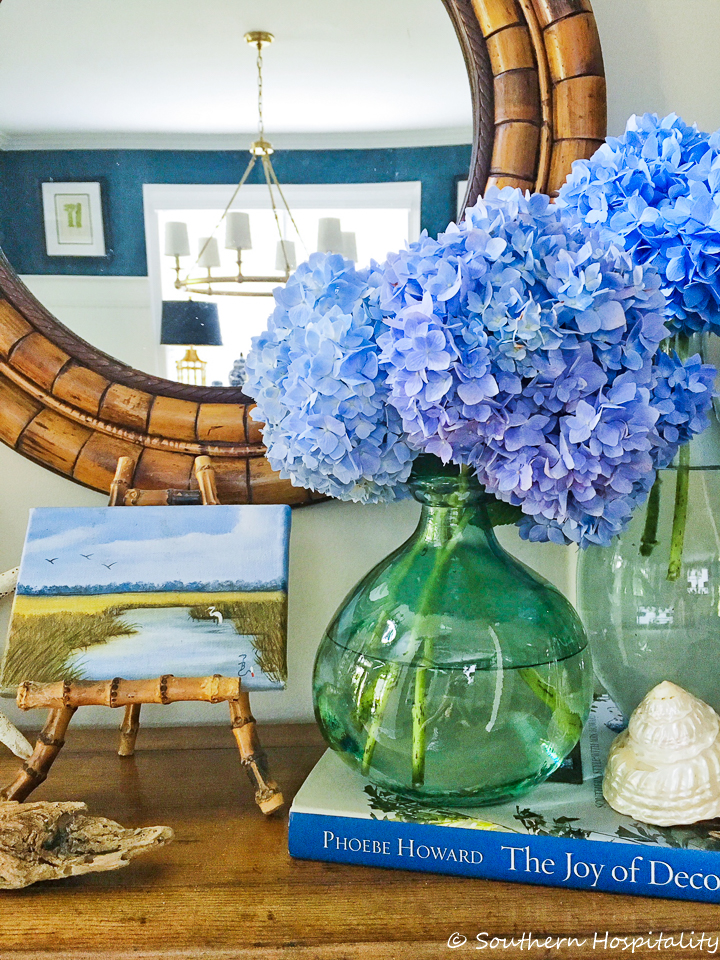 Summer just says hydrangeas, seashells and pool weather!  I don't have a pool, so have to make do with the rest. At least I have friends with pools, so that's nice too.
Down below, I added another pretty clamshell that I found at yes, a yardsale.  I've held on to these things for a long time and never get tired of them. That little painting was gifted to my by a local Marietta friend and artist, Lynn, and I love the colors.
Here's a peek into our family room, which hasn't changed since this photo.  This is where we really live and relax.
This little keeping room off the kitchen is another space that gives me a chance to display some of my collectibles on the rustic open shelves.  It's really been fun to put this house together in the last few months, reflecting our personalities and things that we both love and enjoy.
I have a home shopping page that has links to many things in our home (or similar things), so if you'd like to check it out, click here (affiliate links)!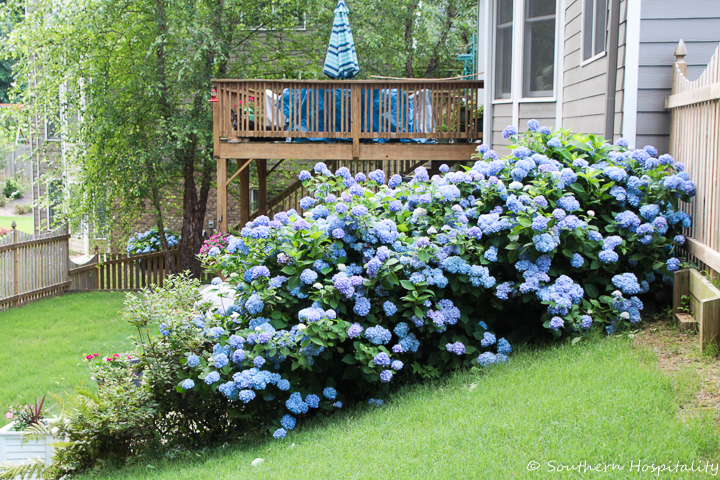 Here are those gorgeous hydrangeas blooming in our backyard. We had so much rain in May that they really loved that and were bursting with blooms this year.
It was such a fun surprise to have so many blooms on here this year, such gorgeous shades of blue and purple.  Now I don't have to miss my old hydrangeas, which are also blooming well when we were by there the other day.  I mentioned that Mark's daughter and her family are living in my old house, which is really nice.
We also have a really pretty deck space which looks out to our wooded back yard which we are loving this year. It doesn't look like this right now, as all the rugs and cushions are up and I'm preparing to stain the deck soon!  But it will be back in use again before too long.
Thank you for stopping by!  I hope you enjoyed this summer tour of our home and I also hope you'll visit the other ladies on the tour. You are sure to be inspired!  If you're looking for Summer decorating inspiration, you've come to the right place today.
Next on the tour tomorrow will be Bree from Z Design at Home.  She has a gorgeous home, so don't miss it on Tuesday!
Don't Miss a Post, join my list!