Hi and welcome to a summer tablescape party! I'm joining a talented group of ladies today and we are all sharing our ideas on how to set a summer table. I love our little dining room and getting a chance to set the table for different seasons is fun to me, so I got out some things that I've had awhile and put it all together for a unique view of summer.
Blues are part of that and since I had navy grasscloth wallpaper in this space, playing up the blues is natural and blues are such a part of summer decorating too.
For the middle of the table, I pulled out my vintage German pickle jar that I picked up several  years ago at an antiques shop down in Alabama.
This jar holds several gallons of water and is much bigger than it looks. I clipped some fading hydrangeas from my mom's yard, since we didn't have many this year. I love the colors of these beautiful flowers when they are fading away from their strong blue color to soft greens and purples.
They look beautiful dried for Fall decor too.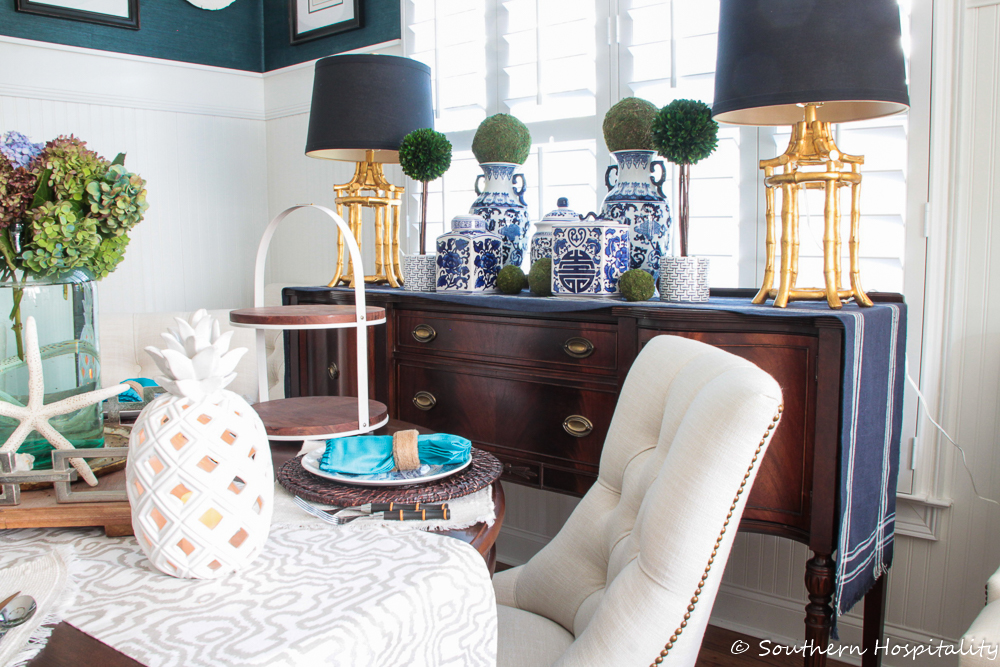 Part of my blue and white collection always stays on the sideboard and I love them here. Those gold lamps are a favorite that I found at Homegoods.
Did you notice this pretty wood and metal double cake plate? This was actually a wedding shower gift for my step daughter, McKenzie. She is getting married in December and the wedding showers have begun. This was on her wish list from Target's Magnolia Home Hearth and Hand line and I got if for her for a wedding gift, so it's already in its new home, but I thought it was such a cute piece. I'll link this and a few things from my home at the bottom in case anyone is interested in sources.
These blue and white plates are vintage, the flatware is from Wayfair and the napkins and napkin rings are from At Home. Adding that little pop of turquoise blue was a fun addition.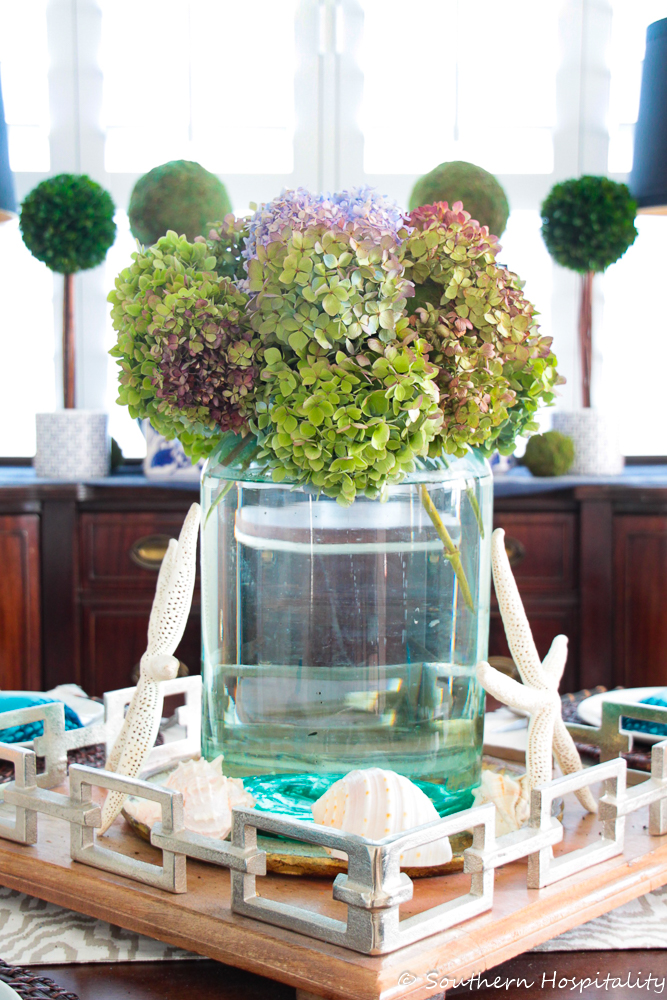 I just kept things simple with the centerpiece being the star, along with a few seashells from my collection.That big tray in the middle of the table was a Homegoods find several years ago.
I'm still enjoying these pineapple lanterns that I picked up at At Home this year too. They are such a fun accent to a table or anywhere.
Looking back to the foyer.
And to the living room.
The sideboard.
And one more look at that gorgeous jar and those pretty hydrangeas. I just love hydrangeas this time of year and they definitely scream summer, don't they?!
Shop by dining room:

Thanks for stopping by today and I hope you'll visit with these other talented gals and check out their summer tables too. You are sure to be inspired!
Don't Miss a Post, join my list!