I'm so excited that I've made progress on getting our swing bed up and going for this coming season, so today I'm sharing the new swing bed cushions I bought and how they worked out. I did a lot of searching online for the best price and company to buy from for the swing bed. The bed holds a standard twin sized mattress, so I looked online for that size and ended up on Etsy where there were several sellers who had swing bed cushions and pillows.
Here's the swing bed right after we hung it up. If you remember, Mark surprised me with this bed for Christmas (from Hanging Porch Beds) and it was a dream to get this swing bed hung up in our downstairs patio space which will be our screened porch after we get the wall finished behind the bed. Now that Mark is retired we will have much more time to get projects done and this one is at the top of the list.
After I did some research on the type of cushions I wanted and compared prices, I found there was a big difference in price between many of these companies. The most expensive cushion packages were with the swing bed companies themselves and some of them ran over $1500 for a twin set of cushions and pillows. That was way over what I was willing to pay, so I did my research.
I knew I would just order a twin size mattress myself and did some looking online and found this twin mattress from Overstock that is a gel mattress with a plastic cover on it. I thought that would be a good one for outdoors to keep the mattress from getting damp. I think this will do the trick.
The plastic cover is on the top and sides, but not the bottom.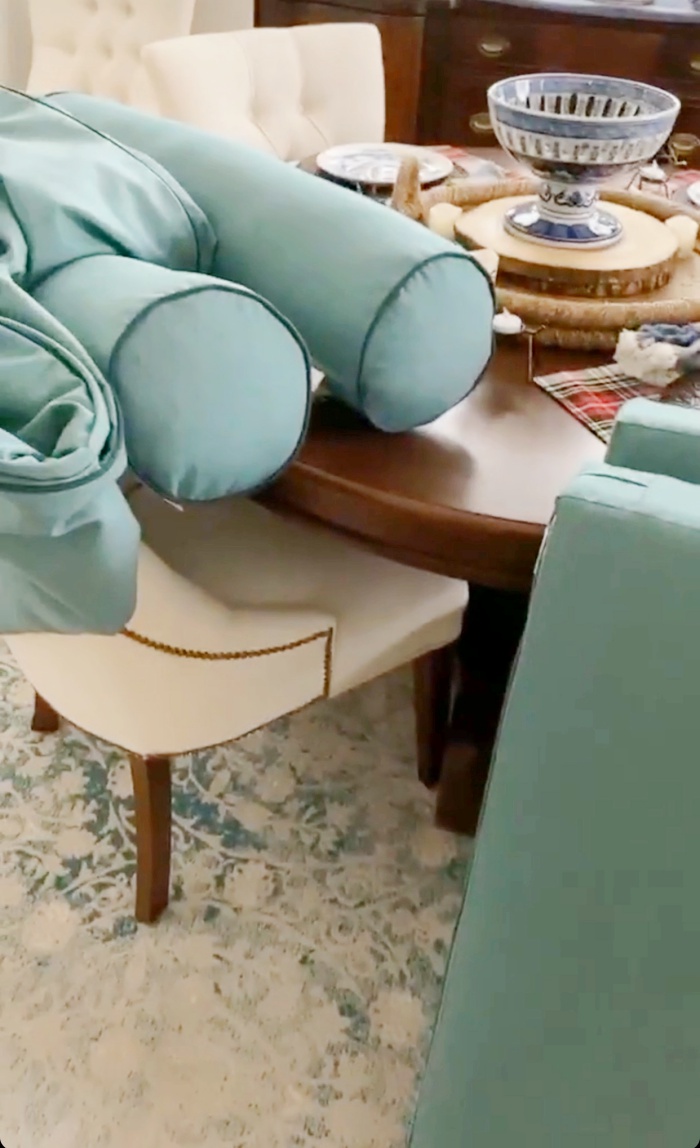 After doing a lot of looking online, I settled on Patio Lane, an Etsy shop. That link will take you to the daybed bundle page and this is where I bought my cushion set, as a bundle. The great thing is you can choose the configuration and fabrics. They have lots of Sunbrella fabrics to choose from and I knew I wanted that outdoor fabric on these cushions for longevity and wear outdoors. I ordered about 10 samples and then pondered over them with my rug that will be going out there. This rug came from At Home a couple of seasons ago. I used it on top of the deck but it's really too thick for total outdoor use, so under the deck should be nice.
I ended up choosing that teal Sunbrella and I used a navy as the piping, a different one from the one pictured.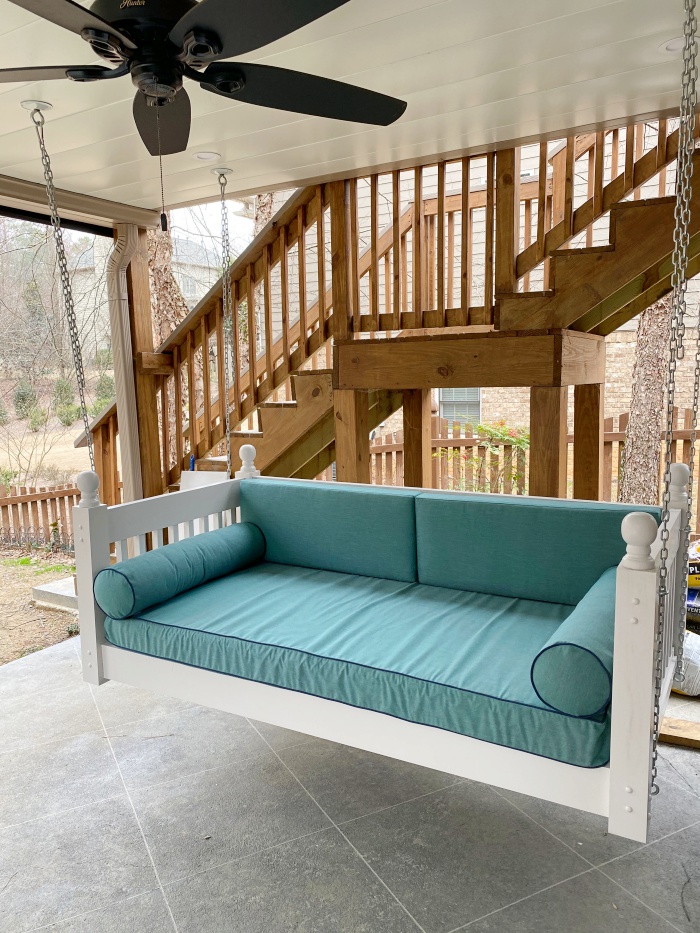 And here it is! Tada! I'm so happy with how it all turned out. The best part is, they can make your cushions exactly to fit your swing bed and I determined how I wanted the cushions to fit and gave them the appropriate measurements for an exact fit. The back cushions were custom to fit my space and the bolsters were too. They fit like a glove! The package I got came with the insert foam on the back cushions and the bolsters, so that's how they were shipped. The twin mattress cover came without the insert, since I ordered my own twin bed.
Miss Holly is checking it out too! I love it out here and can't wait to finish up this space so we can use it this spring. It's going to be a great napping spot and I can see me out there reading a book and enjoying a breeze with Mark. I'm going to wrap the chains in rope when I get a chance.
So if you're looking for swing bed cushions, I would highly recommend Patio Lane. They are in Clearwater, FL and I was so impressed with their customer service and finished product. This is not sponsored, I paid for it!
Here's the breakdown on the package I got from Patio Lane, she did give me a 15% discount:
Cushion package, which is what you see here, minus the twin mattress: $508
Upgrade Piping, no extra cost for another color: $160
Total:  $668
Mattress from Overstock:  $128 (when I bought it, it's a little more now)
Grand Total: $796
This was about 1/2 of what some of the swing bed companies charge for their cushion packages. You know I like a bargain so had to figure out a way to get the look for less.
Link to Mattress (affiliate link):

Don't Miss a Post, join my list!