I'm so glad you all loved the porches from yesterday's post.  Now we'll move on to some deck spaces, since that is what I have at my house.  Let's see if we can't get those decks looking prettier and beat the heat too.
We'll start off by looking at some beautiful deck pics, to get us in the mood for outdoor living.  Now, these are some gorgeous inspiration pics, aren't they?  After getting that yardsale umbrella, I've got a whole new appreciation for what our deck can be.  And I've been busily making it happen.  Shade. Check. Now, for the fun part of adding some comfy furniture.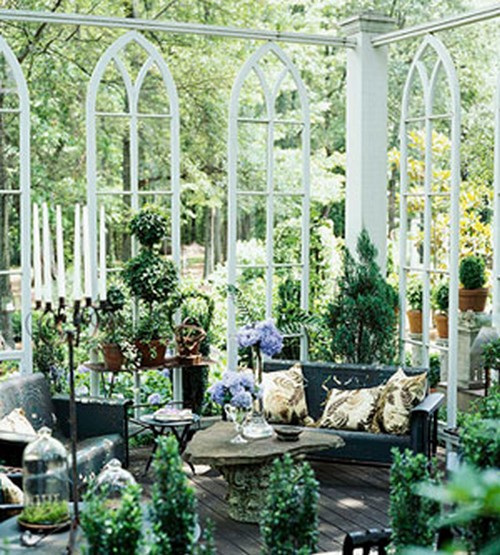 (Susanne Hudson's garden, Douglasville, GA)
I totally LOVE this one with the gothic style windows incorporated into huge columns on this open deck.  I've never seen anything quite like this. Atlanta landscape designer, Tara Dillard, shared this post about Susanne's home last year on her blog.  Head on over to see more of her beautiful outdoor porches.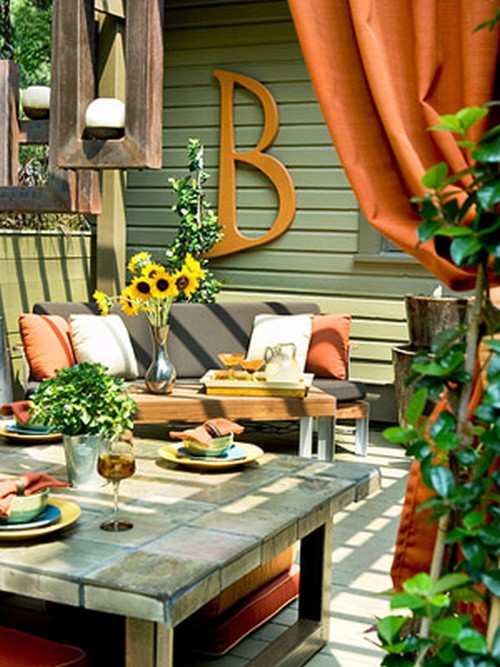 Another cozy space, this deck sports some very personal touches, from the monogram on the wall, to a cushy and comfy lounge area. 
And this one just screams summer with the aqua and green colors and the cozy seating area.  It totally begs you to sit and relax.  Those floral green curtains further add to the cozy factor.   I always wonder how panels like these hold up over a summer.  Anyone have outdoor panels and care to comment on that?  I can just see them covered with mildew here in our humidity, but they sure are snazzy!
Did you see this in the June issue of BHG?  This really is inspiring me to have fun on our deck.  I love all these colors and how inviting all of this looks.
Another view of that porch.  The extra special thing about this one is the retractable canopy that they have installed in the pergola.  Very cool, but I'm not going for that either.  My umbrella will have to do the shade job for me.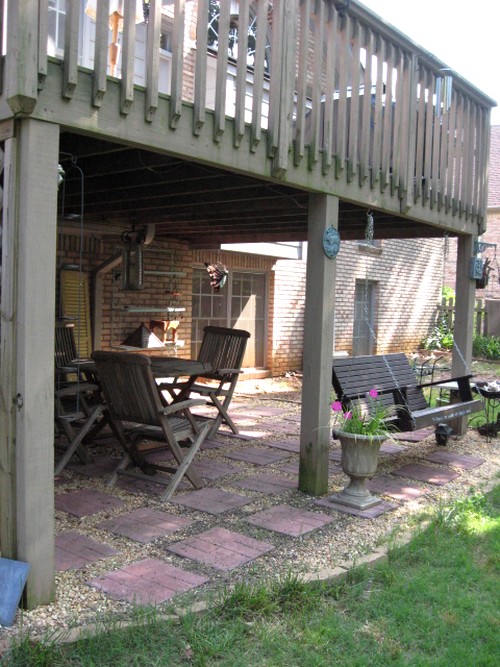 So, what do I have in mind for my deck? I'm tired of letting it go to waste, so I've got some big plans for it now.

We'll start here first, under the deck.  Some of you who are new might not remember this project, but 2 years ago this month, we added in a paver and pea gravel patio to our very muddy space under the deck which was just a total waste of space.  You have to click on that post to see how horrible it really was, but it truly was a mudhole with overgrown weeds and very, very ugly.  At least now, it's useful and pretty and we do actually enjoy it for parties.   And the swing there is my very favorite hangout spot. Here's the post after I got furniture under there and decorated it, so you can see how far we've come in the back yard.
I've got a cushion and some pillows that I keep stashed in an outdoor box and pull them out whenever I want to sit out here and swing.  This is MY relaxing spot. 
Under the deck, we have a teak table and chairs that I found yardsaling, as well as some iron pieces that I got from Grandma Eleanor.   Stored in our garage are some great wicker pieces, in particular a huge vintage wicker sofa that I'd love to move here under this deck area.  I've got an idea for something on top of the deck to keep water from coming through and making it damp and wet under here ( I saw some Hardie flat 4×8′ panels that just might work at Home Depot).   After a good rain, it takes a couple of days for things to dry out under here.  Those panels could be moved after summer is over, but they just might do the trick on blocking out some of the rain from under here.   I know there are under deck ceiling systems too that I've been looking at, but I'm not sure I want to do all of that and the ceiling here isn't that high anyway.
If I could get it mostly dry underneath, then I think I could safely move my big wicker sofa out here and in the shade.  Now, THAT would be nice!  The roof under here is about 6 1/2 feet tall, so enough room to walk under.   If you want to see my old porch in Georgia, that I had decorated with all this wicker, click here.  I still have all of this and more stored in our garage and I'm not ready to give it up yet.
I could move the table and chairs further to the right and create more of a seating area under here. You can see the battle that I've had with the birds.  Oh yeah, those birds.  My hubby loves to feed them on the deck, but those sunflower seeds make a HUGE mess up on the deck and down here below.  So that's one more thing I need to clean up.  When I go back and look at pics of when this was first done, it was all nice and neat and now it's not so much.  I've come up with a plan to help keep the seeds tidier, so we'll see how this works.   Keep on reading!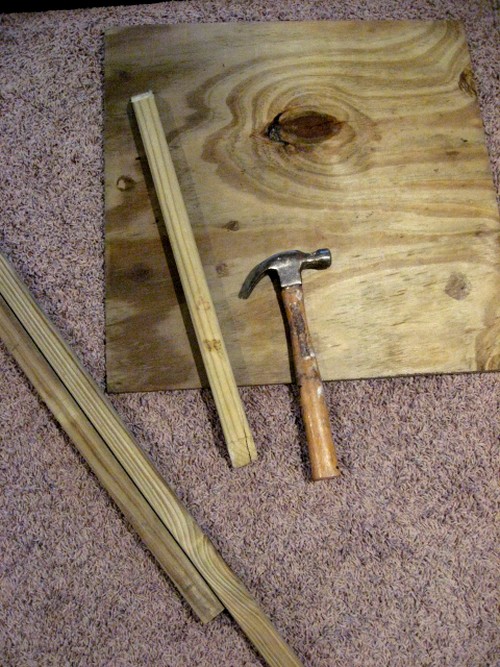 Moving to the topside, the actual deck has been my nemesis for awhile.  I sort of let it go to the birds and since we didn't have any shade on the deck, I wasn't too particular about it.  Peter loves to feed the birds and boy, do they get messy with their seeds.  So, I came up with an idea that I hope will keep the deck cleaner.   I'm declaring war on that mess!
I'm taking back the deck!  This is a really large cedar bird feeder that I found last year yardsaling.  I'm making a box for it out of pressure treated plywood.  I just bought a 2′ square piece of pressure treated plywood and some deck spindles, all pressure treated to stand up to the weather.  I mitered the corners and made this box and the bird feeder will sit in the middle of it.
You can see I got a bungee cord for the umbrella, so hopefully the wind won't take it away.  That old nasty rug is going, it has seen better days.  And these plastic Andirondack chairs are going to the yard.  I bought these when we first moved in, just to have something to sit in and they are comfortable, just not very pretty.
I'm also going to be adding some tall wooden shutters to either side of the window, which is behind these chairs and may paint them a vibrant color.  This window looks into the kitchen breakfast area, so this is what we see when we are sitting at the kitchen table.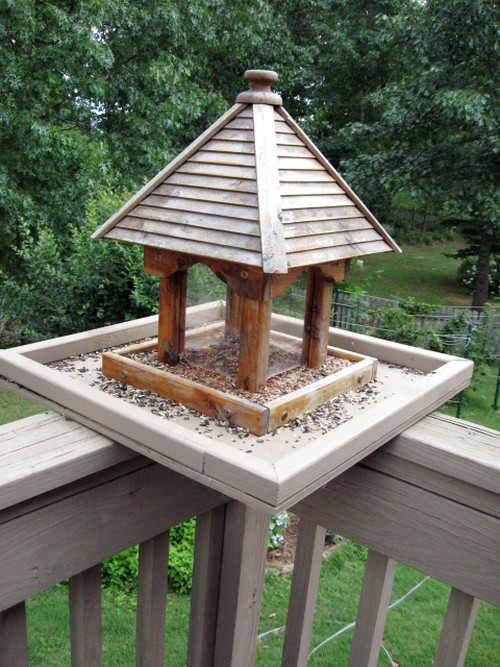 The birdie condo is open for business!  I'm really hoping this helps keep at least some of those seeds tidier and I'll just have to keep an eye on it now and clean things up.  I really gave up on keeping the deck looking good and that's why you've never seen it on here.  I didn't enjoy it!

But, that is ALL about to change now.  I scrubbed down the deck with bleach and soap over the weekend, getting it ready to touch up with my deck stain (it's been 4 years since I stained it) and for the addition of this outdoor wicker that I scored at Big Lots last weekend.  I am SO excited about this find.  We had a new store open up near us and I had been waiting for them to finally open.  Once I decided I wanted some of this outdoor wicker, I started pricing it online and it's pretty expensive.  The new Big Lots just opened, so I strolled in there to see what they had and lo and behold, they had a whole set of it and the price was good too.  I bought the loveseat for $105 and brought it home.  I figured I'd go back later in a few weeks and maybe add a couple of chairs and a table to the mix.
I spotted an ad from Old Time Pottery that had a set of dark brown wicker just like this for $249.00 for the 4 piece set (Memorial Day sale only), so I took the ad back into Big Lots the next day to see if they would match the price.  And they did!!!  I think it depends on the store manager, but luckily I was in the right place at the right time.   Saved me $60 from the original price for those 4 pieces by asking them to price match.   I was SO excited.  Debbie and I had been out yardsaling, so we were in her little SUV and were able to bring the 2 chairs and table home.  So, I got this 4 piece set for a SUPER price and I know this is totally going to change my outlook on the deck now.
I won one of those $50 Homegoods giftcards recently too from a blog giveaway (wooohooo!) that mostly paid for a gorgeous set of cushions for the loveseat and chairs and I'll be showing you all of that soon.  I'll be using some yardsale finds, potted plants and a few accessories to cozy up that deck.
So, that's my plan! I'm really excited to be taking the deck back from the birds.  They've had it too long and made too many messes.  It's amazing how getting that big umbrella really got me thinking more creatively on what I could do back here to make it more enjoyable and to actually use the deck and the under patio area more.  I had to spend some money to get all of this together, but my hubby is happy it's much cheaper than a screened porch.  🙂
I can't wait to see what I can come up with for this area and below!!  And of course, I'll share it all when I get it finished. I've been working this week on restaining the floor of the deck and it looks so much better already. Amazing what the sun and heat does to decks here in the South! It is soaking up that stain.

Do you have a space that needs a facelift too that you've been ignoring for way too long?

Don't Miss a Post, join my list!