Meal planning is one of those things that is difficult for some of us.  I'll admit it, for me cooking for myself is not always easy.  I don't always want to get out old recipes, make a list of ingredients and head to the grocery store to get everything.  I'm in and out a lot from my home, sometimes traveling back to back trips, and don't always cook every night.  Sometimes things I buy from the grocery store go bad before I can use it all.
Anyone else?
My roommate, Rhonda and I do cook together sometimes, but she is on a stricter dietary restriction than I am and eats mostly Paleo, meaning almost no dairy, no grains, bread, beans, or pasta.  So a lot of things I  like won't work for her and I'm then preparing something for me and she will do her thing.  We do eat a lot of salads with grilled chicken together and pile on all sorts of good things to our healthy salads.  And we do a lot of soups too and many of those work for both of us.
But, cooking in general for one or two people can sometimes be a challenge, especially if you are working outside the home and are always rushing to get something on the table for dinner.  I know when I worked for years in the corporate world, I spent a lot of time making grocery lists and grocery shopping, not to mention preparing meals.  I've definitely done my share of cooking at home when I was married.  I can't exactly say that I miss the pressure of having to cook, but when I feel like cooking I do enjoy it and really enjoy the fresh recipes that can be made at home.  It is definitely better than eating out all the time, that is for sure.  You can make better choices in what you eat and you can know exactly what is in a recipe if you are cooking it at home.
Last year, I introduced you to a meal delivery service called Blue Apron and this year I'm going to be working with them quarterly to show you the meal service plans they offer and how it works in a real home. It really is a neat concept and I do think it's a great idea for many folks.  Someone who is working and simply doesn't have a lot of time to meal plan and grocery shop.  Older folks who can't get out of the house all the time to shop and bring home the groceries.  There are lots of people who could benefit from a meal service like Blue Apron and I for one, think it's brilliant.
Why Blue Apron?  Well, chefs around the world wear blue aprons and it's a symbol of learning in cooking.
I was really impressed last year when I received 3 meals in the mail to try out.  All the ingredients are packed in a super cold box on ice with everything you need for 3 meals that week.  You can choose from a selection of meals offered for that week online and get those things that appeal to you.  And you can choose meals for 2 or 4.
Each menu is between 500-700 calories per person, so these are healthy well-balanced meals too.
Ingredients are super fresh and sourced from quality local suppliers and artisans.
All meals can be prepared in 40 minutes or less. (love this part!)  As you can see above, all the ingredients are well marked for each recipe and the bags have handy tags on them identifying what goes with what.  The only thing that is not included is oil and salt and pepper. They figure you have that in the pantry.
Once you try a few of these meals, you'll then feel more confident to get out of the same old dinner rut you've been in.  Or go out to eat less often.  I can definitely relate to that. I need to clean out my old recipe folder and get rid of recipes I'm never going to make!
We both love Thai food at this house and so this Thai Coconut Shrimp soup was right down our alley. I love Thai food and had never tried it at home.  I was pleasantly surprised at how easy it is to make this at home and it was SO delicious.  I'll definitely be saving this recipe for later!
The recipe cards are printed out very concisely and easy to read.  Just follow the numbers and you can't go wrong.
There is a little prep work on chopping veggies and getting them ready to cook, but it's not bad at all.  Once things are chopped, the meal moves fast. 
Following the step by step directions, I sautéed the soup veggies, getting it all ready to eat.  And it all goes in one pan, except for the rice which cooked separately.
The coconut milk goes in last and then the shrimp is cooked at a low temp.  I had never seen coconut milk in a solid state, but my roommate had.  It softened up and made a creamy base for the soup.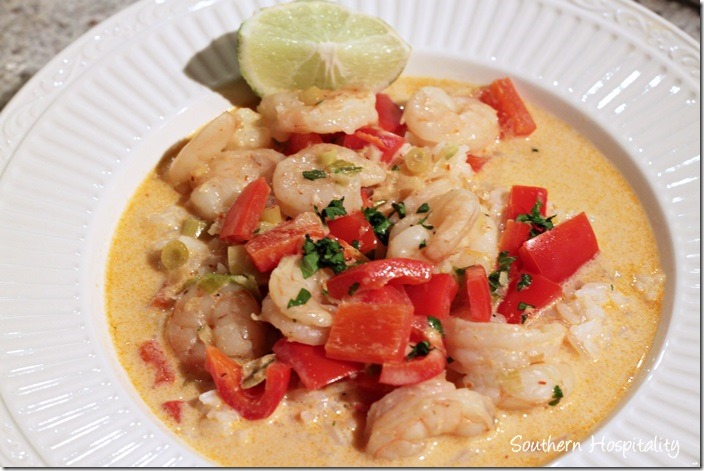 Once the shrimp was done, it was ready to eat.  I layered rice and the coconut milk soup and shrimp over the rice.  I has a curry paste too which kicks up the spice a notch and the addition of cilantro and lime juice was amazing.  We loved this dish!
You can find the dish, Thai Coconut Shrimp Soup right on Blue Apron, if you'd like to try it out at home
I really like the fact that Blue Apron lets you create good, chef-designed recipes at home.
I can't tell you how much food we have to throw out that doesn't get used in time. Blue Apron sends just the right amount of measured ingredients with no waste.
You get your choice of 2 types of plans, for either 2-people or the Family Plan.  Each plan sends one delivery a week, each with three tasty meals for either 2 or 4 people.
The chefs at Blue Apron are always working on new and delicious menu items and create 6 new recipes a week for the plan.  You will be sent 3 recipes chosen for you based on your meal preferences.
The price for the 2 person plan is $9.99 per person per meal.
Feeding a family of four?  The Family plan is either one or two deliveries per week and the price for this plan is $8.74 per person per meal.
You never have to worry about shipping, it's always free!  And the box is refrigerated so it stays fresh even it it sits on your porch for awhile.
Adding new dishes all the time to their menu, Blue Apron has something for every palette.
Blue Apron meal service ships nationwide to over 80% of the country (full map of delivery zones.)
They even share their recipes online, so check out the Blue Apron recipes for some good meal inspiration.
This Pan Seared Salmon sounds delicious and I tried out this Fresh Papperdelle Bolognese in my order too.  In fact, everything I've tried has been delicious.  I'm definitely not a gourmet cook, but these recipes are easy and make you feel like one.
If you'd like to try out Blue Apron for yourself, the first 50 readers will get 2 free meals on your first Blue Apron order.  Just click here!
There's no commitment – you can skip or cancel the service at any time!
Always free shipping.  
Note:  This post is sponsored by Blue Apron. All the pics and sharing of the products is all my own.
Don't Miss a Post, join my list!