Hello my friends!  Today I'm joining a wonderful group of blog friends who are getting a start on celebrating Thanksgiving, with Thoughts of Home Thanksgiving Vignettes.  I love Thanksgiving and so enjoy being with my family during this time of the year.  It's a time to reflect, to give thanks for all that we have in our lives, and to think about family members who might be missing this year.  We have that in our family, one of my Aunts passed away earlier this year and she will be dearly missed at Thanksgiving this year.  We can't take the year for granted and it's a nice time to stop and really contemplate all of our blessings for they are many!
In case you need some table inspiration, I put together a fun tablescape in my own dining room.  Even though we don't celebrate the holiday at my house, it's fun to set a pretty table and let this room shine with the season.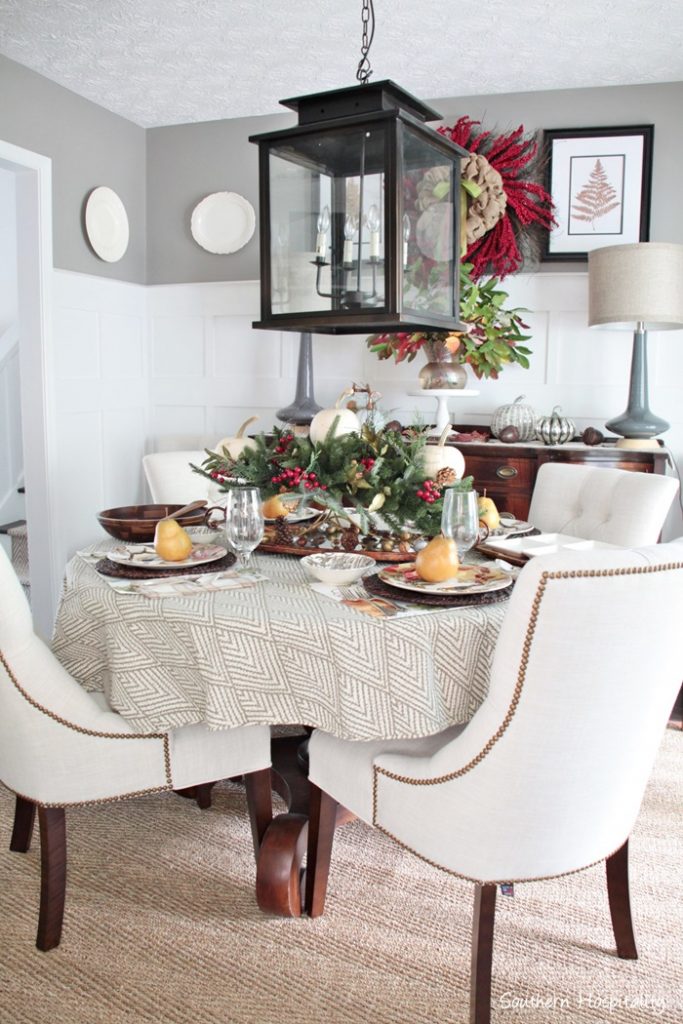 I'm still in love with my new dining room chairs and you can read about those here.
I used plates I've had for a long time, these pretty bird plates always remind me of Fall and the Holidays with their jewel tones.  Adding a faux pear is a nice accent to the plates.
This centerpiece is in partnership with Tree Classics this year and I wrote about my table on their blog.  This is actually a Christmas centerpiece, but I showed how you can make things work for different seasons just by changing it around.  Red is part of the Autumn season as well as Christmas. Adding white baby pumpkins elevated on the candle stands made a pretty and festive centerpiece.
A simple and easy place setting using dark wood bamboo chargers and these festive plates just welcome in the Holiday. I brought out my brown and white transferware bowls to add to the mix and love how they look on the table.
What sort of plans do you have for Thanksgiving this year?
Elevating a pretty vase on a cake plate is a great wow factor too.  I love this hammered gold vase and going in my backyard to cut turning branches is one of the most fun ways to welcome Fall and Thanksgiving.
I let a few red leaves fall to the sideboard.
And added this cute little Fall oil painting that I picked up in Round Top on a thrifted bamboo easel. It's so special and adorable with the perfect Fall scene.
Layering my burlap wreath on top of a Winterberry red wreath brings in a lot of color and I love these 2 together.  I added a red and green ribbon to it for extra punch.  The red berries, ribbon, and red leaves all just flow together and I love the sideboard all decked out.
Thank you so much for stopping by today and I wish you all a wonderfully warm and festive Thanksgiving.
I hope you'll visit the other ladies in the tour today and get inspired for Thanksgiving!
Monday – November 7th
Decor To Adore | Southern Hospitality | Chateau Chic | Shabby Fufu | Rustic Refined
Tuesday – November 8th
Poofing The Pillows | Cedar Hill Farmhouse | Love of Home |  My Kentucky Living | Sharon Joyce Interiors
Wednesday – November 9th
At Home With Jemma | Remodelando la Casa | Rattlebridge Farm |  Patina and Paint | Sew A Fine Seam
Thursday – November 10th
Everyone is invited to join the Thoughts of Home on Thursday Thanksgiving Edition Linky Party.
Friday – November 11th
White Spray Paint | A Stroll Thru Life | Simple Nature Decor | The Painted Apron | Ramblings of a Southern Girl | Life and Linda
Make yourself at home.
Don't Miss a Post, join my list!