Even though we never do Thanksgiving dinner at my house, it's fun to set a pretty table.  I have to confess, we don't use this dining room all that much, but I do love looking at it. It passes through to the kitchen and I always enjoy walking through there and seeing my table and chairs.
It's hard to believe that this is my 3rd Thanksgiving in my new house.  I moved in 2 years ago in October and have been working on the house ever since.  It's such a wonderful feeling to be mostly finished with all the construction projects and to just be enjoying my house now.  I'm thankful every single day for my house and what God has provided for me.
This Thanksgiving, we will probably be doing Thanksgiving at my sister's house. Wherever we are, we will celebrate with our family.  I hope you enjoy these Thanksgiving table setting ideas.  I sure had fun doing it!
So, today I'm joining Lindsay with The White Buffalo Styling Company for a week of Thanksgiving table sharing.  I really enjoyed putting my tablescape together and setting a pretty table.  This tour has been going on since Monday, so if you want lots more inspiration for a table, go back to Lindsay's blog and start at the beginning.
If you're stopping by from the talented Mallory from  Charming in Charlotte, welcome, I'm so glad you are here!
Oh, and I took a bunch of pics, so please indulge me and I hope you enjoy.  I really like to try to get good photos andI think these turned out nice, so I'm pretty happy with them.
Peeking into the dining room from the living room.  It's hard to get a full on shot of this room because of all the light coming in the glass doors.  I always use my tripod now to capture the light coming in and slow down the shutter.
My vintage sideboard has been with me for many years now, about 15 or more.  I bought it on the square in Marietta at an antiques shop years ago. It's so traditional and classic and I still love it.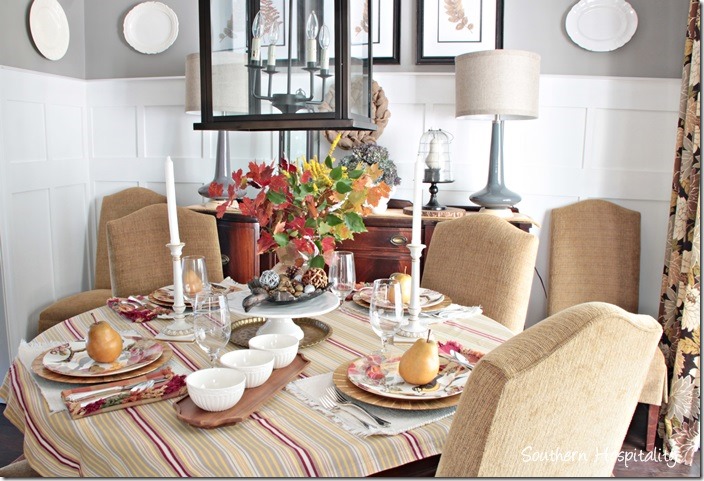 I had fun pulling out everything in my stash to put this table together.  The tablecloth is a long ago yardsale find and the colors are perfect for Fall.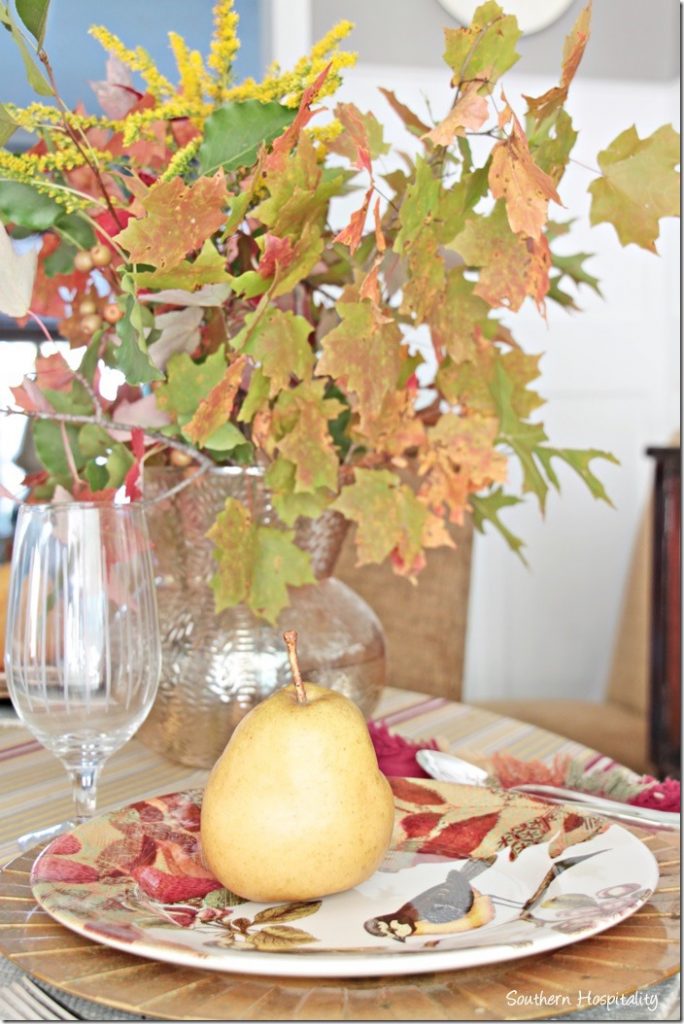 Once again, I gathered turning Fall leaves in this gold hammered vase I got a couple of years ago from Wayfair.  It's a beautiful piece for the holidays.  Those plates are from TJ Maxx and I scored those a few years ago too.  I could NOT resist those pretty bird plates.  The gold chargers are a recent yardsale find for 50 cents each.  You know I like my deals!  Those faux pears were picked up at a yardsale along the way too and are great for photoshoots, especially this time of year.  Glasses are from Mikasa.
The 3 white bowls on wooden platter are also from Mikasa.  The ivory placemats were a recent Goodwill find and the plaid napkins I've had for along time too.
Close up look at the place setting.  This pretty silverplate flatware was a great find in Birmingham, from an estate sale. I got a whole 12 piece place setting and it's a beautiful classic shell pattern.
The star of the table are those Fall leaf branches and I made sure to find the most vivid red and yellow ones I could find.  Goldenrod was a wonderful addition to the top.
This pretty metal leaf plate was a yardsale find too and I always want to get it out this time of year.  Filled with acorns and some metallic things, it's a nice little centerpiece on top of the white cake plate to give it some height.
The sideboard is about the same as you've seen it from the Fall home tour.  I added more color to the dried hydrangeas, since I have plenty of them now.
A white pear under the cloche is newly added and I've had this pear for awhile too.  I seem to have a thing for pears.
I enjoy having my sideboard to decorate for holidays.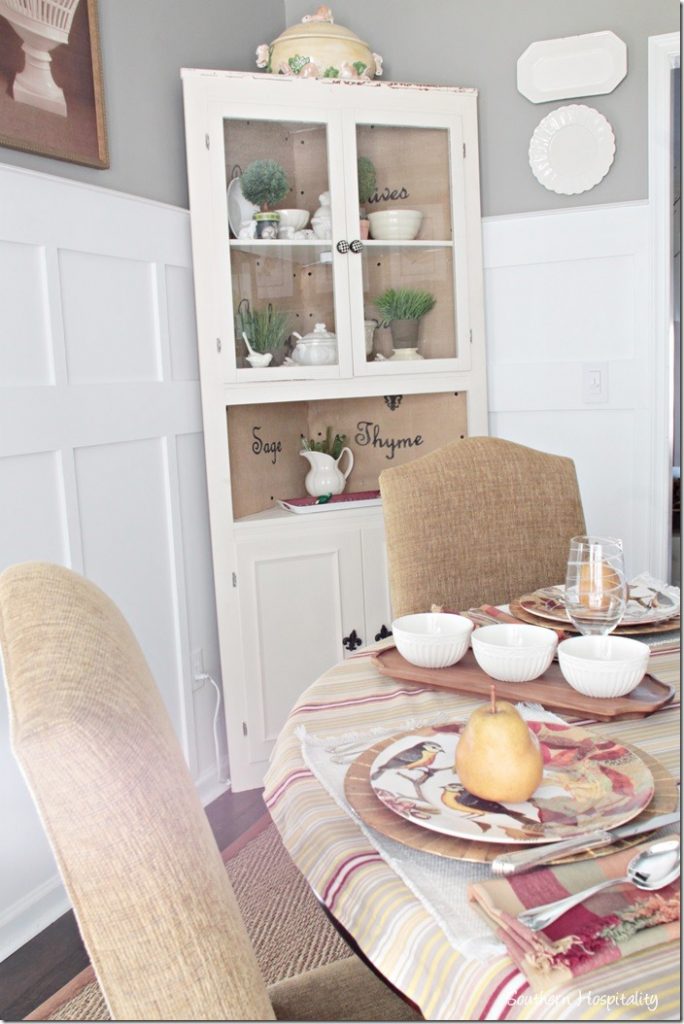 The corner cabinet fits in this space well too and adds some cottage charm. I painted that piece several years ago.
Another look at the pear and bird plates.
An overall shot of the whole table.  I just love how it turned out this year.  We will just have to sit down and eat at this table now. It's too pretty not to use.
These are the pair of Italian candlesticks I got recently at an estate sale.  I love these, they are just so elegant.
Those flaming red leaves pick up the plate colors so well.
So, I know I took a lot of pics, but I just couldn't help myself.  The round brass tray under the white cakestand was a Goodwill find recently too.  The wooden tray and bowls are from Mikasa.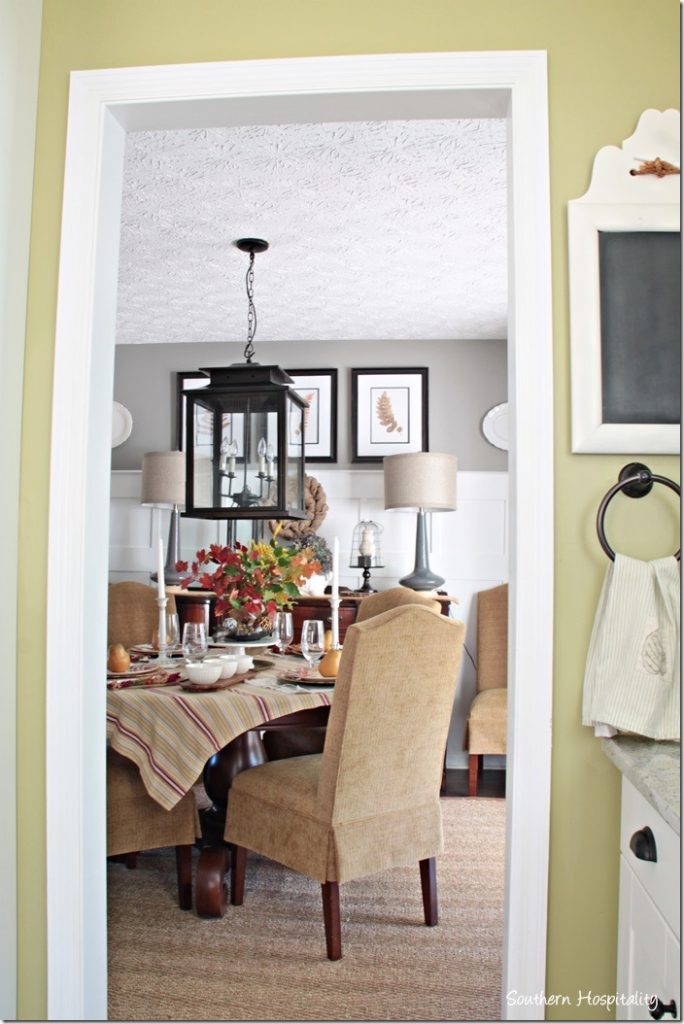 One final shot from the kitchen!  I hope you enjoyed my tablescaping for Thanksgiving.  It was a lot of fun to put together and I so enjoy mixing new and vintage pieces.  Decorating this way can be addicting and I love seeing what I can find out there.
Next up on the tour is Jenn from My Fabuless Life.  Be sure and stop there next and see what fun inspiration she had to share!
I hope you all are getting ready for a wonderful Thanksgiving with your family.  I know we will be celebrating as a family as well and celebrating the first Holidays with that sweet baby of ours.  We always look forward to this special time of year.  A day of thankfulness, which is really every day!
I'm joining Susan's tablescape party!
For a list of all the bloggers on this Thanksgiving tour, check them out!
Monday's Tours:
Tuesday's Tours:
Wednesday's Tours:
Thursday's Tours:
Friday's Tours:
Don't Miss a Post, join my list!