This was my second year going to the Country Living Fair at Stone Mountain, GA and this year the weather was chilly, but sunny, a beautiful day to spend outdoors in the Fall.  Stone Mountain is one of those icons here in Atlanta that I sort of take for granted, but really when you see this magnificent hunk of granite in person, it's pretty amazing that it just sits there like that.  How did this rock get here?  I have no idea, but it looms over Atlanta on the horizon and we always look for it when I'm at the top of Kennesaw Mountain, which is near my house.
If you've never been to Stone Mountain, it's definitely worth a visit and it's the perfect place for the Country Living fair.  God's creation at His finest, that's Stone Mountain!
I went with my friend, Kristin, and we enjoyed meeting up with many more bloggers along the way, strolling through the woods and looking at the shops.  Since I'm still trying not to bring a lot of extras home with me, I only bought one thing that I'll show you later, but really it was a pretty perfect Fall day.
They always have this big ole' pumpkin pile in the middle of the green field, making it easy for folks to meet up with each other.  Meet up by the pile of pumpkins!
Kristin and I enjoying the day.  She works with us on Haven and is right here in Atlanta.
My friend, Heather, did a great presentation on the main stage of handmade DIY Christmas trees.  We were there to cheer her on!
We also got to chat with Cari from Cash and Cari show on TV. She was so nice.  That's me, Erin, from DIY on the Cheap, Cari, and Kristin.  There were a lot of bloggers meeting up that day.
These pics were taken on the fly, so not the best, but you'll get an idea of what all is at the fair. There's all sorts of vintage vendors there, selling just about anything you can imagine from an antique standpoint.
I love making homemade pizza, so decided to break down and finally get myself a real live rolling pin.  This vintage one with green handles will be fun to sport in my kitchen. And yes, it does match my purse, double bonus.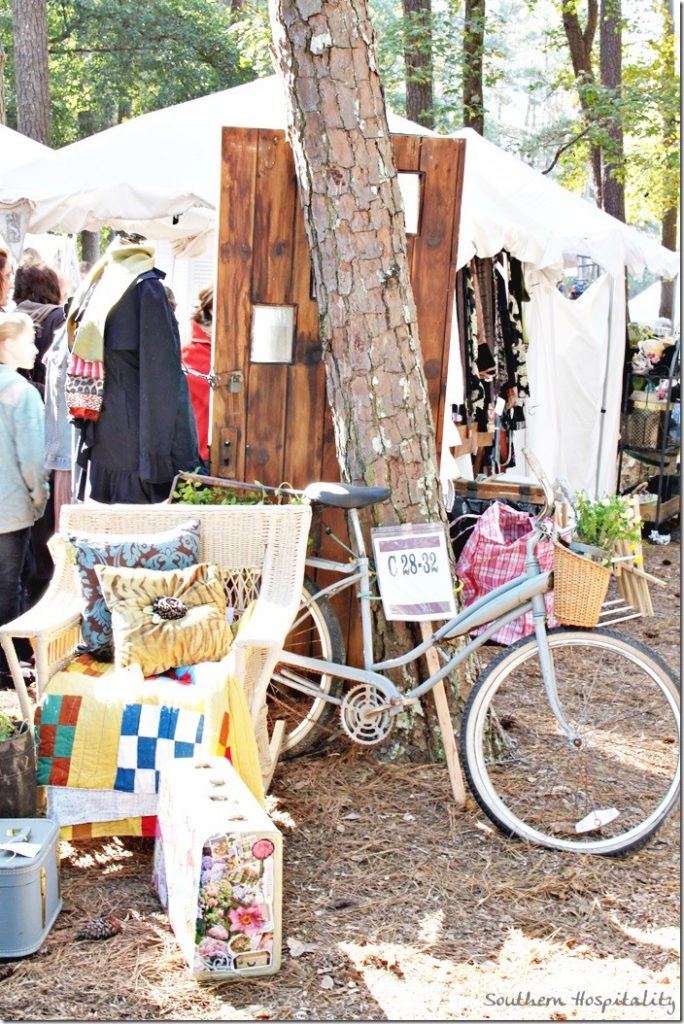 All sorts of vintage goodies to be found.
I snapped a few pics of things that caught my eye.
Succulents in muffin tins.
Pretty dishes and fall displays.
Really pretty paintings.
Country Living vendors wind in and out of the woods for this event and it's really a fun way to shop.
Lots more goodies and such a wonderful display of fall too.  You just can't help being happy walking around this.
These funky furniture pieces must be really popular, we saw them at a few vendors.
Getting ready for Christmas!
Lots of burlap pillows.
These glass pumpkins were so pretty and definitely caught our eye.
Happy Chair
More vintage chairs with funky fabric mixes.
Very eclectic and not really my style, but I love the displays.
Owl art and more chairs.
Fruit baskets
A few bloggers I strolled with, Kristin, Kelly, Erin, and Heather.
Lots of vintage Ball jars.
Halloween was represented too.
Loved these big letters.
Vintage furniture.
More goodies
This table setting was really pretty, sorry this doesn't capture it too well.
And right before we left, I got to meet the editor of Country Living, Sarah Gray Miller. She was very fun to talk to and we just heard she is stepping down from the magazine.  Found out she is originally from Mississippi, so knows a thing or 2 about the South.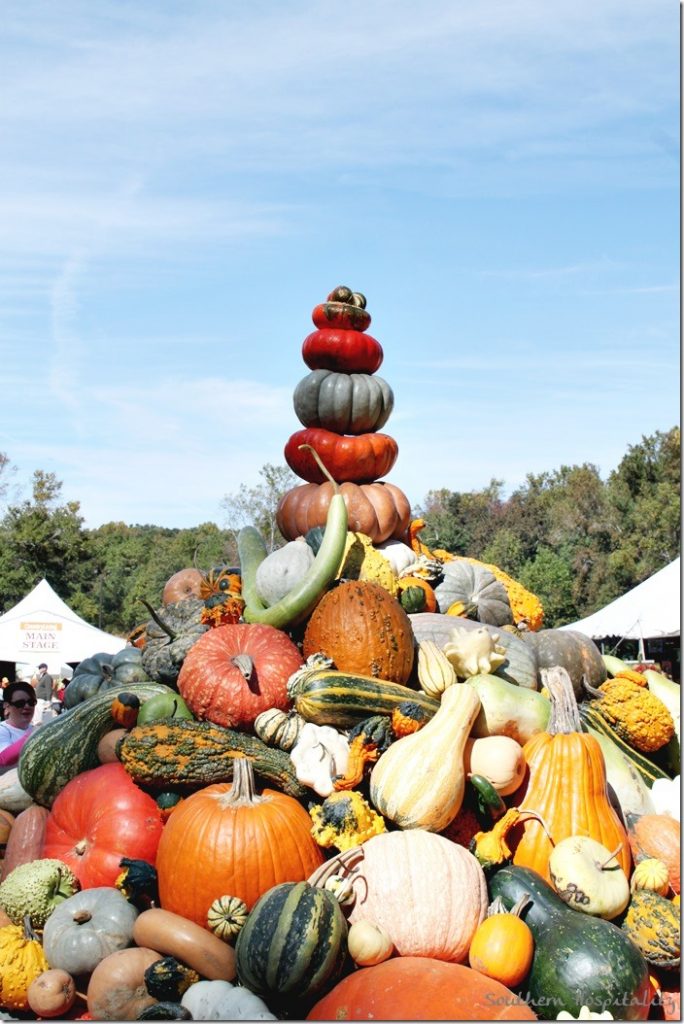 A beautiful day at the Country Living fair.
I just love how pretty these pumpkins and gourds look, all piled up together. They scream Fall!
I tried to take a few shots of the pretty berries and leaves.
We drove around a bit before leaving the park and happened upon a few geese in the lake.  They were so pretty and came over just so I could take pics of them, I'm sure.
One little duck was among them, showing off his paddling skills.
Hope you enjoyed this peek at the Country Living fair at Stone Mountain this year. It's a fun event and really a great time of year to get outside and enjoy the sunshine.  We have some beautiful Fall weather going on right now and I'm planning to enjoy it for as long as it lasts.
Happy Fall!
Don't Miss a Post, join my list!