While out at the SNAP conference in Utah, we couldn't help but notice a gorgeous shop called the Emporium at Thanksgiving Point, as we walked back and forth from the hotel to our meeting rooms.  The windows beckoned us in and so we just couldn't resist the pull of beauty that this shop was offering.  Beth and I stopped by and I took plenty of pics to remember it by.
Come with me for a little window shopping, all the way to Utah!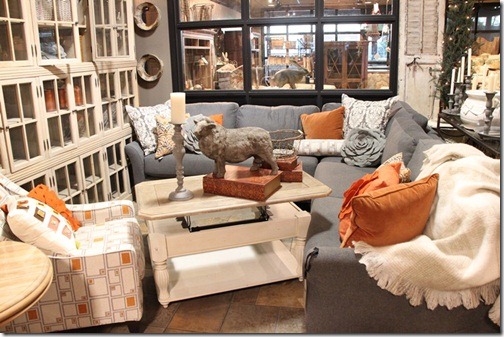 Lots of gray, cream, and the color of the year:  Tangerine Tango.  You'll see plenty of this color used as accents this year.  Not so much in my house, I'm still not a huge fan of orange.
Love the shot of zebra in this shot.  And plenty of black furniture still around.
A painted vintage distressed dresser.
Looks like old reclaimed wood on that headboard, with lots of creamy white.
More distressed wood, leather and white slipcovers.
We enjoyed looking around at all the eye candy.
Closeup of the little stool. Can you imagine trying to put this together?  Someone will DIY it, I'm sure!
Ruffles and fluffy pillows are all the rage too.
Sweet prints remind me of Anthropologie, a fun store to browse too.
This sofa has the Anthro feel too.  Cottagey and cute!
Unique knobs in a cute bean display.
Hot pink and black.
A sweet twin bed display.
More happy colors in quilts and pillows.
Angel wings
More creativity to see.
The shop is full of outdoor inspiration too, like urns and large branches.
Pretty things for outdoors and porches.
Love the plants and planters.
Now THIS is gorgeous, with the white flowers and a cherub too.
What a fun shop to browse, hope you enjoyed window shopping with us!
Don't Miss a Post, join my list!