When I started this blog almost 8 years ago, I had no idea it would lead me down the path of getting to discover and travel to places I've never been before.  Having grown up in Georgia, you would think that the Georgia coast would have been a frequent destination growing up and that I'd know all the ins and outs of the barrier islands in our wonderful Southern state.  But, that is not the case.  My dad actually grew up in Panama City, FL as a young teen to adulthood and that's where we went when we were children, to the beaches of the Gulf Coast.   Panama City to be exact and then Destin.  After that, it was only natural for me to spend time down on the sandy white beaches of the Florida Gulf coast as an adult and that is exactly what happened.  I love the Gulf and those sandy white beaches still to this day.
But, now as an older adult, I'm just really discovering the beauty and tranquility of our own state of Georgia's coastal barrier islands.  I first visited St. Simons less than 2 years ago and went with a couple of friends for a short and fast visit.  I went to the cute downtown pier area and saw the lighthouse and toured the historic Christ Church, but it didn't leave a lot of time to see much else in St. Simons.
One of 11 barrier islands hugging the coast of Georgia, St. Simons is around 18 miles long, with live oak trees dripping with Spanish moss and palm trees dotting the island.  It definitely has a tropical feel and is a very appealing spot to visit.
Imagine my delight when I was invited to go on a media trip last week to the historic King and Prince Beach Resort on St. Simons, an iconic place that I've heard about for years, but never thought that I'd get the chance to visit and enjoy a stay.  So, when that invitation came, I took it!  Yes, I absolutely have the best job ever!  I had always wanted to see this beautiful place myself and experience it in person.  It was everything I dreamed it would be and more.  I joined 11 other media folk, from magazine editors, to other travel bloggers and writers for a 3 night stay at the King and Prince.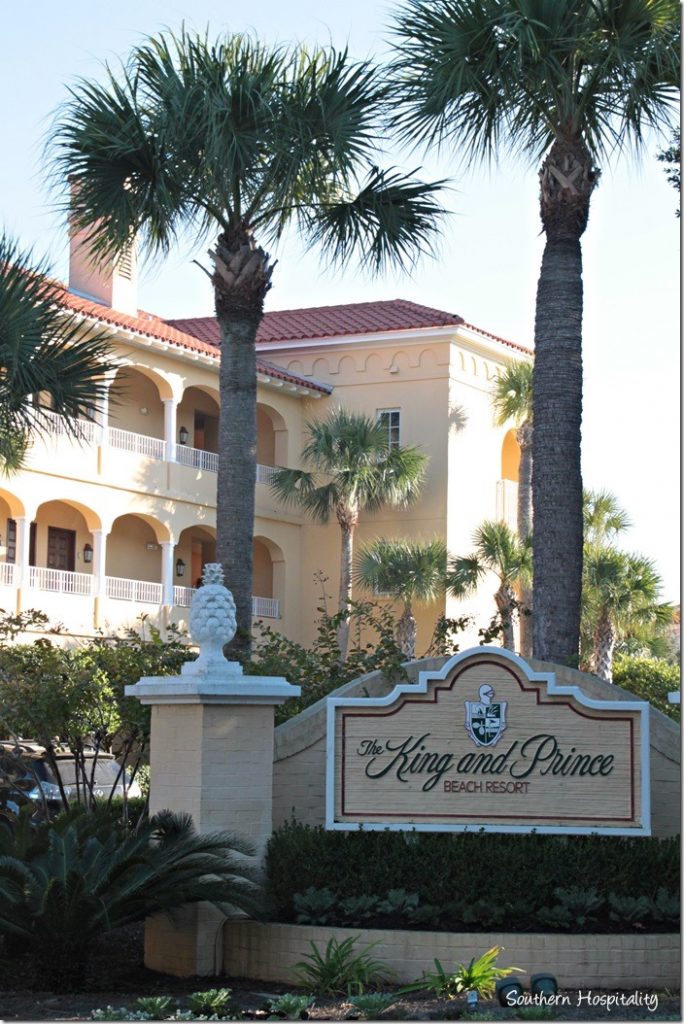 When you think of a historic beach resort, I'm taken back to the old days of the rich coming down to the coast to stay for the winter and that's really how the King and Prince got started.  As a member of the Historic Hotels of America and on the National Register of Historic Places, the King and Prince shares its rich legacy in American history for 79 years.  It was originally opened as a private dance club in 1935 and friends of the original owners coined its name which fit the regal atmosphere and King and Prince was born.
It just sounds elegant, doesn't it?
The historic King and Prince has a notable history of celebrities, dignitaries,  and families and business travelers who wanted to enjoy a coastal excursion, away from the hustle and bustle of a busy city.  And that's just what you get on St. Simons Island.  The King and Prince resort is the newest member of the Southern Living Hotel Collection, a carefully selected series of the most delightful hotel experiences the South has to offer.  Completely Southern, the resort embodies a commitment to excellence that is defined within the four pillars of Southern Living:  Food, Travel, Home and Garden.
No wonder I like this place!  Southern Living speaks to me.
My pretty room was housed in the Oceanfront building, with a gorgeous view of the pool and ocean from my 4th floor balcony.  When I walked in my room, I immediately went to the balcony where a balmy breeze was blowing, welcoming me to the island.  I was completely in resort heaven and immediately began to relax!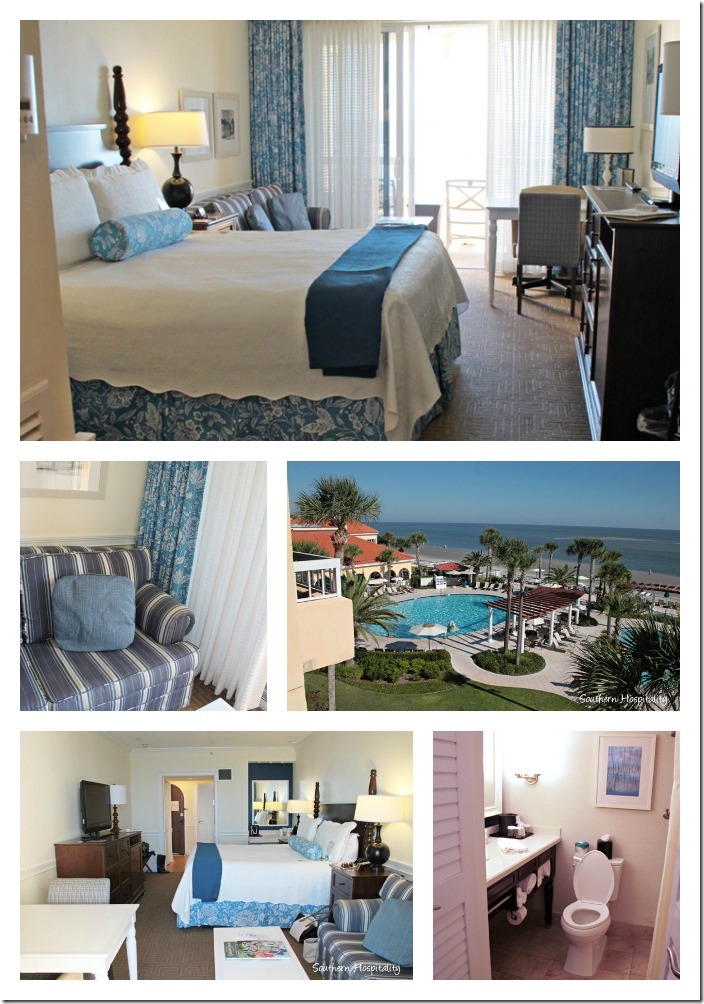 My room in blue and white was comfortable in a traditional way and I felt very much at home in this building.
Taking my camera all around the property, I tried to capture the exquisite feel of the place.  The newly renovated (April of this year) lobby, atrium, and bar area was just stunning.  Calling it the castle makeover, the renovation project is a fresh, contemporary take on the relaxed vibe that has become a tradition of the King and Prince.  I can definitely see why everyone loves coming here and why I've heard good things about it over the years.
Inside the front doors, updated furniture and architecture awaits incoming visitors.  It's very impressive walking in here for the first time.
We heard an indoor pool was taken out to make way for the new sitting area and fireplace in the lobby of the King and Prince.
With this beautiful space, I don't think anyone will miss the old pool.  I never saw it before, but it sure is spectacular now.  This space was great for relaxing and late night chatting after dinner.
Spacious with plenty of room for all sorts of guests and groups to make themselves at home.  We heard that many weddings and other events are constantly being held here at the King and Prince and I can see why that is popular too.  I can just imagine a beautiful wedding outdoors by the beach. They are able to handle more than one event at a time, including weddings, and still make everyone feel special.
Speaking of the beach and pool, come on out there with me and we'll take a tour around.  This beautiful cabana seating area was just outside the lobby.  With a fire pit and lots of seating, I imagine this space gets plenty of lounging.
We got a complete tour of the stunning pool area which looks right out to the ocean and it's truly one of the prettiest pools I've seen.  It reminds me of being in the Caribbean somewhere, a tropical getaway.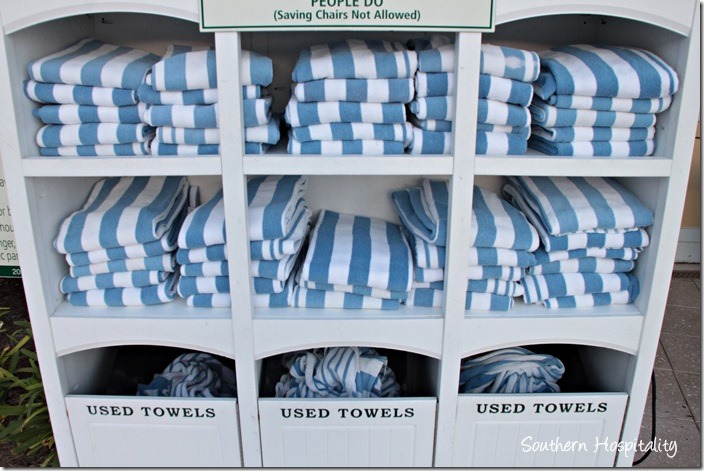 Striped blue and white towels are available for guests to use.
With a Spanish Colonial exterior architecture, the King and Prince does have an island feel with the soft ochre stucco exterior.  It feels right in place here by the ocean.
With red tiled roofs, it's a relaxed and casual feel all over the resort.  That round room there is all part of the original historic buildings of the King and Prince.
I caught several beautiful sunsets on St. Simons and there is nothing like it.  The sun sinks into the ocean leaving behind a beautiful glow of light until it dims and then darkness takes over.  There's nothing like a sunset at the ocean.
There is plenty of outdoor seating at the King and Prince too.  Plenty of room to lounge, have a drink and relax.
This was the oceanfront building that I stayed in, up on the 4th floor.  I love that it's not so tall that it takes away the ambience.  With only 4 floors, it has a quaint feel about it that high rises don't have.
The pool has plenty of seating for so many people.  I love the line of lounge chairs facing the ocean with or without umbrellas to use.  I could while away a few hours doing this, couldn't you?
The pool awaits with crystal clear water and plenty of chairs.  I imagine this pool gets lots of use in the summer months. It's quite hot on St. Simons during summer.
A big part of a resort is the pool and ocean and the King and Prince has both.  They also have their own golf course, which we didn't visit, but I imagine it is gorgeous as well, winding through the coastal Georgia marsh.  The Hampton Golf club celebrated 25 years in August and and an 18 hole golf course.
The newly renovated Echo bar was named as an homage to St. Simons' brief naval history during World War II.  It's an exquisite space inside and out.  Serving classic coastal cuisine and handcrafted cocktails, it's the perfect atmosphere for casual and relaxing, after a day at the pool or an evening out.
The new bar at Echo.
And the dining room spaces, which were beautiful with lots of windows facing the water.
Lots of attention to detail in interior design was taken into consideration and my décor-loving self loved all the pretty spaces.
Even the new flooring caught my eye, with those rustic gray planked tiles and the octagon marble tile adjoining it.
We met the top folks who help run the King and Prince, including Michael Johnson, Director and General Manager, Bud St. Pierre, Director of Sales and Marketing, Allen Lancaster, Food and Beverage Manager, and brand new Executive Chef, John Palicio, who was a delight to interact with.  That's Chef John above ready to serve up a wonderful breakfast for us.
From left to right, Sous Chef James Flack, Allen Lancaster, and John Palacio.   They made us feel like royalty and served up some spectacularly delicious meals.  I so enjoy good food and we were treated to some of the best at the King and Prince event.  These folks know what they are doing and certainly make me proud to be Southern.  They were the epitome of true Southern hospitality.
We were treated to so many great meals during our stay and one of the most memorable ones was the first night, dinner in the solarium just as the sun was going down on the coast.  A delicious salad, shrimp and grits with collard greens and a to die for chocolate dessert was exceptional and had us all smiling from ear to ear.  I love gourmet food and good ole' Southern cuisine and we got both during our visit.  What a treat to enjoy a beautiful dinner in this stunning solarium space with huge windows looking out to the ocean.  They even added some touches of Christmas so that we would get a good idea of how the Holidays feel at this historic inn.
Sunsets are exceptional on the coast and I was lucky to capture them most of our 3 nights on the island.  I always love the late afternoon soft light that a sunset brings and took advantage of the photo opportunities.
Ahhhh, I could stay here for a month and never get tired of this view.
My room had such grand vista views and I so enjoyed waking up to this every morning and seeing this view at night.
There's something magical about sunsets on an island like this one and you cannot beat the sunsets on St. Simons.  Truly amazing place to visit and relax!
My friend, Heather, also went on the trip and we had the chance to do a little biking one afternoon. There are plenty of things to do on St. Simons, from boating, biking, golf, and history lessons as well.
The King and Prince also hosts many fun events during the year, including culinary classes, taste of Thanksgiving, holiday cookie parties, and a New Years Eve party event.  You can follow along on their Facebook page too, for up to date information.
In June of 2014, St. Simons Island was named #6 on the list of Coastal Living magazine's "America's Happiest Seaside Towns", ranked by consumers.  That's a pretty high honor!
I have LOTS more to share about our trip to St. Simons and will be back to share more later.  We visited several restaurants on the island and also many points of historical interest, like the pier, lighthouse and historic Christ Church.  Visiting this small Georgia coastal town reminds me of why I'm so proud to live in this state too.  We truly have some exceptional terrain, from the North Georgia mountains to the barrier islands of coastal Georgia and they are all worthy of sharing.
Have you ever been to St. Simons and the King and Prince?  I'd love to hear about your visit if you have!  And if you haven't, I hope you'll consider it for a vacation destination.  It certainly gets my vote now as an exceptional spot on the Georgia coast.
Note:  I was invited on the media trip and was provided lodging and all meals while there.  All opinions and experience was all my own.  
Don't Miss a Post, join my list!