Happy Mother's Day to all of you!  We are celebrating today, as we always do with my mom.
It is quite astounding how much this house has changed in the last 3 years and I know you all see it too.  I can't help but look around and be so proud of where it has evolved to in the time I've lived here.  With one project at a time, each one has enhanced and made it better and better.
(poor sad porch, the day we bought the house)
I have had to have some vision on this place and to finally see all that vision come to life has been thrilling for me, to say the least.  Once we finished the screened porch 2 summers ago and my dad built the stairs going to the backyard, I had a vision of one day doing a patio that would connect my back door (laundry room/mudroom) over to the back stairs.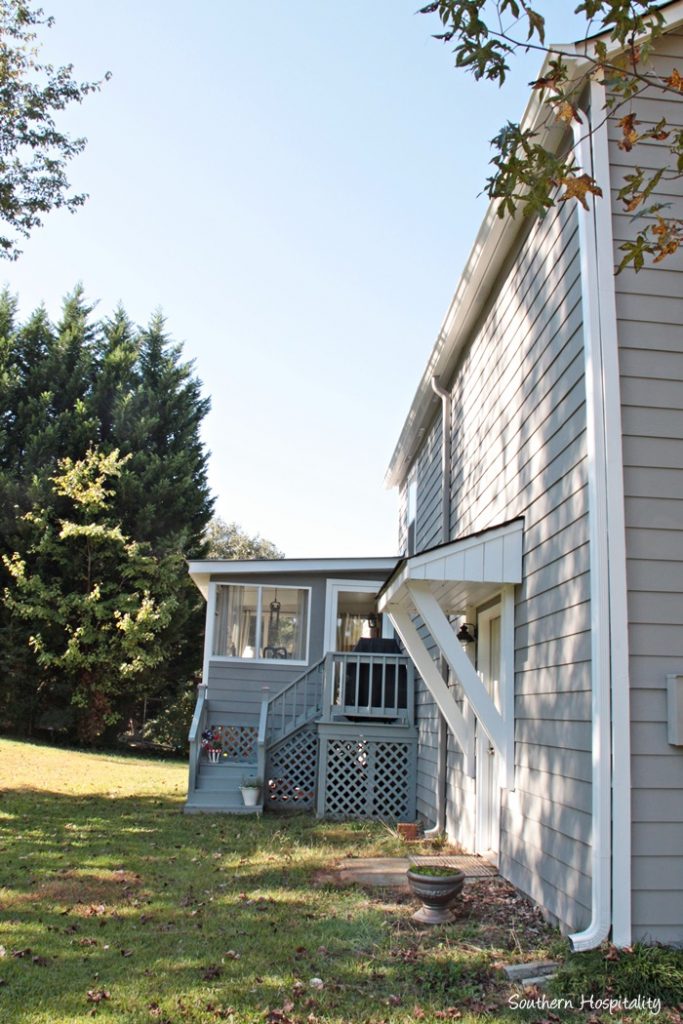 I could see it in my head.  And now it's a reality!
I'll tell you the back story of how it came to be now…right now, this past week, in fact.  I connected with a company here in Marietta who had reached out and started working with bloggers to feature their outdoor patio furniture and that led to me getting a really nice outdoor piece of furniture.  Well, I had envisioned this patio in my head already, so I then moved up the project so that I could get it done this spring. And I'm so glad I did!  I mean, I had to have a patio to put this beautiful piece of furniture on, right?  It's going to be quite the outdoor space, when finished.
I'll share how the patio was done in this post. No, my dad and I didn't do this project.  It was way over our heads (and physical abilities), so I brought in the pros.  They did a fantastic job and I got lots of in progress pics to show the extent of a project like this and what all goes into it.  I couldn't be happier with the end result.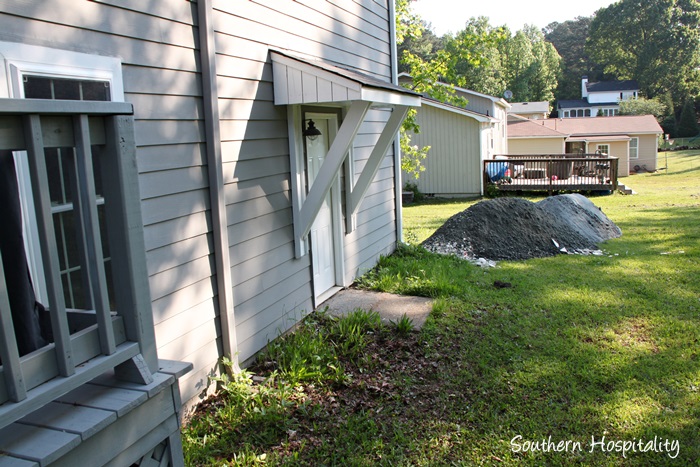 I shopped around with a couple of different guys to do this project. The first one was too expensive and came in at $10K for the whole shebang.  Way more than I could spend.  He would supply the stones and the labor, but I was back to the drawing board after that first estimate.
A little note about my Lowes relationship. They have stopped the bloggers Creative Ideas once a month campaign that we were all doing for about 3 years, but they are still working with us on a project by project basis, like my Pella windows and sliding glass door.  Good stuff!  This post is not sponsored by Lowes, but sort of is a by-product of that relationship.
I still had some gift cards left from Lowes that I hadn't used over the last few months, so that's what I used to buy the stones.  I had another guy come out and give me an estimate of labor for under $3K.  Much better.  So I went with him and we waited and waited for a few weeks until the rain finally stopped falling every other day!  This past week, we finally had one full week of sunshine and it was a perfect time to get it done.  They had to drive a small dump truck in my backyard and he also wanted it to be dried out pretty well, so that my yard wouldn't get trashed.  Success!
They dumped sand and gravel in my backyard for the patio base and the next day got started, bright and early.  These guys worked almost til dark and got most of it done in one day.  Came back the next day and were finished before Noon.
First things first, they hammered out the old concrete stoop that comes out from my laundry room, along with some of the grass and dirt.
Next, they started leveling the sand and gravel for the base, making sure to slope it away from the house on a slight grade.
They used a compactor to compact the sand and gravel and it was an interesting process to watch.  I was on the porch, watching most of the progress. It was recommended that a black hose be added to my gutter which was in the middle of the patio, to allow the water to drain to the side, so they dug a trench for that.
This crew knew what they were doing and things started shaping up, getting it ready for the stone to go down.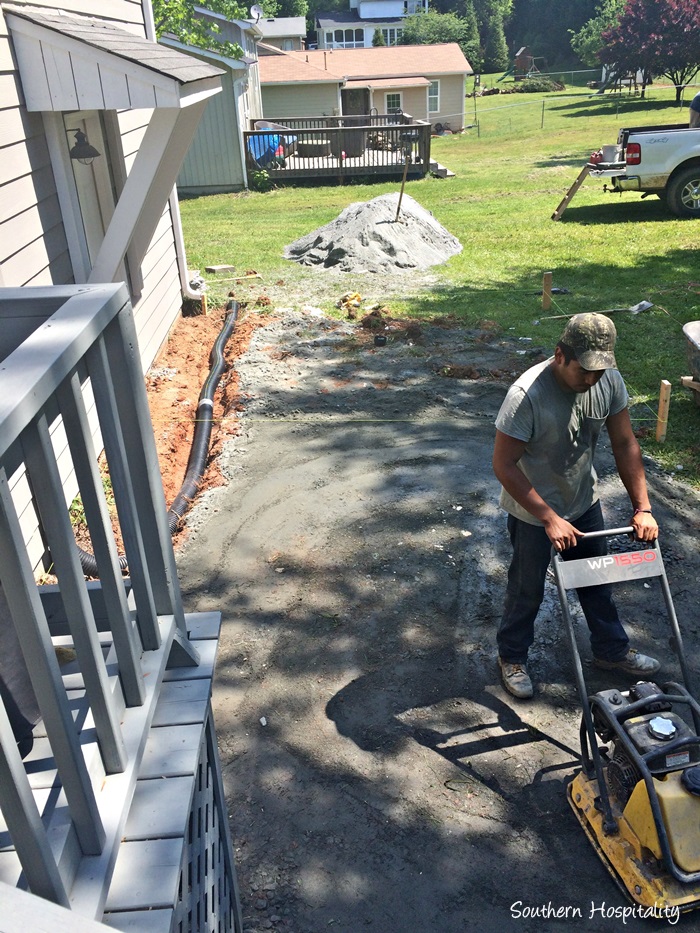 The black drain hose is in place here and more compacting of the sand and gravel.  Definitely not a DIY project I would want to tackle!  This is one project that is well worth it to hire out the professionals.  I know our limitations.
They started by the stairs and meticulously cut pieces to fit in the little alcove by the stairs to fill it all in.  It turned out great.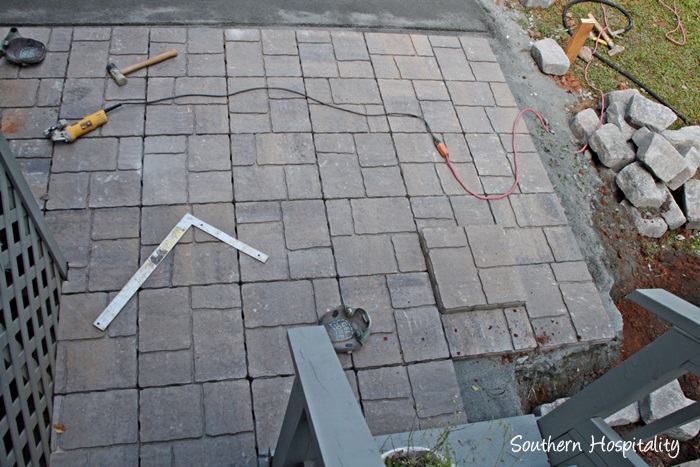 You can see that each stone was turned so that a cobblestone pattern is in place.  I love the look of these pavers from Lowes. They are called Allegheny Cobblestone and are almost 16″ square.  Nice and heavy and substantial.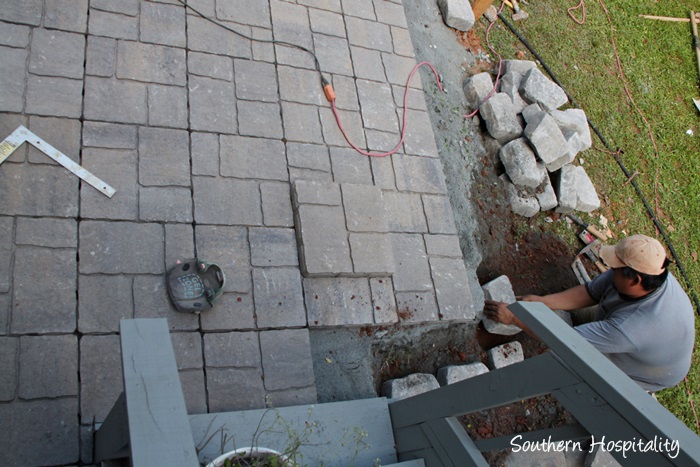 The contractor told me that to slope the patio properly it would need to be elevated with a little wall around the edge which would step down into the yard.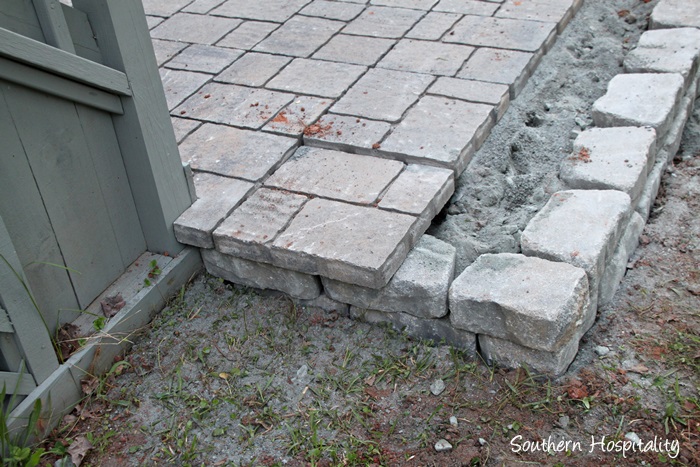 I didn't have that pictured until he showed me with the stones, but I love how it looks.  I used the same stones for the wall that I did on the retaining wall my dad and I built in the front yard.  This Allegheny stone from Lowes looks very Old World and has a nice mottled color, mix of gray and brown. The more gray one is Allegheny.  It looks great with my siding color.
You can see how precise they were in getting the sand and gravel compacted and all ready for the stone.  It's quite the process!
Section by section, the stones went in and they tapped them in place with a rubber mallet to be sure they were all level.
Cuts were made along the little alcove there by the stairs.
It all fits together like a puzzle.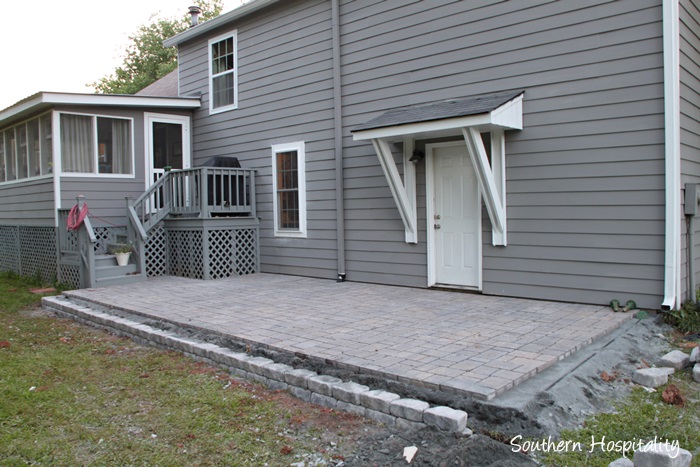 By the end of day one, we were here.  I actually had to go back to Lowes and get 30 more of the square pavers to finish up the next day.  I got them back and ready to go that night.  I love how the little wall looks and they did a fabulous job with all of that.
They added concrete mix to the back of the wall stones to anchor it all in even more.
All that was left was the remainder of the wall and adding the last row of square pavers in place.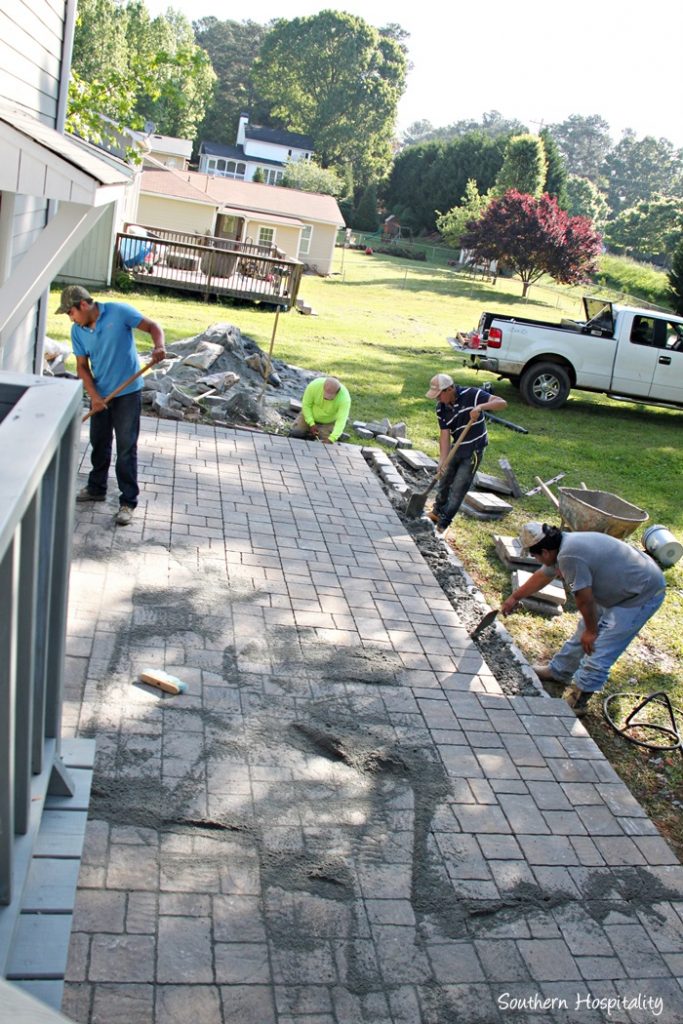 Day Two saw the remainder of all the stones in place and then sand was swept into the cobblestone grooves, making it look even more like real stones with sand in between.
And tada, here's the finished patio!  I could not be happier with how it turned out and the workmanship these guys did on my project.
It's going to be such a fun space to enjoy this summer and I can't wait to get it all decorated and looking pretty.
Here's a good look at the corner where the wall and stones meet.  They overlapped the square stones slightly over the row of wall stones.
The patio size is 13 x 27′.  I got out there and measured it out to figure out how big I wanted it and I knew I wanted to extend it past the stairs a bit, so I went out 3′ past the stairs and all the way to the end of the house.  I think it's a great size!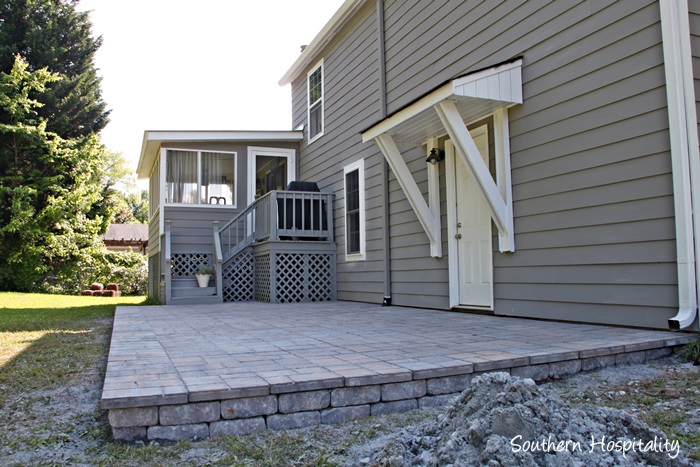 Perfect for a party space and outdoor entertaining and now I can walk back and forth from the stairs to the back door all on a nice surface.  What a clean look it all has, I am just thrilled with it!
So, next week I'll be back to show you how I end up decorating this space. I've got a few pieces that will go out here, along with some beautiful planters I'll show you tomorrow.   My summer is looking fun this year, I think it's party time at my house!
Here's a breakdown on cost:
Lowes Allegheny Cobblestone pavers  and wall stones – $1,400
Labor – $2,606
Total Cost:  $4,006
I'll share my contractor's name with you too, in case you are looking to do something like this in the Atlanta area.  His name is Marty and his phone # is 404-391-8155.  He has a partner and they both oversee their crews in doing outdoor projects like this.
Another outdoor repair I had done was getting shingles replaced on my roof after taking down an old satellite dish that was on my house when I moved in.  Cool Roofing Company here in Atlanta came out and did the repairs for a fair price and now my roof is good and solid.  Call David if you want to get a quote from them.
Don't Miss a Post, join my list!