I've been working on the laundry room all last week and weekend and it's really coming along. I can't wait to get it finished and share it with y'all! It's going to be girly, functional, and pretty all wrapped up in one small space. It was in dire need of a makeover and I think I'm doing a pretty good job doing this one on a budget.
Week before last, I took a little road trip with a friend of mine. We left Acworth and headed north on I-75 and ended up in Chattanooga, where we browsed a couple of spots and had lunch there. It was a rainy day, but we managed to dodge the raindrops in the early morning before it got heavy and on our way stopped in at an amazing sight. My friend, Dawn, had told me about The Rock Garden before in Calhoun, GA, but I couldn't imagine what it looked like until we actually got there and I got out of the car, staring in amazement!
She explained to me that the garden is on the edge of a creek bank, with trees surrounding it and it's at the back of the Calhoun Seventh Day Adventist Church property in Calhoun, GA. Here's the website information from Explore Georgia if you want to check out The Rock Garden for yourself. I loved visiting and if you're in the area, I think you would love it too. We want to take Parker and Iris up there when they visit again and it's so close to our side of town. It's open every day, self-guided and free.
That link describes it as volunteer built folk-art crafted with 50 diminutive buildings all made with tiny stones, pebbles, shells, odd pieces of broken glass and china, rocks, ceramic tile, cement, wire and other materials, and they are designed to imitate their larger counterparts. Some of the buildings are recognizable, like Notre Dame cathedral and the Coliseum. I've seen both of those in person and it was amazing to see them in wee-sized art form made out of pebbles.
I don't know much about the creator of The Rock Garden, but he goes by the name Old Dog and this sign is posted with a note from him, which says:
A Personal Note from Old Dog
You are welcome here. Be at peace. The Rock Garden began in September 2007. It is a place to meet with God. The Rock Garden is a place of joy, wonder and discovery. It is a place to be with those you love. It is also a wild place with beavers, otters, snakes, wasps, and snapping turtles. Please leave our snakes alone; this is their home. Please do not harm our little porcelain people. Each one is quite expensive. They are hand built from fine English porcelain and then fired to 2000 degrees. 
Be careful! 
Please watch your step as the terrain is uneven and there are many places to trip and fall. Some roads are not handicap accessible. The Seventh Day Adventist Church is happy to share their Rock Garden with you. We ask that you be respectful of our property. You enter here at your own risk. Watch your children. You may enter the creek, but you do so at your own risk. Please be mindful of the snakes, snapping turtles and leeches. 
I bid you peace! Old Dog 
Dawn has done some volunteer work at the Rock Garden, so she knew a bit about it all. She said all the hearts in this wall indicate all the couples who have gotten married here.
Old Dog and his wife, Lady Joyce, who was there working while we were there.
My mouth was hanging open as we walked through the little paths and saw all these wee little buildings. So much detail has gone into these tiny buildings.
Sprinkled around are reminders of God.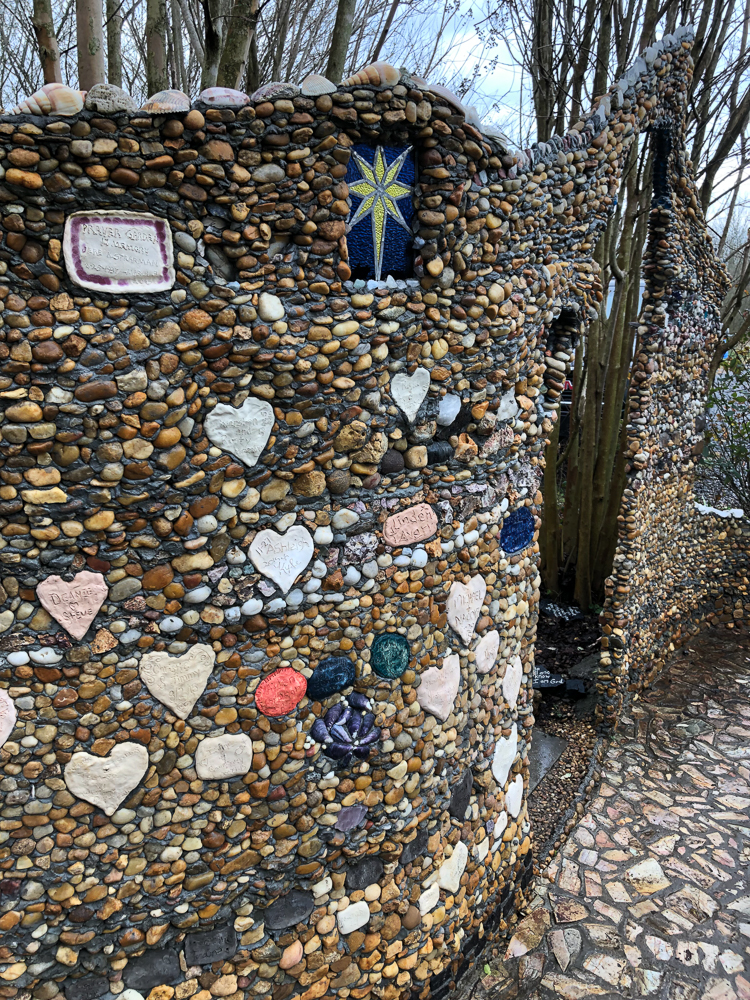 Lots of hearts in that wall back there and this is the Ten Commandments.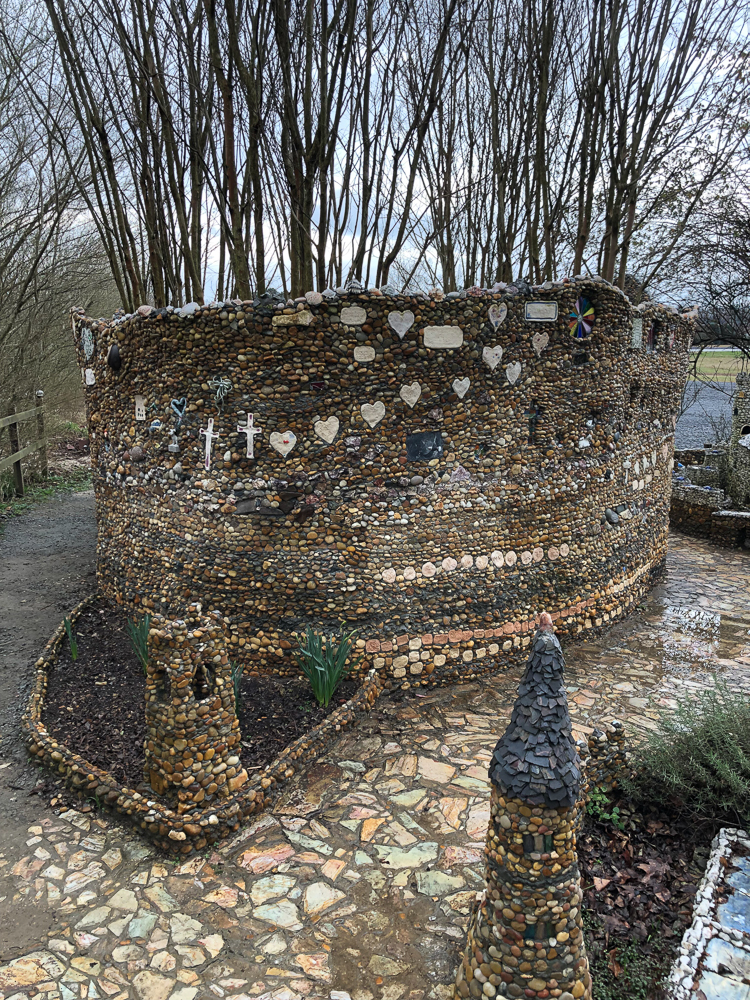 This Rock Garden is 11 years old and how amazing it is!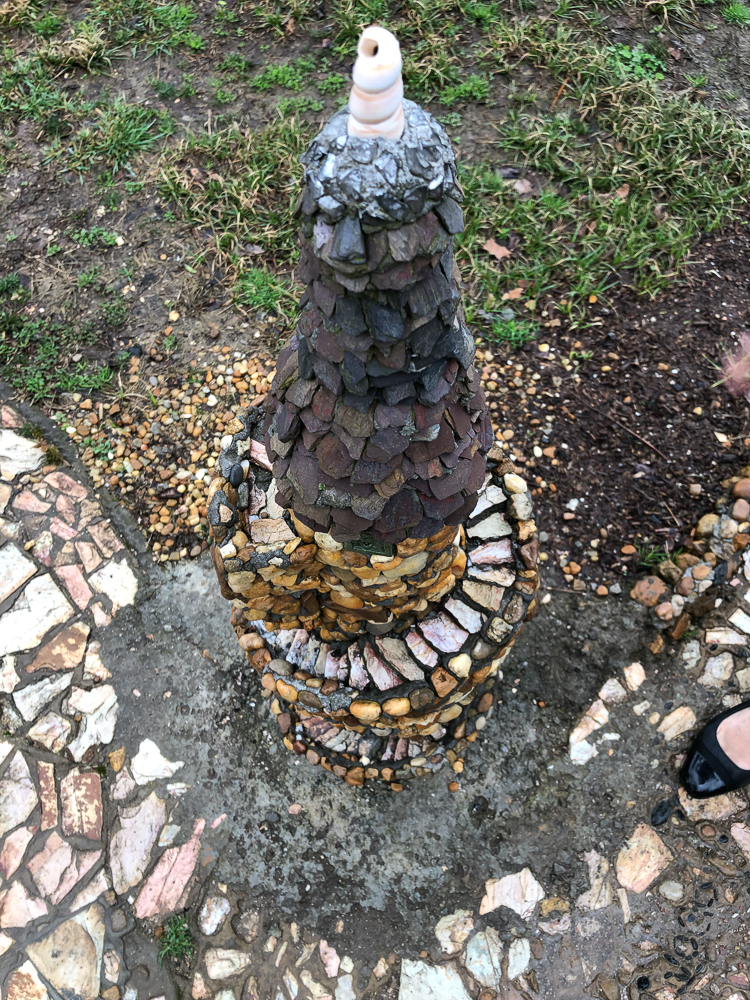 See if you recognize any of the buildings. I didn't capture them all, but many of them.
There were some winter blooms going on and I heard it's really pretty in the spring.
I believe this is a little replica of Bethlehem village.
Note the colored glass and stain glass windows in some of the cathedrals. Amazing!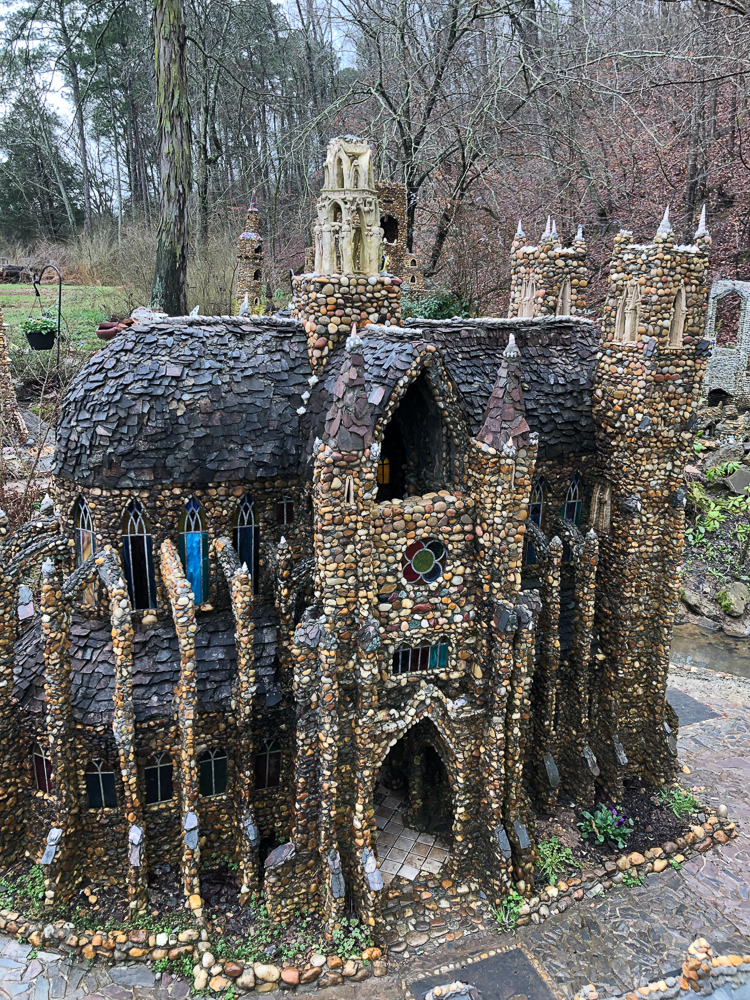 The paths wind out over the water too. We didn't see any snakes but I can imagine they would be out in spring and summer.
\
Loved these colored glass stones on this one.
I knew you all would enjoy seeing this too. Can't wait to take Parker and Iris, I think they will love it.
It's like a fairy village. I didn't get a good shot but there are tiny porcelain hand made people in some of the buildings, that he mentioned on the sign.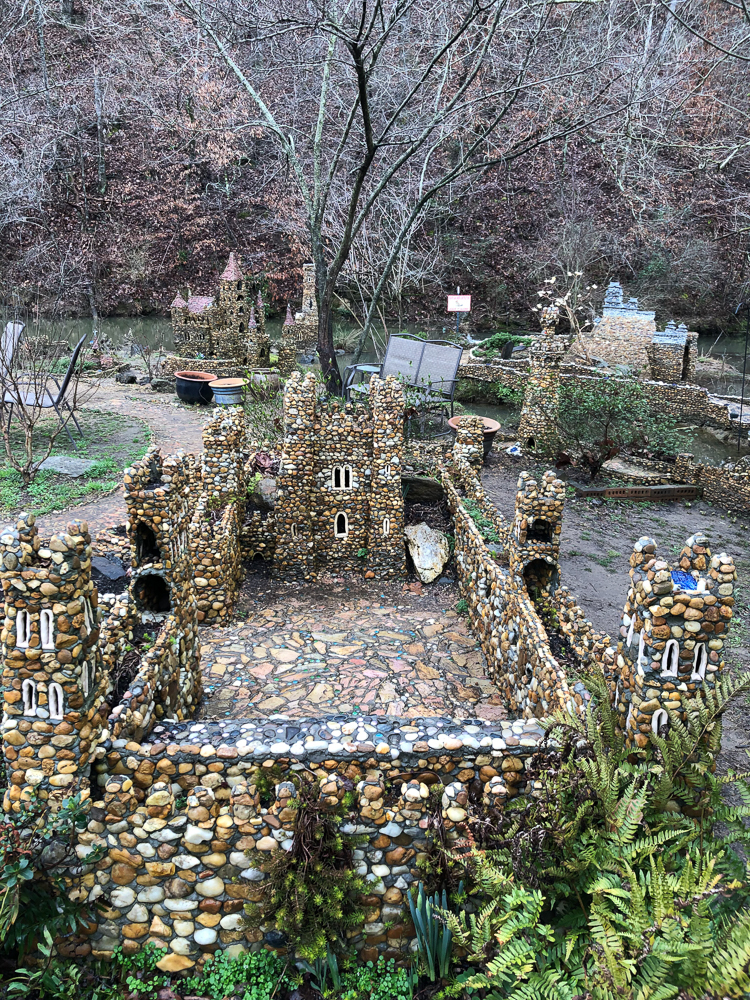 The creek is pretty too.
This has to be Notre Dame, so pretty.
Look at the detail of stones on the roof, like a slate roof.
Loved this with the ferns growing around it.
This bridge and entire structure is built out over the creek, that's an amazing feat to do.
You can walk out there and see it all.
So stunning!
Have you picked up your jaw yet? I know, it's a sight to behold!
This is Joyce, the wife of the guy who started this creative endeavor. She was quietly working away.
There are spots to sit and just be in this calming place.
Beautiful trees all around and you can see the church up by the road to get in here. This is the back of the church property.
A swing, but we've had so much rain, it's all a soggy mess right now. Sunshine where are you?!
I turned around and spotted the Coliseum at one point and was just amazed at this!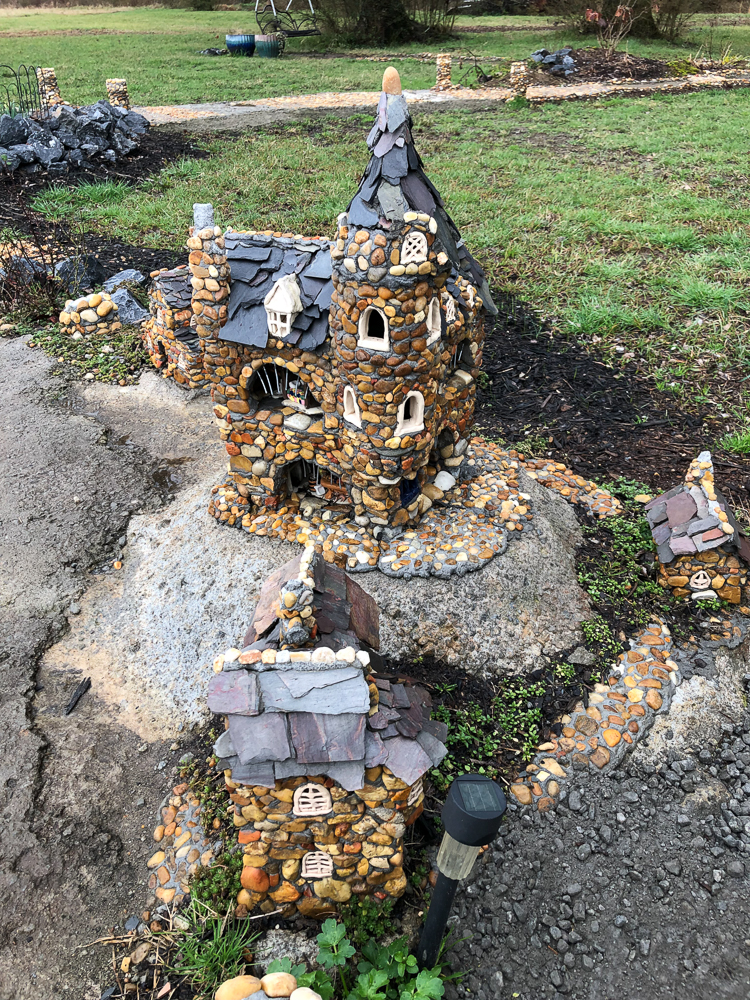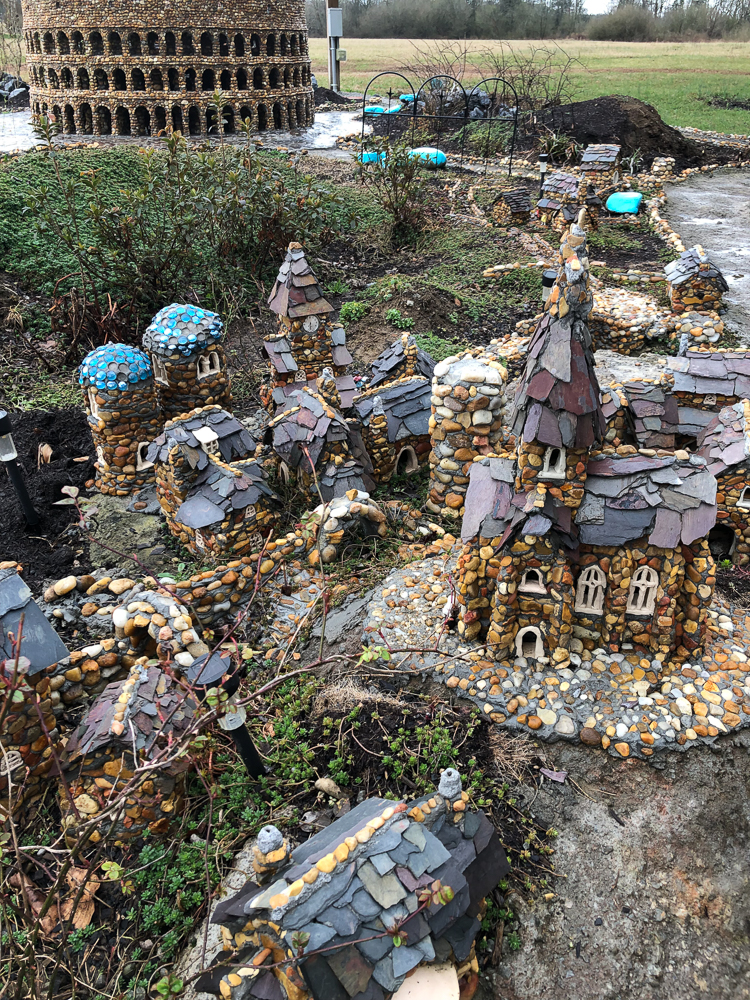 This place is truly awe inspiring and a beautiful work of artistry. If you're in the Atlanta area, I'd highly recommend a visit. I'm sure in the spring and summer months, they get a lot of visitors and I think it's a great place for the whole family to visit. Check it out and let me know if you've been here already. We're definitely going back!
Don't Miss a Post, join my list!