Later that evening, we took off for the Rue party.  If you haven't heard yet, Rue is a new online magazine and some stylish young designers started it.  They threw a big party on Monday night and invited all of us to a beautifully designed showroom, where we met all sort of fun bloggers.
We ran into Emily Henderson, the Design Star winner in the elevator.  She's so sweet too!
The 2 responsible for all of this Nate blogger show coming about, are these  fun and beautiful girls from Canada, Joy and Janet, the Moggit girls.  I met Joy way back when I first started blogging and it was such fun to meet them both in person.  Their blog is a hilarious take on design gone wrong.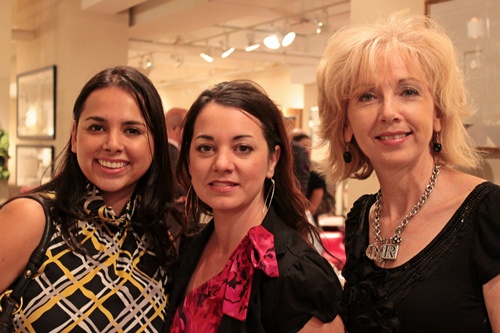 Camila (High Heeled Foot in the Door)  is a sweet blogger from NYC, along with Kate and me.  And Camila helped organize an after party with The Nest magazine group that was fun too. 
I was so excited to meet another Birmingham blogger, Marianne, with Haven and Home.  I had been to her blog, but we had never connected.  I saw her across the airport the morning of my flight out and when she came over to get in line I asked if she was Marianne.  She was and we arranged to sit together on the way up and had a ball talking and getting to know each other.  We'll definitely get together again soon!  She is adorable.
(Jaithan, Sarah, me, Eddie, Camila, Marianne, and Cristin)
Who did we run into at the Rue party, but my buddies Eddie and Jaithan.  They were chatting and posing for pics and it was a crowded room.  Great to see them again, always fun to catch up.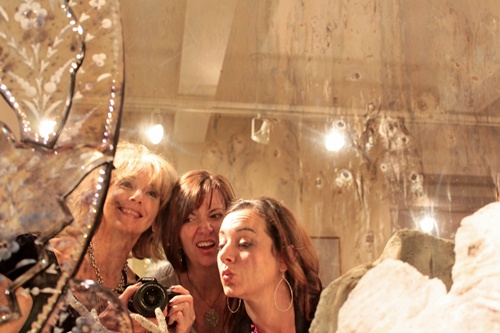 Me, Sarah, and Kate being goofy in the mirror.
Do you recognize the guy on the right?  Yep, Design Star, Dan.
And Design Star, Michael was there too.  Sarah had to get her pic with him.
This beautiful lady is Cassandra with Coco and Kelley.  So many people were dressed so stylishly.  Me, I had on jeans.  Oh well.