I hope you are all enjoying a nice Memorial Day weekend, wherever you are and whatever you are doing….enjoy the time!
This is my 3rd summer on the screened porch and it is such a happy place for me.  I'm out here so much of the time now and as soon as I got the pollen cleaned up this year, it was back to business as usual on the porch.
This year, I pulled the hose up on the porch, got a bucket of hot soapy water and with the help of my roommate, we scrubbed the baseboards and windowsills with soap and I scrubbed the floor with a mop.  I had cleared out all the accessories and the furniture was mostly covered with covers. Then I hosed it all off and let it dry well and then uncovered my furniture that I had covers on protecting my cushions for the winter.  Keeping covers on the chairs and loveseat definitely help them stay cleaner during the year.
After removing the rocking chair and putting it on the new patio, the porch is more spacious without that extra chair and feels really good.
Now, the seating group is back to 3 pieces and the coffee table. All of this came from Big Lots when I was living in Birmingham, so I'm definitely getting my money's worth out of this all weather wicker set.
This might be the last year to use the cushions on these pieces, as it has been 5 years this year since I bought them.  They do start to fade after a few years, but I'll get at least one more year out of them.
This truly is another room in the house and is enjoyed for the whole summer.
The outdoor rug cozies it up and makes it really feel like a room.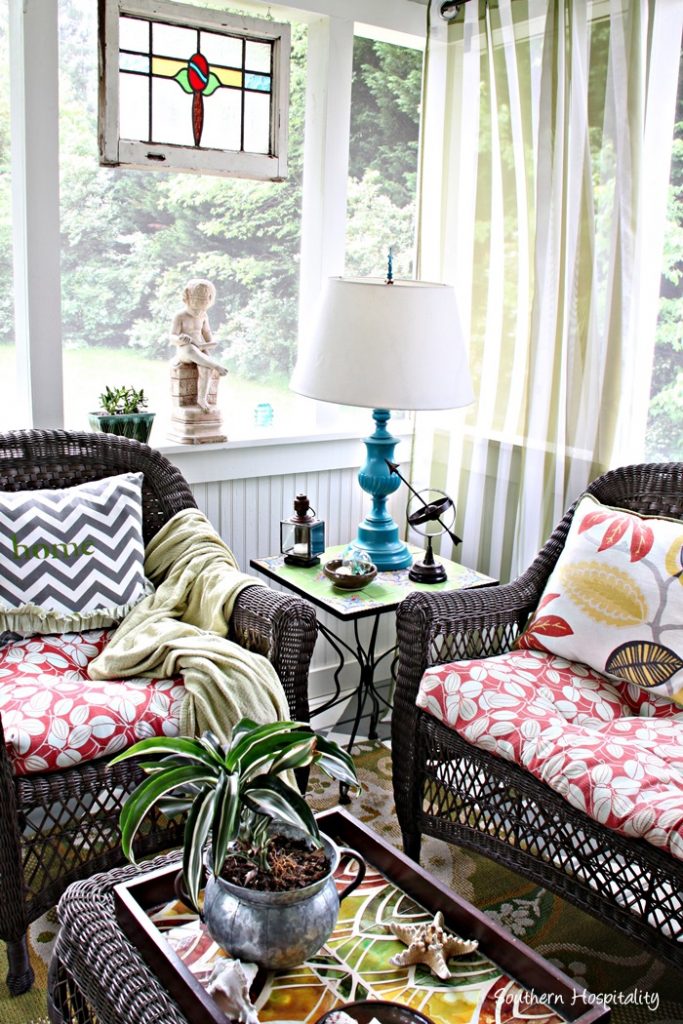 Great place to sit and relax.
I keep a few beach things on the tables.
Collections of favorite seashells are a nice addition.
The lamps were picked up at Goodwill so I sure don't worry about them getting ruined out here.
Looking back towards the table and chairs from the seating side.
My grandpa's old chair is a nice touch out here.
Here's a look at my new sliding Pella door, which is black on this side.
I added a new oscillating fan from Homegoods on the console table and it is great for cooling off the porch. I turn it on most all the time now.
I love when the curtains blow in the breeze like this.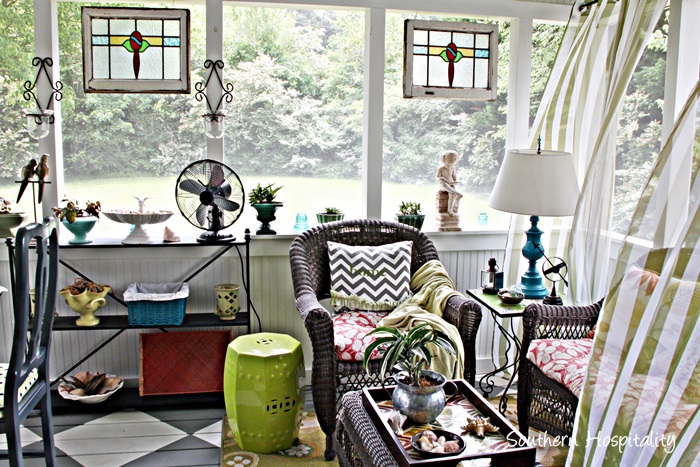 And it blows often back here, so a breeze is welcome.  I have potted up some new plants in my vintage planters to keep going on the porch.
And we use the table and chair often too, sitting here with my laptop or eating on the porch.  Those placemats are a recent Goodwill find and work great on the porch.
Loving this pop of new fabric on here.
Staring at the stain glass windows is a fun pastime too.  I love them and they have been with me for years.
A porch cannot be beat in the summer months.  I'm so thrilled to have a porch in this house and hope that I never have to do without one again.  It truly is my most favorite spot during the summer months.
Happy porch sitting!
Don't Miss a Post, join my list!