Having a full length mirror is a necessity in my book, am I right? I love having a full length mirror so I can see my outfits head to toe once I get dressed and ready to go out the door. I bought a full length leaning mirror a few years ago and leaned it on a spot on the wall in our bedroom. I got that mirror from Kirkland's and didn't spend much on it. Decorative wise, it wasn't exciting, just a black metal framed mirror. Nice enough, but not a lot of pizazz.
Fast forward and I started looking last year for something more stylish to replace that mirror. I looked at bamboo and rattan mirrors and spotted one by Four Hands brand (the Candon) and saw that it was carried by several different online vendors, so I found the most decent price I could find at the time and ordered the mirror just after Christmas. It wasn't a great price at over $700, but I bit the bullet and figured it would be a nice high end mirror that I would keep forever.
After getting notification that my mirror was finally arriving mid-March, I was very happy about that since it took awhile to ship and then that was a false alarm when the truck showed up, but the item with my name on it was some sort of nightstand and obviously not the mirror I ordered, I was disappointed to say the least. I ordered from AFA stores and the mirror was drop shipped by the brand which I'm sure is the norm these days, so shipping is a little unpredictable. They stayed in touch with me after I wrote them and asked about the new shipping date and when I would get my mirror. I got a tracking number and about 3 weeks later, my mirror finally arrived.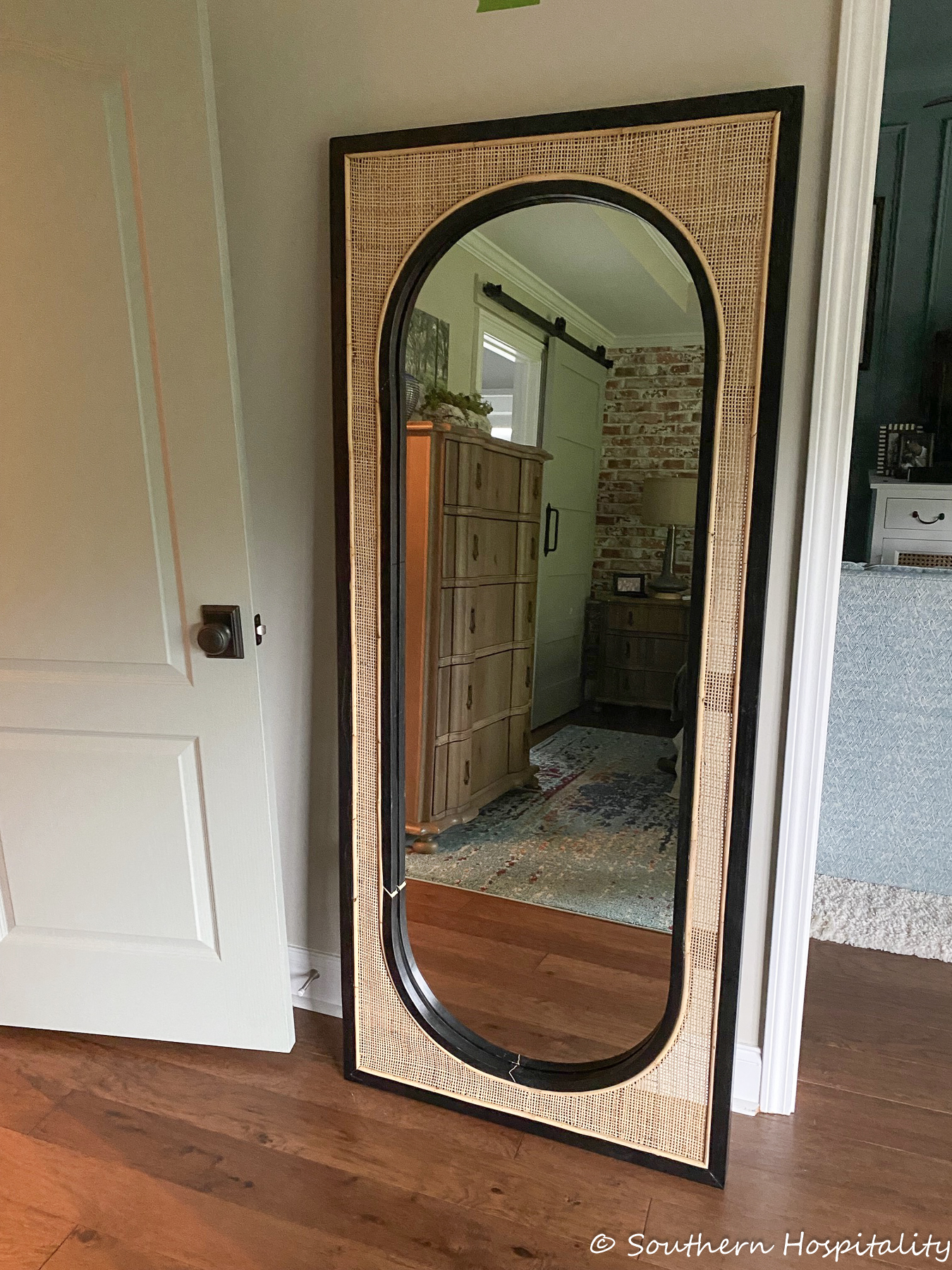 To say I was disappointed after getting in the mirror after waiting 3 months was an understatement. I was so very disheartened to see the workmanship of the mirror and how badly one entire corner was put together. I couldn't believe that any brand would ship out a mirror that looked this badly put together. It was wrapped extremely well inside a box and it wasn't a matter of shipping damage.
It appeared to us as we examined it that part of the curved trim inside the mirror had failed and that someone had attempted to fix it, but it went badly wrong as there was a huge gap in one area of the black trim, a gap in the bamboo caning in another area and that one corner of the caning was rippled and not smooth as were the other 3 corners. There's a gap between the black trim and the mirror itself as well as a few other flaws where the black trim was pieced together. How this escaped quality control I'll never know! The mirror was made in Indonesia, so there's that.
Something had gone badly wrong with this mirror repair or whatever had happened to it. I quickly took pics with my phone and sent off an email to the contact I had and she then forwarded my email to customer service. I sent plenty of pics and told them that this mirror should never had been shipped out, the quality control failed on this product big time. I'm sure the pictures helped tell the story and they agreed with me and I got an email a few days later after they had time to process telling me my money would be promptly refunded 100%! Well, that made me very happy. I wasn't about to pack up the mirror and send it back, so I was very happy with their good customer service decision. I figured I would try to salvage it and repair it as best I could.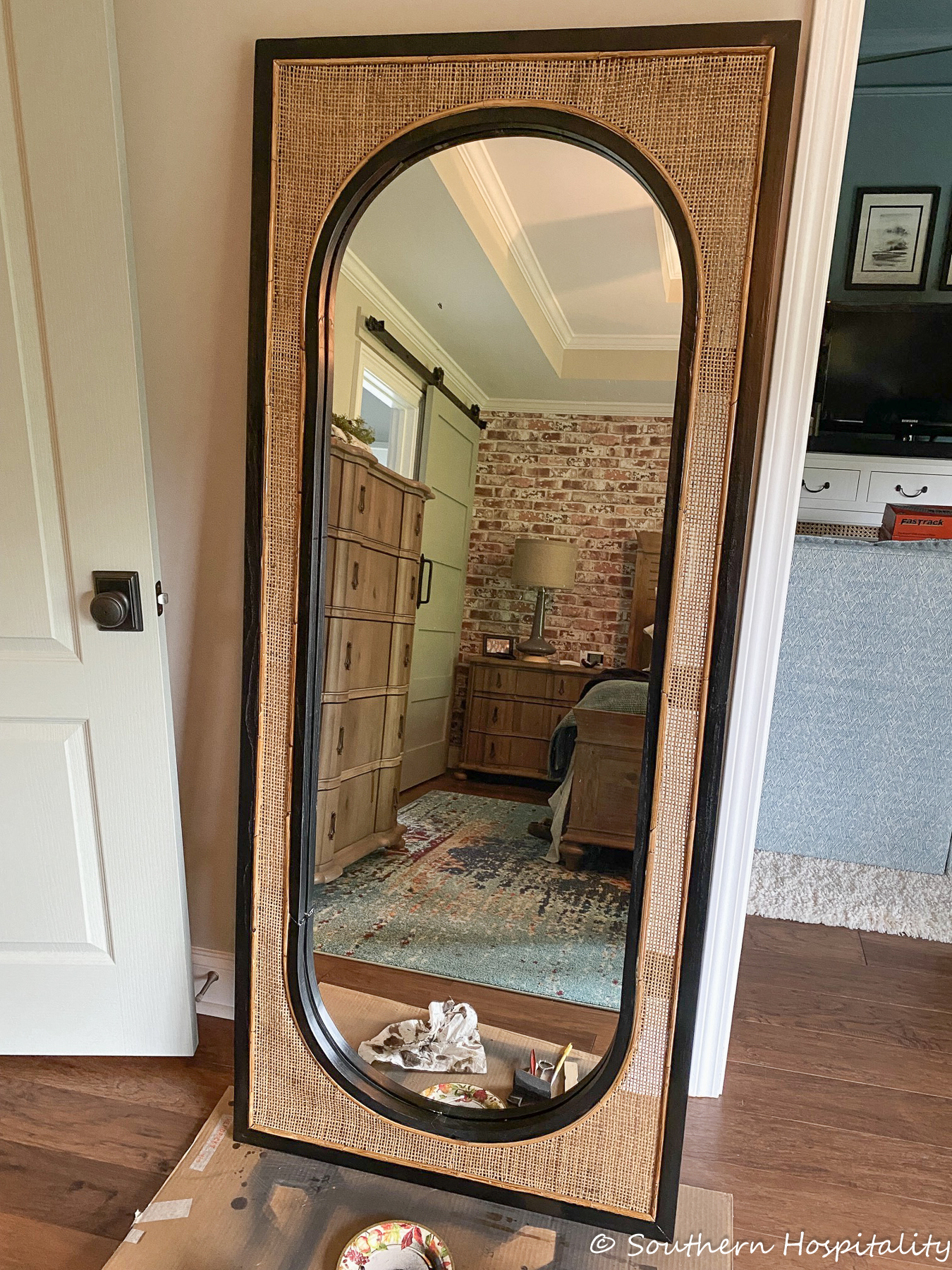 As you can see in the first picture, the caning was more yellow and I decided that a darker color would look better with our furnishings and floor. I got out Provencial stain, which is the same color stain we used on our downstairs floor. First, I got some wood putty and plugged up the gaps as best I could and then stained it with a foam brush which took about 10 minutes. Then I got out some black paint and touched up those areas that I puttied. It makes it more invisible to the eye, but of course if you look closely it's there. The stain darkened the caning and made it look better, I think. Here is is after I finished my doctoring of the mirror.It's not perfect, but a whole lot better than before.
Mark hung it on the wall for me and I'm very pleased with how it came out…and it was FREE! That make me very happy too. I made lemonade out of my lemons!
I loved the mirror enough to spend good money on it, but now I can live with it even with a few flaws and the fact that I'm getting a refund makes me feel a whole lot better about it. The flaws are definitely more hidden now and I love the darker stain on it. Luckily, the ripples on the bottom left corner of the caning do not show too badly at all.
It's nice to have a stylish mirror on the wall and I will love this for many years.
I do appreciate the company, AFA Stores, for working with me and for outstanding customer service in getting me a refund. All's well that ends well! The Candon mirror is carried at several online retailers and now the going price is $899 (affiliate link), in case you're (crazy enough to pay that much…I was pretty crazy to pay over $700!)…..interested, But beware of  my story. I sure hope their quality control improves after this fiasco!
Don't Miss a Post, join my list!