Oh, what a beautiful day it was!  Our family had such special memories of this wonderful day of Lauren and Philip's wedding.  The weather could not have been more perfect.
A beautiful Spring day in Atlanta.
I arrived early, camera in hand and went around looking for pics to capture in memory.  I found Lauren, the bride in with her bridesmaids getting dressed for pics.  The bride and groom did not see each other before the wedding, so pictures before the ceremony were coordinated with that in mind.
Lauren and the girls getting dressed.  She was a spectacularly beautiful bride!
She had her hair put up in a beautiful twist.
Getting her veil on, ready for the photographer.
I then left them getting ready and headed upstairs to where the reception will be.  The Vinings club is a swanky spot on top of Vinings mountain, with a beautiful view overlooking downtown Atlanta.
Me and a friend of my sister's, Susan, came over early Saturday morning and got the tables set up.  They had lots of framed photos of Lauren and Philip to add on the tables around the room.  I love this touch!
Tables are set with fine linens and the band is warming up. 
The Vinings Club feels like a living room out here and is a great place to socialize.
As the guests enter from the elevator, this is what they see.
Here's that gorgeous view of downtown.  With a nice clear day like we had, it was just stunning!
Outside on the terrace, the tables are ready.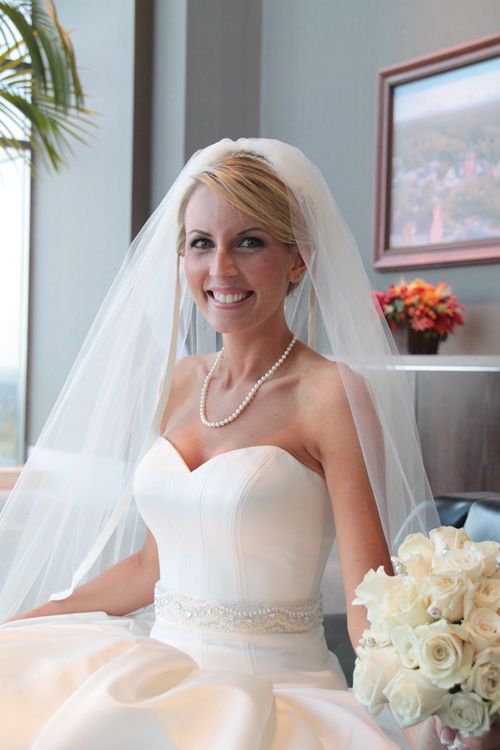 Lauren, the bride is ready for photos, so I hurried and took a few before the photographer scurried her off.  I had to be careful about getting too close to the photographer and interfering with what she was doing, but I managed to get quite a few good shots.  Love this one! Lauren is a gorgeous young woman.
A beauty, with simple pearls.  The perfect touch.
Her Aunt Toni (the florist) made her bridal bouquet, as well as all the bridesmaids.  I loved the simple elegance of all the flowers.
And here are all the bridesmaids with the two precious flower girls.  Are they all just gorgeous?  Here's some interesting news on the bridesmaid dresses.  They all came from Target, as well as the shoes.  I loved the simplicity of both.  Bronze shoes were perfect.
Simple champagne satin ribbon ties around the dresses were the perfect wedding touch, along with the pin on the back. Lauren did not want dresses that scream bridesmaid and these were just perfect.
They are getting hurried outside for some shots.
The fountain outside The Vinings Club was the perfect backdrop for wedding photos.
These were just a few shots I got in between the pro photographer doing her thing.
Don't you love that dress??  She found it at David's Bridal and I love the choice of it too.  It fits her to a tee.  She is a size Zero and has been since high school.  I know, I'm jealous too.  Well, actually if I was a size Zero, I would totally blow away.  🙂
Beautiful bride, beautiful day.
My mom and Aunt Frances, who is married to my mom's brother, Edward.  We had several family members who came into town for the special occasion.
Aren't they stylish ladies?
Back to the girls, posing in front of the fountain.
Cute girls, they are!
Philip's mom, Karen and my mom.
The bride is whisked away and the groom arrives, looking as handsome as ever in tails.
One of my dearest and oldest friends, Wanda, drove over from SC to attend.  We had a great time catching up.
The guys turn to pose.  They are all looking dapper and handsome.
More family members arrive:  Aunt Mary, Uncle Eugene (Mom's bro from Florida) and their daughter, my cousin Brenda, who lives in Atlanta, and my mom.
Wanda, another dear friend, Judy, and Tammy, who both live in Atlanta.  They were looking so pretty that night too.
Down on the terrace, the guests are arriving.  It was a balmy Spring evening, just perfect for a 7 pm wedding.
There were around 130 guests attending.
Lauren's Uncle Dale put together this beautiful fresh floral swag and I brought it out here and attached it to the arbor.  It really made a huge statement, crowning the ceremony just perfectly.
My sister's husband, Bruce escorted my mom down.
Philip's mom and dad arrive for the ceremony.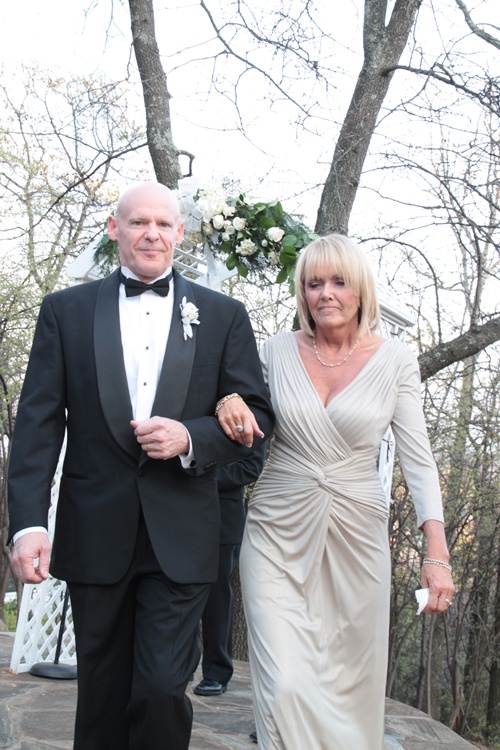 Bruce and Renee, mother of the bride.
All the groomsmen are in place.
As are the bridesmaids and flower girls.
Philip's cute little nephew, Douglas, was the ring bearer.  He's adorable and looks just like Philip's baby pics.
And the moment arrives.  The bride arrives on her granddaddy's arm (my dad).  She is closer to my dad than she is her own and she has always wanted him to walk her down the aisle.
She enjoyed her regal walk in, down the winding stone path.
My dad's nephew, Billy, helped with the wedding ceremony officiating.  Dad, on behalf of our family, gave Lauren away.
Philip's mom read some beautiful scriptures from Genesis on marriage.
And the ceremony begins.
Douglas sat in his grandmother's lap.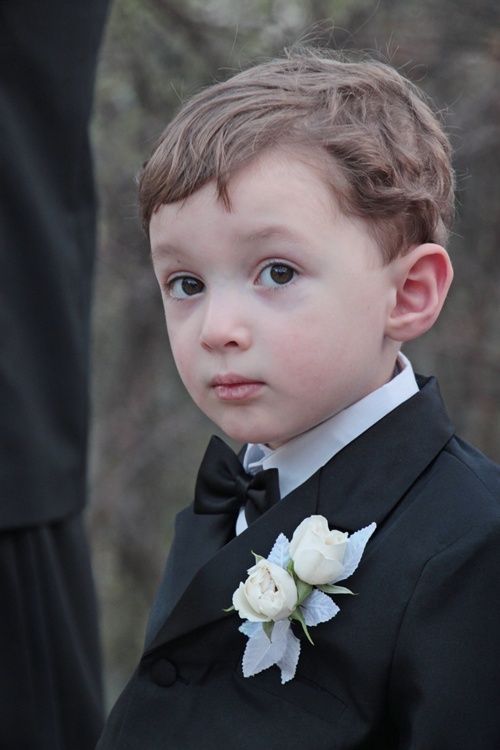 And I caught his eye.  He's so adorable.
A song during the ceremony.
The vows are exchanged.
Lauren looking beautiful and serious.
Exchanging the rings.
The kiss!
And a new Mr. and Mrs. are introduced.
And away they go.
On to their new life together.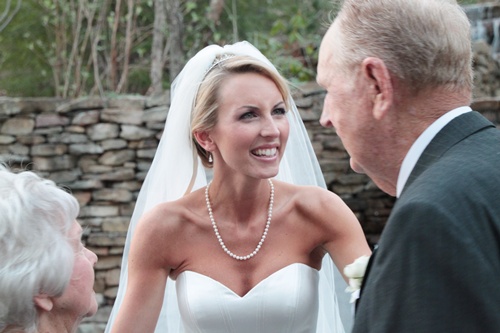 Lauren, with mom and dad right after the ceremony.
Lauren's bouquet was beautiful.  Simple ivory roses.
My dad talking with Philip's grandparents.
Beautiful couple.
Renee, sitting down and probably sighing with relief that it's finally over. 
A beautiful wedding party.  I love the neutral ivory and black wedding.
Yay for the happy couple!
Cute, cute, they are all so cute (and young!).
Not quite in focus, but dreamy.
Inside the reception, guests are ready to celebrate.  Rose petals for throwing and bubbles for blowing.
Philip's family brought doberge cupcakes for the groom's cake, which is a thin cream layer cake originating in New Orleans.  I had never heard of them before, but they were very sweet and tasty.
The wedding cake was beautiful, with sour cream pound cake on the bottom, and chocolate and strawberry on the top layers.
These are not great pics, but you can get an idea of the reception.  It was just beautiful.
Lots of great food.
The bride and groom take their first dance together.
I finally got a peek at Lauren's blue wedding shoes, her choice for something blue.
They cut the cake and do the honors.
And her dear old aunt finally got a pic of the two of us.
A beautiful day indeed.
I hope you have all enjoyed the wedding plans and pics.  It certainly was a highlight for our family and we celebrated it to the hilt.
Don't Miss a Post, join my list!