I know I'm dragging this wedding out and it's been over a week since the BIG day, but I had to share pics of the rehearsal first and tell you all about it too.
It's been a hectic couple of weeks, with the wedding one weekend and a very exhausting move the next, but we all survived it.   I will share more as I can, so please bare with me. 
Lauren and 4 of her bridesmaids.   Such pretty girls they are.
Lauren looking so fresh and a beautiful bride-to-be.
Philip and Lauren, getting ready to rehearse.
With a quick phone call first.
Waiting for everyone to arrive.  We couldn't have asked for better weather that weekend.
Getting ready to start.
My sister, Renee and her hubby, Bruce.  They were both SO helpful with my recent move and I couldn't have done it without them.
In place and getting instructions.
The preachers and the bride and groom
Philip's nephew, Douglas, is the ring bearer.  He is a cutie-pie!  He and his parents live in Birmingham.
Rehearsing in full swing.
And a practice run through marching down of the bridesmaids.
Beautiful cherry blossoms in bloom.  Such a gorgeous setting for an outdoor wedding.
Spring in Atlanta is so gorgeous.
Special moment with Lauren and her granddaddy, my dad. They have a super special relationship and he walked her down the aisle.  She is much closer to him than her own dad, so that decision was made.
He walked her down the aisle and then performed most of the ceremony.
The bride and groom exchange a sweet kiss.
And then we all left for the rehearsal dinner just down the street at Canoe.  It's been years since I have been here, but it is a wonderful place to dine in Atlanta.
It sits right on the Chattahoochee River with beautiful views.
Gorgeous!
With a pretty blue bridge in the background.
Philip's mom planned a wonderful rehearsal dinner, complete with stunning floral arrangements on the table and the food was just so delectable.
A nod to New Orleans on the tables.  Each place setting had a praline for a favor.  They were delish!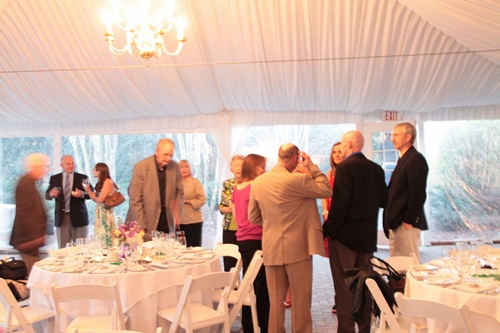 Getting ready to sit.  The dinner was outside under a white tent, complete with chandeliers.  So elegant!
Beef, shrimp and grits.  It was as good as it looks. With a scrumptious chocolate mousse for dessert.
Lauren created the most adorable slideshow that they shared at the rehearsal dinner of their lives from childhood and meeting and falling in love.  So cute, so click over to see it!
A special evening for a special couple.  Stop by soon for the wedding pics!  It was such a beautiful wedding and the weather could not have been more perfect.
A week later on Saturday here in Atlanta, moving day was fraught with rain, so we were so glad it held off for the wedding day.  I'll tell you all about the move later.  Getting caught up on all my blog news!
I'm heading down to Port St. Joe with my friend, Vicki, mid-week and looking forward to a few days with her, relaxing and enjoying the beauty down there.  Then I'll head over to Destin for a few days with my sister's family and her friends. They are camping on the beach for a week.
Beach time again for me, I can't complain!
Don't Miss a Post, join my list!