Hey, there friends!  It was a whirlwind couple of extra days in Charleston after the Haven conference was over. Mark flew into town and met me and we stayed in an Air Bnb near downtown Charleston for the 3 nights we were there. We spent most of our time outside going and doing, so tried to see as much as we could in the limited 2 full days we were there.  We had a great time in spite of it being so hot. Charleston in the summer is no joke. It's hot here in Atlanta too, but I'm not usually out walking around in it for hours at a time.  At least there is a breeze at times and the nights were definitely cooler.
You will sweat and sweat with the heat and humidity and there's just no getting around that part.  Summer in the South, y'all!  It's a real sticky situation.
Things to do in Charleston?
It's been about 20 years since I've been to Charleston, so it was almost like going for the first time again.  It's one of the most charming Southern cities you will ever visit and I love it as well as Savannah for authentic Southern architecture and history.  Strolling the streets of Charleston is such a fun experience and peeking in the courtyards and gated front entries is such a treat for the eyes.
I'm going to cover what we did in Charleston to give you ideas if you make a trip of your own. I read reviews on restaurants and booked a week in advance for the popular ones through Open Table. It was nice to know where we were going to dinner both nights.
Enjoy this recap of Charleston highlights with only 2 days to see everything!
Visit the Old Market 
We started here on our first morning in Charleston, at the old Market.  We learned on our carriage tour that everyone thinks this is called the old slave market because this is where slaves were sold, but contrary to that belief, it's where slaves sold their goods, here in the old market.  He said slaves were bought and sold on the waterfront.
A map in the old market.  It's definitely helpful to have a walking map of the city when you're downtown to get the lay of the land and where everything is located.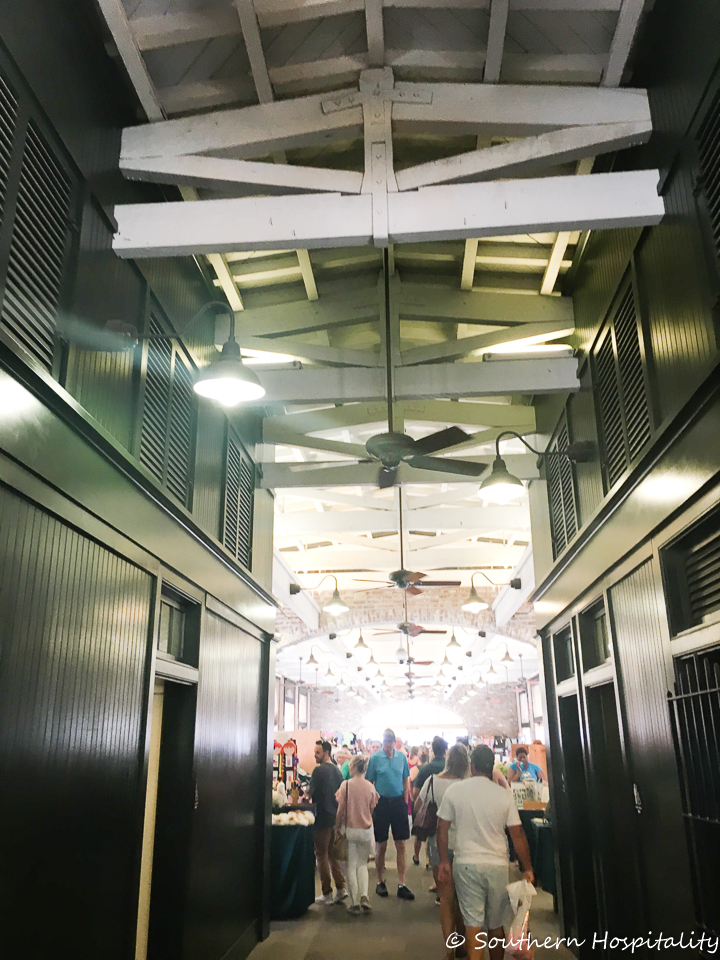 The market is a long row of vendors that flows several blocks long, setting up everyday to sell things.  Part of the market is air conditioned and part of it is not. There are lots of things to shop for in the market, from candy, to t-shirts, all sorts of home decor, jewelry, and more.
Basket making from the Gullah people, local to the low-country are abundant in the market. They have a special art to making these baskets and they are very pretty. Many of them are weaving the baskets sitting at the market.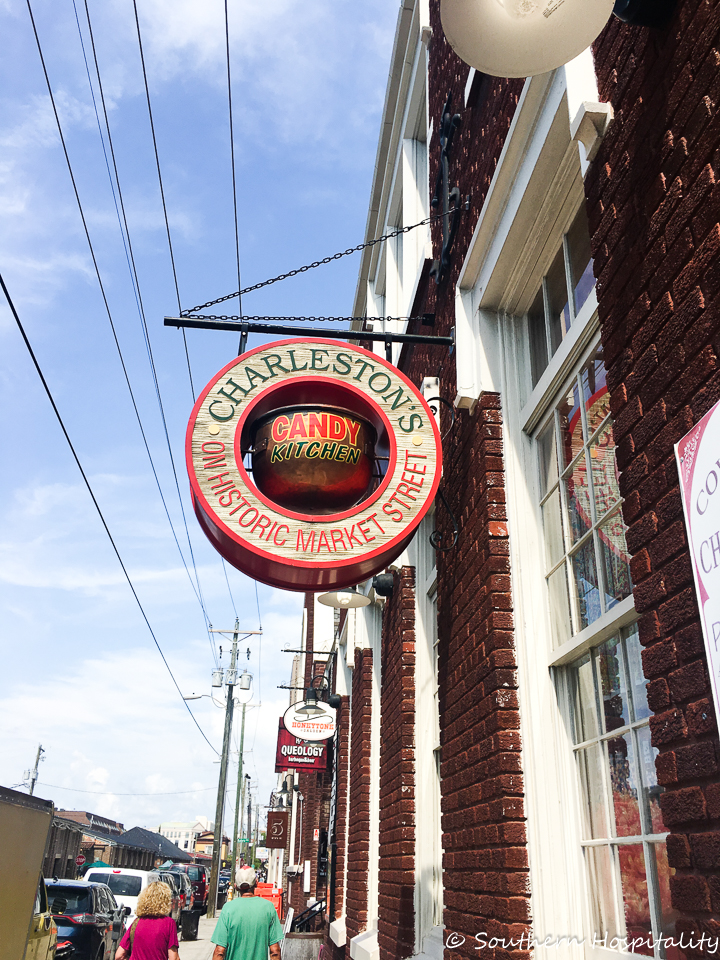 Just enjoy walking the streets in and around the market, taking it all in.
Pralines are very popular in Charleston and we had a taste of these, so good.  I love pralines!  Another sweet treat from the low-country is Benne wafers. If you've never had those, try them if you're there. We bought a box of those and I forgot to take a pic of them, but they are all gone now. Mark loved them and had never had them.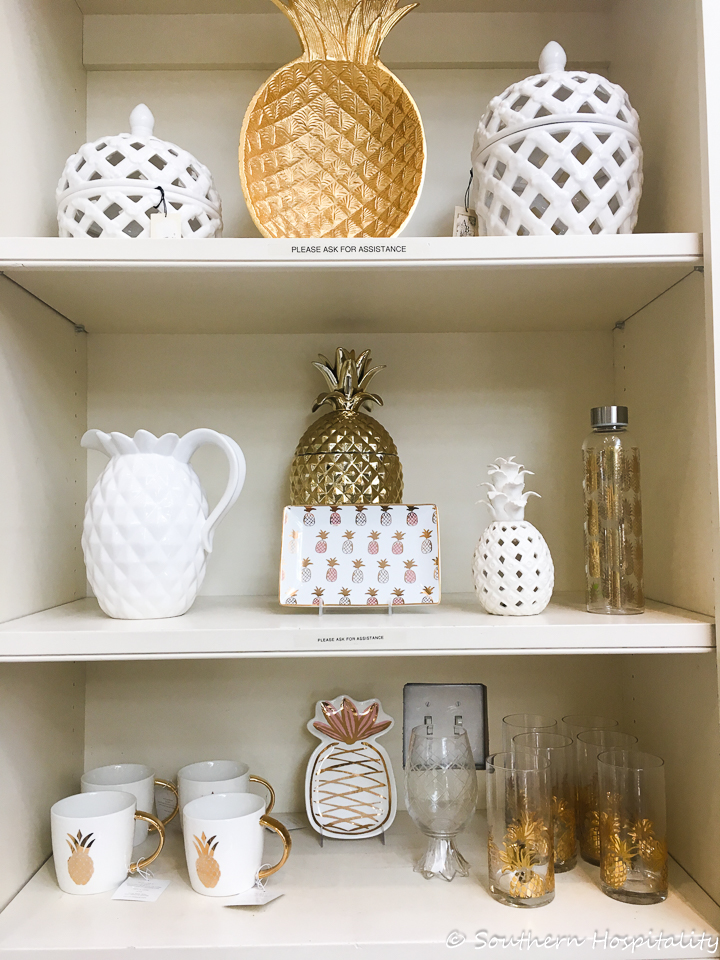 Pineapples of Charleston in the Old Market, a symbol of hospitality. Here's a link to a Southern Living article about the pineappple in Colonial days and why it means hospitility.  It became associated with the South as well.
Walk along the Battery and Rainbow Row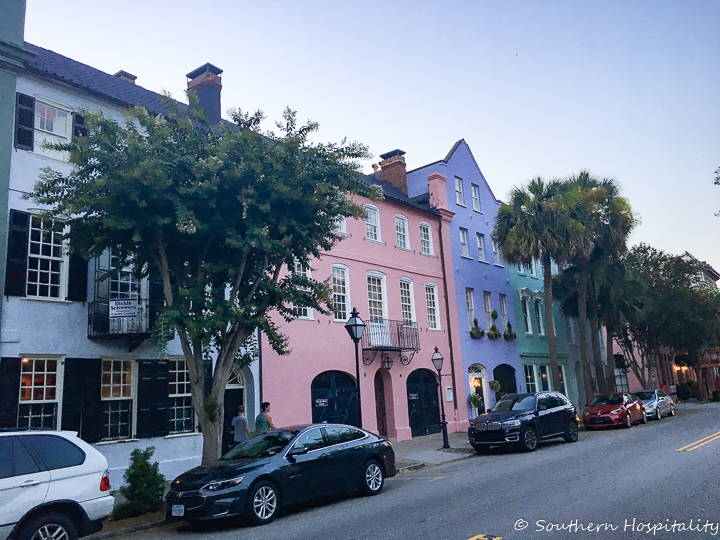 Rainbow row houses are some of the most iconic views of Charleston history.  If you've never been to Charleston, you've probably still heard of rainbow row and it lives up to expectations, pastel colored houses all spread out in a row along East Bay Street.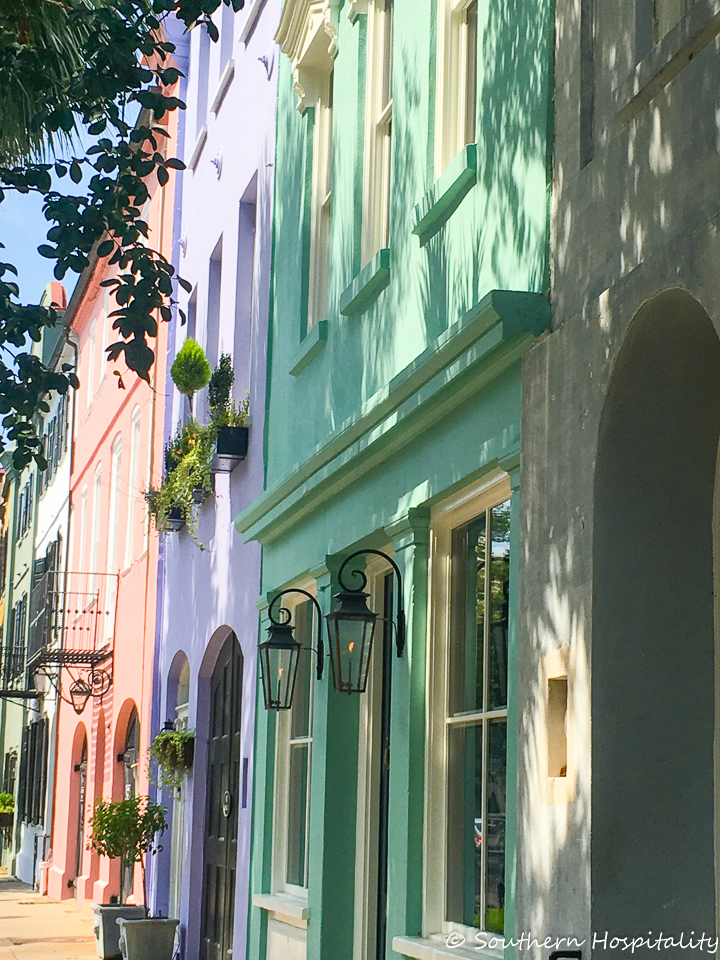 Such a gorgeous area to walk and get in the feel of Charleston.
The don't call it Rainbow Row for nothing!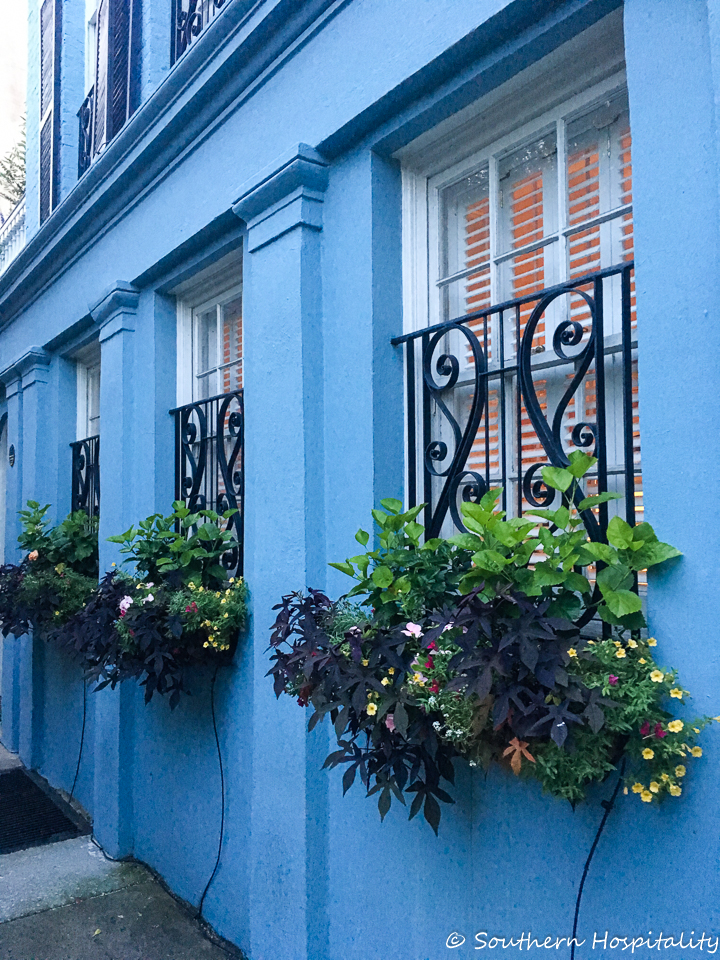 Window boxes are abundant in Charleston and I took pics of a lot of them, so I think I'll devote a post to just window boxes and another one to the beautiful houses we saw as well.  I took a lot of pics, way more than one post will hold.
Walking along the battery by the waterfront is such a beautiful view.
We strolled here the first night I was in Charleston, after dinner with my girl friends.
The houses facing the water are big and stately with so much to see, like these ivy covered stairs.
Houses along the Battery facing the water.
It was so fun to peek up at these porches on the sides of the houses. Those must be some fun porches to lounge on with that water view.
Cobblestone streets are part of Charleston charm too and you'll see these throughout the old part of the city.
The charm is abundant and old brick is too.  We adore old brick and Charleston has plenty of it all over the city.
Go For a Carriage Ride
I never went for a carriage ride while in Charleston years ago, so this time I was determined we were going to experience that and I'm so glad we did.
I booked a tour through Palmetto Carriage works and there are many to choose from.  We met in the big red barn and waiting our turn for boarding the carriage ride.  The rides last an hour and take you in and out the historic district.
Inside the red barn.
The horses in their stalls.
And getting ready for the carriage rides with big fans to cool them off.
We found out they only allow 28 carriages out in the city at any given time and there is a lottery done every time they leave to determine the route they get to go on that day.  I thought that was interesting. Our driver was very good.
He gave us lots of history lessons along the way and pointed out the different residential areas of high end real estate and higher end real estate which was very interesting. Of course, real estate in Charleston is very pricey in this area.
It was fun to take it all in from the back of a carriage, the horses hooves clip clopping on the old streets.
We passed by the old jail and he told us it's rumored to be haunted and there are ghost tours at night. Mark wishes we had gone to that one, he likes stuff like that.
You will enjoy a carriage tour, so I'd recommend that for sure if you visit Charleston.  A wonderful way to experience the ambience of this charming city.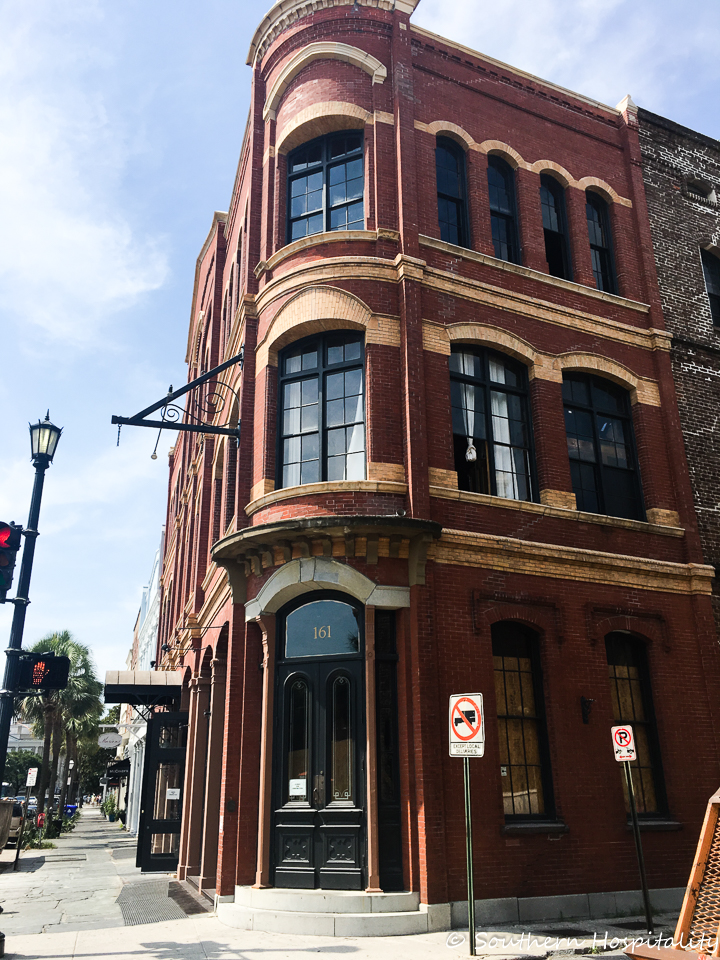 Visit the Fountains of Charleston
Pineapples are the traditional symbol of hospitality, so naturally there are pineapples all over Charleston.  That Southern Hospitality is a real thing, you know!  And that's why I named my blog after this well known saying.
The fountain is beautiful and sits in Waterfront Park, a beautiful area with trees and sidewalks right on the waterfront.
There was another fountain nearby and the kids were all over it on that hot summer day, darting in and out of the spraying water.  I was surprised they were allowed in the pineapple fountain, but they were there swimming around in it, cooling off from the heat.
Take a Walking Tour – Peek in the Courtyards
The charming courtyards, alleys, and fenced front yards are some of the best places to peek and look in Charleston.  I remember this from my visit years ago too and that feeling of history and beauty is still there.
I loved this little side portico and brick courtyard in between these houses.
Everywhere you look there are beautiful flowers and gorgeous fountains, so don't miss those.
The old brick is something to behold too!  Take it all in.
The charm never ends in Charleston and everywhere you turn, it's beautiful.
See what I mean?
Again, so many gorgeous window boxes are abundant in Charleston, so I'll do another post highlighting my favorites from those.
Visit Antiques Stores on King Street
There are many antiques stores along King Street, we decided to browse through a few of them.  The furniture must be priceless antiques because these were expensive. I think this chest was marked at $11K, definitely out of my budget.
It was nice to get out of the heat in the air conditioning for a few minutes and take in some of the beauty of these gorgeous antique pieces.
Eat Some Fantastic Food
I can't recommend this enough!  I did a little research before going to Charleston and had some ideas of where we wanted to eat and I'm happy that we were able to hit 3 or 4 of them.  Mark and I had breakfast one morning at the Hominy Grill and it did not disappoint.  It was only a couple of blocks from the Air BnB we stayed in and was delicious.
I got pancakes with peaches and blueberries and a side of bacon.
Mark got a crab omelet with veggies, side of potatoes and a biscuit.  We shared our breakfasts for a mix of savory and sweet and it was SO good.
Our first dinner out was at Magnolias.  I had eaten there a few nights previous with my Haven girls and I knew it was fantastic.
My meal this night was so delicious as well, a tenderloin steak and crabcakes.  I wanted to lick my plate!
We were so full, but splurged on a piece of bourbon pecan pie with vanilla ice cream. So decadent and delicious!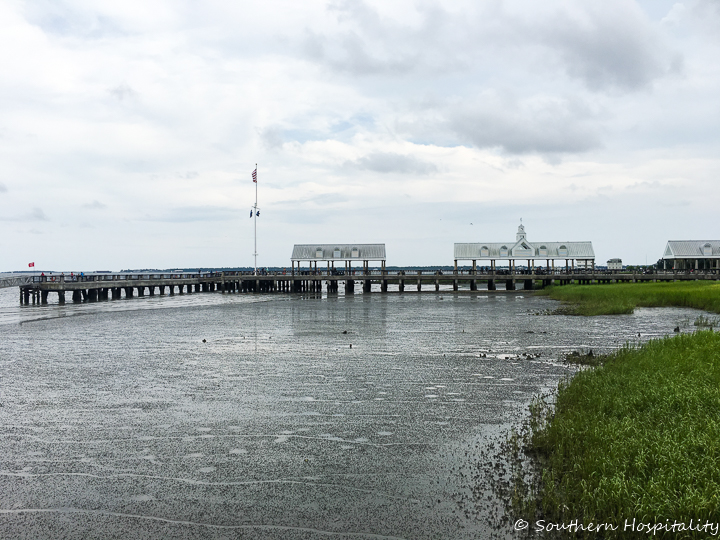 Our second night out for dinner, we went down to the waterfront to Fleet Street Landing, which I had read about.  Everyone said to sit on the patio, so we did and this was our view.  There was a really nice breeze blowing, so it wasn't hot at all. 
We had been out all day in the heat, so this was a nice repreive and a great dinner.
I had grilled shrimp with a lemon dill sauce, green beans and garlic mashed potatoes.  This meal was fantastic as well and I loved every morsel!
Mark got grilled shrimp, with the same lemon sauce, cole slaw and fries.
Have a Cold Drink on Vendue Rooftop Bar
I also read that the top of the Vendue hotel was a great rooftop bar that shouldn't be missed, so after dinner at Magnolia, we headed over there. It was just across the street.  This plate display was in the lobby.  We took an elevator to the rooftop bar and were not disappointed in this view at all.
All the way on the top of the roof is this view, so pretty!
It was nice to see the city from this vantage point, as well as the water beyond.
I made Mark take selfies along the way so we could remember our visit.  So glad we did!
The views were outstanding up here on the Vendue rooftop, so I'd highly recommend going up there and getting a cold drink.
Visit a Plantation
When I was in Charleston 20 years ago, I visited a plantation and I think it was Magnolia Plantation.  I read up this time and decided on Boone Hall plantation.  I've been to a few of these including one in Louisiana a few years ago that my sis and I visited and I always enjoy these excusions.  I'll give you our viewpoint on this one, since we enjoyed it, but were a little disappointed to find out the plantation house was built in 1935, not exactly the period house you'd be expecting from a plantation.
The drive into the plantation is beautiful, with these stately old live oak trees creating a canopy across the dirt road going in. These were planted back in 1743 by the son of John Boone, the original plantation owner and this is what they look like now.
The grounds are beautiful and we did enjoy our visit.
Going into the plantation house driveway.
And the house.  It's a huge and stately house and we found out that this is the 4th house on this spot since the original plantation days.  So, a 1935 house isn't quite as exciting as a house built 100 years before that would be, but it was still enjoyable to see.
We coudn't take pics inside the house, but outside pics were of course encouraged.
The original slave houses are still intact and they line the driveway coming through the oak trees, so this part was very interesting to see.
The stories these houses could tell is abundant, I'm sure.
This was a very similar presentation to the plantation I visited in LA a few years back.  These fragments are pieces of pottery found on the plantation grounds around the slave houses.
There was a live presentation from the Gullah Theater and I sat in for a few mintues on that and then we had to go to our house tour.  This was really interesting as well.  I think this and the wagon ride around the property would be the most favorite things for people to see at the plantation.
The new owners of the plantation live on the top floors and the bottom floors are kept open for tours.  The plantation is also a working farm and they grow vegetables and fruits on the many acres, selling them at local farmer's markets around the town of Mt. Pleasant.  The grounds of the plantation are beautiful and we took a nice wagon ride tram around the property which was enjoyable.  They also have fruit that you can pick yourself during peak times of the year, strawberries and blueberries and maybe more.  It was a fun visit and we enjoyed it, but as I mentioned were a little disappointed that the house was not original.
And that, my friends, is a quick tour of Charleston, seen by us in 2 days.  It was a fast trip, but oh so worth it, so if you haven't been, I hope this whets your historic Southern city appetite so you'll plan a visit too.  We loved it and I'm sure will go back one day.
I'm so excited that Mark and I are planning a trip to New England in October. I have never been to this part of our country and cannot wait to go.  Mark has been a few times and he has some favorite spots to see again that he wants to show me, so we are starting to plan our itinerary and I'm so looking forward to seeing New England!
Don't Miss a Post, join my list!