Earlier this month, I took my very first trip to St. Augustine.  Since my parents are both Florida natives, I have no idea why I've never made it to the oldest city in the US before, but I had never seen it in person.  I've heard of the history of this old Florida city, the Fountain of Youth and how the Spanish landed there in 1565 to claim it for their own.  It was really great to finally get there and experience St. Augustine in person. I found out from my mom that her brother, Roland, who has been blind since a very young age, went to St. Augustine's Deaf and Blind school back when he was a boy, so that's a bit of my family history with St. Augustine.
I was invited on a media trip with other bloggers and writers, there were 10 of us in all and we got a 2 1/2 day view of the city, with hand-picked restaurants and sight-seeing tours to give all of us a glimpse into what St. Augustine is about.  I loved every bit of it, from the trolley tours, to walking the old brick streets, to enjoying restaurants and shops around the city and taking an eco tour on a boat.  We stayed in the historic St. Francis Inn on St. George Street and really got to experience the historic district of St. Augustine, since everything was within walking distance of the inn.
So, here's my recap of what I saw and did in St. Augustine in the 2 1/2 days I was there.  I am not a  travel writer by any means, so my story will be one of a tourist in St. Augustine.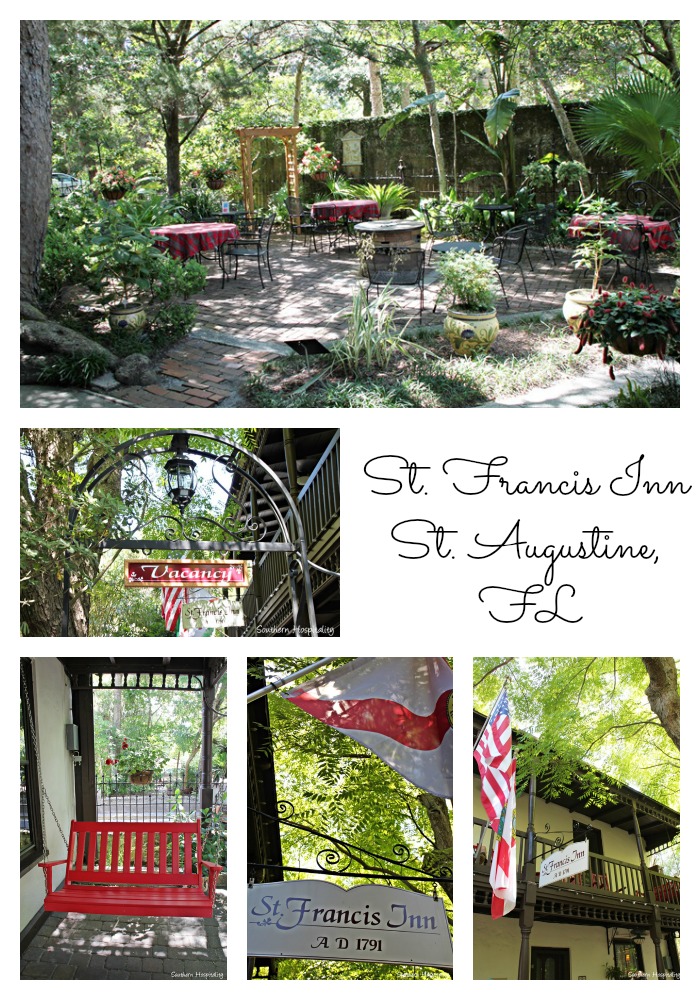 We began our day at the St. Francis Inn, a historic 1791 inn where we stayed for 3 nights.  With old world charm, this quaint bed and breakfast will take you back to yesteryear when times were simpler and much slower.  Oh, and the ghost stories are famous at the St. Francis, we kept hearing them over and over again, as strange happenings were described that had occurred around the inn over the years.  Luckily, I didn't experience any of the sort in my room.
With a welcoming courtyard and friendly staff, we felt right at home at the St. Francis, owned by Margaret and Joe Finnegan for 30 years.  They also have properties on the beach as well.  This couple sat down and talked with us about their experience as inn-keepers for the last 3 decades and were personable and friendly.
Walking down this Old World street, I could almost feel the history of the place.
There's a small lap pool for cooling off in an enclosed courtyard.
This red swing was a nice respite from the heat and I got to try it out a couple of times.
Part of the St. Francis Inn is the Wilson house, just across the street from the inn. This is where my room was, Emily's room, very comfortable and spacious.  With wi-fi and spa tubs, the St. Francis has all the modern amenities we are all used to, but retains its historic charm.
We did a lot of walking in the historic district and home base was the St. Francis.  Both days we were there, it rained around 3 pm in the afternoon and it was nice to come back to a cozy room while it was thundering and pouring outside.  Then the rain would stop just in time for dinner.
Right around the corner from the St. Francis, we walked past all of these old and interesting buildings.
The Oldest House, which I suppose means exactly that.
It was fascinating to walk through these old streets and soak up the historical significance of St. Augustine.
Our first afternoon, we jumped on an Old Town Trolley tour, where we had a little breeze in the heat of June and got to see a nice overview of the city, with informative trolley guides. If you go to St. Augustine for a few days, it's a good idea to buy a 3-day pass and then you can hop on and off the trolley's 23 stops as you wish and as your feet get tired, it's nice to take a break.
These are some photos I snapped on the trolley and it was exciting to hear about St. Augustine for the first time. We found out from Dana Ste. Claire, director of the St. Augustine 450th Commemoration, how Pedro Menendez landed with 800 colonists, which was an epic moment in world history in 1565.  Old World meets New World, so to speak.  
Another very interesting historical structure, the Castillo de San Marcos , is the oldest masonry fort in the continental US, built from coquina in the late 1600's, to protect the city from pirates.
I didn't get inside the fort this time, but there were plenty of people touring it.  It's an impressive piece of history and you could almost imagine the cannonballs fired from this fortress.
A statue of Ponce De Leon sits in the middle of town overlooking the water.
Horse drawn carriages are a common sight in St. Augustine, with romantic rides in the daytime or evening.  The clop-clop of horses hooves were heard at all hours and it was a nice sound.
There are many impressive churches in St. Augustine and this one, the Memorial Presbyterian church was built by Henry Flagler, who apparently built most of St. Augustine.  We saw so many structures that were credited to him for their building, he was quite the businessman and entrepreneur, building hotels and churches around the city.
The Old Hotel Alcazar was also built by Flagler and these structures were a beautiful piece of Spanish Colonial architecture, along with the old Ponce de Leon Hotel, which now houses Flagler College. I took a tour of that too which I'll share in the next post.  The Lightner Museum is housed inside the hotel, but I didn't take the tour on this trip.
The oldest street in St. Augustine is Aviles Street and we took a walking tour of it, which was very interesting and informative.
Everywhere we looked were impressive buildings and architecture. The city retains it's Old World Charm in many ways.
Evidence of the past is all around with cannons and cannonballs.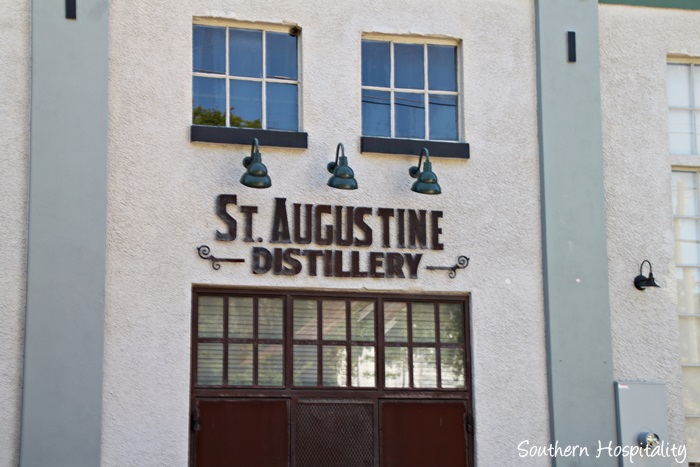 Our stop after the trolley was at the St. Augustine Distillery, where we saw firsthand how they make spirits made from scratch, with locally farmed ingredients in two copper pot stills.  They give free tours and tastings so it's a busy and popular place.
It was an interesting tour, with lots of information shared on the process of distilling.
From Bourbon Whiskey, to gin and rum, the St. Augustine Distillery offers a big variety of spirits.
And then there's the food…..oh, how I love good food.
We had some great food in St. Augustine, so I'll recap all the places we visited.  I'm sure there are many more wonderful restaurants around the city, but these are the ones we had the pleasure of eating at.
Our first dinner out that evening was at the Raintree Restaurant, which was a very pretty building and owned by a husband and wife team.  Lorna MacDonald's family has owned the Raintree for 30+ years and it truly was a special treat. I enjoyed every bite of food at this place, from the wilted Romaine salad, to the beef Wellington and Creme Brûlée for dessert.  The ambience is outstanding in this full of history old home.
Another nice lunch stop was the Taberna del Caballo, inside the Colonial Quarter.  We had some tasty bites of flatbreads, meats and cheeses, sandwiches, a wonderful spicy slaw and a delicious bread pudding for dessert.  I'll share more of the Colonial Quarter later, which highlights American history lessons in a captivating and interactive way.
Yet another lunch stop was inside the Hotel Alcazar (which houses The Lightner Museum), also built by Henry Flagler.  What was once the largest indoor swimming pool is now a charming lunch cafe, Cafe Alcazar.  With soaring ceilings and a concrete floor, I could just imagine this being filled with water and what a treat that must have been for travelers to this hotel back in the day.  That's our group right in the middle.
With a Greek owner, the cafe has some delicious Greek food and I had a tasty veggie panini, which I loved.  This is a great spot for a quiet and elegant lunch.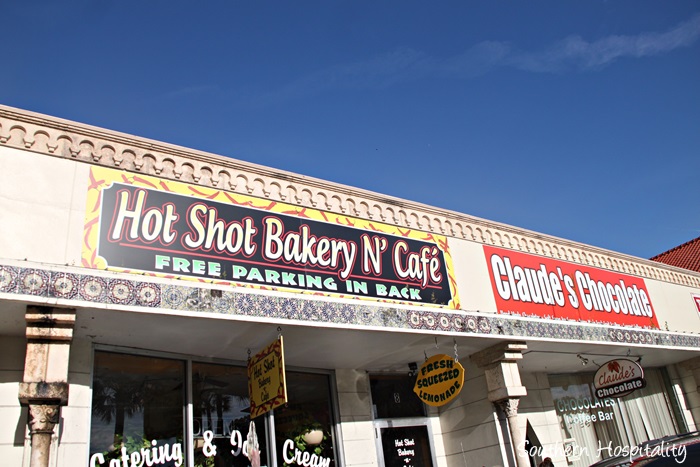 One of our mornings took us to the Hot Shot Bakery N Cafe for breakfast.  This was also a fun treat!  I can also attest to the wonderful chocolates at Claude's Chocolates next door.  I tried some of their individual chocolates as well as a dark chocolate and sea salt ice cream bar that was to die for.  Good thing we did a lot of walking!
Chef/Owner Sherry Stoppelbein serves up delicious sweet potato waffles with caramel sauce and bananas.  This breakfast wowed all of us.  Yes, it was as yummy as it looks!  We also had grilled pineapple with berries that was equally tasty. Did I mention I love my job?
One evening meal took us back to the waterfront to Johnny's Oyster Bar.  Part of Meehan's Irish Pub, Johnny's is on the top floor with a beautiful balcony overlooking the water.
With a first course of tuna tartar and strawberries in a balsamic reduction, this creamy appetizer was a big hit with the entire table.
I took this panoramic photo with my iPhone from the balcony.  What a beautiful sight!
Drum fish with crabmeat and shrimp was the main course and wow, was it delicious. I love seafood and can eat my fill with most any type seafood.  Excuse my iPhone pics, but that is the best I could do in low light.
Our last night for dinner, we walked OC Whites, again on the bayfront and another favorite with the locals. This restaurant has a history that dates back to 1790 and owner Cathy White serves up delectable menus every night.  We saw live music with outdoor seating outside, which had a very nice ambience.
This isn't a great photo with my iPhone flash, but I chose drum fish from the menu of offerings that night as well.  It had a delicious fruit salsa on top and very satisfying.  So, as you can see, we were well fed and truly had some wonderful meals in St. Augustine.  And I do love good food, especially seafood!
Someone on my Instagram or Facebook page said to try out the gourmet popsicles at The Hyppo, so of course, I had to do that.  My mango mix was delicious and a welcome treat to beat the heat.
I had a wonderful time in St. Augustine and I'm so happy that I can now cross this city off my list of American cities that I wished to visit and now I have.  Seeing such a significant slice of American history is not something I take in everyday, so that was a special treat.
I'll be back in another post later to share even more of things to do in St. Augustine, so stay tuned for that!
Have you been to St. Augustine?  If so, what is your favorite thing about the city?
Note:  We were provided with complementary lodging at the St. Francis Inn, as well as comped meals. 
Don't Miss a Post, join my list!