Tybee Island truly is a magical place and I took so many pics that I still want to share with y'all, so thanks for being interested in this trip 2 weeks later.  It's just too good not to share!  Tybee is a throwback to the old days of a quaint beach town, before high rise condos took over so many of the beaches in the Southeast.  Tybee is unspoiled, uncluttered and just plain homey.  So, let me share some of the goodness on Tybee that I think you'll enjoy too.
1.  The Beach
Even though the Atlantic Ocean  has brownish sand, it's still a very pretty beach.  Unspoiled, wide with lots of beauty to take in.  We met up with Dr. Joe one morning for a beach walk and he gave us some marine life information that was very interesting.

These moss covered rocks were too pretty not to shoot with my camera.  Greens and blues of nature are so soothing.
Beach boardwalk going out to the water.
Sea oats
Our crew spent one afternoon on the beach, enjoying the sunshine.
2.  Seaside Sisters
Seaside Sisters is a cute shop with lots of vintage goodies packed inside.  Mary Kay Andrews has a booth there and we enjoyed a wine and Girl Scout cooking tasting at this adorable beach shop.
3.  Riding Bikes
One of the local bike shops, Tim's Beach Gear provided bikes for all of us and we had the opportunity to explore the small island of Tybee by bike one afternoon and it was just plain fun!  This small island is only 1  mile wide by 3 miles long, so it's easy to get around by bike.
And here's the beauty awaiting when you ride bikes around Tybee.  So quaint with beautiful scenes everywhere.
This little cutie was barking at us as we came by their house.
I couldn't help but stop and snap pics as we went along.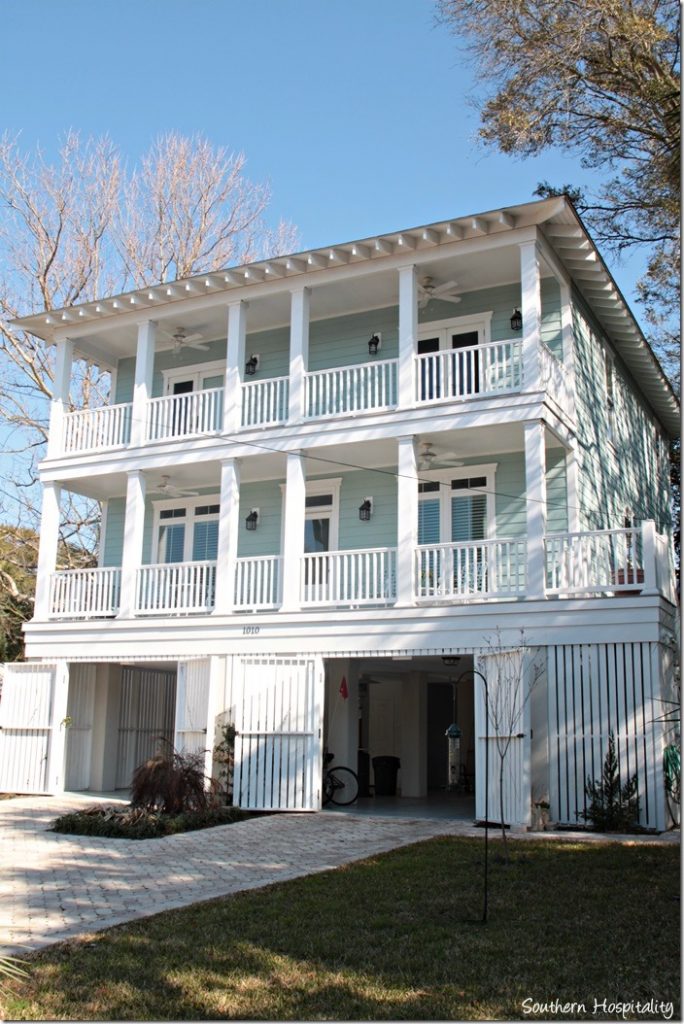 4.  Good Restaurants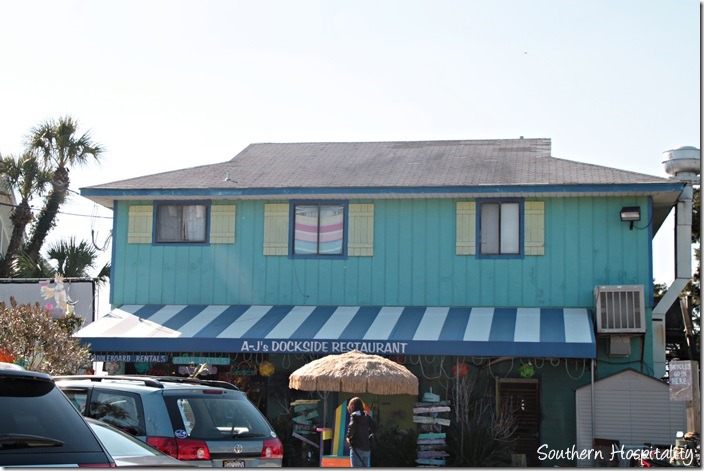 The last night, we ate at AJ's Dockside Restaurant, which was delicious and didn't disappoint at all. We had heard good reviews from so many people.
Another wonderful spot on Tybee that we couldn't get enough of was the Tybee Island Social Club.  Once we found it from some recommendations, we went back several times and had dinner, lunch and brunch.  Live music is there every night and it's just the coolest little place to hang out.  The fish tacos are to die for!
5.  The Sunsets
And then there's the sunsets!  Oh my, the glorious sunsets we saw on Tybee Island.  We were lucky enough to catch a couple of them and they were truly breathtaking.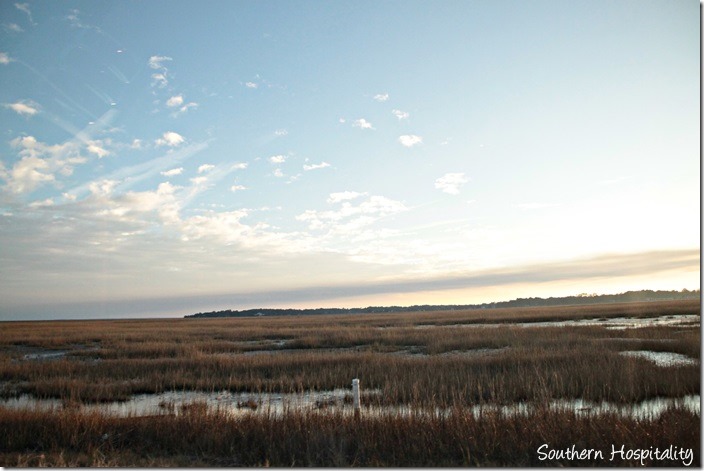 Coming across the marshes back from Savannah.
Our last evening, we were treated to a sunset dock party at Diane's cottage on the water.  Diane is the manager of Mermaid Cottages and has the cutest place herself. That's it at the end of the dock. We got there just as the sun was falling in the sky and the evening light was beautiful.  I forgot my big camera, so had to rely on my iphone, but these pics still turned out nice.
Group shot of all the smiling folks who didn't have to leave early.  Some of us had to leave a day early.
It was a little chilly but the sunset was worth waiting for. This is Diane's screened porch on the dock, how cool is that?
Inside the screened porch. She has a little twin bed in here too.
Boathouse art
And that's a wrap on a beautiful sunset at Tybee Island. Now I know you really want to go.  It's hard to describe the charm of the island, but I think this really gives you a taste of what it's all about.  I really can't wait to go back!
Don't Miss a Post, join my list!