I had so many pics to share that I wanted to do another post on Nashville with all the fabulous women that I met and hung out with.  It truly is amazing how you can meet girls on blogs and then feel like you really do know them in person when you meet them.

Myra from My Blessed Life and the Casabella Project is a sweetheart from AL too.  Beth, Stories of A2Z is a wonderful person to know.  She has your back if you are her friend and I'm glad I'm her friend.  Witty Chris from Just a Girl was fun to get to know in person too.  I love her funny self that she shows on her blog.
Sandra with Sawdust & Paperscraps is fun to hang with too, me in the middle and sweet Shaunna from Imperfectly Perfect is another AL girl that I was glad to get to hang out with.
Chatting it up.  Me, Traci , Beneath my Heart, and sweet Richella, Imparting Grace, who I finally got to meet.  Love both these girls.
Had a fun Mexican dinner one night with a bunch of home bloggers and Nester, me, Myra and Chris had a great time catching up.  Great to see Nester again, as always.  She is a gracious and sweet person.
This fireplace saw a lot of blogger time, as many days we camped out in front of it with our laptops, enjoying the quiet and chatting with each other.  From bottom to top, that is Shaunna, Erin (Two Story Cottage), Kristi (Creative Kristi), Layla and Ashley with Pure & Lovely, adorable girl.  Love these girls! Erin was so sweet and let me crash in her room for 2 nights. 
We had fun posing for pics to remember our time together.
Me and my sweet friend, Layla.  I just love Layla's heart.
Random pics from night time in the Opryland.
One night we sat out on these comfy lounge chairs, soaking it all in.   That's my sweet friend, Kate (Centsational Girl) and Ashley having some fun.
Indoors feels like outdoors at the Opryland, a magical place.
Me and Marian, Miss Mustard Seed, a very talented blogger, with a very sweet outlook.
Myra, Richella, Sarah, Traci, and me.  There is not one that I don't adore. So glad I got the chance to finally meet Richella. She is a sweetie.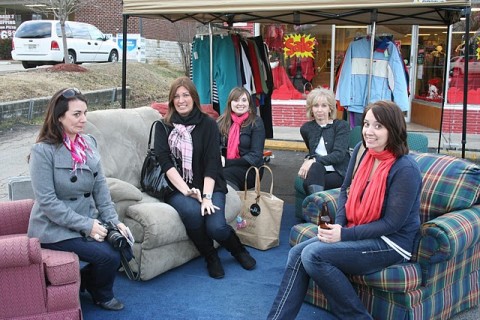 One day, we did take off with 10 of us home bloggers to find some antique stores and do a little thrifting.  We did find a few places to check out at the antique mall and a Teen Challenge Thriftstore just down the street.  This is the funniest pic of all of us sitting in these dusty old chairs.  Cracks me up! Check out the looks on each face, that tells a story. 🙂  Pic courtesy of Beth.  That's Kate, Chris, me. Myra and Sarah.
Pic borrowed from Kate, this is me and Traci, hamming it up at the antique store.  Traci is such a sweetheart and I'm glad to call her friend too.
Me, Layla and Kate, two of my best friends in blogworld.  I just love all of these girls and am grateful to know them.  They have enhanced my life so much.
So that's a wrap-up of our blogger's trip to Nashville.  Some went to the conference and I'm sure you can read all about that on some other blogs too.  Some of us chose to just be together and enjoy that experience and I'm so glad I went.
Don't Miss a Post, join my list!