My friend, Vicki, loves to thrift shop too.  She hits thriftstores more than I do, since I tend to love the yardsales.  So, with that in mind, she took me to a couple of her favorite spots in Port St. Joe, a local humane society thriftstore and good ole' Goodwill.
This was a fun little place to browse and Vicki hits it every time she is in town.
I saw a few things worth taking pics of, like this cute and summery watermelon serving set.  How fun a summer table set with this would be!  The only problem with specialty dishes like this is storage space.  Most of us don't have enough of it.
I spotted a couple of blue and white striped throw pillows for $2 each and Vicki took them home.  She is working on a sitting area at her house in Georgia and these will be perfect for that redo.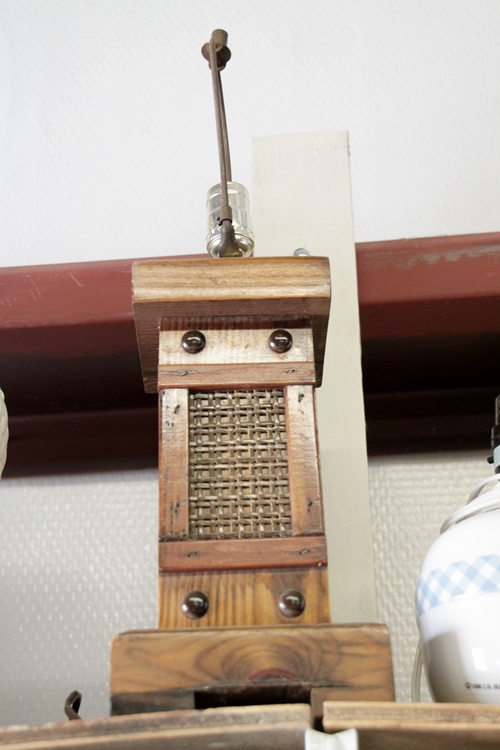 I also spotted this cute little wooden lamp with some fun details for $5, that I thought were quite coastal feeling, perfect candidate for a makeover in a pretty creamy white spray paint. 
Just down the way, I spotted this cute old vintage shade for $2 that will be a good fit too, she just needs a new harp to make it work.  We're going to cover this shade in burlap and of course, I'll be sure to share it with ya'll when we're done.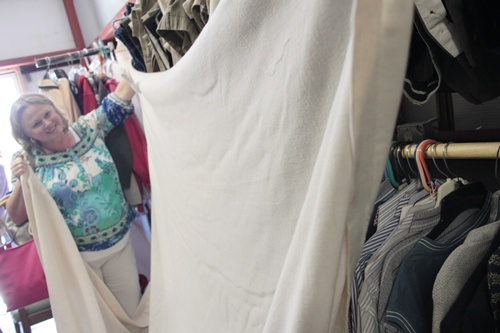 I also found this large fabric remnant, which someone had obviously sewn together and used as a large window treatment.  It was hemmed on one end and has a lineny feel to it.
For only $3, Vicki is going to take the seam out and use it as panels in her Port St. Joe living room.  What a steal for this much fabric!
We left there and headed to the cute and quaint downtown area of Port St. Joe. Lots of neat shops and restaurants are located on main street. 
Plenty of shops to visit.  Vicki says that Port St. Joe is a very friendly small town.
I love the feel of it myself.
Great place to get away from it all and the beaches are unspoiled and natural.
We strolled into this antique store.
Strolled around and looked at a few treasures that caught our eye.
Pretty pieces.  Of course, I don't need a thing
These rustic rocking chairs were neato.  I'd be afraid to rock in these though.
Some ladder back chairs waiting for a new home.
Across the street is a good sized Goodwill, right on Main Street.
Lovely white dishes.
And here's our find of the day.  A solid wood coffee table for $22, another prime candidate for a makeover.  We'll be painting this in a creamy white.  Vicki is going for a cottage feel in her living room that she's working on.  I'll share all of this eventually!
As you can see, our time in Port St. Joe was positively splendid!  From beach walking to thrifting, we covered it all.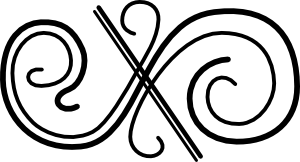 If you love yardsales and would like to know what is going on in your area, check out Garage Sales Tracker for lots of info!
They have many advanced features like:   IPhone app, bookmark, and trip planner. With these three features You can search for a garage sale in your area very easily using your iPhone, bookmark your sale that you like and find them all  in one location, and print out your trip to those garage sales before leaving your house respectively.
What have YOU found lately? Add your link to the Linky list and remember our guidelines for the party:
Add your permalink to the link list, which is the actual post that you did for this party, NOT your general blog url. To get the actual post, after you publish the post, just click on the title and THAT will be your party post url. PLEASE try to get the correct url in the first time!
Please add my button to your post or blog OR at least link back to this post in your post. That's all I ask. It's common courtesy to link back to the person having the party, so that all of your readers can find it too.
Please do NOT link to an Etsy shop or something similar (even if you think it's a fabulous deal) or I will delete the link. This party is for sharing thrifty finds from yardsales, thriftstores, or something along those lines. If I see that your post is not really on track with this theme AND you don't link back, I'll delete your link. Sorry, but I'd like to keep the party consistent! IF YOU SEE THAT YOUR LINK HAS BEEN DELETED, IT IS PROBABLY BECAUSE IT IS NOT IN LINE WITH THIS PARTY THEME.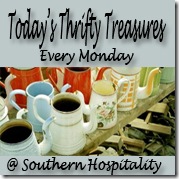 Don't Miss a Post, join my list!