Hi, all!  It's still hot around these parts, although we have gotten some good showers lately, so we are doing a happy rain dance over that.  Helps the garden grow!
I didn't think I'd have to say this, but please, please don't keep adding your links that you've already shared from previous parties from weeks ago. Let's keep this party fresh. DO NOT just go back in your archives and pull out all the posts that you think fit this party and link up.  Please just add one or TWO links at the most, not your entire archives.  I will delete them, especially if you just drop by, link up and never link back.  If you are a new blogger and you are doing this, let me just say it is rude to do that!  Be courteous and link back. Don't just fly by and leave your link (in some cases several links), trying to drive traffic to your blog.  And again, if your link does not have anything to do with a thrifty find, those will be deleted too.  I really don't have a lot of time to be the linky police, so please play nice! 🙂
OK, now that I got that out of the way, here are some highlights from last week. Ya'll are a resourceful bunch and always come back with some great stuff!
Myra at The Casabella Project really comes up with some unique finds.  This is an old stove board, where one of those wood burning stoves used to sit and she paid $35 for it at a yardsale and then found out they are really pricey and rare.  What a find, Myra! Can't wait to see where this goes.
How about a silverplate tray for $1.50?  Tammy Loves Dishes scored this one. You can't beat that!

Embracing Change picked up this beautiful cane backed chair and did a makeover on it.  For $2, it was an absolute steal and she made it into a showpiece. Gorgeous!
House of Hawthornes discovered a vintage picnic basket at an estate sale for $6. How cute is this?
The Thriftress made over this $3 vintage mirror for her sister's 30th birthday and it turned out fab! Loving all the paint colors that everyone is using now.  Can you see how adding a pop of color in a space can make all the difference?

Missy at My Cottage Charm found this old dresser at Goodwill for $15 and it was the perfect size for her laundry room renovation. Go check it out, it's so cute!
Jess with Frugal with a Flourish painted up a Frenchy nightstand she found for $15 and it's going in her soon-to-be baby's room. Love, love this Jess!
Arlene at For the Love of It scored a wonderfully thrifty find with this desk and chair redo!  The desk was $4 and the chair was $1!  People, did you hear that!  What an amazing deal this was.  There are always some great furniture pieces in the Thrifty Treasures party and I wish I could highlight all of them!
Doesn't Diane from In My Own Style have a gorgeous backyard?! Wow, Diane, I'm super jealous of that view.  Look at the brass lamp makeover she did for this space.  She picked it up for a song at her fave thriftstore, unwired it and made a candleabra out of it.  Beautiful!
I love all the totally random things that show up thrifting!  The Suite Life found five serving pieces of Ralph Lauren dinnerware at the Goodwill for $2.99?  That's a steal, these are so pretty!
This cute terrarium didn't look nearly this stylish when Organizing Made Fun found it at the thriftstore for $6.99, but after a makeover and adding some plants and rocks, it's an adorable thrifty accessory.
Don't you get inspired seeing all these great finds out there for such a steal?!  I know I do!  I love this thrifting thing.
One more thing!  My friend, Debbie, who has the pretty white farmhouse out in the country in Alabama, has started a new venture with her daughter, Tiffany, and they are repurposing old furniture and have a booth at Encore Resales in Pelham, so I hope you  Birmingham girls will stop by and visit them.  She says I created a monster since I started dragging her to yardsales when I was there.  She got hooked and now look at the results!  Here's their booth.  They have a blog too, The Not So Empty Nest, so stop by and say hello to Debbie!
There are a TON of parties out there to highlight all your projects, so please let's keep this one about thrifty finds that were bought 2nd hand!
Add your permalink to the link list, which is the actual post that you did for this party, NOT your general blog url. To get the actual post, after you publish the post, just click on the title and THAT will be your party post url. PLEASE try to get the correct url in the first time!
Please add my button to your post or blog OR at least link back to this post in your post. That's all I ask. It's common courtesy to link back to the person having the party, so that all of your readers can find it too.
Please do NOT link to an Etsy shop or something similar (even if you think it's a fabulous deal) or I will delete the link. This party is for sharing thrifty finds from yardsales, thriftstores, or something along those lines. If I see that your post is not really on track with this theme AND you don't link back, I'll delete your link. Sorry, but I'd like to keep the party consistent! IF YOU SEE THAT YOUR LINK HAS BEEN DELETED, IT IS PROBABLY BECAUSE IT IS NOT IN LINE WITH THIS PARTY THEME.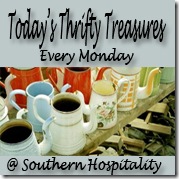 Don't Miss a Post, join my list!