We had a fabulous time at I Love Thrifting day yesterday and a great turnout of ladies.  I think everyone found something!  And this time, I bought several things too.  I didn't have time to get all the photos ready for today, so I will share our fun outing next week.  Stay tuned for that.
Here's a peek at the crowd who came out for I Love Thrifting day and we got started at the Goodwill in Kennesaw.
Back again with some Thrifty Treasures highlights from all of you bargain shoppers. Y'all sure know how to find some great scores!
From last week, CK and Nate scored some really cute bath tub knobs from a salvage store.  Nice!
Daisy Mae Belle found this adorable Goodwill end table and painted it with Annie Sloan chalk paint.  This one reminds me a bit of the one I just scored too and I have plans for painting mine up as well.  Great find!
A $7.99 thriftstore bench gets a makeover by Don't Disturb this Groove.  It's groovy now!
Kari, oh Kari!  Look what you found for $3 and then totally transformed into something stunningly beautiful.  Kari, you have vision, girl, this looks great.
Kate's Place found a great piece of pottery for $10 and the cow pitcher from another earlier yardsale.  Cute vignette!
Another beautiful painted piece, Rustic Anthology brought home a French style dresser and spruced it right up.  Looks so good now!
You have to click over and see the Before on this old toolbox scored for $5 by Seaside Shelter. She totally changed it up!
$40 for this vintage settee at Somewhat Quirky.  Now that's a fun find!
All for $5, Stacey practically stole these blue Ball jars that we all love to covet.
An old brass $7 plant stand got a giddy green spray  paint makeover and it is oh so cute now, from The Nesting Game.
Congrats ladies, on some nice finds this week!
So, what did YOU find this week? There are a TON of parties out there to highlight all your projects, so please let's keep this one about thrifty finds that were bought 2nd hand! Not a great sale from the store, or a recipe, or just a plain project, but 2nd Hand finds only! And please DO NOT go back in your archives to OLD posts and link up. Let's keep this party fresh and current! If you have already shared your find in a previous party, DON'T share it again! Please, girls, I don't want to have to delete links.
Add your permalink to the link list, which is the actual post that you did for this party, NOT your general blog url. To get the actual post, after you publish the post, just click on the title and THAT will be your party post url. PLEASE try to get the correct url in the first time!
Please add my button to your post or blog OR at least link back to this post in your post. That's all I ask. It's common courtesy to link back to the person having the party, so that all of your readers can find it too.
Please do NOT link to an Etsy shop or something similar (even if you think it's a fabulous deal) or I will delete the link. This party is for sharing thrifty finds from yardsales, thriftstores, or something along those lines. If I see that your post is not really on track with this theme AND you don't link back, I'll delete your link. Sorry, but I'd like to keep the party consistent! IF YOU SEE THAT YOUR LINK HAS BEEN DELETED, IT IS PROBABLY BECAUSE IT IS NOT IN LINE WITH THIS PARTY THEME.
Again this year, I'll be highlighting great finds from the party, so if you want your find highlighted, PLEASE link back to the party. Only those who link back will be considered for highlighting the next week. Thanks!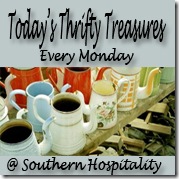 Don't Miss a Post, join my list!