Hello all you fun people!
Hope your weekend's been good.  My little angels showed up on Saturday and we got most of the trim primed in the house, so I will share that next.
In the meantime, I stopped by my friend, Lynn's yardsale and wow, did she and her buddies have some great stuff.  I did not buy a thing, but I sure wanted to.  I must wait until I get in my house before I start picking up more.  Here are some of the things I saw and passed up.  One of the ladies who came and painted with us (Phyllis)  hit it too and scored big time.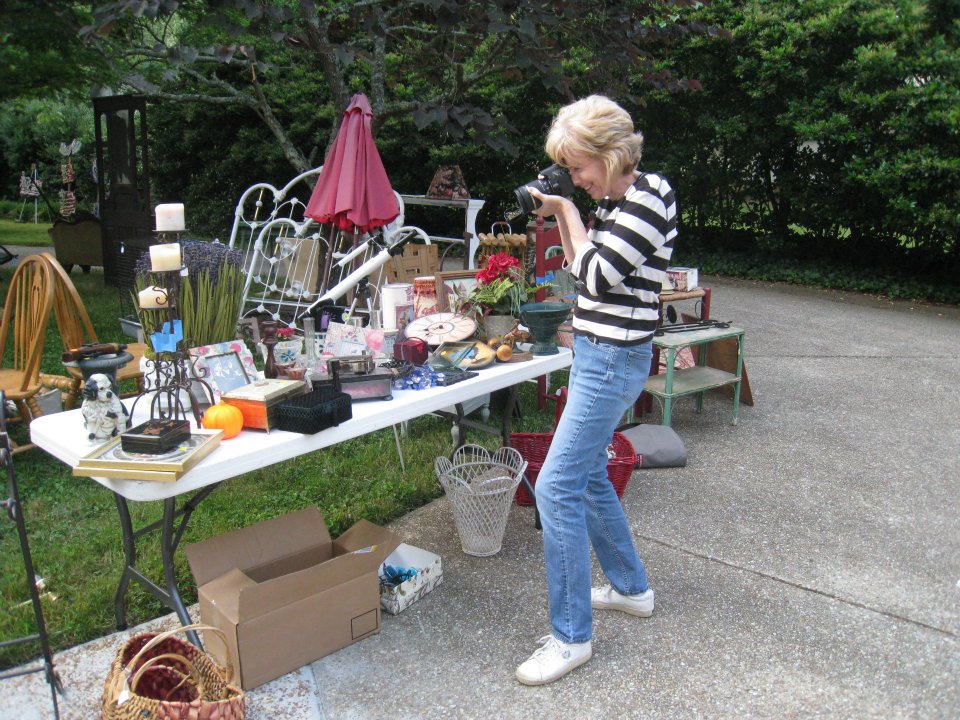 Lynn thought it would be fun to take a pic of me taking pics at the sale.  Lynn family's house is located off the historic Marietta Square and I got to play docent in their house at last year's Christmas tour of Elwood.
Elwood is beautiful and Lynn and her family have lived there going on 20 years.
Isn't Elwood pretty?  One of these days, I'll do a tour of the inside for you.
Today, it was all about the yardsale happening outside.  Lynn and a couple of her friends put on a big show with all their treasures.  I stopped by as they were getting things set up and could have had my pick of the best things.
I looked at every table.
And they had some great stuff.
Like these 2 cute chairs.
And these two beauties just needed new fabric.
This little table was tempting at $15.  I almost caved in and got it.
And this chair, at $10, almost got my attention too.  But, then I kept remembering ALL those boxes I have packed away.  I have no business bringing home more of anything until I get in the house.
But, you'll have to agree, it was a GOOD sale!   I know it had to be successful, with all of the great stuff there.
Across the street is this pretty Victorian and it's for sale.
With this big  beautiful blooming oakleaf hydrangea, it was picture perfect.
I will definitely be planting some oakleaf hydrangeas at my new house.  I love them!  Aren't you glad I took you along on the yardsale?  I hurried over to my house for the paint party after checking out the yardsale.
OK, back to thrifty treasures!  From last week's party, here are some highlights!
This adorable pink child's rocker was found at Brimfeld by Thoroughly Modern Me.  I've heard so many great things about Brimfield over the years, it has to be fun.
Debbie at Refresh Restyle gave this vanity new life with a pretty paint job.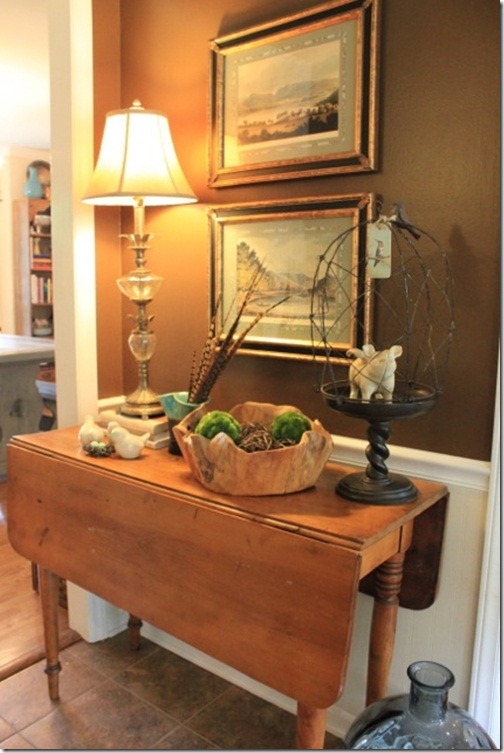 Drop leaf tables are so versatile and Daisy Mae Belle's $75 find is a nice one.
I love this bowl, mainly because my mother has one just like it.  It's a Fireking and jadite and holds a lot of memories in our family. Our bowl has held a lot of creamed corn through the years.   Second Time Around scored this one.
Rita from This Sorta Old Life shares her story of lessons learned from a thriftstore rug that is very sweet.
As usual, Parsimonia found another treasure, a retro and vivid colored crewel art piece that is current again.  Lovely!
These plant stands are just so cute and Mommy is CooCoo found these out thrifting.  Love!
Look what Silly Pearl found at a local thriftstore!  A chip and dip bowl becomes a succulent planter.  How clever!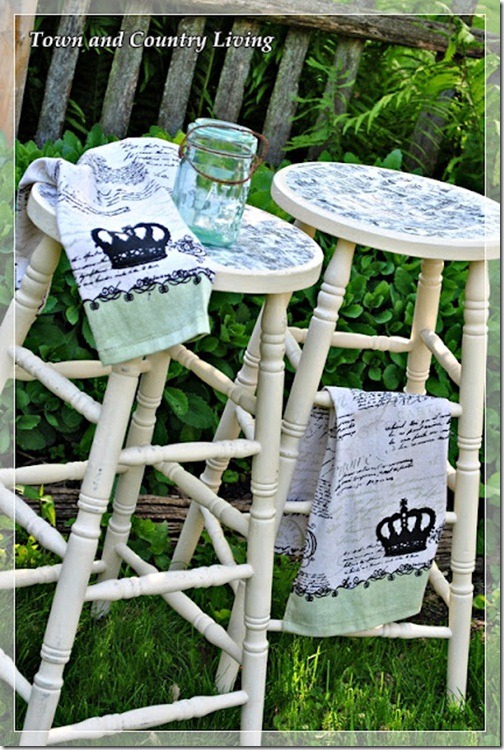 Town and Country Living scored 2 stools at different times at the flea market and made them her own.  Too cute!
So, what did YOU find this week?
There are a TON of parties out there to highlight all your projects, so please let's keep this one about thrifty finds that were bought 2nd hand! Not a great sale from the store, or a recipe, or just a plain project, but 2nd Hand finds only!
And please DO NOT go back in your archives to OLD posts and link up. Let's keep this party fresh and current! If you have already shared your find in a previous party, DON'T share it again! Please, girls, I don't want to have to delete links.

Add your permalink to the link list, which is the actual post that you did for this party, NOT your general blog url. To get the actual post, after you publish the post, just click on the title and THAT will be your party post url. PLEASE try to get the correct url in the first time!
Please add my button to your post or blog OR at least link back to this post in your post. That's all I ask. It's common courtesy to link back to the person having the party, so that all of your readers can find it too.
Please do NOT link to an Etsy shop or something similar (even if you think it's a fabulous deal) or I will delete the link. This party is for sharing thrifty finds from yardsales, thriftstores, or something along those lines. If I see that your post is not really on track with this theme AND you don't link back, I'll delete your link. Sorry, but I'd like to keep the party consistent! IF YOU SEE THAT YOUR LINK HAS BEEN DELETED, IT IS PROBABLY BECAUSE IT IS NOT IN LINE WITH THIS PARTY THEME.
Again this year, I'll be highlighting great finds from the party, so if you want your find highlighted, PLEASE link back to the party. Only those who link back will be considered for highlighting the next week. Thanks!
Don't Miss a Post, join my list!