Hey, all you thrifty shoppers!
We're about to start a brand new edition of the Thrifty Treasures party for this year, so if you've been chomping at the bit to show off some great finds, now is your chance.
I only have two things to start the party with, but I love this find that I stumbled across down in Destin at the big Goodwill.  It was hopping in there the day we stopped by and I spotted 2 of these burlap shades.  With the senior discount (oh yeah, I will take that anytime I can get it, now that I'm 55!), it came out at $7.50.  It's a huge shade and I have plans to install it in a hallway or one of the rooms of my new fixer-upper house.
I love it!
You can see how big it is, since it is sitting on this loveseat and takes up half of it.  Not sure how I can get it up on a ceiling yet, but I'll figure that out later.
It was WAY too cool to pass up and the price was right, so home it came with me.
Last Friday, I stopped by a big yardsale on the side of the road and out of all the treasures junk there, I came away with this 50 cent white pottery planter.  I love adding plants in these old pottery pieces to sit around on a table.  It will get put to good use.
I just love the imperfect finish on these old pottery pieces.
Before we get the party started, I want to give a shout-out to one of my sponsors, Saturated Color. Beth has the most gorgeous vintage art prints in her Etsy shop and she is offering a 20% discount right now on everything in her shop.   Use this code: SOHO20
But, shop fast, because the discount is only until Wed. evening this week!

You will love what she offers and when I'm in my house again, I feel sure I'll be bringing some of her art prints home with me.  Isn't this botanical above just yummy?!  I hope you'll go and check out the sale!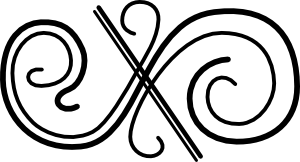 So, are you ready to join the first Thrifty Treasures party for the year?  I do think I might be getting my yardsale/thrifting mojo back! 🙂
So, what did YOU find this week?
There are a TON of parties out there to highlight all your projects, so please let's keep this one about thrifty finds that were bought 2nd hand! Not a great sale from the store, or a recipe, or just a plain project, but 2nd Hand finds only!
And please DO NOT go back in your archives to OLD posts and link up. Let's keep this party fresh and current! If you have already shared your find in a previous party, DON'T share it again! Please, girls, I don't want to have to delete links.

Add your permalink to the link list, which is the actual post that you did for this party, NOT your general blog url. To get the actual post, after you publish the post, just click on the title and THAT will be your party post url. PLEASE try to get the correct url in the first time!
Please add my button to your post or blog OR at least link back to this post in your post. That's all I ask. It's common courtesy to link back to the person having the party, so that all of your readers can find it too.
Please do NOT link to an Etsy shop or something similar (even if you think it's a fabulous deal) or I will delete the link. This party is for sharing thrifty finds from yardsales, thriftstores, or something along those lines. If I see that your post is not really on track with this theme AND you don't link back, I'll delete your link. Sorry, but I'd like to keep the party consistent! IF YOU SEE THAT YOUR LINK HAS BEEN DELETED, IT IS PROBABLY BECAUSE IT IS NOT IN LINE WITH THIS PARTY THEME.
Again this year, I'll be highlighting great finds from the party, so if you want your find highlighted, PLEASE link back to the party.  Only those who link back will be considered for highlighting the next week.  Thanks!
Don't Miss a Post, join my list!