Fall is off to a good start here in Georgia.  The temps are definitely getting milder around here and none too soon for me. I'm tired of sweating. It's been a long, hot sweaty summer for me with this house renovation.  The Summer of 2012 will forever be known as the Summer of the House Reno and I hope it's the last one I am going to do.  Got a lot done this week,  my electrician was out all day Saturday and while he installed light fixtures, I caulked baseboards, put up beadboard wallpaper and did all sorts of final touches.
It's finally starting to really sink in.  I'm MOVING SOON!  Really hoping in another 3 weeks or so I'll be in there.  Between me going out of town for a couple of upcoming weekends and my parents traveling up to the mountains and then to Florida in another week, we've got to fit the rest of the quarter round installation in and the last big project:  installing those subway tiles.  So, it looks like mid-October the BIG move may happen and I cannot wait!
So, next week will be the last Thrifty Treasures party for this year. I know you all love them and I do too, but it's time to take a break for the holidays and get into the Fall season big time.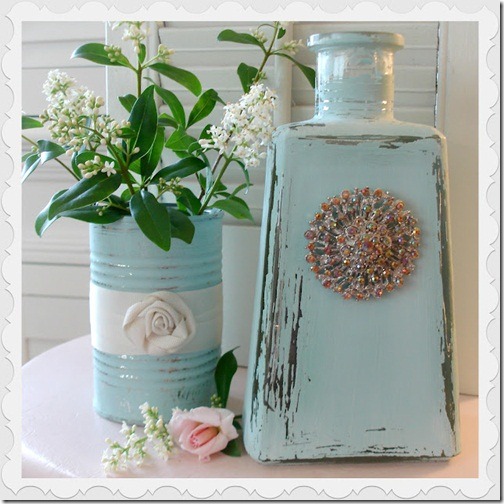 I'm a sucker for pretty pictures and how can you resist an old tin can and liquor bottle redo?  True story!   Shannon from Fox Hollow Cottage found the old tequila bottle at Goodwill and glammed it up.  So cute!
I can't resist green either and this pretty painted with Annie Sloan Antibes green chair is adorable after 21 Rosemary Lane got ahold of her.  I have some plans for Antibes green myself.
Furniture makeovers always get my attention and this beauty from Jax Does Designs is a good one.  She painted her grandma's table, but it looks so good that I think she made the right choice.
I've got 2 vintage fans packed away in storage that I can't wait to get out.  Missi reminded me of mine with her $15 thriftstore find and it's a beauty in turquoise.
Sheila with Plum Doodles scored a cute mid-century modern chest and gave it a pretty blue makeover.  Lovely!
Daisy Maebelle put together a Fall table with all thrifty finds, using things she already had or from nature items.  I love this one!
Did you score something fun this week too?
There are a TON of parties out there to highlight all your projects, so please let's keep this one about thrifty finds that were bought 2nd hand! Not a great sale from the store, or a recipe, or just a plain project, but 2nd Hand finds only! And please DO NOT go back in your archives to OLD posts and link up. Let's keep this party fresh and current! If you have already shared your find in a previous Thrifty party, DON'T share it again! Please, girls, I don't want to have to delete links.
Add your permalink to the link list, which is the actual post that you did for this party, NOT your general blog url. To get the actual post, after you publish the post, just click on the title and THAT will be your party post url. PLEASE try to get the correct url in the first time!
Please add my button to your post or blog OR at least link back to this post in your post. That's all I ask. It's common courtesy to link back to the person having the party, so that all of your readers can find it too.
Please do NOT link to an Etsy shop or something similar (even if you think it's a fabulous deal) or I will delete the link. This party is for sharing thrifty finds from yardsales, thriftstores, or something along those lines. If I see that your post is not really on track with this theme AND you don't link back, I'll delete your link. Sorry, but I'd like to keep the party consistent!

IF YOU SEE THAT YOUR LINK HAS BEEN DELETED, IT IS PROBABLY BECAUSE IT IS NOT IN LINE WITH THIS PARTY THEME.
I'll be highlighting great finds from the party, so if you want your find highlighted, PLEASE link back to the party. Only those who link back will be considered for highlighting the next week. Thanks!
Don't Miss a Post, join my list!