Since I was out of town for Mother's Day this weekend, I didn't get to do a lot of yardsale shopping, but did hit a couple on Friday and found 2 treasures for myself.
I hit a moving sale and these little ladies had some pretty nice stuff there, so I scored this beautiful large soup tureen for $5 to add to my growing collection.
And I couldn't pass up this pretty pair of crystal goblets for 25 cents each.  Anyone recognize the pattern? I think I've seen these before.
Let me also share a little project I'm working on at The Lovelady Center. I've told you about this wonderful place before, a center that houses women coming out of prison, drug addicts getting clean, homeless women, really women from all sorts of backgrounds, along with their kids, live at The Lovelady Center, a faith-based ministry helping these women start over with their lives. The center is in an old hospital and as you can imagine, the rooms need some updating.


So, I've picked a room to redecorate and spruce up.  Nothing special, you can see it needs paint and some work to make it feel more homey.  My small group and I are going to take this room and make it better for the girls living here.  There's a full-sized bed on this side of the room.  I've got to get rid of those pink blinds somehow.


And bunk-beds right by the door.  I'd love to paint these bunk-beds. They are really rough looking in person, so I hope we have time to do it all.


The vanity area is not very attractive either, but I don't know that we'll have time to paint this piece.  But hopefully, with some paint on the walls, new bedding, accessories and lamps, it will feel a lot better when we are finished.


The bathroom has this pretty aqua tile and I'm going to bring this color out to the room too.   I have left over paint at my house that should work great in the room.
The girls in my small group chipped in money and I'm taking it out with me yardsaling to see what all I can find for this room, since we have limited funds and have to do it on a small budget. I'll keep you posted and show y'all the finished project when we're all done, which might not be until June.


Here's a really great find from last week's yardsales that will be a good start to the room redo.  This pretty chenille bedspread with 2 shams was $8.   Now, if I could only find some twin spreads to coordinate in here too, I'll be set.


This lamp from Pier One was $5 and will be a good addition in there.  That pillow on the floor is by Waterford and was $1.

And this pretty water print was $5. I'm going to paint the frame white and it should be a good focal point for the wall.

These 2 shell prints were $5 for the pair.  Can you see where I might be going with this.  A little bit of a beachy feel, which I think would be really cheery in that room.   I want to keep things light and airy since there is no overhead light and it's rather dim in there.
This pretty striped pillow was $1 and will add some texture to the bed.  I can't wait to see what else I can find to complete this room renovation on a budget.

You know how much I enjoy yardsales, right?! There's a great website that helps you find all the yardsales in your area.  How cool is that?  They are doing a really fun giveaway for TWO i-phones for their brand new i-phone app, which can be downloaded. Now, you can find those yardsales really easy and right from your phone.  I don't have an i-phone, but would love to win one.  I'm sure it would make yardsaling easier AND faster. So, click on over and sign up.  The contest runs through June 4th!

So, now it's YOUR turn for the party this week! What have YOU found lately. Add your link to the Linky list and remember our guidelines for the party:
Add your permalink to the link list, which is the actual post that you did for this party, NOT your general blog url. To get the actual post, after you publish the post, just click on the title and THAT will be your party post url. Last year, I can't tell you how many links I had to fix. This year I might get mean & delete them, so PLEASE try to get the correct url in the first time! 🙂
Please add my button to your post or blog OR at least link back to this post in your post. That's all I ask. It's common courtesy to link back to the person having the party, so that all of your readers can find it too.
Please do NOT link to an Etsy shop or something similar (even if you think it's a fabulous deal) or I will delete the link. This party is for sharing thrifty finds from yardsales, thriftstores, or something along those lines.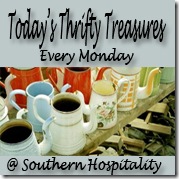 Let's have some fun this week with the Thrifty Treasures party!
Don't Miss a Post, join my list!