I want to first wish my sweet Daddy a very happy Father's Day.  He is my hero, still looks out for me and treats me like his baby, even though I'm middle-aged myself now.  But, I wouldn't have it any other way!  I hope you are all celebrating those special men in your life too.  We couldn't make it without them.
This week is going to be crazy for me!  Haven starts on Wednesday and I will be the crazy lady running around trying to get everything together and hoping that those plans that we have worked on for an entire year will all come together and make for the most wonderful DIY/home conference that's ever been held on the planet!  Too much to ask for? I don't think so.  My wonderful team has really helped along the way and we are SO over the moon excited that Haven is finally here.   We have some fabulous sponsors and it's truly going to be a dream come true for all of us who put this together.  I'm thrilled to be heading it up here in Atlanta and it just goes to show that if you dream something big enough, it can certainly happen with planning and hard work.  I'll have some posts up, but probably not as many as usual. When I leave Haven on Saturday morning, I'll then be heading to the Perimeter Mall area for a mini-college reunion just like we had last year.  I'm going to need a week to recuperate after all this fun and excitement, but that won't happen either.  It will be right back to house renovations on that following Monday. One busy summer, that is me at the moment!
One note for next week:  I'm going to skip Thrifty Treasures next weekend, since I'm going to be so incredibly busy that week and will hardly have any computer time to prepare the party.  We'll be back to the regular schedule 2 weeks from today.
So, on to Thrifty Treasures for this week!  You all are still finding some great things out there, the treasures keep rolling in week after week.
I adore old chippy railing like this (and have one myself in black) and My 1929 Charmer found this one out thrifting, not sure how much it was, but it is a really cool piece.
At $5 each, these dining chairs were a steal! A Heart-ful Home took home 5 of these for $20, one was broken and added to the others. Deal!
This French inspired 3 seater bench was found by Beaux R'eves at an estate sale. At $160, it wasn't dirt cheap, but a very good  bargain.
I love gallery walls and Dimples & Tangles collected mirrors for her wall at thriftstores until she collected enough for a grouping.  Spray painting them all a cheerful green united them in her space and I like how whimsical they look on this corner of the hallway.
Another take on the gallery wall, using Goodwill mismatched frames, Megan Brooke Handmade put this eclectic mix together and I love how it turned out with the chippy door too.
What do a $7 Goodwill chair, $2 garage sale ottoman, and a $10 dropcloth have in common?  Live Love DIY put them all together for this attractive duo.   A makeover does wonders!
Here's another adorable makeover from a really ugly $11 auction find to total cuteness from Salvage Collection.  I have one very similar to this waiting for a makeover too.  I'll get to it one day!  Love the painted stenciled fabric she did on this one.
This $20 champagne bucket found by Texas Treasure Box was a great find.  Can't you see a colorful flower arrangement in this?  Lots of possibilities!
Be still my heart!  Light fixtures always get my attention and Worthing Court picked this one up for $40 on Craiglist (love, love Craigslist!).  Not bad at all and these bamboo fixtures are all the rage right now.
So, what did YOU find this week? There are a TON of parties out there to highlight all your projects, so please let's keep this one about thrifty finds that were bought 2nd hand! Not a great sale from the store, or a recipe, or just a plain project, but 2nd Hand finds only! And please DO NOT go back in your archives to OLD posts and link up. Let's keep this party fresh and current! If you have already shared your find in a previous party, DON'T share it again! Please, girls, I don't want to have to delete links.
Add your permalink to the link list, which is the actual post that you did for this party, NOT your general blog url. To get the actual post, after you publish the post, just click on the title and THAT will be your party post url. PLEASE try to get the correct url in the first time!
 Please add my button to your post or blog OR at least link back to this post in your post. That's all I ask. It's common courtesy to link back to the person having the party, so that all of your readers can find it too.
 Please do NOT link to an Etsy shop or something similar (even if you think it's a fabulous deal) or I will delete the link. This party is for sharing thrifty finds from yardsales, thriftstores, or something along those lines. If I see that your post is not really on track with this theme AND you don't link back, I'll delete your link. Sorry, but I'd like to keep the party consistent! IF YOU SEE THAT YOUR LINK HAS BEEN DELETED, IT IS PROBABLY BECAUSE IT IS NOT IN LINE WITH THIS PARTY THEME.
 Again this year, I'll be highlighting great finds from the party, so if you want your find highlighted, PLEASE link back to the party. Only those who link back will be considered for highlighting the next week. Thanks!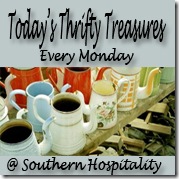 Don't Miss a Post, join my list!