Last week, I experienced one of the most fun events I've ever been a part of.  I'm still on Cloud 9 over it all and will be be sharing the details with you soon, just as soon as I can get all my many pics edited and loaded and figure out the best way to tell that amazingly fun story.  I participated in a super fun event with Shaw Floors, who have partnered with HGTV home on a new line of flooring and I was one of 10 bloggers invited up to the Biltmore to experience a private tour of that beautiful French Renaissance castle.
After that, we headed to High Point for an exciting contest where we were paired with another blogger (Living with Lindsay was my sidekick, I just love her!) and we got to design a room from the floor up, with the final rooms being professionally photographed for a competition which will start on September 1st on Shaw Floor's Facebook page.  So, I'm going to be sharing all those details of this amazing trip during the next week or so, along with the particulars on the competition.  There will be LOTS of good stuff for all of YOU too, so you will not want to miss it.  Some great goodies to share!  And I'll be begging for votes from all of you too.
Me and Lindsay really really want to win!
OK, so on to thrifty treasures from our last party.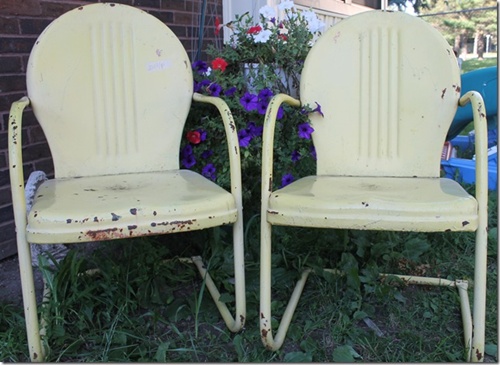 Who wouldn't grab these old vintage motel chairs.  A Full Cottage, that's who!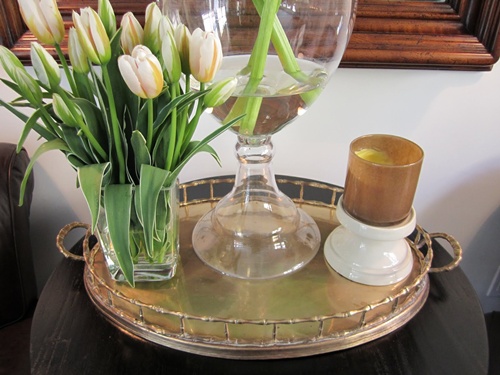 Classic Casual Home found this pretty old brass tray for $10 and she exclaimed that brass is back. I think I would have to agree that there is definitely a resurgence of antiqued gold/brass coming on the horizon again.  I've been hearing this drumbeat for a couple of years now.  I never got rid of all my gold.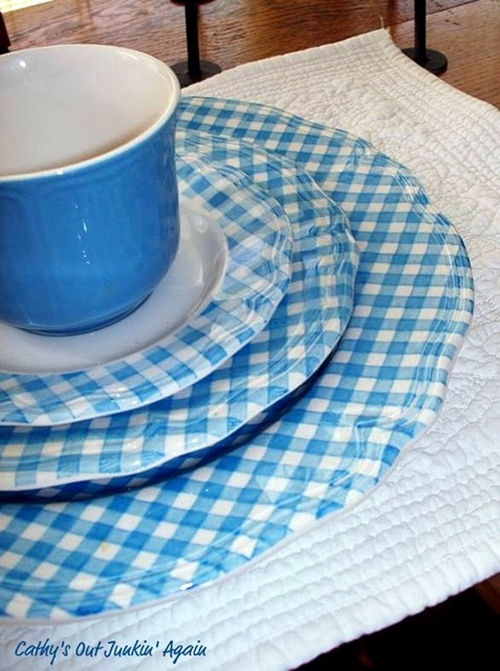 Cathy found a set of 4 place settings of this pretty blue and white gingham dishes at her local Goodwill.  Great find, Cathy!


I'm really envious over this beautiful $25 chair that Villabarnes found!  but, I'm happy for her too.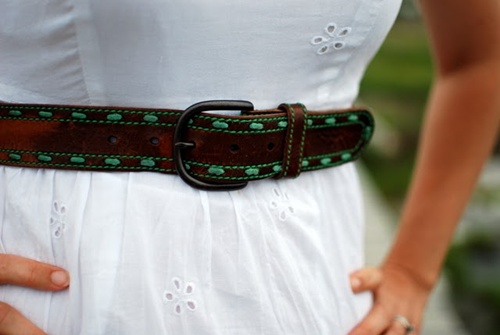 Yardsale Mommy showed off some fun fashion finds and her photos were so cute, I couldn't resist sharing them.  She got the cute belt for $5 and change.

And the boots for $4!  Great shopping and cute pics too.


Remember that old garden stool that Susan found last week at our I Love Thrifting party?  Well, she didn't waste any time and it's already been transformed.


What a beauty it is now!  White spray paint does the trick every time.


She even sent in a pic of it in her home.  Wow, is that pretty!  I love these things and just might have to be on the lookout for another one, even though I really don't have a spot for one.  She paid $20 for this one, and that's a deal compared to new ones.
On Monday, I'll be doing an interview series with those fun girls, Vanessa and Heather who blog At the Picket Fence, called Behind the Blog. I'm honored they chose me to kick off their new series, so if you want to know more about me, click over there on Monday a.m.  If you don't, you're really not missing much, but those girls are great to get to know. 🙂
Now it's your turn!
There are a TON of parties out there to highlight all your projects, so please let's keep this one about thrifty finds that were bought 2nd hand!  Not a great sale from the store, or a recipe, or just a plain project, but 2nd Hand finds only!

Add your permalink to the link list, which is the actual post that you did for this party, NOT your general blog url. To get the actual post, after you publish the post, just click on the title and THAT will be your party post url. PLEASE try to get the correct url in the first time!
Please add my button to your post or blog OR at least link back to this post in your post. That's all I ask. It's common courtesy to link back to the person having the party, so that all of your readers can find it too.
Please do NOT link to an Etsy shop or something similar (even if you think it's a fabulous deal) or I will delete the link. This party is for sharing thrifty finds from yardsales, thriftstores, or something along those lines. If I see that your post is not really on track with this theme AND you don't link back, I'll delete your link. Sorry, but I'd like to keep the party consistent! IF YOU SEE THAT YOUR LINK HAS BEEN DELETED, IT IS PROBABLY BECAUSE IT IS NOT IN LINE WITH THIS PARTY THEME.
Don't Miss a Post, join my list!