Arranging flowers, real and faux in your home is an easy way to welcome spring and summer or any season to your home decor. Join me today as I share my seasonal home decorated with flowers and also my blogging friends are sharing their tips and tricks as well. I love real flowers and use them often, but when I don't have them around, I have some good faux florals that are a good substitute.
Real Flowers are Beautiful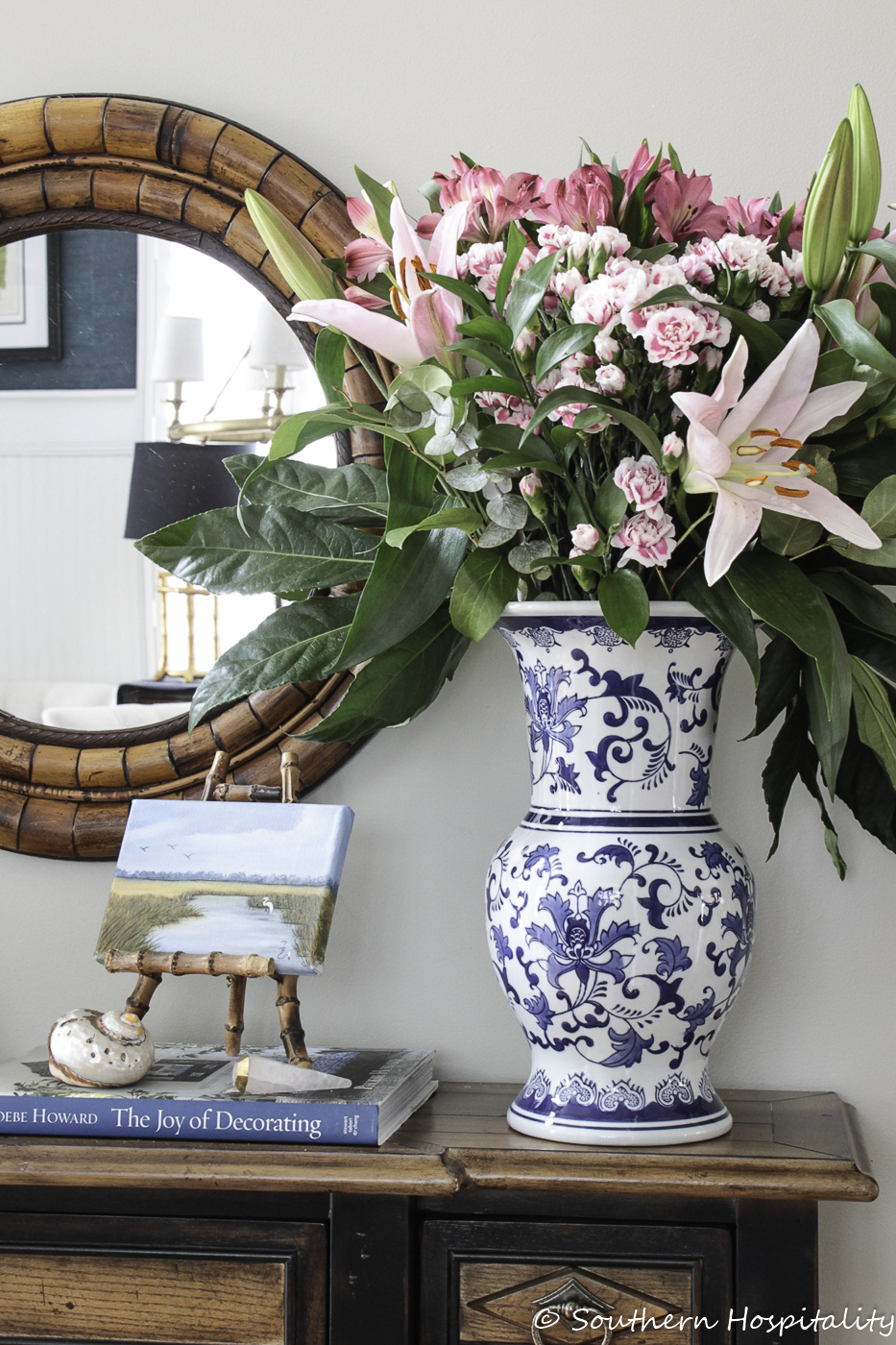 For spring especially, it's fun to add real flowers in beautiful containers to add those spring touches around the house. I have many containers in blue and white and rotate them around for flower arrangements. Blue and white is a great mix for displaying pink flowers.
I love tulips and use them as often as I can find them. These vibrant orange ones always look great in my living room. It's fun to mix up containers and use different colors and textures.
Bold coral tulips also look great in blue and white. It really makes them pop!
Pink tulips are a favorite too and these cane vases I found at Michaels are a good spring mix.
More soft coral tulips in a muted green blue vase is very elegant.
Tulips are good in so many vases and spaces.
I also have a good mix of white containers and vases and love these as well. These pink spring flowers mixed with green is a wonderful accent on my foyer table. Real flowers add so much life to a space.
One of my favorite ways to display real flowers is to cut branches of cherry blossoms that are about  to bloom and put them in water to watch them come alive with color. I don't have a cherry tree anymore, but I sure do love them. These green glass vases are also a fave of mine to use in spring and summer. I have a nice collection of them that I've gathered over time.
I do have lots of blue hydrangeas in our yard and love to cut them during summer peak season to display in these green glass vessels.
They also look gorgeous in blue and white containers. I can't get enough of hydrangeas.
I've used these year after year for gorgeous displays on the foyer table, mantel and my dining room table. They are gorgeous while they last!
Next is my limelight hydrangeas. These were some of the best plants I've planted in our yard. They produce so many blooms and I love using them in the house.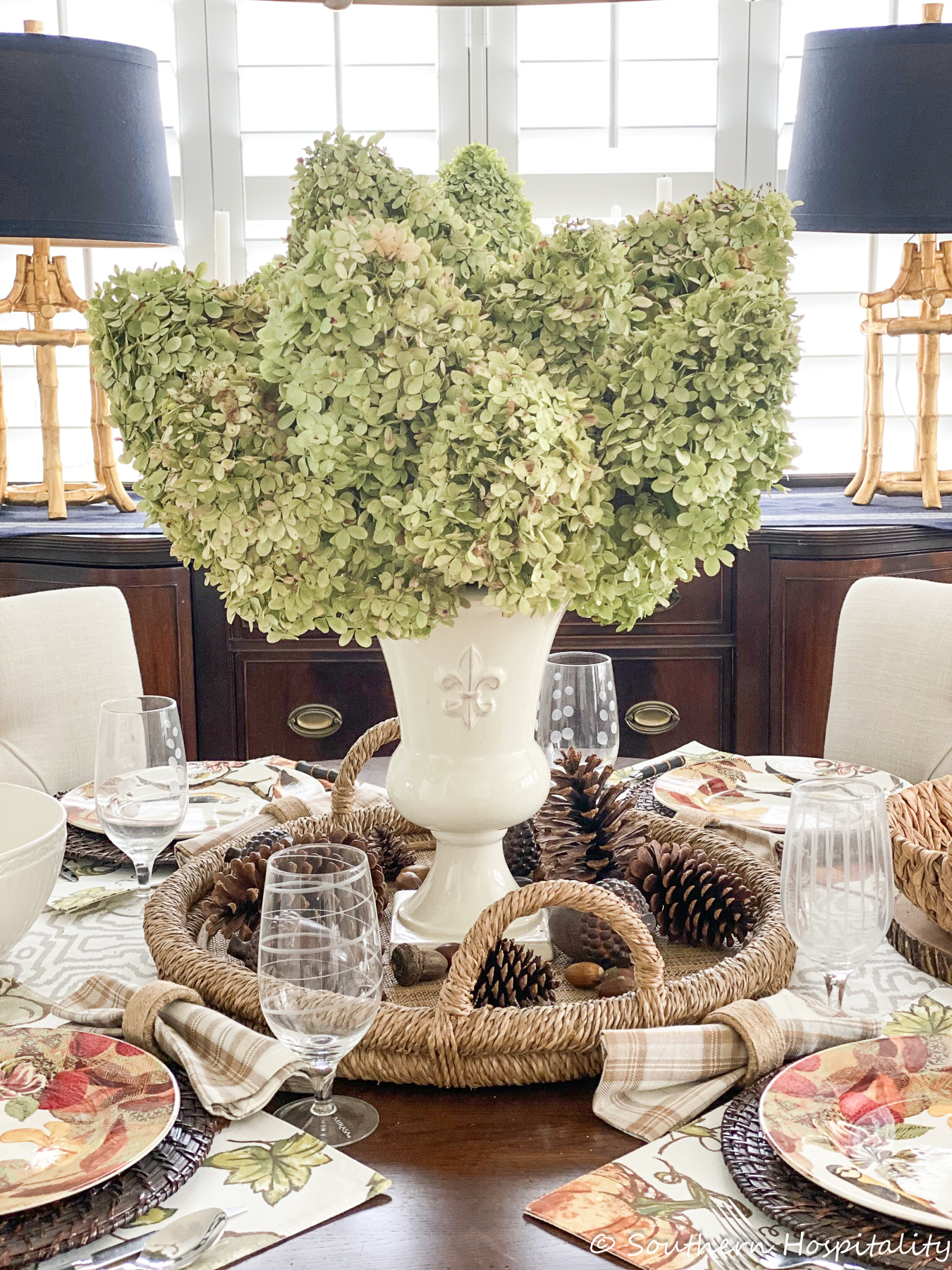 They are gorgeous fresh or dried and make a beautiful table arrangement.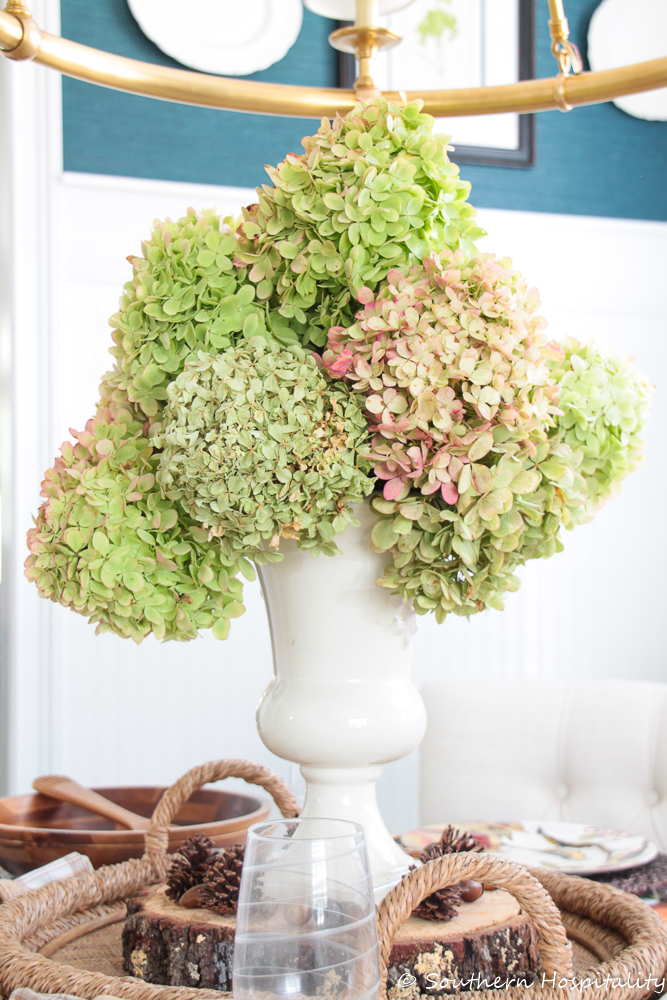 I love when they take on that pink tinge at the end of the season.
I used real sunflowers one year on my foyer table for a fall display. They look great in blue and white also.
Faux Flowers Have Their Place
More and more I've added some faux flowers and greenery to my collections since I don't always go out and buy real flowers. Can you tell which of these above area real and faux? Hint: only the far right vase have real flowers, the rest are faux.
Tip: Add water to your vases if they are clear to simulate a real flower arrangement. That's a little trick I've learned along the way.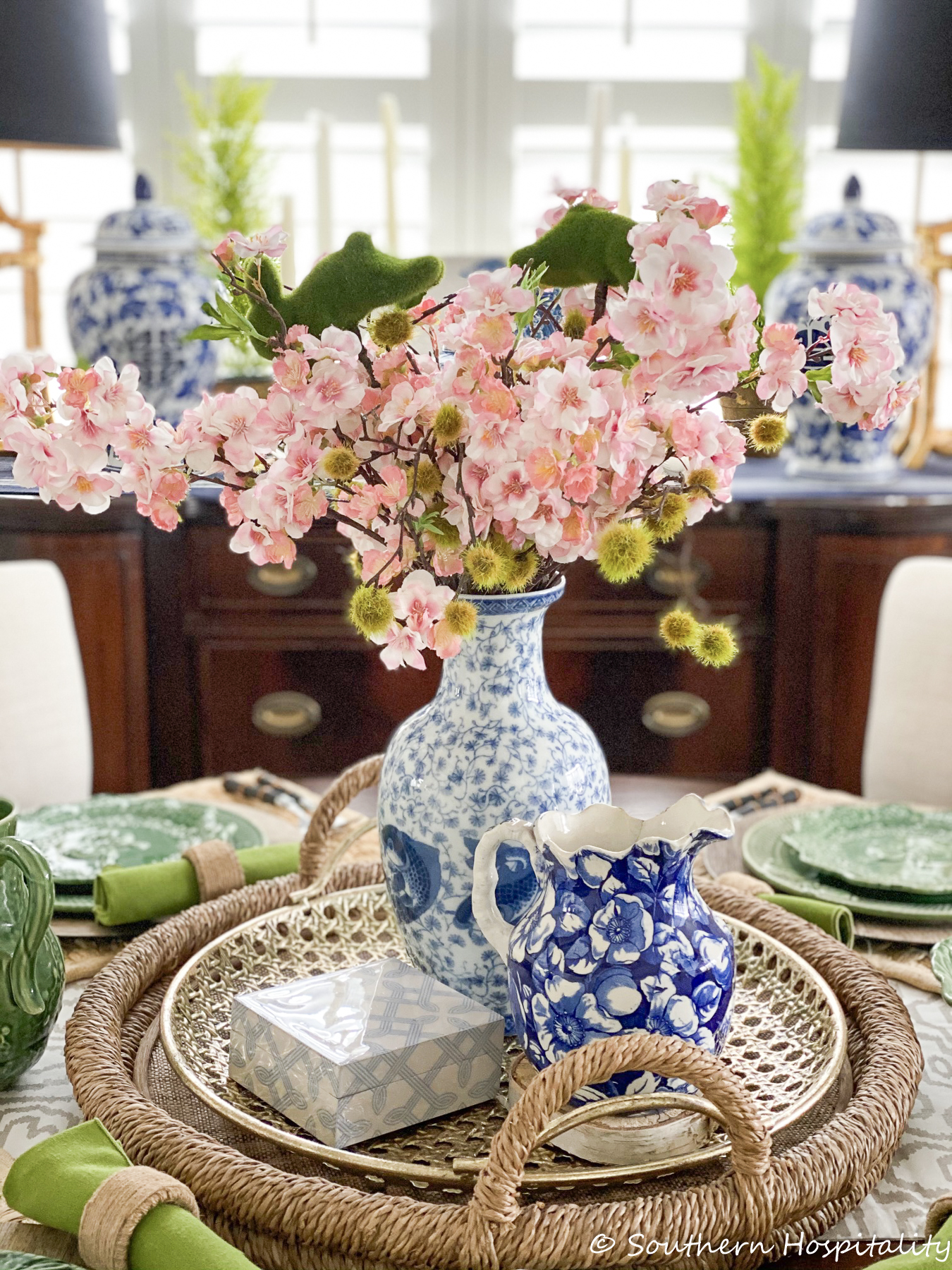 These realistic cherry blossoms I bought last year and have so enjoyed them on my tables. I used them on the dining room table last year.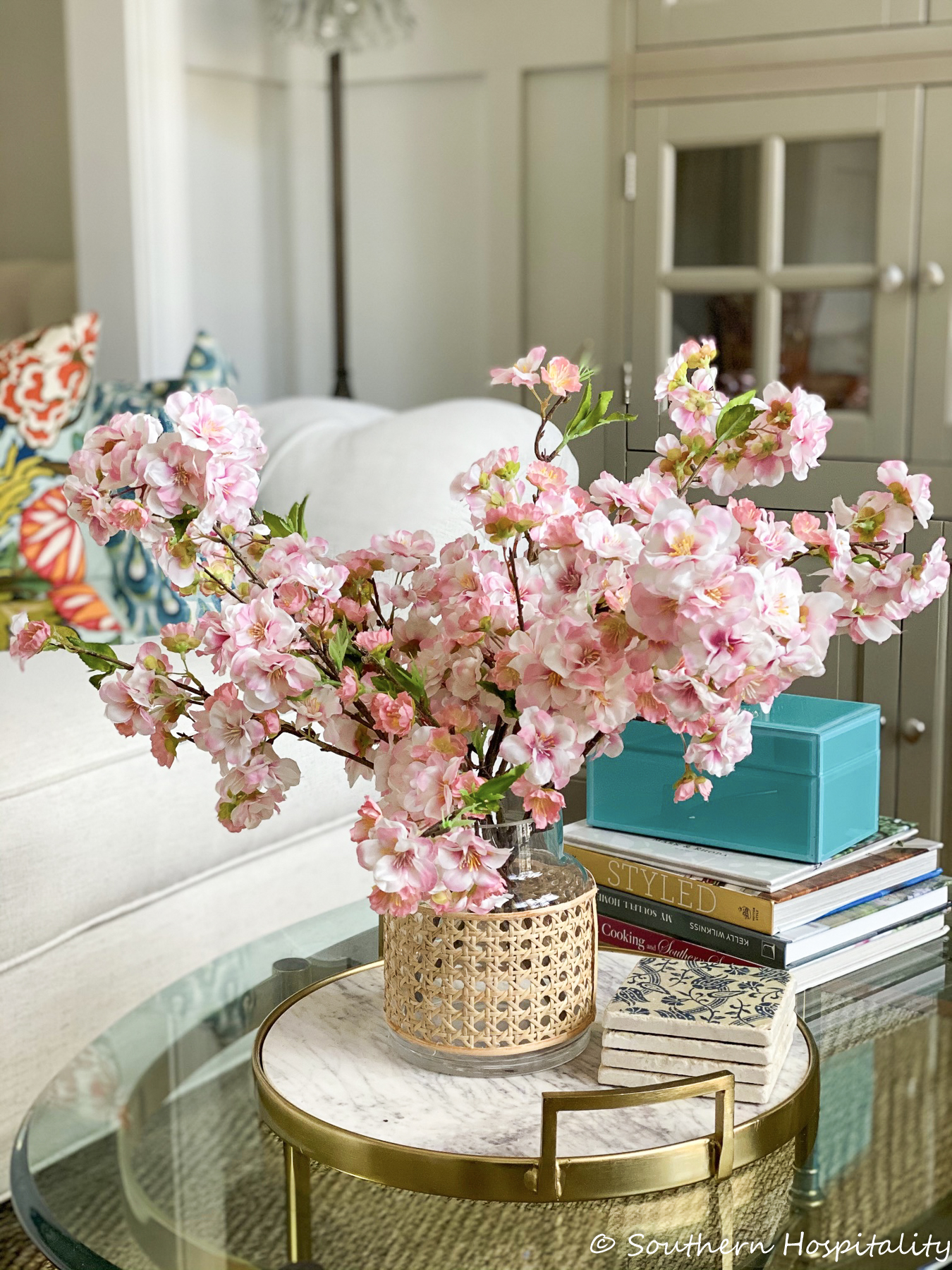 And this year I added them to  my living room table.
These faux pink flowers came from different sources and the added bit of green is so happy for spring.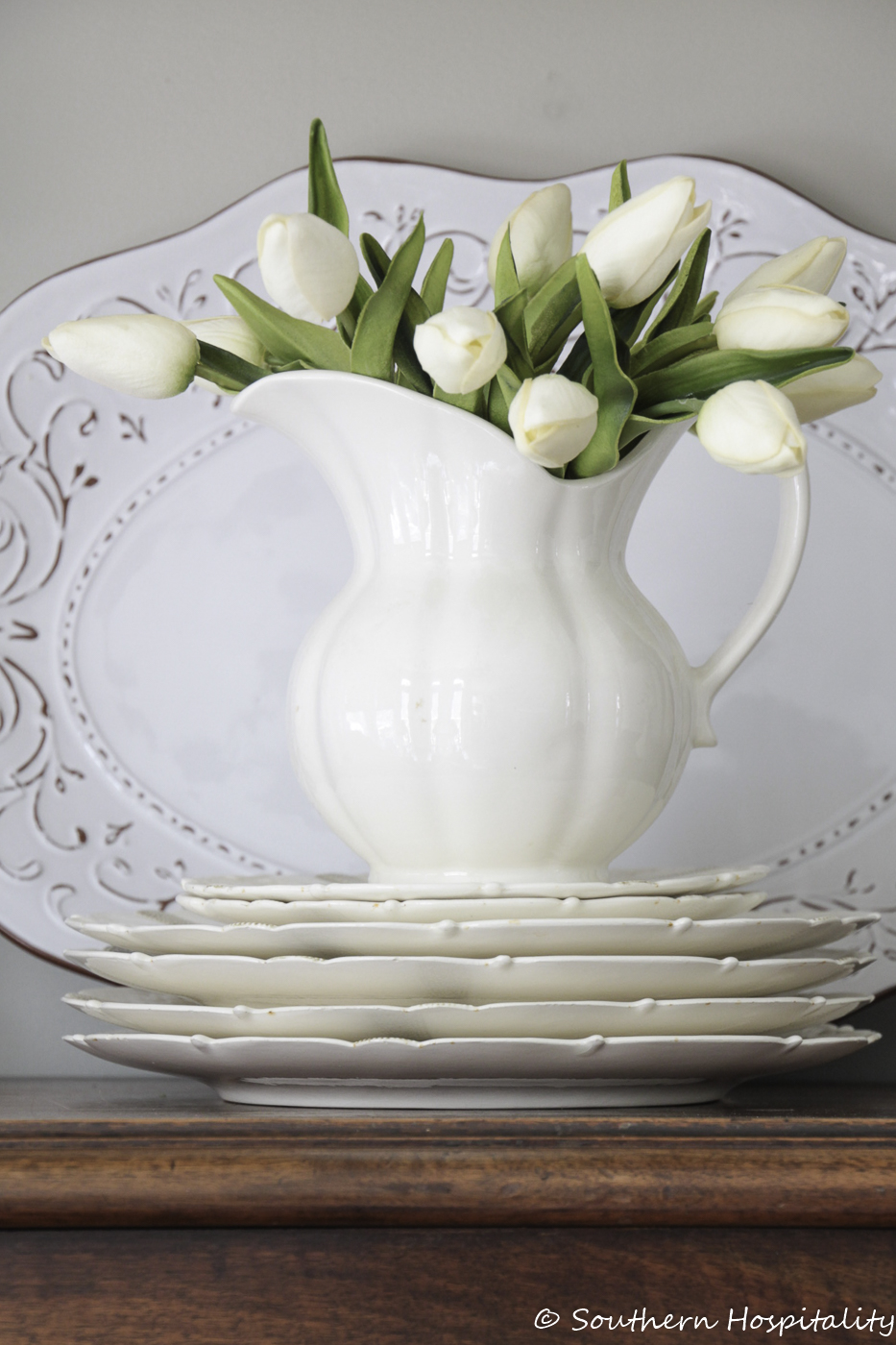 I also have some realistic faux white tulips I like to use around the house. They are perfect in a white container.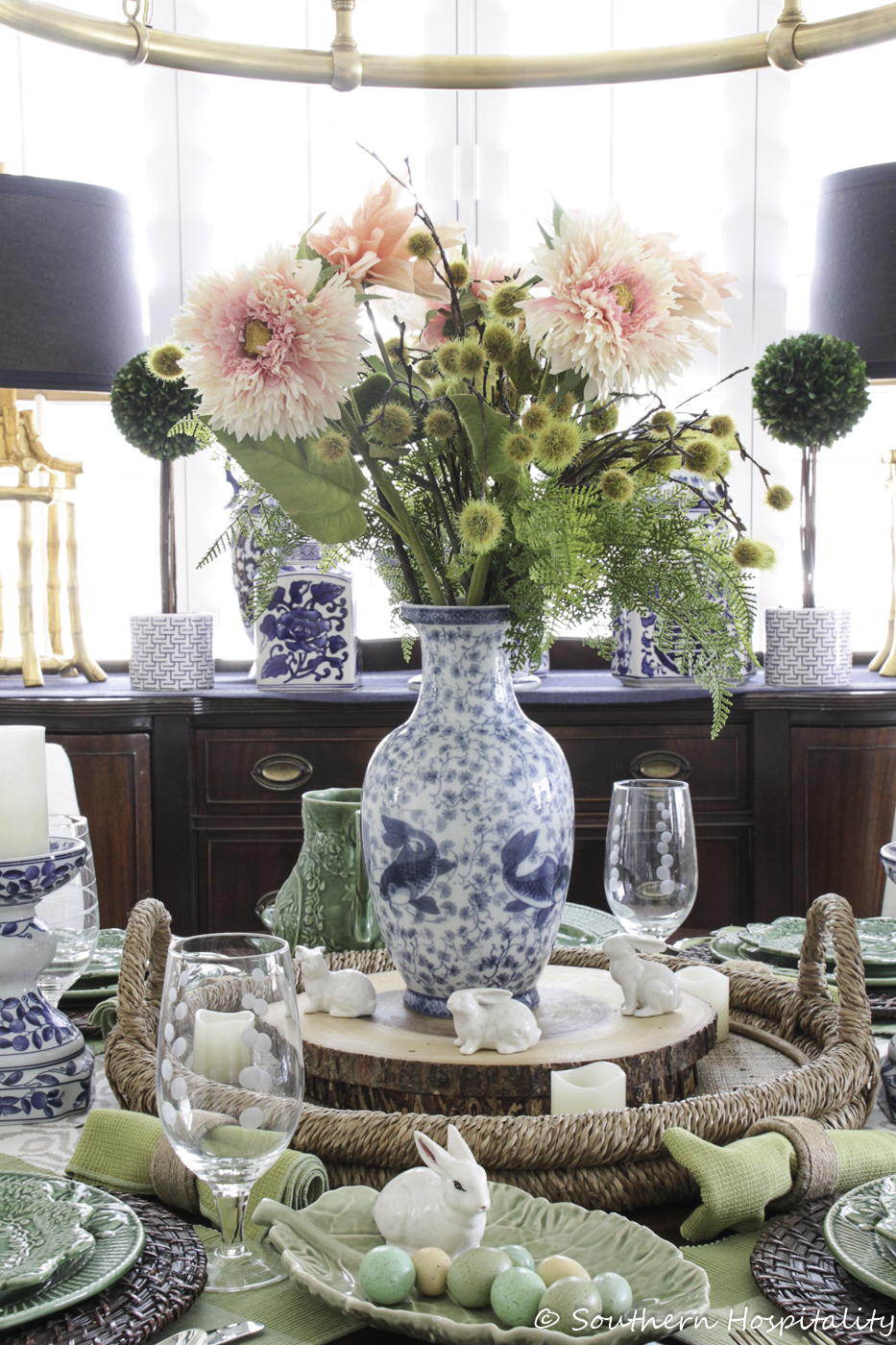 Those same pink faux flowers last year in a dining room table display and in blue and white, they work so well.
Those white tulips again in an aqua vase, mixed with real plants. I hope you enjoyed these tips and tricks for displaying real and faux flowers around your home. I love using them all, real and faux. If you don't always get the real thing, then a few realistic fauxs will work just fine. I've got a group pulled together of florals and containers that you can shop online if you'd like to add some to your home as well (affiliate links):

Don't miss the flower tips and tricks from my friends below! 
Designthusiasm | The Lazy Girl's Guide to Creating Floral Arrangements
Shabbyfufu | Arrange Flowers Like a Pro With These 10 Best Tips
On Sutton Place | Ideas for Using Spring Blooms in Your Home
Southern Hospitality | Tips for Flower Arranging Real and Faux
StoneGable | Best Tips For Arranging Beautiful Flowers
Don't Miss a Post, join my list!