Strolling through a cemetery might not be the first thing you think about doing when you're visiting another city, but when Lauren mentioned that when her friends come to town, one of the stops she makes with them is to one of the local cemeteries, I thought that would be a brilliant thing to photograph.
A bit morbid perhaps, but a New Orleans cemetary is like none that I've ever seen in the South, at least in my part of the South.
Stately and majestic tombs are lined up one after the other.  No simple headstones in these cemeteries, they are something to behold.  Take a look and you'll see what I mean.
Beautiful structures with obelisk type steeples, they are amazing to look at.
Like tiny granite and marble houses.
All different colors, shapes and sizes.
And inspired by many parts of the world, from looking at them.
Egyptian pyramids, yes?
Aren't they beautiful?  It was awe-inspiring to walk around and photograph them.
With their aged statues adorning many of them, these angels were standing guard.
Crosses on top of many.
These angels were my favorite, blue skies above their wings.
Even with the age showing on many of them, they are still beautiful.
I've never seen the likes of these in Georgia.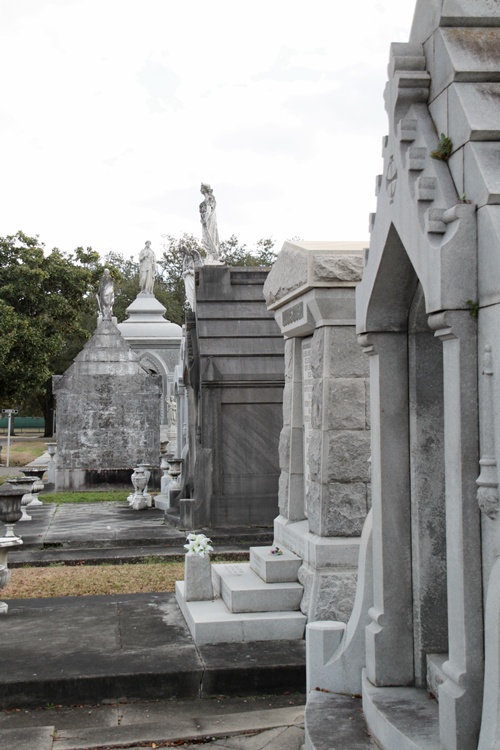 These urns, I loved.  Urns are some of my favorite shapes.
Another angel gracing the top.
Who could imagine that touring a cemetery could be so awe-inspiring?  Now, I'm convinced.
Here's a funny cemetery story that I can share with you from my childhood.  You usually don't think of cemeteries as being funny, but this one is.
When me and my sister were little, I was about 4, she would have been 6, my dad pastored a small church in the panhandle of Florida.  Next door to our little parsonage was the church with adjoining cemetery.  Naturally, my sister and I played in the cemetery with our dolls and stuff, placing them on the graves as our doll beds.
What?  You never did that?  OK, so we are weird, we definitely did that.
One day, and I don't remember why we had this, but we had some of those to-go packages of ketchup with us out there playing.  Somehow my sister stepped on one of them and ketchup went flying all over me from head to toe.
I ran home screaming and crying to my mom, who of course, immediately thought that I was bleeding profusely and was about to have a heart attack until it was actually determined to be ketchup all over her baby.  I think she got a few gray hairs over that one, but it's a true story. 🙂
So, you just never know when you might be hanging out in a cemetery, do you?
Don't Miss a Post, join my list!