After the hubbub of the Holidays, there can often be a letdown of sorts.  A kind of melancholy feeling of, what now?  Do you experience that too? I think it seems to be a natural thing to happen after Christmas is over and things are back to normal. Our homes get de-Christmasfied and the weather is often dreary and cold, so how do we make our homes feel a little more festive again. How do we transition from Christmas to Winter?
Today, I'm sharing with you some ways to decorate for the Winter season, after your Christmas decor has been put away and I'm sharing some blogger friends ideas with you. This is my last post in partnership wi with Tree Classics this year and having a conversation about this topic will be fun!
Since I don't do a lot of Winter decorating around my house, I scoured blogland and found some great ideas to share with you.  Let's get started!
Winter wreaths are a great way to keep some interest going on the front door and the perfect transition to Winter from Christmas.  Here are a few cozy and rustic ideas to get you started, from sweater wreaths to painted pinecones, to the painted white puzzle pieces that look like snowflakes!  All of these say Winter!  top to bottom, left to right, blogs noted below 
Stop by their blogs for all the details on these DIY wreaths: 
Confessions of a Plate Addict, Dazzle While Frazzled, Little Bits of Home, My Life From Home
A whimsical fireplace from Two Purple Couches adds a fun and Wintery feel to the room.  Deer heads and snowflakes, why yes please!  A cute little snowman doesn't hurt either.
Janet from Shabbyfufu, always brings inspiration with her Winter White rooms and this bedroom fireplace is just gorgeous with white roses in shimmery mercury glass, white candles, and even white pinecones.  So serene!
Fireplaces are such a part of Winter and this neutral and white with touches of green fireplace decor from The Frugal Homemaker makes you want to cozy up on the couch and read a good book.  Wood stacked in a galvanized tub, plaid pillows, and simple white and natural trees add to the scene.
A pretty and balanced fireplace decor of jars with sticks, candles, and an old window is the Winter centerpiece for House by Hoffroom and adding that furry throw on the bench looks so warm and inviting. This is a wonderful transition look for after Christmas and before Spring.
Suzy from Worthing Court created a whole beautiful gallery wall filled with texture using white, brown, and green for a beautiful in between season touch in her family room.  Notice the neutral plaid pillows and poof ottoman which add such a cozy vibe as well.
Why not leave up the Holiday dishes, these can easily transition to the Winter months, with these gorgeous red birds and green and white.  Christmasy yes, but so pretty in adding texture and color to the season, from 3 Little Greenwoods
For a side table, this grouping of galvanized candle holders, along with the tobacco basket and greenery, mixed with neutrals adds just the right winter touch to your spaces, from Hamby Home.
Winter white and neutral textures are so pleasing to live with during the Winter months and The Red Painted Cottage's pretty painted basket filled with all those interesting textures and neutrals is a wonderful Winter decoration on a side table.
No time for a lot of fuss over Winter decorating?  Take a cue from House of Hawthorne's galvanized tin filled with rustic pinecones.  Texture adds to the season of Winter.
Save a handful of glittery ornaments, white bottlebrush trees, and those baubles that remind you of Winter along with a little faux snow and add them in a glass jar for a little bit of Winter sparkle on a tabletop or side table, from Meegan Makes.
I love this table centerpiece from Cottage in the Oaks.  A rustic breadboard filled with birch log slices and simple white votives, framed with white antlers, a perfect tablescape for Winter.
Another beautiful DIY table centerpiece from Simple Nature Decor, this starfish tree is a wonderful Winter White transition piece.
I love what Kim from Savvy Southern Style did with a beautiful garden urn, filled it with cut birch logs, fresh greens and pinecones, perfect for transitioning out of Christmas on into January and February.  It doesn't hurt to add a pretty leopard throw either, instant cozy!
From 11 Magnolia Lane, a simple coffee table idea, using a big clam shell filled with rustic grapevine balls, an antler, and a little bling left over from Christmas.  So pretty!
Finding Silver Pennies added pretty green boxwood wreaths and hanging starfish from the fireplace, as well as a glass vase with tall natural sticks, pinecones, white candles to create a Winter white feel to the room.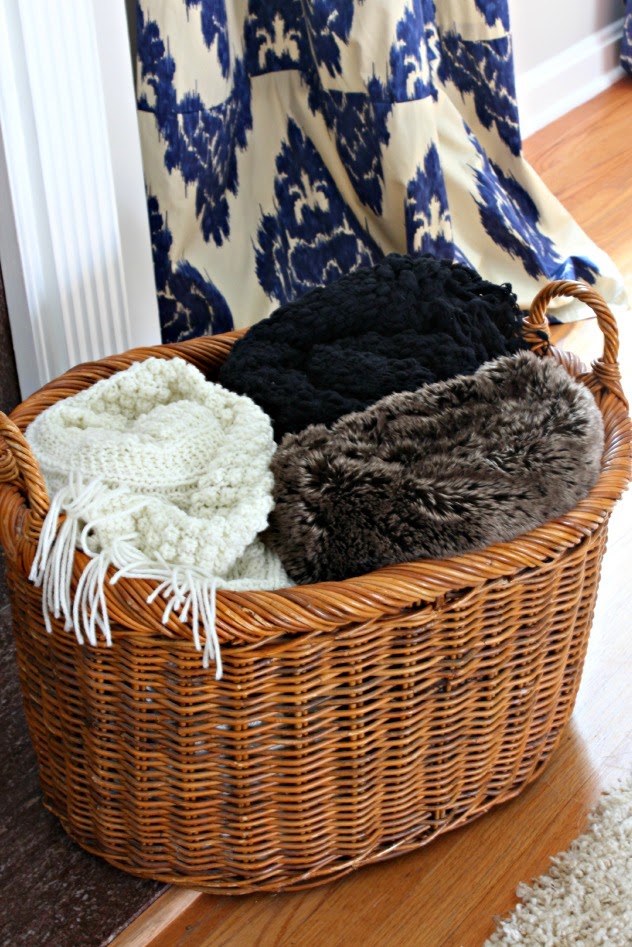 A fun and easy way to display those Winter throws, in a pretty basket for all to see and for a quick grab when chilly, from Southern State of Mind
Have you ever seen a sweater lampshade?  I've seen a few of these around blogland using an old sweater that's seen better days, just cover an old lampshade and you've got instant coziness in a corner, from Redhead Can Decorate.
Those are a few fun ideas to get you over the thrill of Christmas and into the chill of Winter.  Hope you may be able to add a little sparkle, texture, and coziness to your home this year with a few of these ideas!
This post is sponsored by Tree Classics
Don't Miss a Post, join my list!