Travel has been in my blood for many years.  From a young age, when anyone mentioned going somewhere, I was always up for it.  Pack my bags, I'm ready to go!  When I was growing up, we never took any exotic vacations at all.  My dad was a pastor and we didn't have a ton of money to travel, so usually our summer vacations consisted of family jaunts to NC.  We also went to a few church conventions, namely Dallas, TX and Miami, FL. But most of the time NC was the destination. My maternal grandfather and his siblings (all living in Florida) as a group decided to build cabins up in Franklin, NC in the late 60's.  So, many of our vacations during summer months were spent in Franklin, roaming around the waterfalls and seeing the sights of the NC mountains.  Not a bad vacation, just not exotic.  I have some wonderful memories of Bryson City, Franklin, and Cherokee, NC during my young years.  Extended family members from Florida and other states would come up during the summer to those cabins and we all had a blast.  It was a pretty great way to grow up.
Once I got through high school and a couple of years of college and started working, I was single and ready to see the world.  Some of my single girlfriends at the time and I planned a few trips along the way and my first of 2 cruises happened when I was 24. It was a Carnival Caribbean cruise and it was one of the most exciting things I had ever done.  I'll tell you more about that later on. I've been a fan of cruises ever since and even though I've only been on 2, I love them.  It seems that people either love cruises or hate them. I'm definitely in the LOVE THEM camp.
In fact, I'll be partnering with Carnival Cruise Line for the next few months and will be sharing more travel related posts with you.  And I'll be going on a cruise in January to the Southern Caribbean, which I'm so excited about!  Of course, I'll be sharing it all right here on my blog.
A couple years after the cruise, myself and and my sister and a couple other friends, went to Ocho Rios, Jamaica for a fun getaway.  We climbed Dunns River Falls, one of the highlights of the trip.
In the early 90's, I had a chance to spend some time in  Italy. That was truly a highlight too and I went all over Italy, to Switzerland, and France during that time.  Talk about a wonderful experience, seeing parts of Europe was something that I had always dreamed of and it didn't disappoint.  I took in the Roman ruins, including the colosseum, which was just an amazing sight to see.  Europe is so old compared to the US.
The Trevi Fountain was under construction while I was there, but it was still a wonderful experience to take in.  Italian architecture is such an amazing thing to see, you can't even imagine it until you see it in person.
Me and my big hair climbed the Spanish steps in Rome.
I had heard about the leaning tower of Pisa my entire life and to actually see it in person was a dream come true for me.  I wonder how it's doing now, over 20 years after this picture was taken?  It's a beautiful piece of history.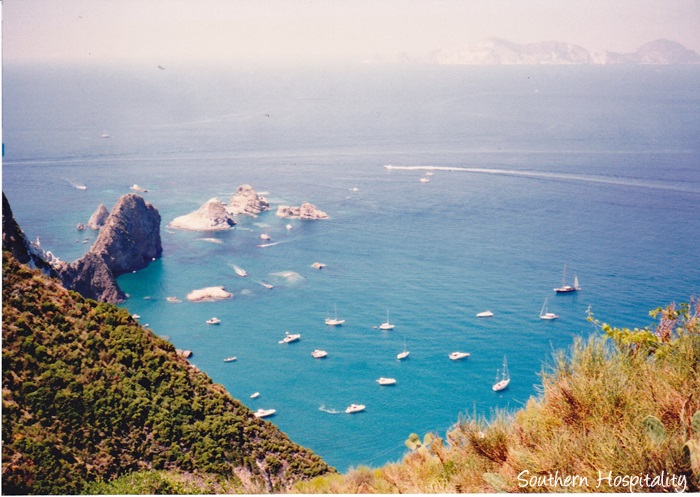 I went on a boat ride to a beautiful island called Ponza, off the coast of Italy.
I took in the Tuscany region and ate some of the best food I've ever had in my life.  Italian food continues to be one of my favorite and I learned to cook red pasta sauce from some ladies who lived there.
Another trip later on in the mid-90's was to Seattle, Washington, where I saw the Puget Sound for the first time.  It's a beautiful and scenic city!  I took in Butchart Gardens in Victoria, Canada after a ferry ride over.
I went on a whale watching adventure and actually captured a whale with my camera.
Locally, I've been to many states around our great nation and have seen the Southern cities of Savannah, GA and Charleston, SC.  Both are filled with such rich Southern history and beauty.
A tour of an old plantation ruins, Wormsloe, out of Savannah was a highlight.  Just look at this entrance gate.  So dramatic and stately!
Touring an old historic home in Charleston, SC was one trip I took back in the 90's.  Travel and seeing old houses has been in my blood for years.
If I had to list all the states I've been to, they would be Florida, NC, SC, Tennessee, Louisiana, Alabama, Mississippi, Kentucky, Ohio, Michigan, Virginia, West Virginia, New York, Pennsylvania, Nebraska, Oklahoma, Texas, California, Washington.  I think that's it!  So, there are still plenty of states for me to see.
As far as international travel, I've been to the Bahamas, St. Thomas, St. John, Puerto Rico, Jamaica, St. Maarten, St. Barts, Mexico, and in Europe, Italy, France, and Switzerland.
Now that I'm almost 60…in one more year (how in the world did that happen?), I want to travel more than ever.  It's been a while since I've done an international trip and there are still places I'd love to see in this beautiful world of ours.  Over 50 singles (and marrieds) are prime candidates for travel at this time of our lives.  We don't have the responsibilities we had when we were younger, with raising kids and all the responsibilities that come with that.  The baby boomer generation is young at heart and we love to travel and see the world much more than our parents did, I think.  I know I'm much more of a world traveler than my parents have ever been.  I love seeing other countries and how they live differently than we do. It definitely makes me appreciate our wonderful country even more when I travel outside the states.
I thought this would be a fun recap of where I've been and talk about where I'd like to go.  There are many places I'd love to see and a repeat of Europe and especially Italy is definitely on my travel bucket list.  I'd love to see Australia, England and Ireland, never been to any of those countries.  Greece is another place I'd love to see.  I want to travel more before I get too old to do it, so now is the time!  I'd still enjoy seeing more of our fine USA as well, so many states I haven't been to.  Where would you like to go?
This post was created for Away We Go with Carnival, the destination for getting in the getaway state of mind. Head on over.
Don't Miss a Post, join my list!