Summer is about to wind down and then we'll be into September and I can say I'm not sad to see this heat go.  Yep, I'll be glad for a little cool down soon.  Summer did seem to fly by this year.
This week, I made it to a few sales and an estate sale and found a few things.  A few blue things, to be exact.
This pretty blue glass ball was $5 from the estate sale.  It looks to be hand-blown, so I think that's a good price for it.  I love those old fishing floats and this has that look, so I added it to the seashells in our master bathroom.
This blue bottle was $2 and I loved the colors in it. I'm sure it's not old, but it has a rustic look to it and also works in the master bath.
Again, from the estate sale, this pretty blue/gray pottery piece was more at $10, but I love hand made pottery, so didn't mind splurging on it.  The colors are so soft.   This estate sale was out in the country in a horse community.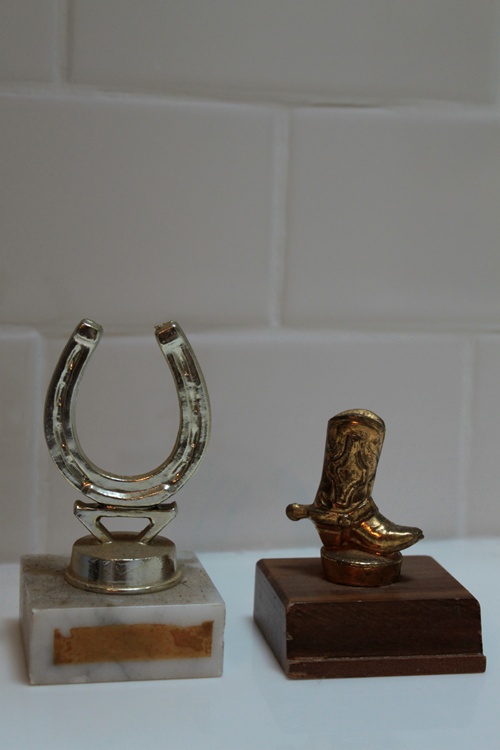 Buried under some paper in the above piece of pottery, were these 2 little horse tropheys.  Cute, huh?!  Some kid probably won these years ago.  The nameplates are missing.  I don't need these, so will pass them on to someone.
I've just discovered a new show on the History channel:  American Pickers! Have ya'll see this one?  I love this show, someone just told me about it, so I went and looked it up and now I'm hooked too.  Two guys from Iowa go out in their van all over the US countryside, looking for old barns to pick treasures from.  Watch it if you haven't.  Totally fascinating! It's amazing to me how many people there are who are pack rats and never get rid of anything. Apparently, collecting is still a huge thing in our country.

From another yardsale, this Old Navy cute graphic green and gray top was $1.  It will be very versatile with a white cami underneath.
And that's my haul for the week.  Nothing spectacular, but a fun week.
Here's a heads-up for all of you who join my party each week.  I'm going to end the Thrifty Treasures party at the end of September for the season, so looking at the calendar, the last one will be scheduled for September 26th.  I know you all love it, but by then it's time for me to take a break.  Hopefully, I'll bring it back again next Spring!  It's been a fun party, but a break is good too. 🙂
Now it's YOUR turn!  What have YOU found lately? Add your link to the Linky list and remember our guidelines for the party:
Add your permalink to the link list, which is the actual post that you did for this party, NOT your general blog url. To get the actual post, after you publish the post, just click on the title and THAT will be your party post url.  PLEASE try to get the correct url in the first time! 🙂
Please add my button to your post or blog OR at least link back to this post in your post. That's all I ask. It's common courtesy to link back to the person having the party, so that all of your readers can find it too.
Please do NOT link to an Etsy shop or something similar (even if you think it's a fabulous deal) or I will delete the link. This party is for sharing thrifty finds from yardsales, thriftstores, or something along those lines. If I see that your post is not really on track with this theme AND you don't link back, I'll delete your link. Sorry, but I'd like to keep the party consistent! IF YOU SEE THAT YOUR LINK HAS BEEN DELETED, IT IS PROBABLY BECAUSE IT IS NOT IN LINE WITH THIS PARTY THEME.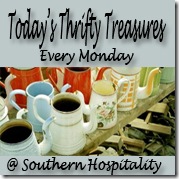 Don't Miss a Post, join my list!