Since I added the patio space to my backyard last year, this is the second season I've gotten to use it. I'm still so happy that I decided to have it built out. The whole look enhances my backyard so much. Having a screened porch and now a patio just makes my backyard that much more enjoyable.  Plus it's really pretty to look at!  When I walk out my back door now, that patio connects the mudroom/laundry room door to my back porch and it's all one big space.  No more mud and debris get tracked in and that's a really nice bonus!
Although… one thing has been missing on my patio and that was a big umbrella to shade the seating area that I was fortunate to add last year.  It's a great big open space, but when the sun is out, it's brutally hot.  I had plans to get a cantilever umbrella back there and never got around to it. Cantilever was exactly what I needed for this space.
Do you know the difference between cantilever and regular umbrellas?  Cantilever umbrellas hang over an area so that the pole is behind and not in the middle of your space.  It was just what I needed back there to complete my patio.
This blog of mine brings me a lot of opportunities, and when I heard from Starfire Direct about wanting to work with me on an update for my patio, the company just happened to carry cantilever umbrellas. It was definitely my lucky day, except I don't believe in luck, so I'll say blessed day!  They also carry a lot of other unique outdoor items that can beautify your exterior spaces. I'll be sharing some of my other favorites with you later in this blog.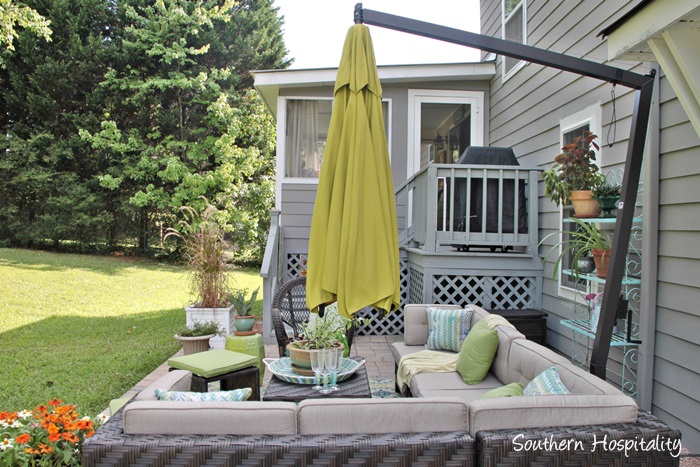 The umbrella FIM C-Series Cantilever Umbrella was shipped to me in two boxes and Mark helped me put it together. I don't know what I'd do without his help, since following instructions and putting things together like this is sometimes hard for me. Plus, this is one substantial umbrella! It's very heavy with a graphite coated aluminum frame and base.
The umbrella spans 10 and 1/2 feet and really covers my entire sectional sofa, which is so very nice.
I love the presence it has on my patio.  I took a lot of pics, so please bear with me. It's really exciting to get this patio completely finished. There's only one more little project I want to do back here.
I took these pics in the early morning, when the sun was dappling through the trees, so you can see how it looks during different lighting.  I also took more late afternoon when the sun moved across the house and it was shady.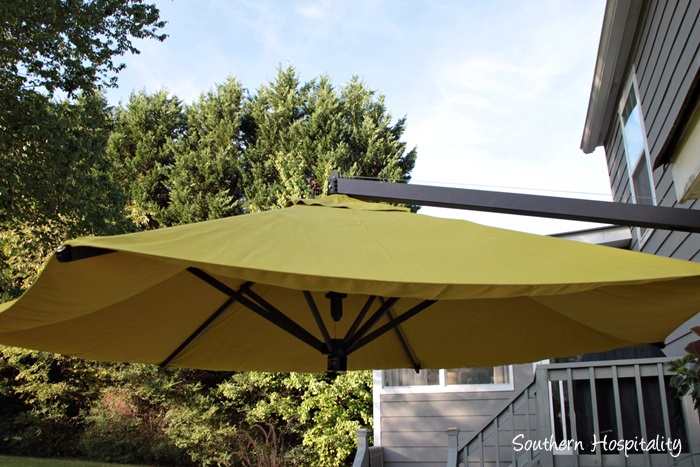 This picture shows how large and substantial the umbrella is– it covers such a big area!
A shot from the steps coming out of my screened porch.  It's such a pretty view from here.
And the far side of the patio with more seating areas.
You'll see my fire pit in quite a few of these photos. While I didn't purchase mine from Starfire Direct, they do offer a really great selection of fire pits if that's something that's been on your list! They're great additions to any outside patio area, especially during the upcoming months!
I wanted everything to be pretty for pictures, so I added plenty of plants back here.
Yum alert!  Birch Beer was introduced to me by Mark and has become a favorite of mine. It's a soft drink by the way, with cane sugar.  It's hard to explain, but it's a deep red cherry color and sort of has a cherry flavor to me.  It's so good, have you heard of it?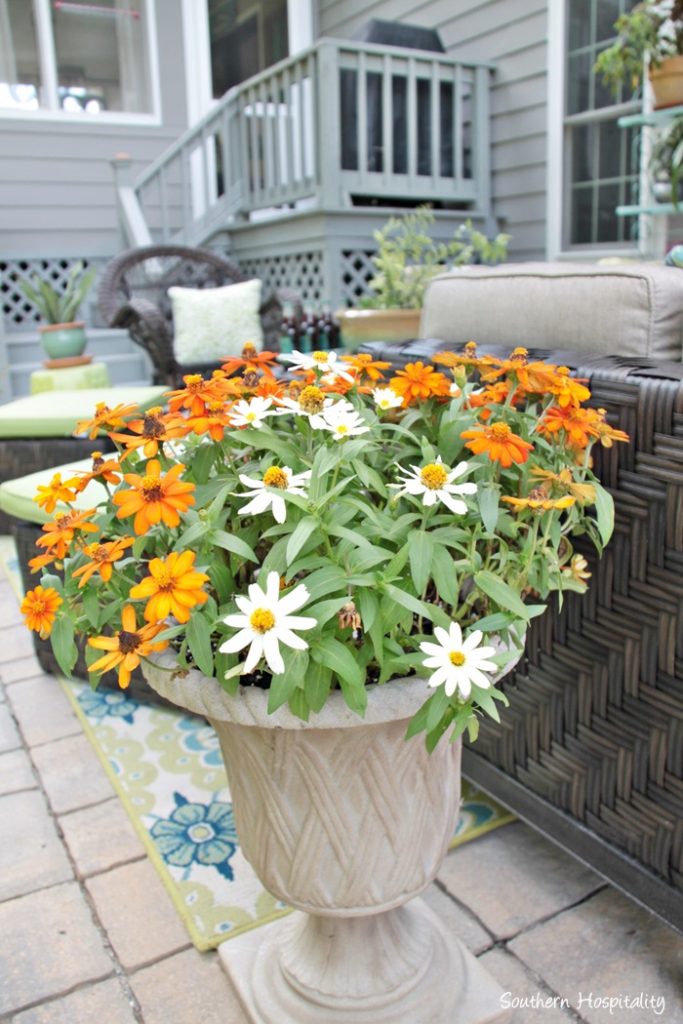 My other flowers were spent from the summer heat, so I picked up these colorful orange and white zinnias for extra color back here and they should last until the first frost.
This butterfly, a Monarch I think, found the flowers as soon as I put them back here and I was able to capture that beauty.
Here you can see the substantial base of the umbrella, this is called the Freestanding Offset Base. In total, the entire base has a footprint of 26" by 50" and it requires 2 large paver stones (of your choice) on either side, each 24" x 24″ in size.  The paver stones I chose weigh probably 75 lbs. each so they should have no problem holding the umbrella down, as the suggested weight is 220 lbs. for keeping the umbrella in its place.
If a free-standing base doesn't fit well with your outside area, the umbrella can be purchased with a wide variety of bases, including some that allow you to secure the umbrella to your deck or insert it into the ground.
The patio is now complete and ready to enjoy.  I can't wait to use it more.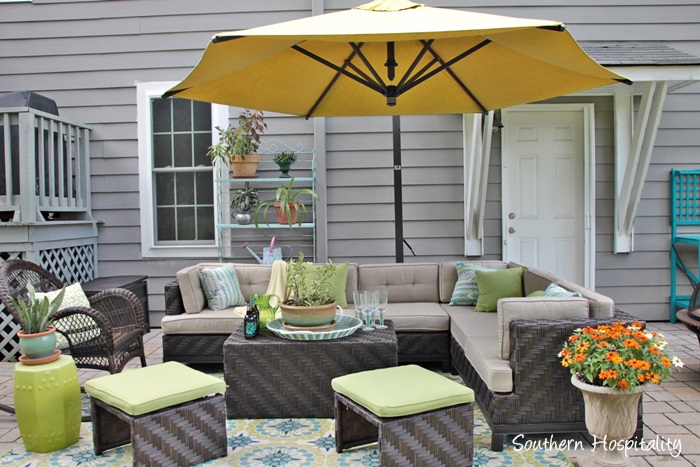 It will be nice in the middle of the day when the weather cools off a bit to sit out here and enjoy the fall temps.
I can also see a nap or two in my future… plus, this will be a great place to read!
The only other thing I want to do in this area is add a privacy fence.  My dad and I have already talked about it. I'm going to add a white vinyl fence right behind these chairs, which will be 6′ tall to shield the patio from the neighbors.  There's nothing there now for privacy so that will be a nice addition. I don't want to be in a fishbowl with the nearby neighbors!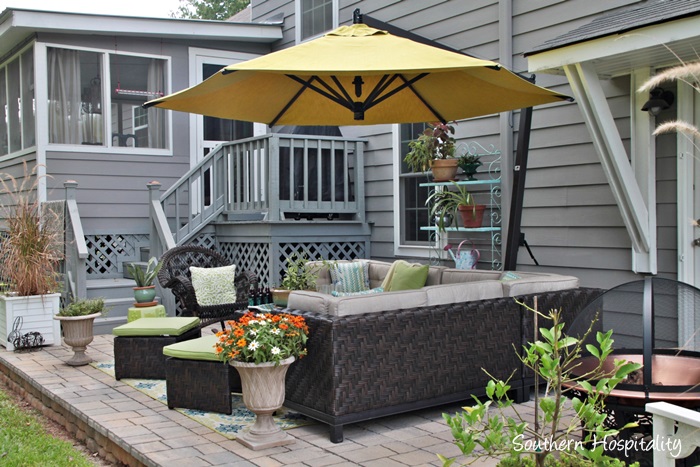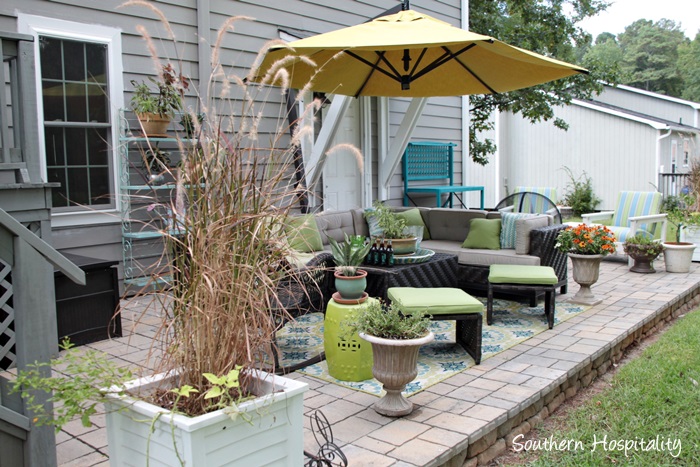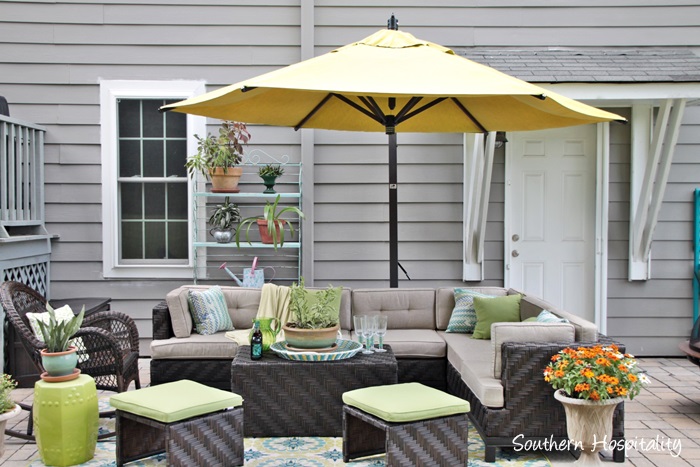 This umbrella totally completes my space and makes it so much more enjoyable. The color is a perfect match– Echo Limelight!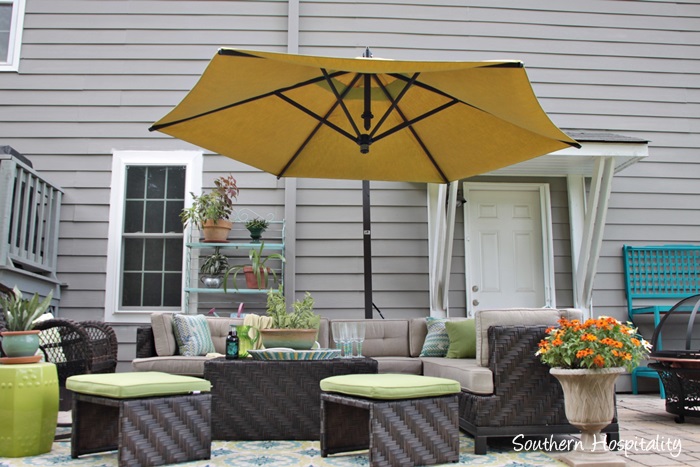 Here is a shot of the umbrella from underneath.  I'll be using a specific cover for the umbrella to keep it in pristine condition. Even though the umbrella is sturdy and the pavers are heavy, just to be safe – I won't be leaving the umbrella up when I'm not out there. You never know with these storms we have sometimes!
And during the winter months, I can easily snap off the umbrella from the base, cover it with the cover and take it inside to store.  Last year when winter came, I rolled up my rug, took all my cushions inside the screened porch and covered them with sheets to protect them. It seems to be the best thing to do in the winter months to protect and keep everything looking nice and new! I also cover my sectional sofa with a big tarp to protect it during winter months, even though it's vinyl. Better to be safe than sorry!  I want my patio furniture and umbrella to last me years and years.
I'm absolutely thrilled with my patio and the addition of the new umbrella from Starfire Direct. They have a lot of unique outdoor products that can really help you take your outdoor spaces up a notch.  I can definitely vouch for this cantilever umbrella, made of Sunbrella fabric.
Here's a look at a few other things that caught my eye on the site. I hope you'll take a look!
1) Treasure Garden Charleston Spa Rug
2) Uniflame Deluxe Charcoal Grill
3) Moroccan Temara Terra Flame Small Lantern (w/o lid)
5) Galtech International 232 9′ 2 Pulley Lift Dark Wood Umbrella
7) Starfire Direct Azuria Reflective Fire Glass
9) Real Flame Glacier Gray Baltic Fire Column
My readers get a 10% discount on their first purchase, so make sure to use code Southern10 for 10% off.  Thanks for stopping by today and following along on my house progress.  I love crossing things off the list and this is a major improvement for my patio space.
Hope you're enjoying the last days of summer!
Note: This is a sponsored post from Starfire Direct, but all opinions and words are my own. 
Don't Miss a Post, join my list!