It's really coming along now and I'm getting closer and closer to moving my furniture out there and can I just say this….I can hardly wait!   Oh, and I now have a blue ceiling!
The temps are also heating up here in Georgia and being on a covered porch will be so exciting this year, with our heat and humidity that's a must.  My big dreams of having a screened porch are about to come true.  Thank you, Lord!  He knows our heart's desire, doesn't  he?
Can't wait to share all the progress with you, it's really looking like a porch now!
Dad had to enlarge the doorway going outside, so he cut back the door jamb to allow for a 36" vinyl screened door that I got from Lowes.  By the way, all my materials came from Lowes by working with them as a Creative Ideas blogger.  I'm so grateful to have the opportunity to use gift cards from Lowes for my project, what a blessing that has been!
He's in the process of finishing out the door jamb and trimming it out. You can see the progress on all the posts and around the windows have been trimmed out and primed.
So, after this door jamb is finished, it was time for me to paint the inside.
Dad taking a break.
Adding wood to the doorway to trim it out.
Door way trimmed out and ready to paint.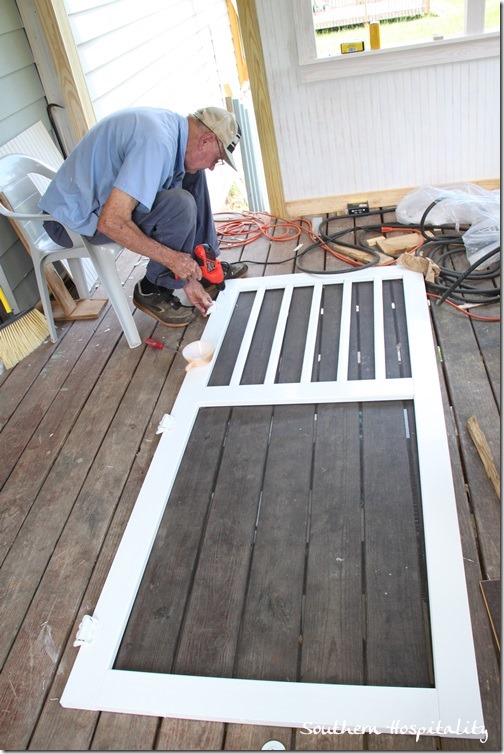 I chose this vinyl screened door from Lowes and love the looks of it.  I am adding a spring to it so that it will sound just like a Grandma door.  You know the sound when a screen door slams?  Yeah, that sweet sound!
In fact, my dad's mama (my grandma) had one such screen door on her front porch and I STILL remember that sound vividly!
And here's the door in place.  We had to take down the old steps outside, because they were just not put together very well and the guy who installed them before I bought the house had them spaced about 4" apart, which made for a very awkward climb up and down.  We are re-working the outside stairs and adding a landing to accommodate my grill, thanks to a great idea from my sister who suggested that.  It's going to work out very well and we are running the stairs down next to the porch instead of straight out like they are now.
So, to get ready to paint the ceiling, I taped it off with FrogTape, my favorite green tape.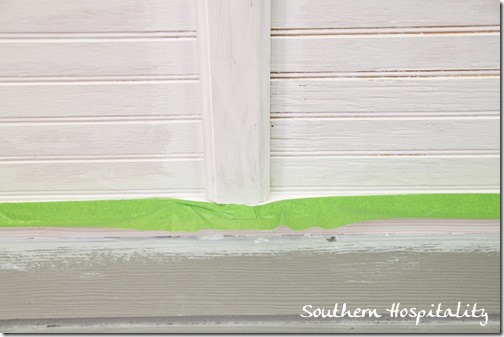 I decided to spray the ceiling with a sprayer I received from Black and Decker to speed up the process.  So glad I did!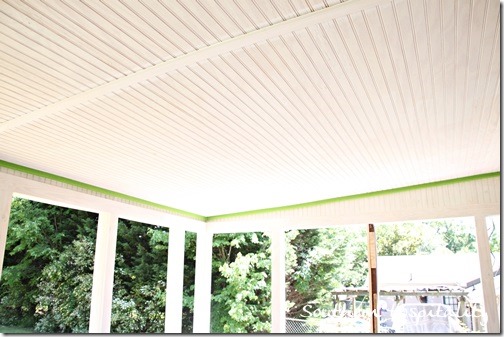 To keep down on the overspray, I taped a line of FrogTape all around the ceiling.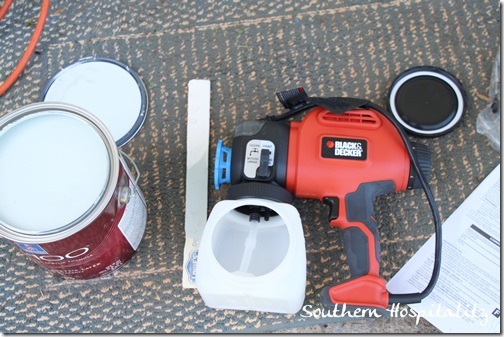 And a big thanks to Black and Decker for giving me a paint sprayer to use.  It worked pretty well, although it did sputter a bit and I found that it did put quite a bit of paint up on the ceiling, but I did need to go back and spread it out with my paint brush.  I did add water to the paint before putting it in the container.  But, having the sprayer really made that go fast, so I'm glad I used it.  I sprayed one section at a time and then smoothed it out with my paintbrush, moving on to the next section.  Then I went back and added more paint as needed until the whole ceiling was covered well.
I used Sherwin Williams Rainwashed on the ceiling and I was very blessed to get 2 gallons of paint from them for my project, which really came in handy.  I used Alabaster for all the white trim in their Emerald Exterior Satin paint collection.  It really is a great paint and goes on very smooth.
Somewhere along the line, this blue on the ceiling was called Haint Blue and that seems to be a Southern thang!  You can read all about blue porch ceilings at Sherwin Williams and it's interesting how it all got started and spread all over the country.  Some say blue ceilings repel spiders and other critters and if so, I hope that is correct!  Regardless of the why's on blue porch ceilings, I knew I wanted one on MY porch too!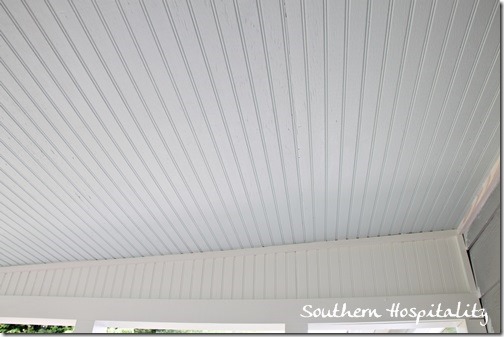 The ceiling is a nice shade of blue now and just what I wanted.  I had used Rainwashed before so knew it was a safe blue to use for my ceiling.  Just enough!  This is a good shot of the blue and white together.
After painting the ceiling, I then got on all the white trim and gave it 2 coats of Alabaster.
And it's looking SO good!  I love how it's turning out.  Once it is all painted, floor included, then we'll go back and staple on the screening from the outside and trim it out with a small trim piece on the outside of the porch. Where the seam came together on the beadboard in the middle of the ceiling, I added a flat piece of pine molding that gives it a finished look.
My dad has made this porch look amazing!  I'm so grateful he has been willing to help me get this finished.
After removing the old stairs, we are ready to start building the landing for the new stairs. He added 2×4 boards and posts nailed to the house to stabilize it all.  He buried the posts and leveled them all.
He amazes me how he can still figure out all this stuff. He's been doing it for years and has built some pretty amazing things over his years of carpentry and I know he has to think extra hard now to get it all together.
But, he finally gets things figured out and going.
And we have a base for the platform which will be the landing for my grill.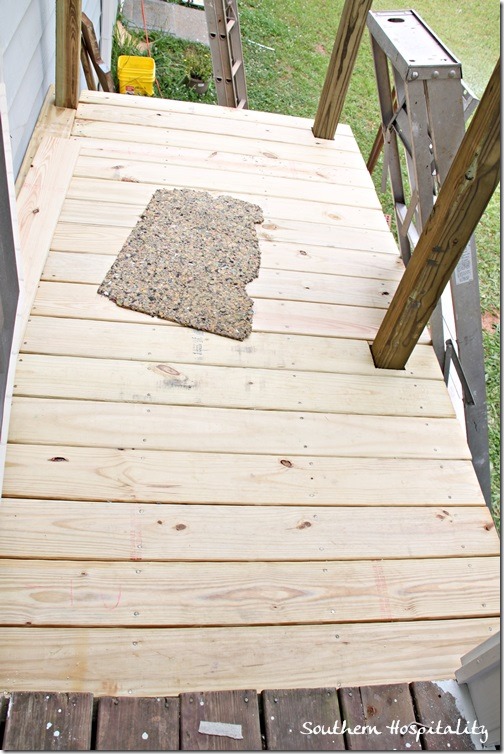 Here it is from inside the porch looking out.  Can you see it now?  The grill will be straight ahead against the railing that will eventually go up.  The new steps will go down to the right and also turn on another smaller landing.
So, that's the latest progress on the porch!  I'm so excited to get this one behind us and I know my dad is too. He's working hard on his garden too and has plenty to keep him busy.  Once the stairs are finished, it will be full speed ahead. I hope to get the floor painted in the next couple of weeks and then I think I'll be moving furniture out there.  Yippee!
Check out Lowes Creative Ideas Magazine app, visit Lowes on Facebook, and Lowes on Pinterest.
Are you on Instagram? I'm on there and having so much fun since I got my iphone last year! If you want to see what I'm doing in real time, follow me on Instagram. You can see Lowes on Instagram as well. It's a fun little snapshot of what is going on every day.
Disclosure: As a Lowes Creative blogger, I am sent gift cards to spend on projects and blog about them.
Don't Miss a Post, join my list!