I'm joining Kimba's Outdoor party today with new and improved pics of our new porch. I'm SO enjoying this new space and spend a lot of time out on the loveseat, reading and enjoying the sunshine.   Since I got that new camera, I've really enjoyed playing around with it and getting better shots and the first post I did on the porch was with my old camera.  So, thanks for indulging me, the photo-bug! 🙂   I have done a few updates too, so come along with me.
You can see my original porch post here and click here to see how I made those cute shutters.
I found 2 lime green pillows at Target to add to the chairs and I decided to repaint the little iron table in between with the same paint I used on the shutters, Avocado and I like the shot of green on the pillows and table.
These were inexpensive pillows and add a lot to the chairs.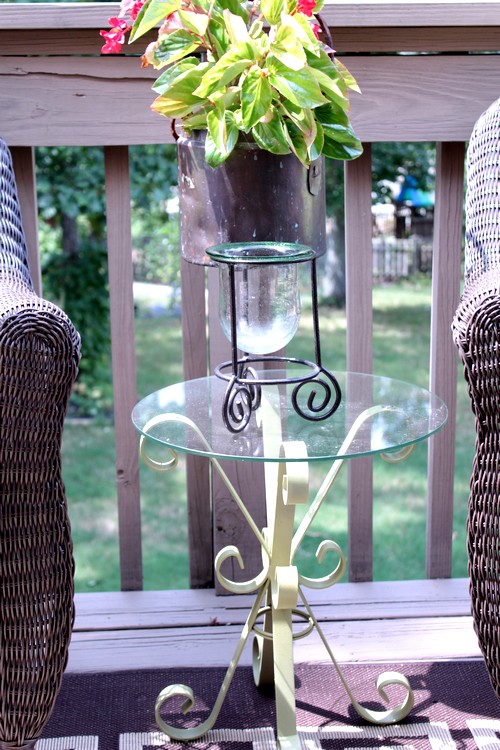 It was pretty sunny when I took these pics, but you get the idea on the green.
This, this….is my favorite spot on the porch.  I can lay down, put my feet up and relax right here in the loveseat.  And I do allocate an hour here and there to doing just that.  I did add a small fan out here too, that I can plug in and beat the heat.  We definitely need all the help we can get right now. HOT, yes it is HOT!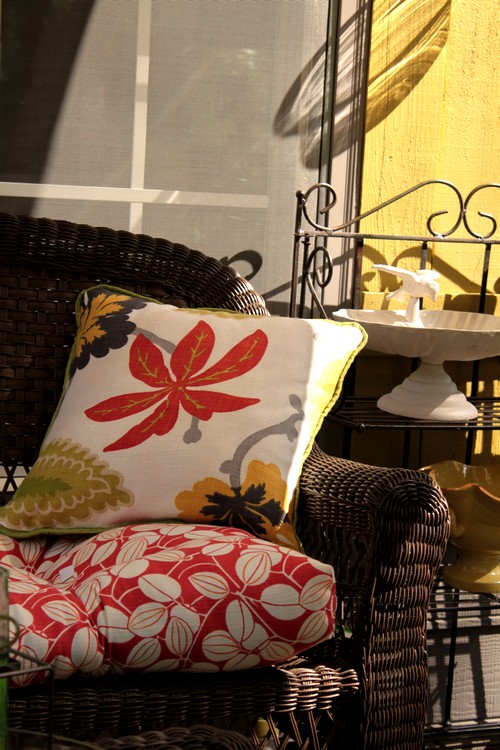 Still loving the fabrics I picked out.
And this little yardsale vase gets a new lantana flower every few days.  I found that dragonfly votive holder years ago yardsaling too and added it out here for some additional cuteness on my tray.
Yummy fabrics.
The coffee table is good for holding books and a cold drink.
I brought up another little plant stand that holds a slab of marble and a couple of newly potted impatiens.  I love growing flowers and having more on the porch is good with me.
Here's where the brass yardsale birds ended up. They are heavy enough they should stay put on this railing.
Coral impatience.
Another look at the birds.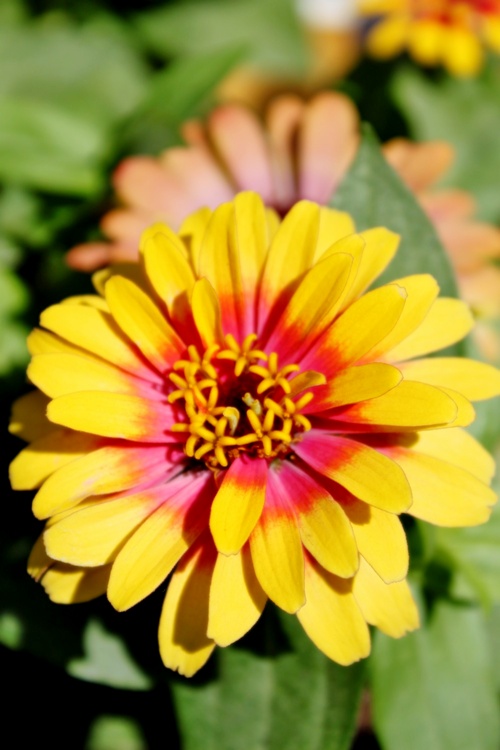 These yellow zinnias are doing well for me too.
And since I got the new camera, I've been experimenting with some other flowers in the yard.  This is my limelight hydrangea, which is now bustin' out with blooms.  I love this plant!
And a purple coneflower is oh so pretty.
Back to the porch, I also got a new light fixture (Lowes, $30), a nice addition to the porch.  The other one I had up here was from a yardsale, so it was time to get a nicer one.
Another impatience plant here on the bakers rack.
I also picked up a strand of capiz shell lights from Target, just in case we want to sit out here in the evening.  Aren't they cute?  I tied them up with zip ties and they stay put just fine even when I close the umbrella.
And last, but not least, we finally got a nice storm door on our backdoor, which was much needed. We can already tell a difference in how much cool air now stays in the house instead of escaping out this door.  It pulls down from the top to reveal a screen that we can use during the Spring and Fall when the air is cooler.
One note on our gray siding. You can see the color of our brick in this pic, which is what our entire house is made of, except this small area here on the deck space.  The former owner painted all the trim this gray color right before we moved in.  Eventually, all the trim will be repainted to more of a brown/taupe color, which I think will look much better with our brick.  That's why I used a taupe on the deck stain and that's why I chose this brown/tan color for the new door.  Just in case you were wondering.  Gray is not my first choice for the siding or trim on our house and it will be repainted eventually.  🙂  For now, I'm living with it.
So, that's an update out on the porch!  I am loving this new space so much.  Watching hummingbirds has become my favorite past-time. 🙂
I hope you have a place outside to enjoy too.  Do you?!
Hop on over to Holiday with Matthew Mead and read about my childhood Christmas memories of my Barbie doll!  🙂  Do you still have YOUR Barbie? I do!
And last, the 2 Blueberry cookbook winners are: #124  Susan with Thrums and #41 Carolyn H.  Congrats ladies! I've sent emails to both of you and I hope you enjoy your cookbooks.

Don't Miss a Post, join my list!