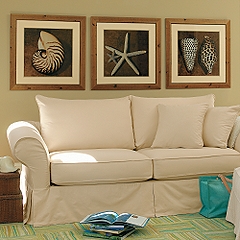 See these beautiful seashell prints from Ballards??  Well, I don't like the $179 each pricetag (and they are no longer available anyway), so what do I do??
Well, I lucked out about 3 years ago and found these 2 shell prints (the ones that match and have been hiding in the masterbath water closet all this time) at Kirklands and they were marked down to $10 each, so I grabbed them up. I would have loved to have a 3rd, but there were only these 2.  The artist is Caroline Kelly, the same artist as  in the Ballards prints.
See the odd frame in the middle?  Well, it holds a 10×10" print, so I saved this frame to use especially for this project.  I went online with Art.com and searched for additional prints and found out that there are a couple in that size, 10×10 that would fit perfectly in my old brassy gold frame, that is perfectly good wood, just doesn't work for me anymore in its current state.
So, I ordered the 10×10" print (for about $14) that is a companion to my other prints from Kirklands and all the frames got a makeover. I love these sepia toned prints! So, this complete set of prints cost me around $34, since I already had the old frame.
And here they are after their white paint makeover. I had a can of Heirloom White (not spray, but brush on), so I used that to paint these babies and make them look all pretty to work in the master bathroom on those blue walls.
I used a little Spanish Copper Rub N Buff on the odd frame so that it would mimic the other 2, which I had sanded down to let the original bronze metallic paint show through.  A little of this darker RNB and it was a good match.
And now here they are in their new home and they really look great on this wall.
Old pic of what I did have in here, a pretty watercolor that Peter's Grandma Eleanor painted, but it didn't show up that well in here, so Grandma's painting got moved to the den, where it looks much better.
And we are really enjoying the new prints.
Closeup of the distressing on the frame. Just a little sanding let the old paint show through perfectly.
Yardsale shelf that I picked up and painted was $5 from long ago.
Holds hand towels, wash cloths and some shells.
And last year I added that pretty original watercolor of a beach scene that I found at a yardsale for $1.
You might remember this pretty iron tiered basket that I found last year yardsaling, for $5.  It was in my kitchen, but it looks better in here and the color works well with the blues.  Filled with seashells on the side of the tub.
And this plant also hangs out on the tub.
Just thought I'd share this recent project, just in case you have some old frames or prints that might need a makeover.  It was fun to finally get this done, as I had envisioned it for a long while and actually got the print ordered.  Happily, they turned out even better than I anticipated and since we are such beach lovers, a perfect complement to our masterbath blue.
I'm linking up with Kimba's DIY party today too, so click over there for lots more DIY inspiration.
Also, tomorrow there is an Heirloom Party over at Marie's blog and I'll be participating, so if you need something to write about on Friday and want to join in, check it out.

Don't Miss a Post, join my list!