The finishing touches around a house are definitely in the details and I love adding meaningful things to the tables and shelves in my home.   Here are a few ways to add color and interesting details to those side tables, consoles, and end tables that we all have and use.
Collecting books and other vintage items are always useful around the house and I've collected my share of them over the years.
I wanted to first share this special pic of my dad and me, taken by the AJC Photographer, Christopher Oquendo and featured in the local paper on Super Bowl Sunday.  I love it and it really captures our journey on renovating this house going on 3 years ago. Can you believe it's been that long?
Adding color and textures around your home is such a great way to personalize your space.
What colors speak to you the most?
As you can see, I love the aqua shades and have added this lovely color in different areas of my living room.  That pretty brass and aqua armillary is one of my best yardsale finds ever.  The sign is from Scripted Simplicity.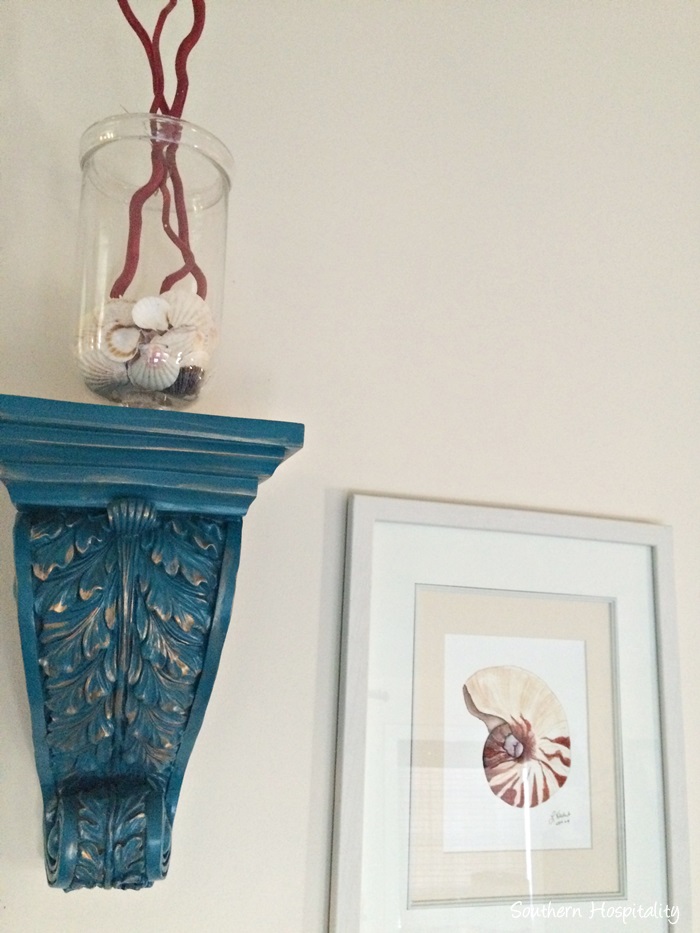 Spray paint a piece if you are tired of the current color. I used spray paint on this chunky corbel and it gave a nice punch of blue on the wall going up my stairs.
I'm getting ready to do a few changes in my living room, including finding a new console table and replacing my chair of many fabrics that I've had over 10 years.  I'm thinking of bringing some navy blues into my living room too and adding more colorful throw pillows.  It's going to be evolving soon, I hope, when I find the right pieces to bring in.  After over 10 years with the same pieces, I'm ready to mix it up a bit.
Using things you already have can be an easy way to change things up too.  Just by moving things from one room to another can wake up a space.  Color in books is another easy way to add some interesting hues that pick up your home decor.  I have collected many books over the years and do look for added color now when I'm browsing around.
Groups of 3 are always interesting too and this side table in my den features collected white pottery that I've picked up over the years.  I've really enjoyed my white pottery collection and use it constantly in decorating.
I really enjoy all shades of blues these days and have added blues to  my rustic master bath cabinet.  Seashells have been collected for years too, along with driftwood, making a pleasing vignette that I enjoy seeing every day. That royal blue glass ball was a yardsale find.  Mixing things you love around the house is the best way to get a home you enjoy living in and those collected pieces add such charm.
In my kitchen, I picked up a green handled rolling pin.  About the only thing I use this for is rolling out pizza dough, but it sure looks cute on my kitchen shelves.  Those salt and pepper shakers are vintage too and I think I found them at an antiques store.  I love their shape and green and white color.
Collecting vintage things and using them around your house gives your home a unique look that you won't see in everyone else's home and isn't that what we want in our homes?  A place that showcases what we enjoy and love to surround ourselves with.  Vignettes are especially enjoyable to change up with the seasons to make your home feel fresh.
What can you change up in 10 minutes to create a pretty focal point in your home?
I'm joining my 3 blog friends again today with more ideas on 10 minute decorating. Hope you'll check them all out too for more decor inspiration.

Don't Miss a Post, join my list!